How to Climb Mont Blanc As a Beginner; My Experience
In August 2019, I successfully climbed Mont Blanc. It had always been on my radar, but I'm no mountaineer, so I wasn't sure if it was possible or not. But then I decided to try to be the first person to visit every country in the world, reach the North Pole, the South Pole and climb the Seven Summits (the highest mountain on every continent,(the adventurers grand slam) so I did a little more research. There are some schools of thought that consider Mont Blanc the highest mountain in Europe, rather than Mount Elbrus in Russia (which I climbed last year), so rather than deal with any doubts I decided I also had to climb Mont Blanc and remove all doubt.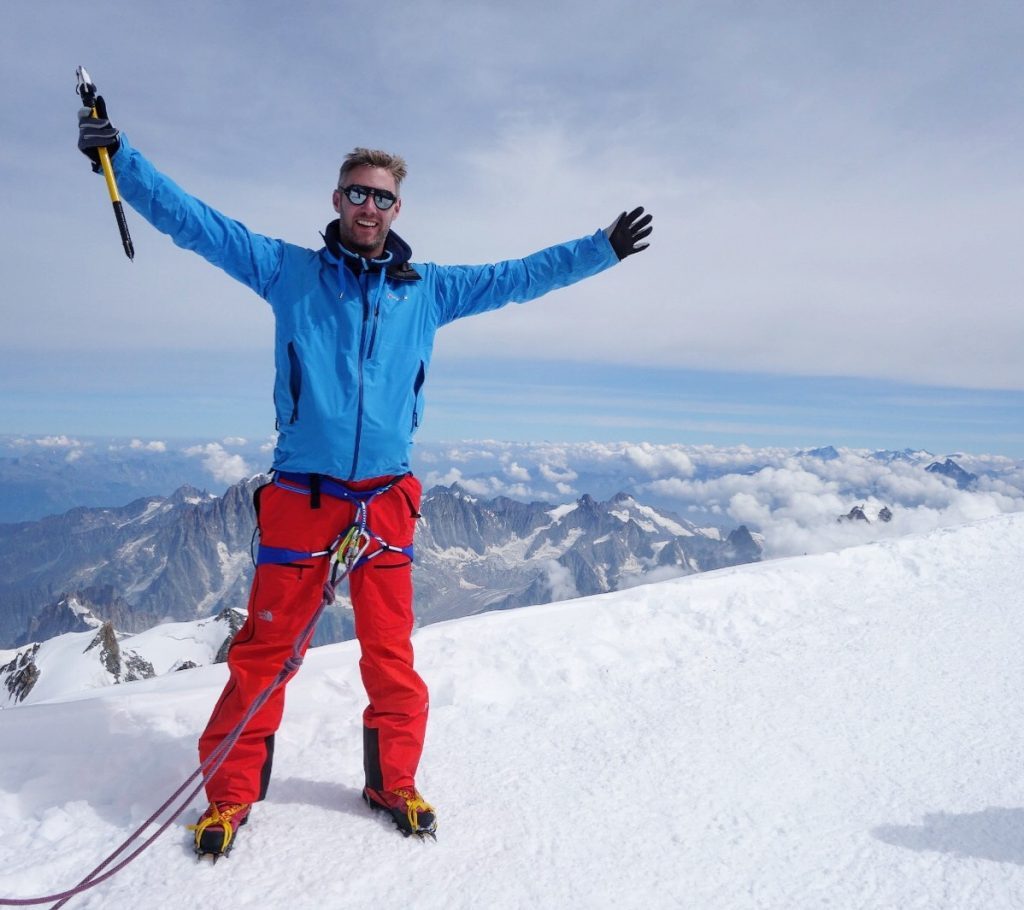 Knowing that Mont Blanc has over 100 deaths per year was a little worrying, so for sure I didn't want to tackle it alone. I put together a group of friends to climb, and then we looked for the best operator to help us summit successfully. In the end, we climbed Mont Blanc with MountainTracks, which turned out to be an inspired decision (thanks guys!).
I put together a post about Climbing Mont Blanc, and everything you need to know HERE, so check that out for FAQs etc, and a Mont Blanc Packing List here too, nhere though I'm going to recount my experience throughout the week so you guys can see how it plays out.
DAY 1: Arrive in Chamonix
Actually I had arrived a day before this, but generally, when you book a guided climb for Mont Blanc, you'll meet in Chamonix on 'Day 1'. The hotel is included in the price of the climb, so you check-in, meet around 5pm for a gear check and then have dinner with your climbing mates. I'd actually recommend arriving a day early and getting all your stuff organised, and remove any jetlag/nerves from your pysche before the official Day 1.
Also, if you're new to climbing mountains, you'll have been in email contact with your operator. During the lead-up, you can discuss the gear that you have, and the gear that you may need to rent. They can organise that for you, and on Day 1, they'll bring that to the hotel. They'll also check all the gear you have for the rest of the week to make sure everything is in order, if not you can wake up early the next day and sort it out in Chamonix.
Generally, the tour will be half-board, so breakfasts, dinners, all accommodation (hotels in Chamonix, and mountain huts in Italy and France), as well as the guides, will be included, but not the gear rental.If you arrive the day before Day 1, you can head into Chamonix town and buy/rent anything you need there too. They're well accustomed to idiots like us not really knowing what we need and don't need!
We had a quiet dinner, no alcohol, and headed to bet. The hotel was great. Small little 3*, where you share a twin room with one of your fellow-climbers.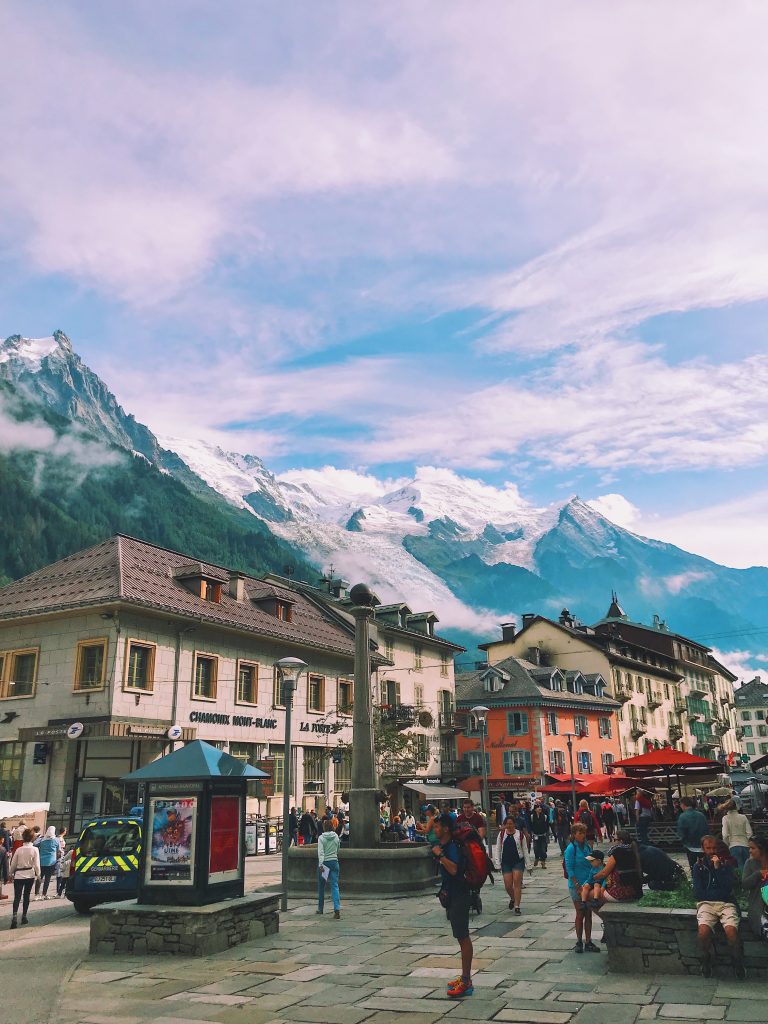 DAY 2: Acclimatization climb in Italy
We woke up, had breakfast (included) at the hotel, then a leisurely start to the morning. Our 2 guides, Olly and Andrea, met us at 10am. We hopped into our private vehicle and drove for around an hour and a half, crossing the border into Italy, to begin our ascent of Gran Paradiso.
Gran Paradiso is an amazing warm-up climb for Mont Blanc. It involves spending 2 nights in Mountain Huts at altitude, so it's a great opportunity to acclimatize. Also, it's Italy's highest summit, so if gives you an awesome feeling of 'summiting' a mountain if you've never done so before. It's also not super difficult, and not too technical at all either. That combined with the amazing views, and the bragging rights of climbing another countries highest peak, means the itinerary couldn't be better!
After our drive to the car-park at the foot of Gran Paradiso, we start the picturesque climb up to the first mountain hut. The climb today is more of a hike in all honesty. It probably took us about 3 hours at a leisurely pace, nothing too strenuous and it was fine to do it in sneakers and a t-shirt.
We arrived at the mountain hut around 3.30pm and to be honest, after climbing mountains in Argentina, Nepal and Russia, I couldn't believe how luxurious the mountain hut was. So nice, complete with little bar (although I still refrained from alcohol, trying to respect the upcoming Mont Blanc climb!). They even had soy milk, crazy! We had a delicious dinner, and headed to bed in the dormitory quite early, around 9pm. It's an early start the following day so we tried to get some sleep. The beds were proper beds, with mattresses, pillows and blankets. Very impressive.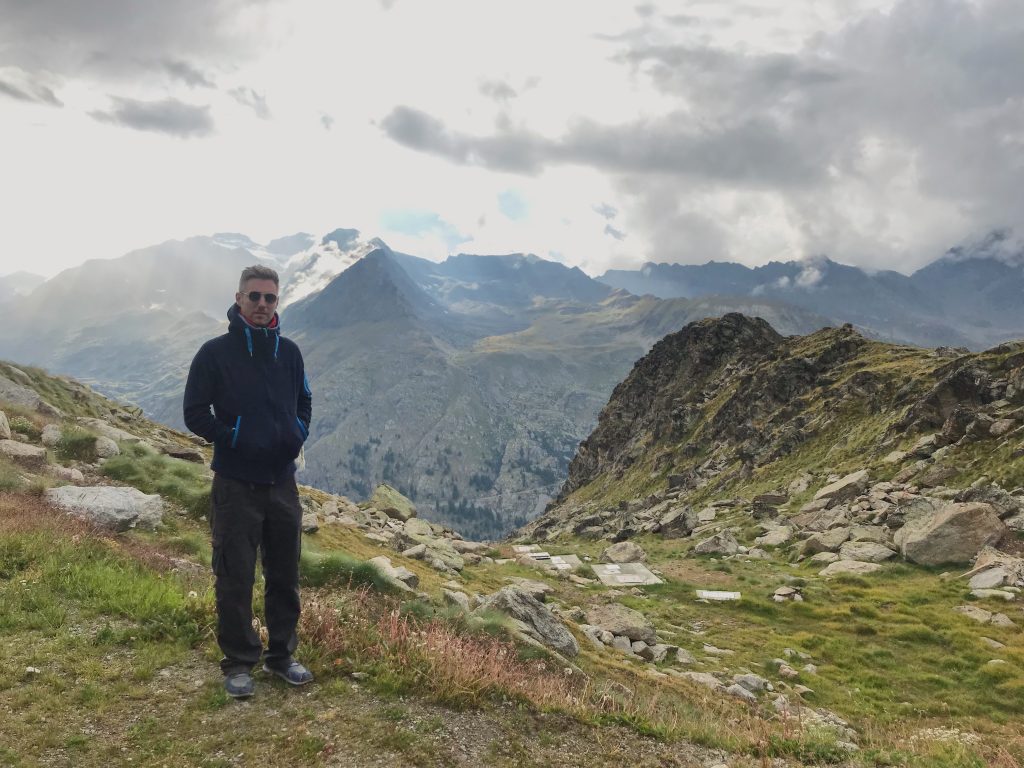 Where is Gran Paradiso?

DAY 3: Summit Gran Paradiso, come down and sleep in a mountain hut
We woke up around 5am, had brekkie then set-off on the climb around 5.45. It was still dark, and the temperature had dropped, but wasn't too bad. We had to walk with head torches for an hour or so until we reached the glacier. From the glacier, our group split into 2 sub-groups, myself and a buddy attached to Olly, our guide. And the other 3 attached, by rope, to Andrea.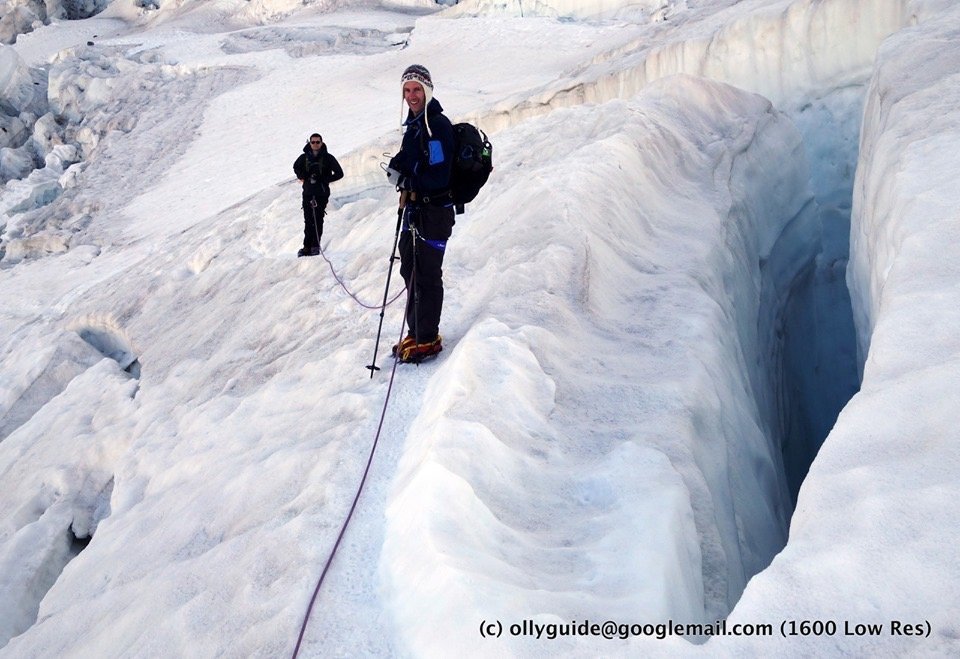 You're roped in as you climb the glacier because they have HUGE crevasses throughout the morning, with 20m+ drops. Fall down one of those and you're gone, but if you're roped in, you should be fine. We also popped on our crampons to our hiking boots to avoid sliding all over the glacier.
It's quite a long slog from this point, quite steep, and quite chilly with the glacial winds catching you. Gloves, wolly hat etc. From about 7am we finally reached the 'saddle' of the mountain maybe 3 hours later, from here it's a snowy hike up to the summit of Gran Paradiso, at 4,061 m (13,300 feet). After leaving the glacier behind, the long rope between each climber (of around 6m or so) us switches to a short rope of about 2m. Another hour or so and you're at the summit, with spectacular views of the Graian Alps in Italy. The Summit involves a little bit of 'rock-climbing' or scrambling, and the actual peak involves roping yourself in, with sheer drops below. A little scary but very cool.
Our whole group made it. From here, we'd descend to a different mountain hut, equally as nice though. It was 2 or 3 hours back down, where we'd sleep at more than 3000m again for one final night of acclimatisation to help us for the ascent of Mont Blanc. Coming down Gran Paradiso though wasn't so much fun! Slippy glaciers, snow melting, quite steep so tough on the ankles and knees, but we got there, and a great dinner awaits at the hut. After such an early start that morning, we're in bed for 9pm again that evening.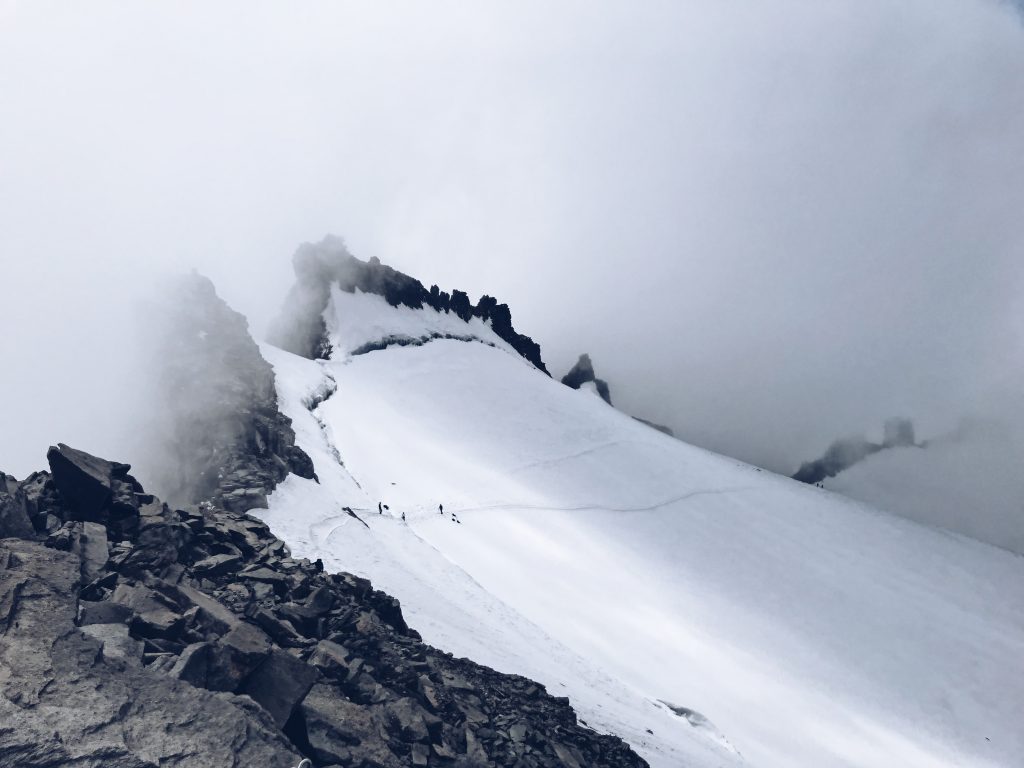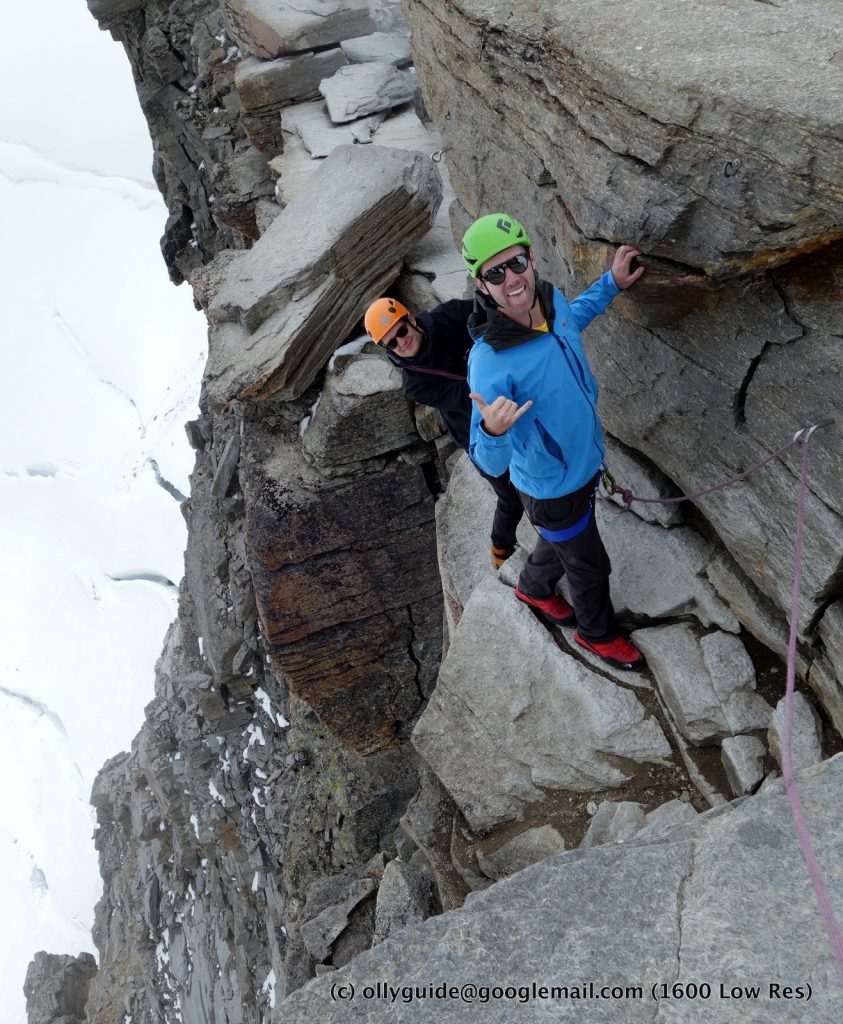 DAY 4: Hike to the bottom of Gran Paradiso, transfer to Chamonix, sleep in Chamonix
Breakfast around 6.30, and we're out of the hut before 8am. It's just 2 hours or so down to the car-part. We're beneath the snowline now, so no need for hiking boots, for crampons or for ropes. It's just a pleasant stroll down the mountain. Once you reach the car-park, you can pitstop at a little Italian coffee shop and wait for the transfer back to Chamonix. 2 hours later, checked back into the Chamonix hotel, a well-earned hot shower and the rest of the day off to chill or walk around Chamonix. Proper dinner, proper night's sleep. Tomorrow the real climb starts! You do have the chance to buy supplies for the climb this day, so if you need energy gels, sandwiches etc for lunch, even to buy some gear, it's very possible today.
Just a quick note though about a week climbing Mont Blanc. It's the most beautiful, most comfortable, most luxury 'summit' you can get. Chamonix is gorgeous, the mountain huts are great, and having a day 'off' in the middle of an expedition is unheard of on most climbs, so if you have the chance to climb a mountain, do this one!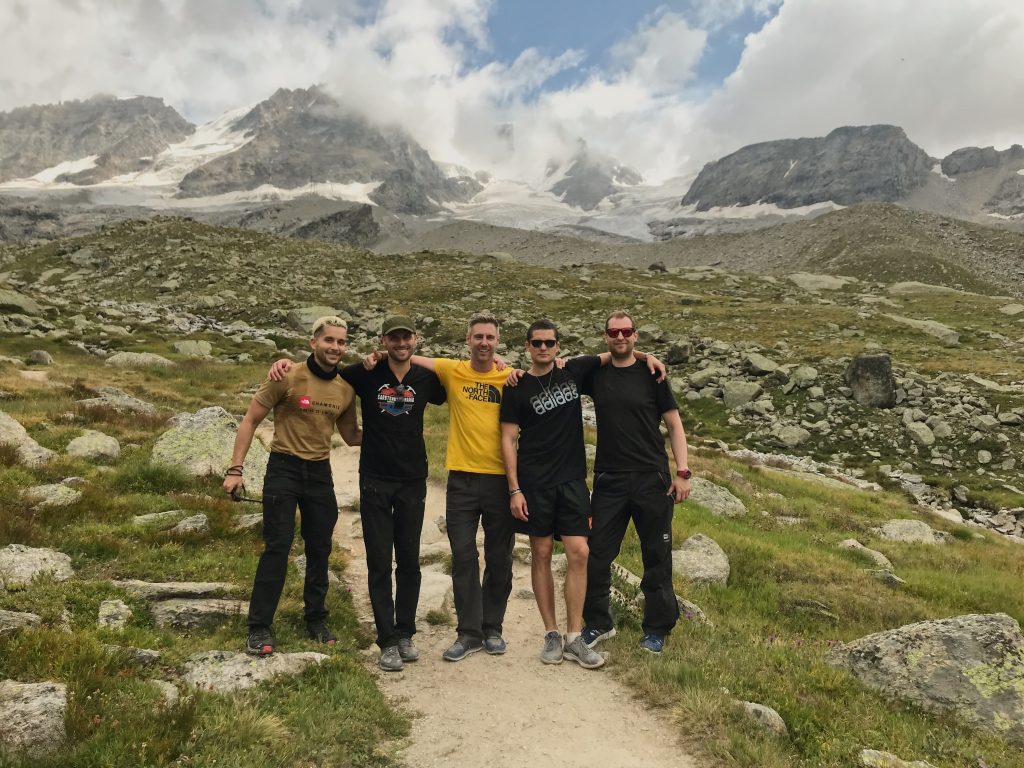 DAY 5: Start the ascent of Mont Blanc, Sleep at Tete Rousse Mountain Refuge
Breakfast at the hotel, a real luxury, then an 11am departure for the start of the climb. Today is pretty easy in all honesty though. You take a ski-lift up to the mountain train-station, from there you hop on a little tourist train for 15/20 minutes which takes you to the start of the climb. It's probably 12.30pm by this point, and from here you hike, again in sneakers and t-shirt, up to 3,200m. That takes about 3 hours or so, where you reach your mountain hut for the night. It's steep, the hike, but it's beautiful. Remember, on each hiking day, no lunch is included so make sure you have snacks packed in your bag, or you can go hungry until you reach the hut, where you can buy (very overpriced) food, or wait for dinner, which is included.
You can't do that on summit day (tomorrow) though. You'll need the energy, so make sure you have food prepped for the climb.
After dinner, it's another early night in the mountain hut. At Tete Rousse, the hut is beautiful but the dorms aren't as good. Thin, foam mattresses lined up body-to-body so the sleep tonight isn't as good. You're awake sometime between 2.30-4.30am though depending on how fit you are and how much time your guide thinks you'll need to reach the summit.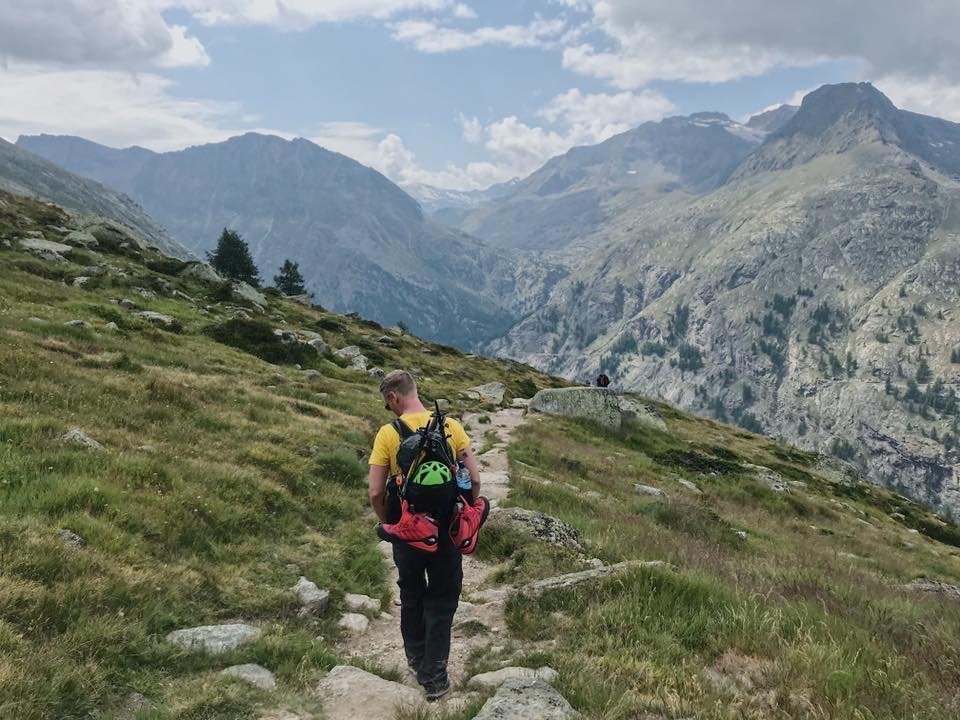 DAY 6: Summit Mont Blanc! Hike back down to 3,700 Mountain Hut
I woke up at 4.30am for a 5.15am departure. It's pitch black and cold when you start, and after lots of enjoyable, beautiful hikes, today is the real deal. The first 2.5. hours you scramble up a really steep cliff face to the 3,700 mountain hut. You're roped into your fellow climber and your guide. You have to be on full alertness, this is a real climb. I was honestly a little shocked how scary it looked, but doing half of it int he dark actually helped because you focus your energy on the next hand-hold or step, rather than the drop. In the end, this was my favourite section of the whole week. It really feels like an adventure.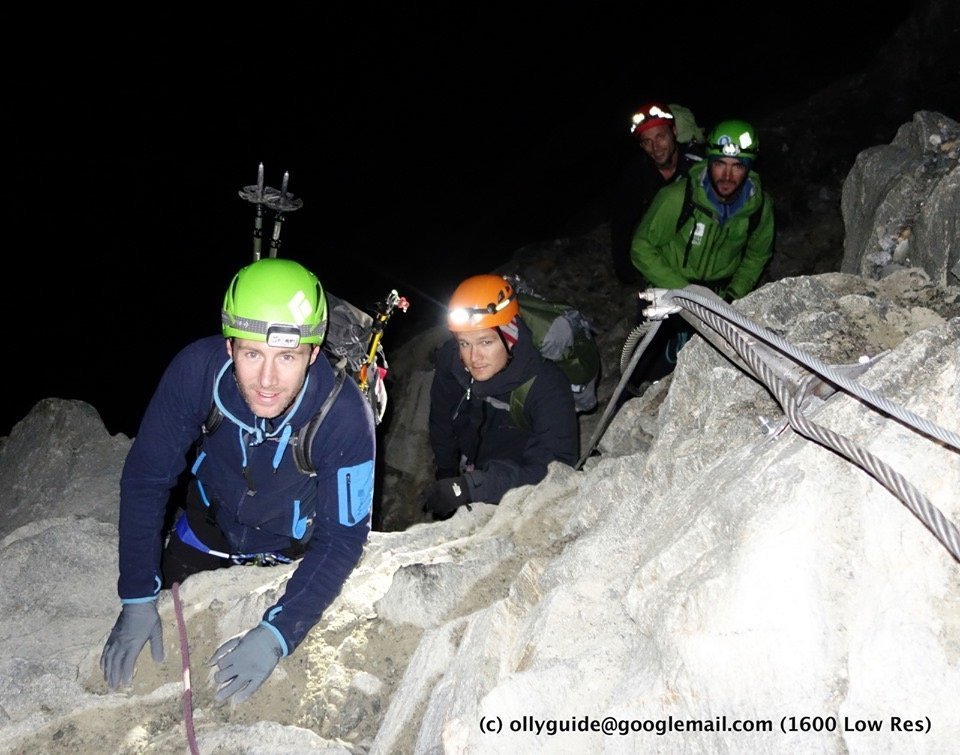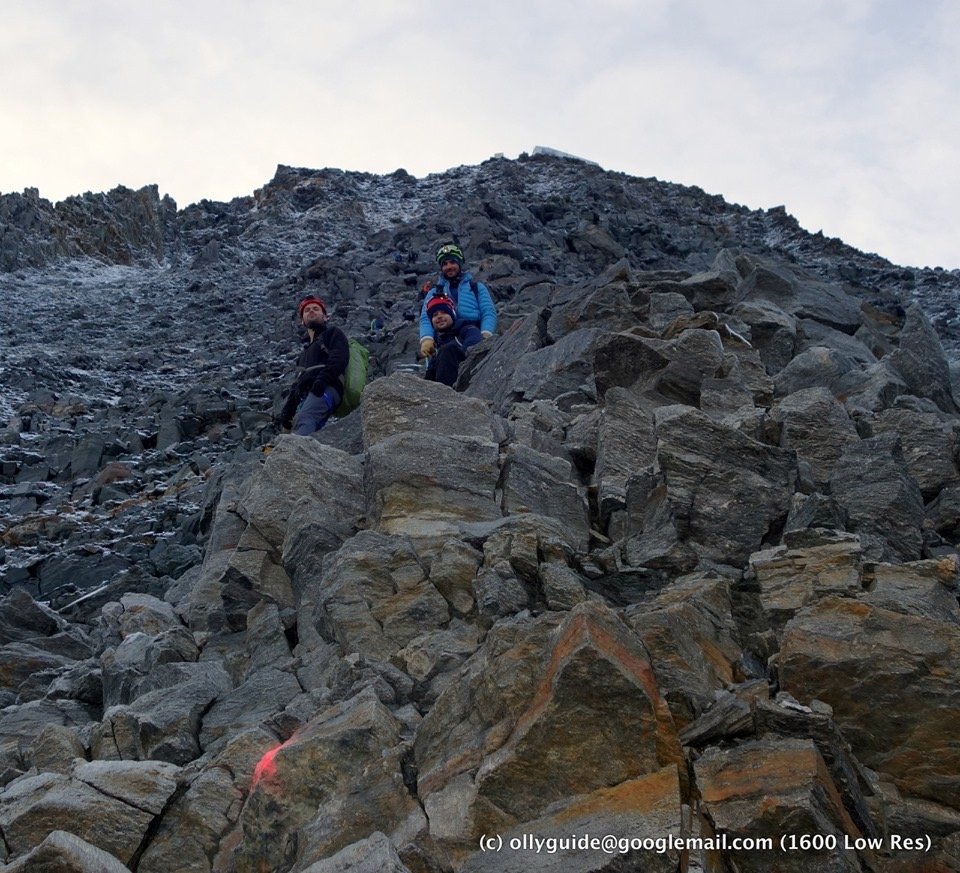 You reach the 3,700 mountain hut around 8am, where you hopefully will have time for a coffee and maybe a piece of cake. We spent 30 minutes here before the long ascent began!
From here, it's about a 5hour hike to the summit. For the rest of the hike, you're roped to your guide due to crevasses. The first 2 or 3 hours is a steep, slog but if you focus, it's not too bad. You have a short break every 40 minutes or so for water so it's very manageable. After 2 or 3 hours hiking up the snowy terrain in your crampons, roped in, you reach another 'saddle'. From here you can see the summit in all its glory. You're still a couple of hours away, but for the first time, it's within reach.
You have 30-60 minutes of easy walking before the real ascent begins. And from here it's genuinely steep. You spend a lot of time walking across sharp ridges with sheer drops either side. I like to laugh and joke a lot when I'm in these situations but on Mont Blanc focus is important, so I shut my mouth and made sure I didn't fall to either side.
The next hour or so was honestly a little scary. The conditions were perfect, and fitness-wise, and altitude-wise, I felt fine. The reality is though, that if you stumble, you're in trouble. The views of the alps are honestly second-to-none, but I took very little time to soak that in as I ascended. My view centered around the 2 metres in front of me until we finally reached the summit, all 4,810m of it. Success!
Finally, I could appreciate the views. The summit isn't on such a ridge, you can sit down, soak it up. We did it! The air is thin but manageable and as soon as you stop hiking, you really feel the temperature. I had my iPhone out for 30 seconds and the battery died. It's below 0 at this point, so after 10 minutes or so at the summit, we were keen to get going due to the cold. We reached the summit at 1pm I guess, and there was only one other person at the summit which was great.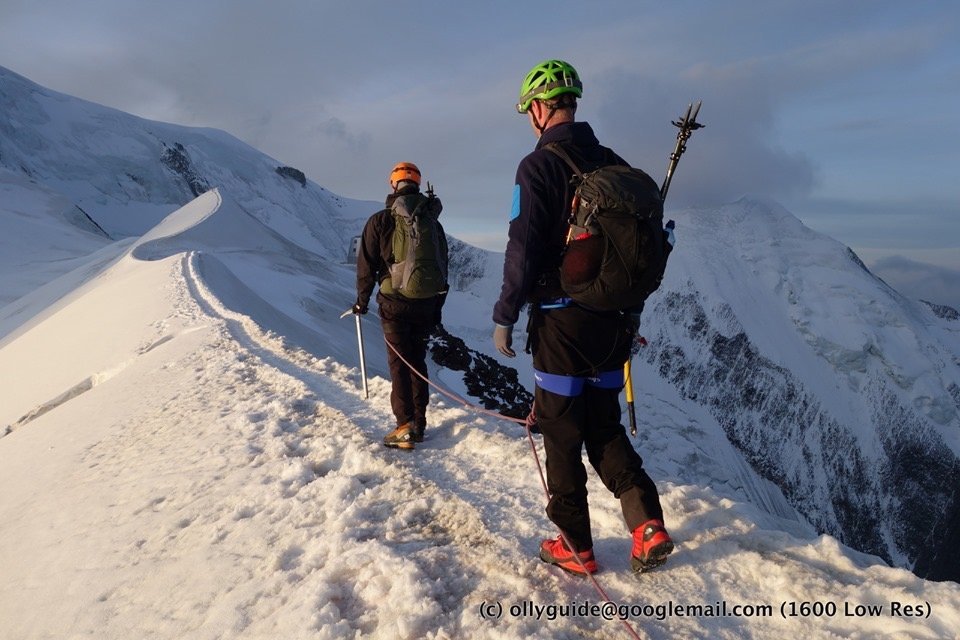 From 4,810 metres, you have to hike back down to sleep at the hut at 3,700. We were a lot more confident walking back across the sharp ridges going back, it's funny how much more comfortable we feel having done something once. Here, I really appreciated where we were, what we were doing. Hiking back to the saddle took an hour or so, and I really enjoyed it. The next 90 minutes though, back to the hut, was a real slog. You're starting to get tired after 8 or 9 hours of steep hiking and you just want to get back to the hut. Shut your mouth, keep going, don't complain. You'll get there, and we did. With a couple of blisters for our effort! Finally, you can enjoy a beer.
Eating dinner that night with your fellow climbers is a great experience. You've done it. The pressure is off. You're shattered though, so we were in bed for 8.30pm again. The last early start tomorrow begins at 5am.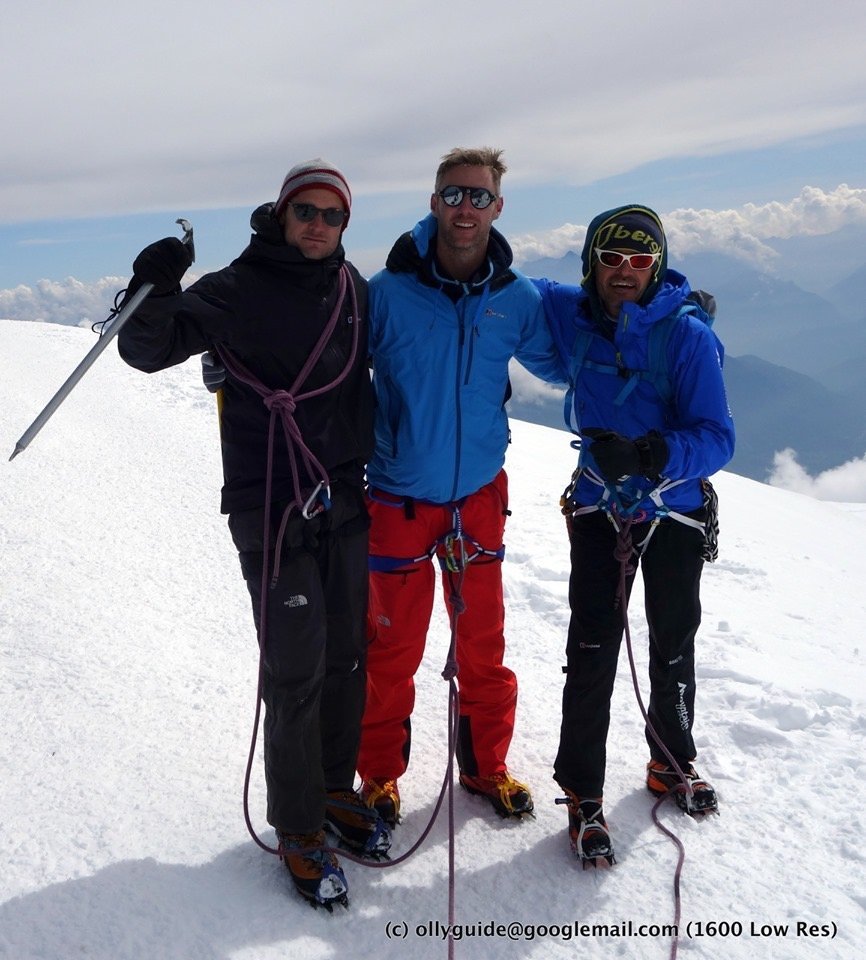 DAY 7: Hike back down to Chamonix!
Brekkie around 5am, leave the hut before 6am. First, you have to scramble back down the sheer cliff. There had been snowfall that night so we had to descend the cliff in crampons, eeek. Back to the Tete Rousse hut at 3,200, it took us about 90 minutes. Each step is a step closer to home so it's actually an enjoyable section.
Grab a coffee at the mountain refuge at 3,200, then 2 more hours downhill and you're back at the train and ski-life. Soon you'll be back in the hotel in Chamonix for a shower. Your dream to climb Mont Blonc is done. Soon, it's to the pub to celebrate!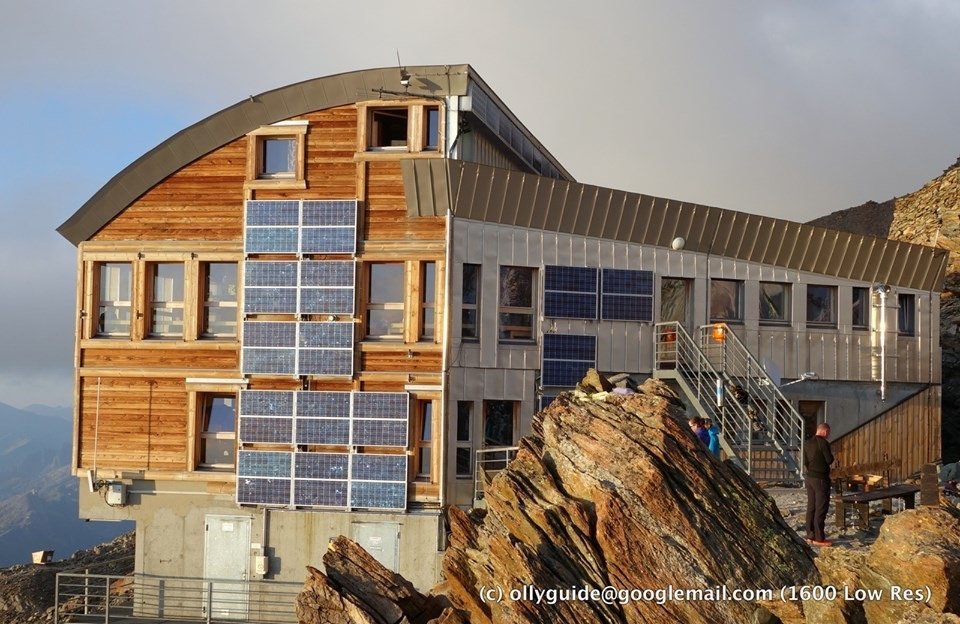 DAY 8: You're outta here
It was all a dream! It's over. Done, brekkie at the hotel then departures all around. I stayed another night to recover from my effort to climb Mont Blonc. Then it was a case of jumping in a bus to Geneva, for my flight back to Bangkok (Aeroflot economy class, awful for the record!).
FINAL THOUGHTS ON HOW IT FEELS TO CLIMB MONT BLANC?
To climb Mont Blanc is considerably harder than when I was climbing Mt Fuji with my mum last year.  Remember, I wrote a post on 'everything you need to know about climbing Mount Blanc' here, but in a nutshell, I'd highly recommend signing up to climb Mont Blanc to anyone who wants a little adventure. Sure, it's not easy but nor is it super difficult. Sometimes it's a little scary, but if you use the right operator as we did, then you're in very safe hands. It was the most enjoyable mountain I've ever climbed, and it was one of the best weeks I've had for a long time.
If possible, I'd recommend climbing with your friends too, it's much more fun when you can moan and complain together! Anyway, go and do it, and let me know how you get on. Good luck!
Remember, never travel without travel insurance! And never overpay for travel insurance!
I use HeyMondo. You get INSTANT quotes. Super cheap, they actually pay out, AND they cover almost everywhere, where most insurance companies don't (even places like Central African Republic etc!). You can sign-up here. PS You even get 5% off if you use MY LINK! You can even sign up if you're already overseas and traveling, pretty cool.
Also, if you want to start a blog...I CAN HELP YOU!
Also, if you want to start a blog, and start to change your life, I'd love to help you! Email me on johnny@onestep4ward.com. In the meantime, check out my super easy blog post on how to start a travel blog in under 30 minutes, here! And if you just want to get cracking, use BlueHost at a discount, through me.
Also, (if you're like me, and awful with tech-stuff) email me and my team can get a blog up and running for you, designed and everything, for $699 - email johnny@onestep4ward.com to get started.
Do you work remotely? Are you a digital nomad/blogger etc? You need to be insured too.
I use SafetyWing for my digital nomad insurance. It covers me while I live overseas. It's just $10 a week, and it's amazing! No upfront fees, you just pay week by week, and you can sign up just for a week if you want, then switch it off and on whenever. You can read my review here, and you can sign-up here!