The Internacional design hotel is housed in a building with classic architecture that gives it regal appearance. It's trendy and modern from the inside out.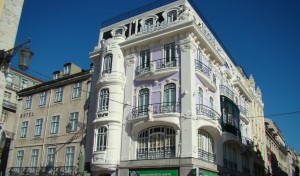 Calling itself a design hotel, I was looking forward to seeing the décor of my room. I was not disappointed. The  Internacional design hotel has four distinct room concepts— urban, tribe, zen, and pop. I was shown an example of each theme but settled on a corner room with the zen theme on the third floor. It's worth it to splash more money for a larger room with balconies, especially one on the corner. The hallway was decorated with white bamboo in a tray of white rocks, which was a nice touch. The room was peaceful and minimal, with stark white walls, muted Asian-themed and abstract artwork, and dark brown wood furnishings. The bed was king-sized and comfortable with feather pillows, although you could order more from the pillow menu if you wanted. Even though it faced a busy area, the sound proof windows really did mute everything. Instead of the usual mediocre drip coffee machines most hotels come equipped with, it had a fancy Nespresso machine. It even had a PS3 and a 40" 3D tv to play it on—awesome!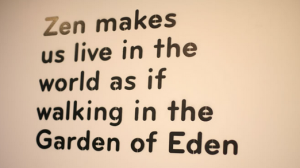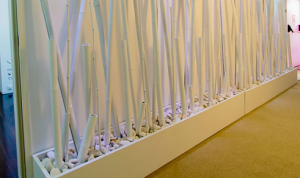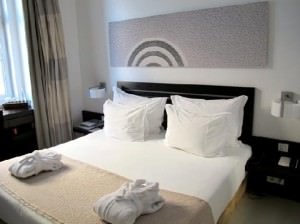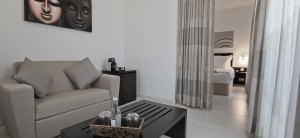 The Internacional Design Hotel couldn't have been in a better spot. It was the best location of any hotel I've ever stayed in! It was located in Rossio Square (D. Pedro IV Square), Lisbon's main square and a large meeting place for locals and travellers. When I woke up, I grabbed some of the free breakfast at the Naoki restaurant downstairs and then worked on my computer on fast, free wifi while looking over the balcony. It'd be great for people watching as well.
Being in the heart of Lisbon's Historic Centre it was near everything: minutes walking distance from many of the main attractions (like Santa Justa Elevator) and accessible to public transportation for places further away.
To sum it up… if you want a boutique hotel in an absolute central location, you do not need to look any further. This is THE place to stay in Lisbon.