Following up last  Tuesday's Travel Rant about people from around the world assuming that they can go straight to their city when asked where there from, as opposed to their country, I thought I'd continue in that vein.
Where am I from? Ireland. Ok no probs there. My mate, where is he from? Argentina. My other mate? Hong Kong. All good here folks. Move along.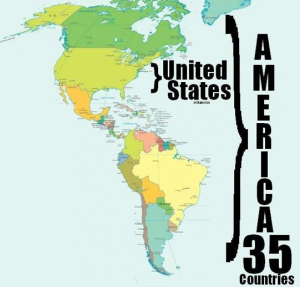 When someone asks any of these 3 people where they're from, would you ever hear us say – I'm from Europe, America and Asia? No, of course not. We say our country, like the other 99.99% of the people in the world. Simple right? Wrong.
"How about you – my stars-and-stripes, McDonalds eating, American-football-loving friend, where are you from?"     I'M FROM AMERICA.
Argh, for f*cks sake. Here we go again….
America? Are you now?! Wow, that's amazing. There are more than 30 countries in the Americas, throughout North America, Central America, and South America. Where do you mean exactly? Mexico? Brazil? Guatemala?
No of course you don't mean those countries, because if you were from those countries you'd be humble, and informed, enough to not give a region or continent as your nationality. You'd  give your country, like the rest of the planet.
But no Americans (which they're unfairly, but correctly, referred to) like to state they're from America, when that is not even a f*cking country. They're from the US, or USA, or the United States of America, or colloquially 'the states'. Got it? Probably not, but lets move on anyways.
So my AMERICAN friends, be informed, be less ignorant, be less arrogant and when someone asks you where you're from. Tell them a country, not a f*cking continent.
I should note that some of my bestestest friends are from the US, and they're all awesome so I know it doesn't apply to the whole country BUT if I had to say one country that does this more than other, here you have it folks :S
You're welcome. Good day.
Further proof found here:  http://en.wikipedia.org/wiki/Organization_of_American_States and here
Remember guys, the travel rants are done firmly tongue-in-cheek, if we can't laugh at ourselves, we're all in a spot of bother :S