So I managed to make my flight to Las Vegas, Nevada, just! Met 2 of my best mates from Uni (Dan and Swede) who also had just completed summer camps and had amazing times. We landed at the airport and after exchanging war stories about obnoxious yank kids we got off, hit the 40 degree heat and went straight to the hotel. Dan had wangled us a deal at the Venetian Hotel with a suite – check out this hotel (we managed to get a suite for $199 a night – split 4 ways = $50pp, unbelievable i know!)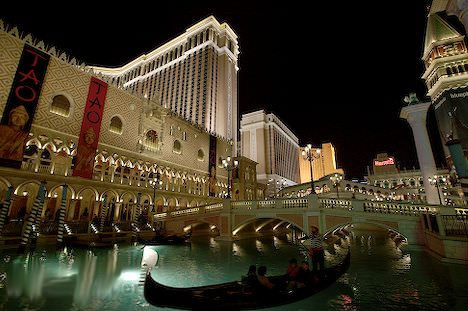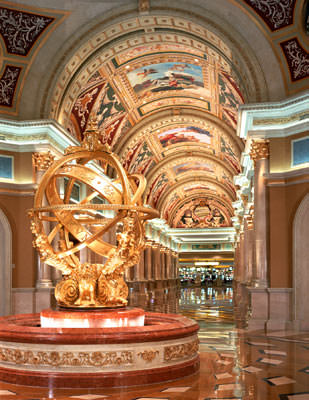 So we picked our jaws up from the floor, checked in and began pretending we belonged there – this was the birth of us pretending to be the Kooks (a british band for those of you not from the UK) which ultimately led to an American wedding for one of us!! We got led to our suite, I'm afraid my pics won't do it justice but here you go….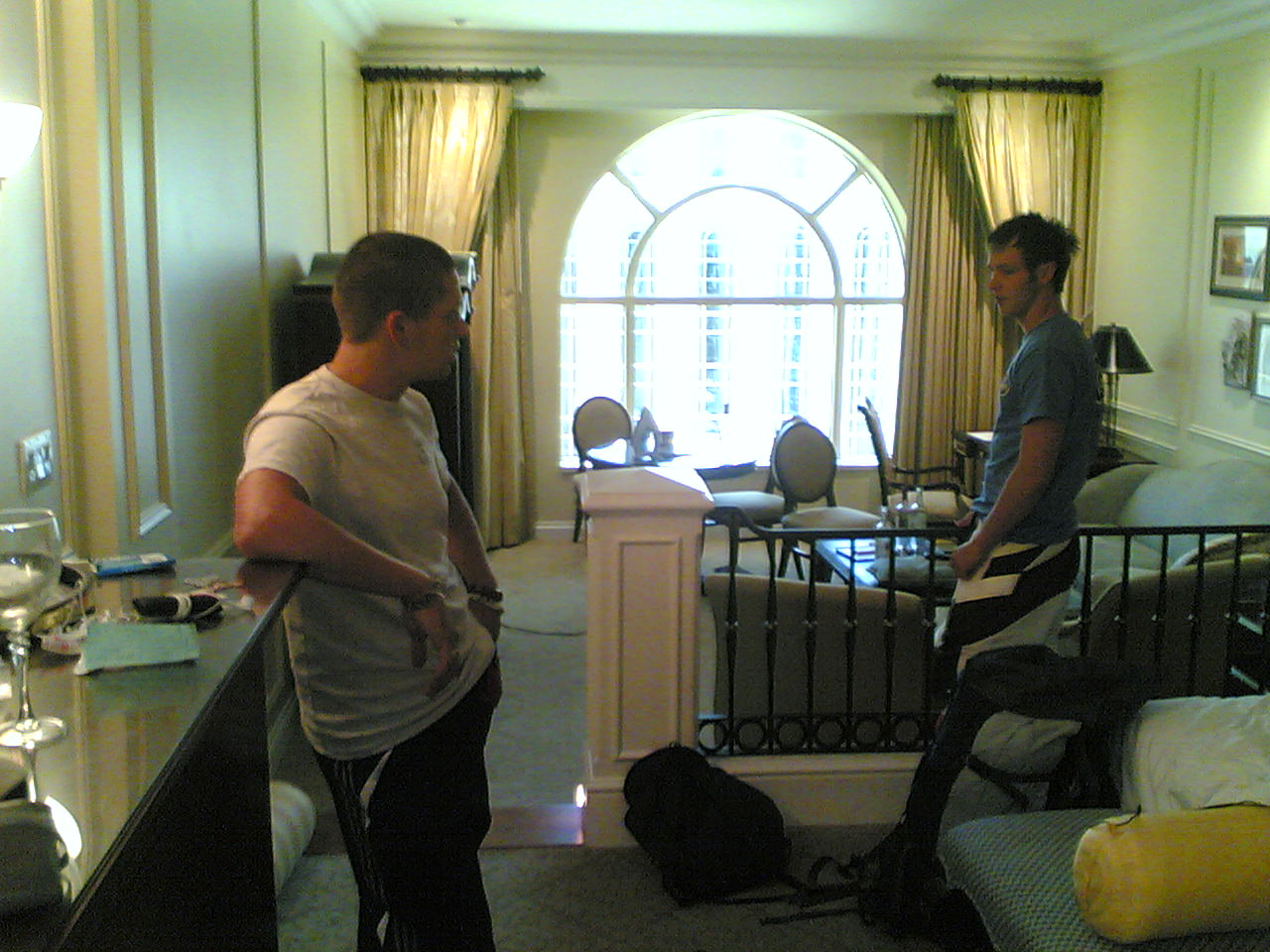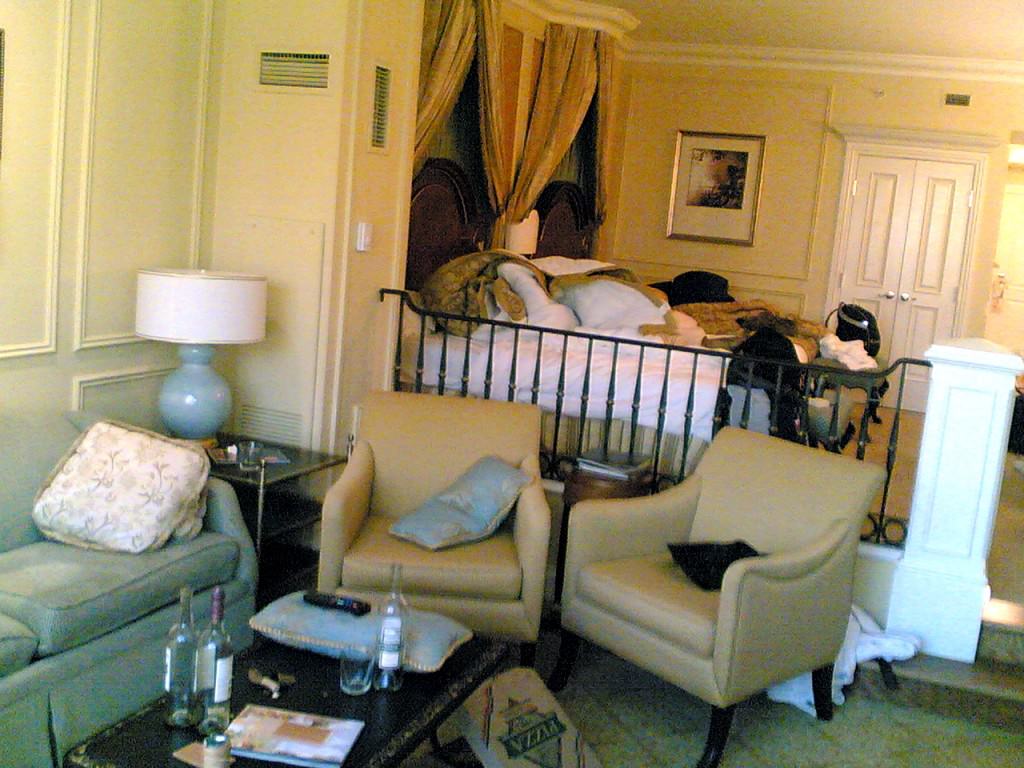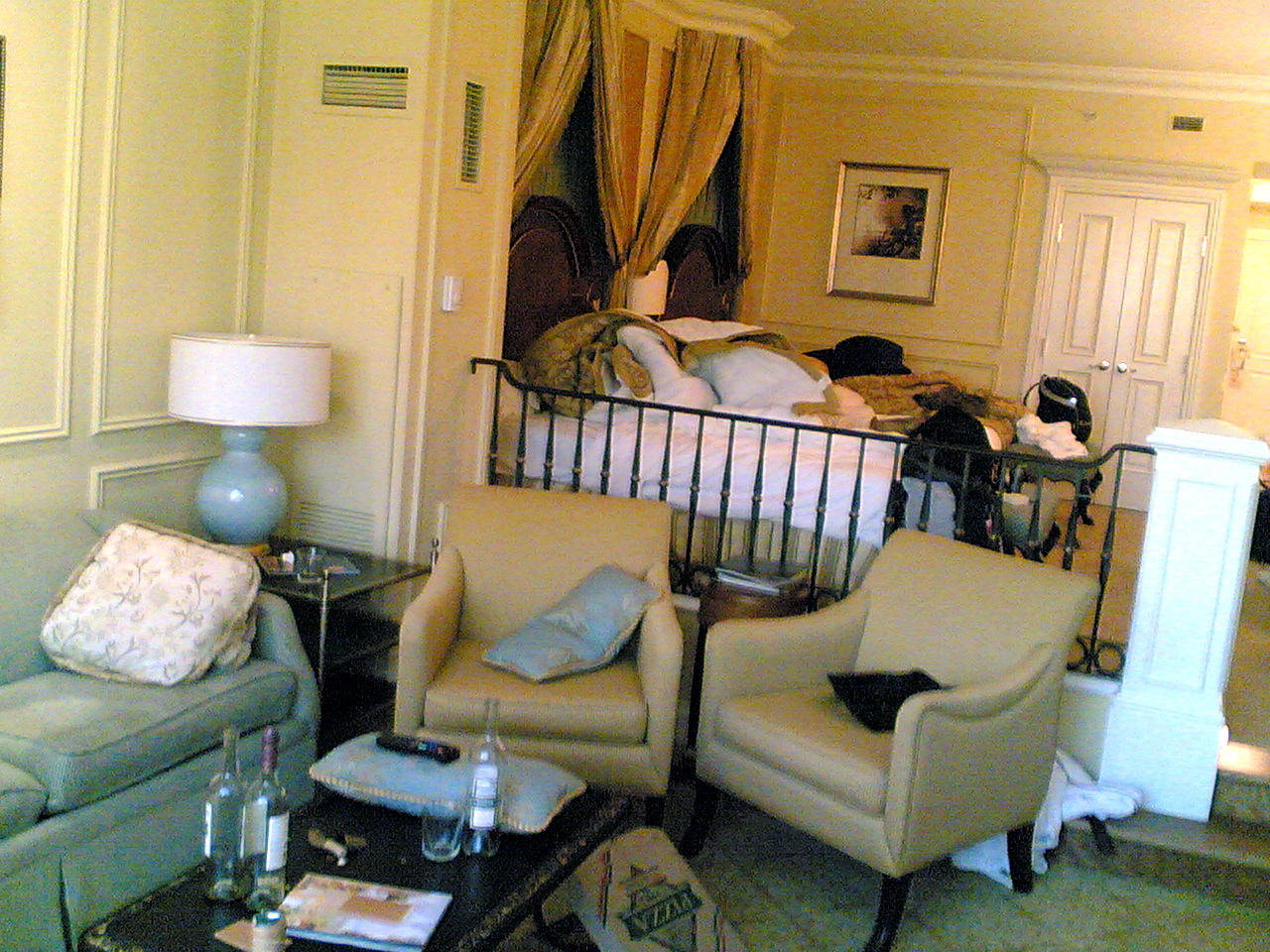 The last pic is of our bathroom – very crazy: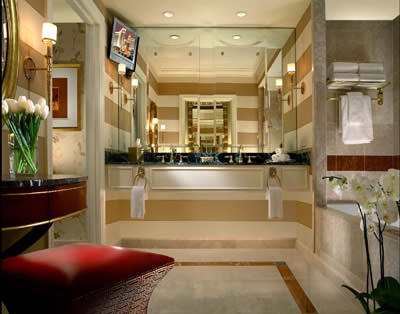 Ok, after throwing our bags in the small town which was our room we went downstairs to the 2nd floor – i want to stress that the next photos are indoors, from the 2nd floor!!: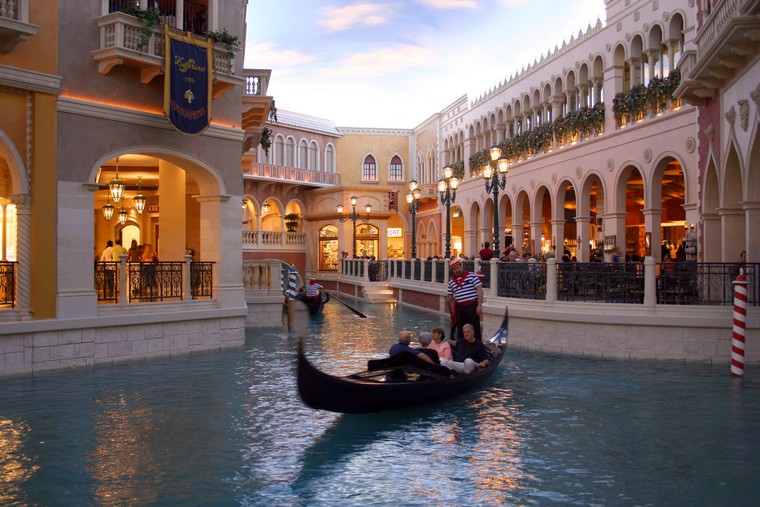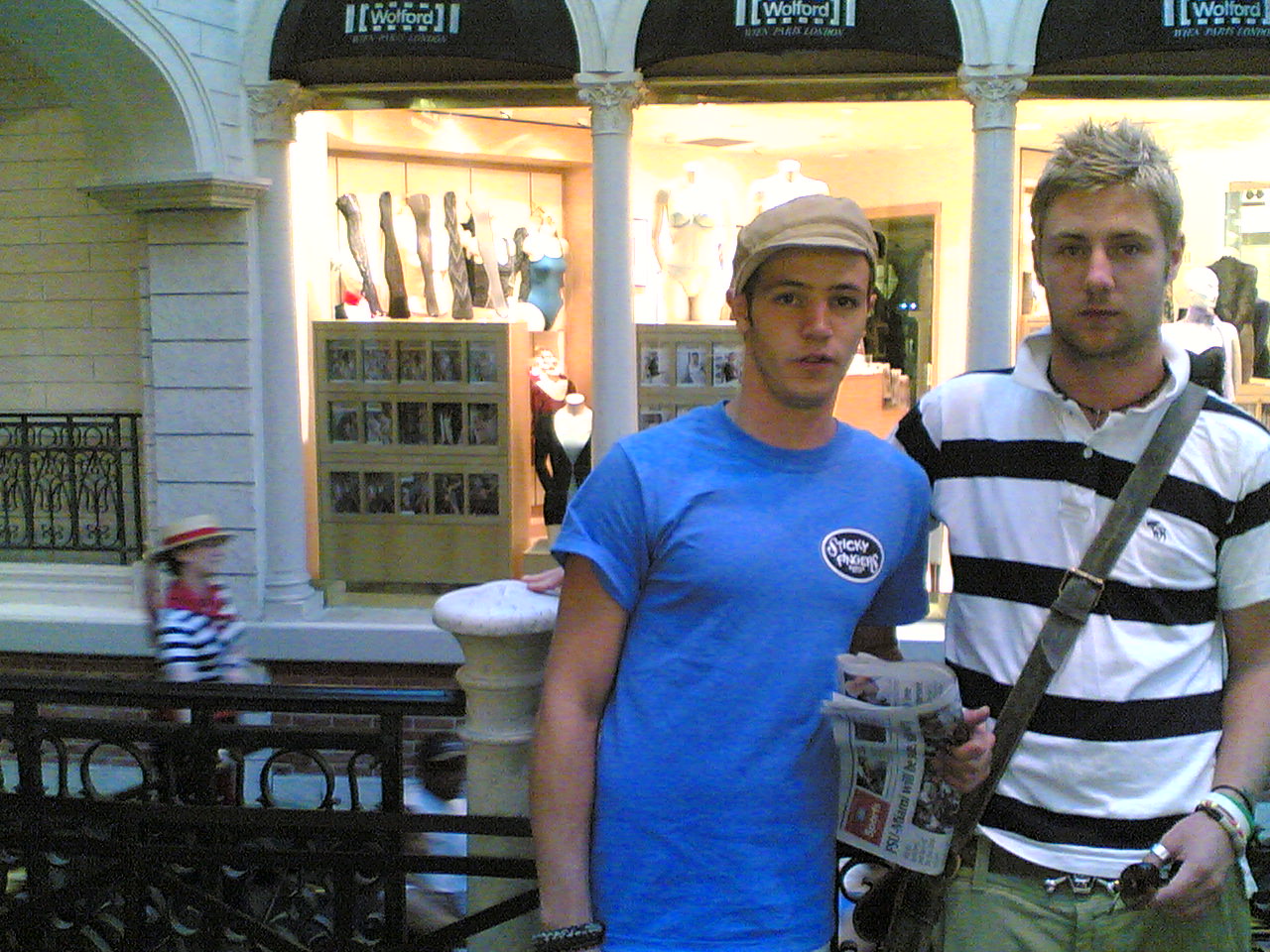 The ceiling is painted as if you are outside and it changes colour/shade according to the time outside – mind-blowingly confusing but pretty cool all the same. Gondolas constantly are meandering through the fake canals throughout the hotel with crazy Italian guys singing "That's Amooooooooooore". This was all too much, we needed a drink
So we hit up the casino. 1st off $200 on roulette – success (it's was destined to be a good night). We were all quite keen poker players throughout uni so we fancied our chances on the smaller tables here too. We paid $30 minimum buy-in and thats where the trouble started. We didn't really know how Vegas worked, we were more than holding our own at the poker table but we kept getting asked did we want drinks. We sheepishly declined until an old Texan dude sitting beside me kindly whispered "There free ya know" and the mayhem commenced. Free drinks all night from scantily clad Vegas hostesses, winning money on the poker and clubbing on the strip to come – this was another moment when you need to sit back and appreciate what you have in life.
We only had 3 days in Vegas (probably a good thing) so on the second night things got even more interesting. After a web of lies about being importer/exporters we ended up with VIP access to an exclusive Vegas hotspot – Tryst nightclub, complete with 50 foot indoor waterfall. Our facade of being in a band had resorted in a flurry of photos and autographs and we thought we were rockstars. However, our true social status dawned upon us once again when we were chatting to 2 gorgeous 'dancers' at the bar. We were drinking vodka and cranberries for some strange, metrosexual reason and the girls asked could we get them a drink "Sure", still living the dream for 30 more seconds until the $200 bill for the 4 drinks hit us… ouch!! live and learn lol.
The band lie continued until Dan met a cute girl on the dance floor, told her about our world tour, our new album, and suite in the Venetian etc. Things were going swimmingly but the end of the night came quickly and they went their separate ways with an exchange of phone numbers. She flew back home and Dan ran a huge phone bill over the next month or so calling her 5 times a day. Our lie about the Kooks came to haunt Dan as Tasia (the cute girl from Tryst) was still convinced of his popstar aspirations; we didn't however legislate for Tasia googling the Kooks and discovering that they look absolutely nothing like us wotsoever. Hilarity ensued when Tasia called and quizzed Dan – "So Dan, which one are you?". He wormed his way out of the lie and to cut a long story short within 12 months and a couple of transatlantic flights Tasia and Dan were married, they now have a mortgage and are expecting a little boys – good luck guys 🙂 what was that about what happens in Vegas stays in Vegas mate?!!?
I do have a few more stories that I'm dying to tell but unlike Dan, I think it's probably better for Swede and I to leave our stories in Vegas. If we ever meet I promise I'll fill you in 😛
After our 3 days we rented a car and headed to LA, California followed by North Carolina and finally Ohio – a few more good tales to tell but that's for another day….