Bhutan was the country I most wanted to visit in my life, and I did it! 10 days in one of the most amazing places imaginable—stuck in the Himalayas and loving every second. In the next few posts I'll be explaining how to visit Bhutan, the costs, and the sights and festivals that are must-sees!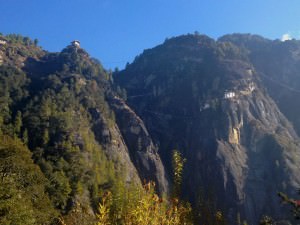 Going to Bhutan definitely can not be done spontaneously. It takes time, at least several months, to plan everything— from  choosing a Bhutan tour company, to setting up your itinerary, visa forms, airfare and whatnot.
Here are the general steps to organize your trip to Bhutan. It's well worth the trouble!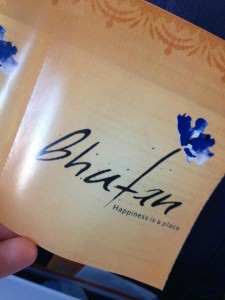 In general, visitors to Bhutan have to be either tourists or those invited by the government (diplomats and such). The alternative options are to get a formal invitation by a citizen or a volunteer organization.
If you're a tourist, you're required to be on a preplanned, prepaid, guided tour or travel program arranged by a tour company approved by the government. This isn't as restrictive as it sounds. You aren't limited to certain areas of the country and the guides aren't there to monitor your every move. Rather, they simply do their job in facilitating the tour and providing supplementary information about the sights you're seeing.
After you select a tour company (I went with Bhutan Life Exposure), you have to pay the cost of the tour in full by wire transfer to the Tourism Council of Bhutan. While booking your tour you apply for your visa to Bhutan. You apply for it directly with the tour company, not an embassy. Once payment is complete, your visa is approved shortly thereafter. You receive your visa stamp upon arrival, which is good for two weeks. Extensions are possible if need be.
You can get to Bhutan both by land or air. By land, there are three entrance points bordering India: Phuntsholing, Gelephu and Samdrup Jongkhar. From those points you can go by car to the capital, Thimphu, or wherever you choose. A road permit is required, which is set up by your tour company. But I traveled there by air. Druk Air is the only airline that flies to Bhutan. It flies from various cities in India, Nepal, Singapore, Thailand, and Bangladesh. All flights land at Paro airport, although apparently they're building another international airport.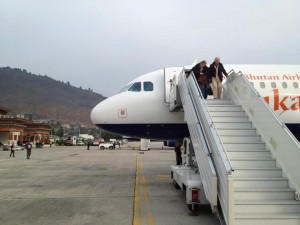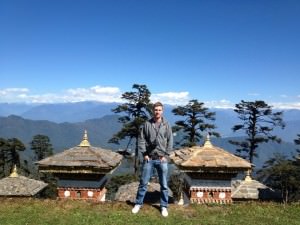 Whew, think that about covers it! To reiterate what I said earlier, the recommended time is about ninety days to take care of all formalities. Bhutan was a dream come true and I hope this helps anyone else interesting in visiting. Happy travels!