Visiting Chobe National Park, Botswana
I visited Botswana during my epic Cape Town to Cairo by public transport trip, taking in 14 of the 54 countries in Africa. And it's easy to see why Botswana is starting to become one of Africa's tourist hotspots. It's open to tourism, has a tourist infrastructure much more ready for people than many other countries in the region, and then of course, there's the wildlife. Visiting Chobe National Park is a privilege indeed. While most people will go on safari in Kruger Park or the like. You'll be seeing more wildlife, and less people, in Chobe National Park, Botswana. Enjoy it, before the crowds arrive.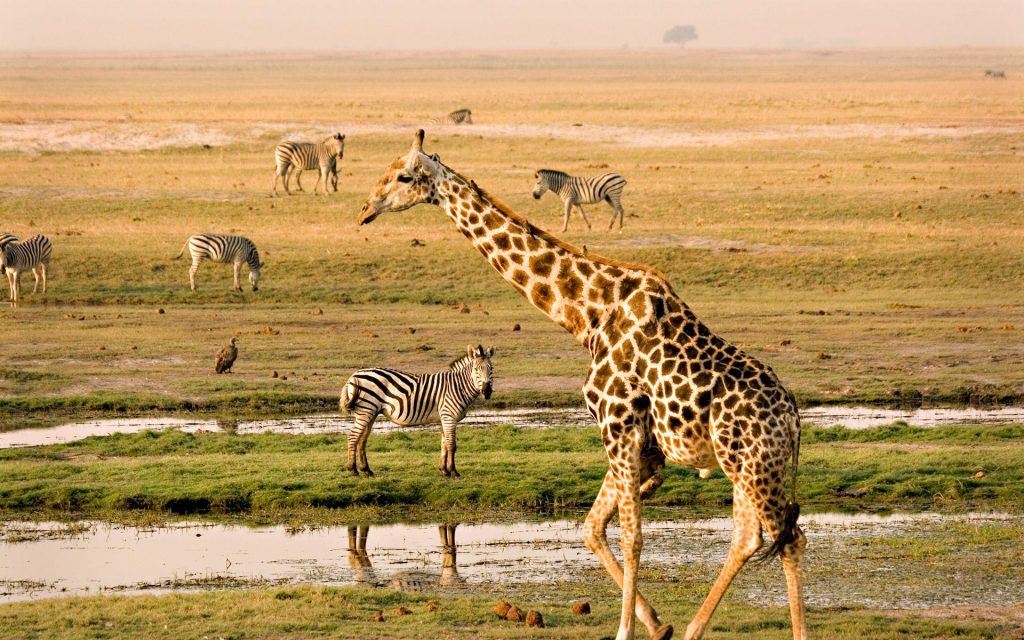 A Short History of Chobe National Park
Chobe National Park nicknamed the "The land of the giants" has enormous potential to offer curious tourists from all over the world. It was Botswana's first National Park made from previously declared crown land. The idea was first developed in 1931 as a way to protect the incredible but threatened wildlife in the area.
An original area of 24,000 square kilometres was originally declared a no-hunting area and by 1935 this was extended to 31,700 kilometres, this was a way of protecting the wildlife while the National Park was officially created. Visiting Chobe National Park is an absolute must-do when you visit Botswana.
Unfortunately, in 1943 there was a heavy infestation of Tsetse fly, a blood-feeding insect, and this created a major delay in the process of creating the National Park with the project not receiving additional government funding until 1953. This time a section of land was declared a game reserve before finally Chobe National Park was officially recognized in 1967.
It has since become the most biologically diverse National Park in the country, which attracts over 450 different species of birds alone. It is a regular stop-off point for most of the popular African safari tours as well as for people visiting nearby Victoria Falls, one of the seven natural wonders of the world.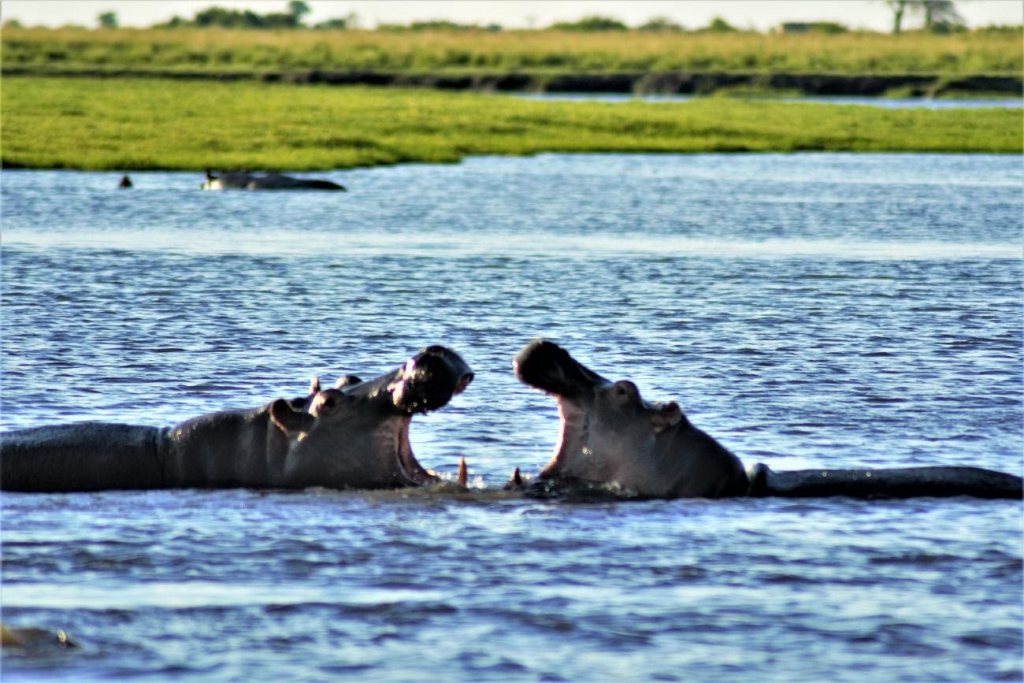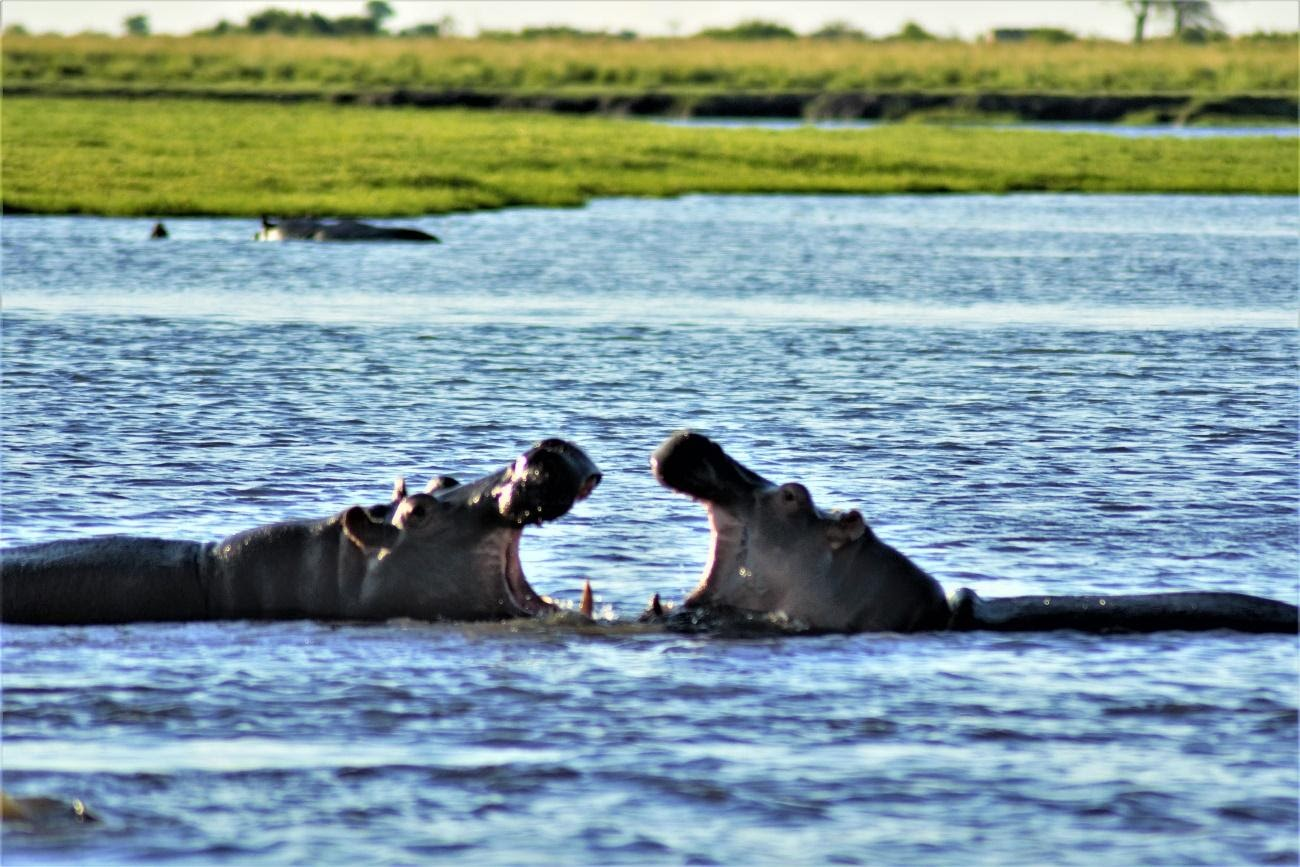 Where is Chobe National Park
The park is located in the northeastern corner of Botswana, only a small distance away from the border of other popular travel destinations Zimbabwe, Namibia, and Zambia. In Fact, the Chobe River, which provides many of the bird and animal spotting opportunities, signals the northern border between Botswana and Namibia. A river cruise here is a popular addition to many people's itineraries when visiting the nearby famous attractions of Victoria Falls or the Okavango Delta. 
The park is a vast section of protected land that covers an area of over 11,700 square kilometers. It's famous for having Africa's largest population of elephant herds roaming across its grounds and offers excited visitors the chance to spot the big five, elephant, lion, buffalo, leopard and rhino, all in one location. 
Chobe National Park Day Trip from Victoria Falls
Visiting Chobe National Park as a day trip from Victoria falls is indeed possible! The park is only an hour from the falls, so for  $170 you can get picked up at your hotel or hostel in Victoria Falls, then take a Cruise on the Chobe River and a game drive in the world-famous Chobe National Park. Pretty epic. Check out, and book, the full itinerary for that Chobe National Park from Victoria Falls day trip here. 
How to get to Chobe National Park
The Chobe National Park gates are only a short 10-minute drive from the small town of Kasane, which has a population of under 10,000. Here is where most tourists will spend their evenings when not sleeping inside the park during an overnight safari, one of the must-do activities available.
BY PLANE:
If you are arriving by plane then you are most likely to be flying into the Kasane Airport (BBK), which is located only 4km south of the town. If you have organized a pre-booked hire car to complete a self-drive safari then this can be picked up from the airport upon arrival. 
The other airport options that can be used close to Chobe National Park include the Livingstone and Victoria Falls airports. These are located in Zambia and Zimbabwe respectively but are only 90 minutes' drive away from the park. If arriving at either of these airports though you will need to ensure you have the correct visas if one is required for your nationality. Most often if you have a pre-booked African safari, the airport transfer will be included in the package price. 
If you're completing a self-driving safari around Botswana or possibly other African destinations, the National Park is located around 600km north of another popular location called the Okavango Delta. Driving in Botswana is considered relatively safe overall and the roads are known for being in good condition with minimal traffic to slow down your journey.
OVERLAND: 
You can take public transport from Victoria Falls to Kasane 3 times a day (Intercape has 'buses 3 days a week from Kasane to Victoria Falls (www.intercape.co.za) the tickets are ZAR 750-1000 (USD 53-70). 
At that price, it's better value to book a day trip from Victoria Falls to Chobe National Park, including the park entrance, and transfers, etc. It's about $170 per person. Book that here. 
When is the best time to visit Chobe National Park
In short – April to September.
Now, the long answer. The park is open to visitors all year round and what species of animals you want to see and the experience you desire will decide when the best time to visit Chobe National Park is for you.
Botswana and this region of Africa in general, are known to have two distinct weather seasons, dry and wet. The wet season runs from November to March and this time of year has high humidity and extremely warm temperatures, which are constantly above 35º and not unusual to reach 40º. Rain usually occurs towards late afternoon and evening and the days are mostly dry. This means that game drives and park visits are still possible, where you will witness the area at its greenest. On an evening you are also likely to witness some impressive thunderstorms.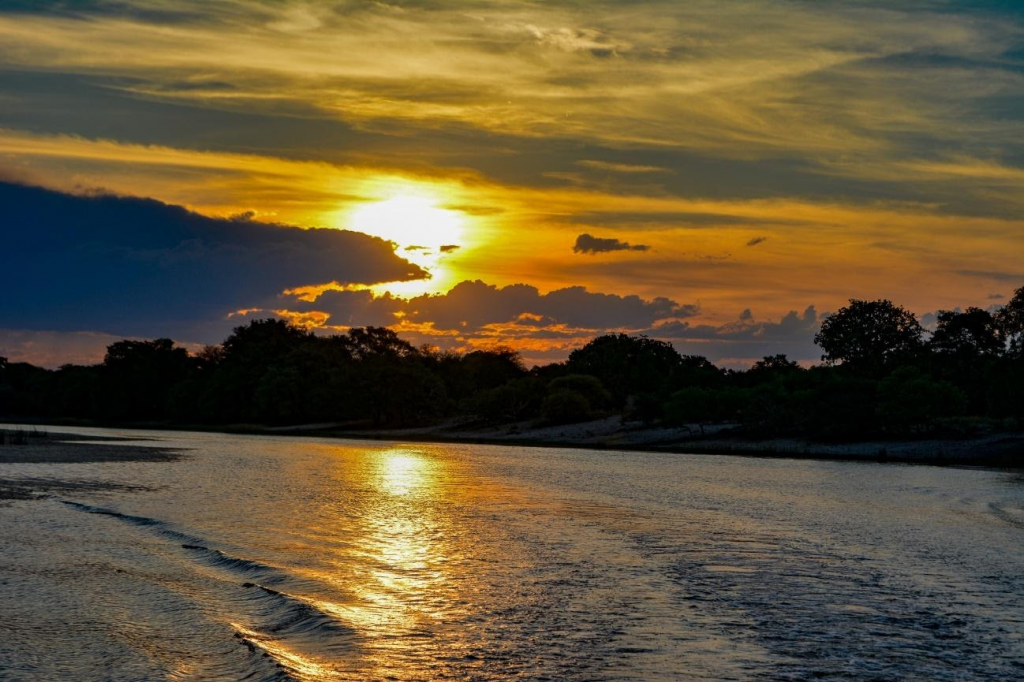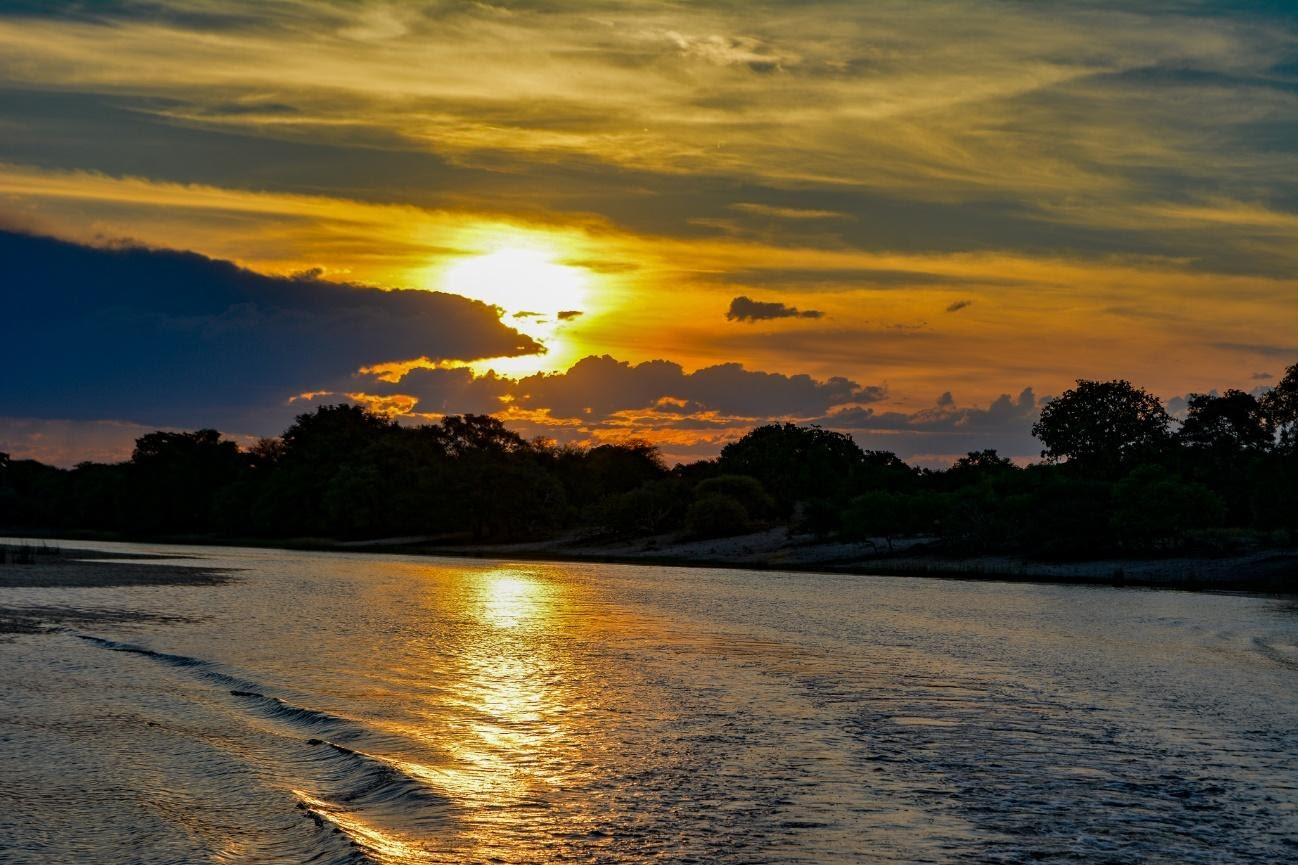 The dry season runs through the months of April to October, although the month of October will begin to have warm and humid days. Throughout the most part, the dry season temperature hovers around the 25-27º range and creates a pleasant game-driving experience. The evenings are often quite cold though, so be prepared if you do any kind of camping safari or early morning game drive inside the park. 
The best time to visit Chobe National Park:
The short answer is the dry season (April to September), as these are the most comfortable conditions for visitors and also offers the best time to witness the epic herds of elephants that cross the Chobe River. Observing the earth's largest land animal displaying their natural wild instincts is a breathtaking experience. The trumpet-like musical performance they produce when communicating together, the playful nature of hosing each other down with their trunks as they cross the river with an apparent lack of fear for the nearby crocodiles and hippos is likely to stay in your memory for many years after.
You might even find yourself in a Mexican-style standoff between your safari vehicle and one of these 7000 plus kilogram giants. This can be nerve-racking but at the same time strangely addictive, sitting in a vehicle, that now seems somewhat smaller, while watching as they flair their huge grey ears out to improve their size while sounding their trunk with a thunderous warning sound. On occasions, they even make small charges towards you before passing on and leaving it to another elephant to decide what action to further take. 
Wet Season
You can also expect to see impressive herds of buffalo in the area at this time of year. As well as predator animals visiting the edges of the Chobe River in search of water and prey.  If however, you are more interested in bird watching or seeing the annual Savute zebra migration then visiting during the wet season is the best time for you. The Savute zebra migration is the second largest zebra migration in the world. It hits its peak between the months of January and February. Where zebras as far away as Chobe National Park make the exhausting and desperate 500km journey to Savute in search of fresh pasture to graze on.
WHAT ANIMALS CAN I SEE WHEN I'M VISITING CHOBE NATIONAL PARK?
Animals you can potentially see while visiting Chobe National Park during any time of the year include buffalo, lion, leopard, elephant, crocodile, hippo, zebra, giraffe, lechwe, sable, impala, wildebeest, hyena, jackal, bushbuck, monkeys, and baboons.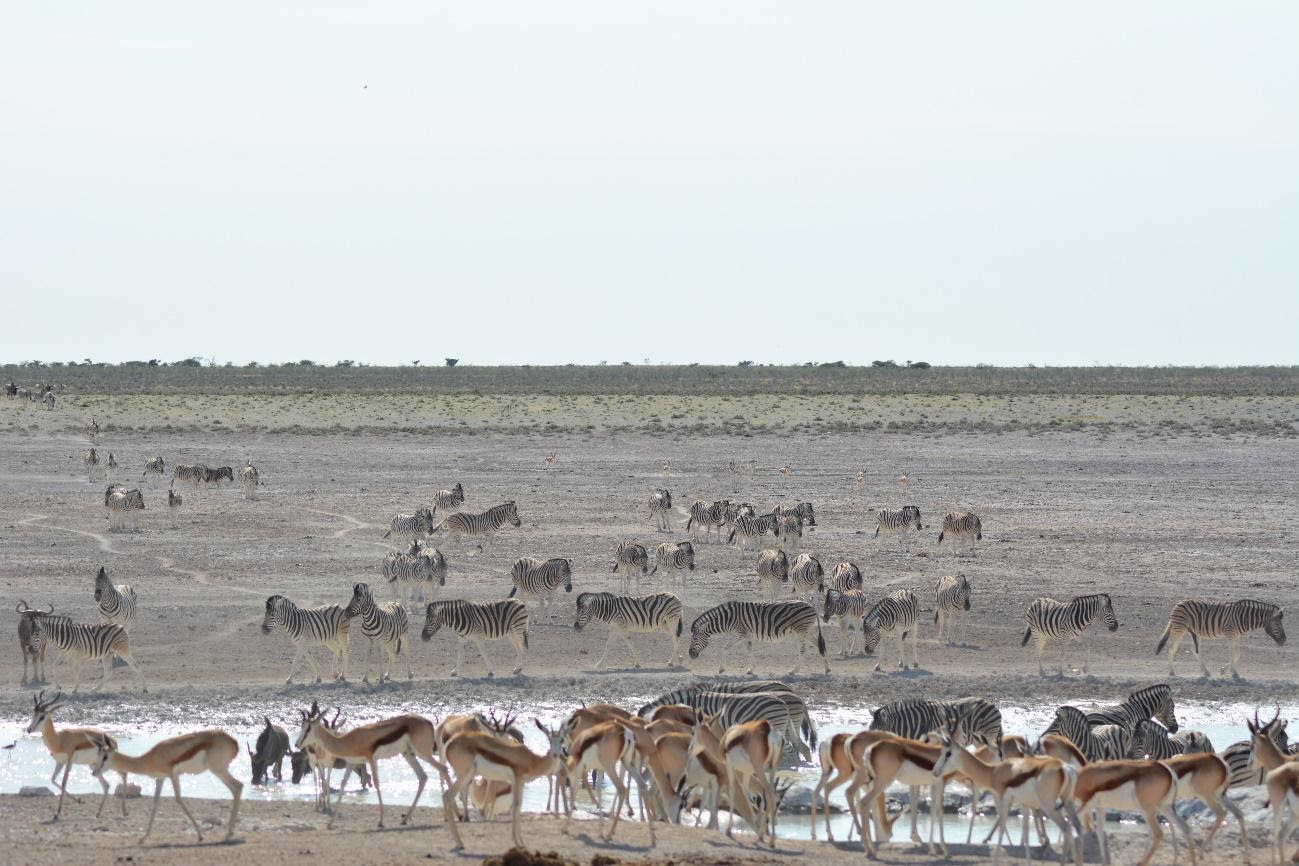 Visa Requirements for Botswana
As with any new country you are planning to visit, it's highly recommended to check with the immigration office of that country for visa requirements. As these type of things can change without much notice. In saying that I can offer some general travel advice on visa requirements for Botswana that is current at the time of the last updating of this blog. 
Most European countries, the United States, the United Kingdom, and most other commonwealth countries are not required to obtain a visa for a visit length of 90 days or less. Countries that are not included above will need to visit the Botswana Embassy or Consulate website. There you gather more information on the process you need to undertake. Be sure to do this at least one month before your departure to Botswana. And the earlier the better in case you encounter any delays throughout the process.
A list of the countries currently not required to obtain a visa are listed below:
Angola
Antigua and Barbuda
Argentina
Australia
Austria
Bahamas
Bahrain
Barbados
Belgium
Belize
Brazil
Brunei Darussalam
Bulgaria
Cameroon
Canada
Chile
Costa Rica
Croatia
Cuba
Cyprus
Czech
Denmark
Dominica
Dominican Republic
Estonia
Fiji
Finland
France
Gambia
Germany
Greece
Grenada
Guyana
Holy See
Hong Kong
Hungary
Iceland
Ireland
Israel
Italy
Jamaica
Japan
Kenya
Kiribati
Kuwait
Latvia
Lesotho
Liechtenstein
Lithuania
Luxembourg
Malawi
Malaysia
Maldives
Malta
Mauritius
Mexico
Monaco
Mozambique
Namibia
Nauru
Netherlands
New Zealand
Norway
Oman
Papua New Guinea
Paraguay
Peru
Poland
Portugal
Qatar
Romania
Russia
Saint Kitts and Nevis
Saint Lucia
Saint Vincent and the Grenadines
Samoa
San Marino
Sierra Leone
Singapore
Seychelles
Slovakia
Slovenia
Solomon Islands
South Africa
South Korea
South Sudan
Spain
Swaziland
Sweden
Switzerland
Tanzania
Tonga
Trinidad and Tobago
Turkey
Tuvalu
Uganda
United Arab Emirates
United Kingdom
U.S.A.
Uruguay
Vanatu
Venezuela
Yugoslavia
Zambia and Zimbabwe.
As with most countries when travelling you are required to hold a valid passport with at least 6 months remaining before expiry when you land. If you are planning to arrive in, depart from, or visit Zimbabwe or Zambia while here then remember that those countries will have different visa restrictions.
Health Requirements to plan during your Chobe National Park visit
The main cause for concern for many when travelling to Botswana is the risk of malaria. and the uncertainty of whether a yellow fever vaccination is necessary, as with other countries including Tanzania. Chobe National Park is certainly in a malaria zone. But this is an illness that can be easily planned for before you travel. Be sure to consult your doctor pre-trip and ask for the required malaria medication. You should also take extra measures to protect yourself while on holiday. Do this by using plenty of insect repellent and cover up with trousers and a long sleeve shirt as the evening sets in.
As for yellow fever, it is not a country that has this risk. So a yellow fever vaccination is not required for entry into the country. Some neighbouring countries, however, do require this. Be sure you have done your research if planning to visit other locations before or after Chobe National Park.
If you have any health issues while at Chobe National Park, there is a chemist located in the town of Kasane. 
Chobe National Park Fee Price
The main entrance point to the Chobe National Park is through Sedudu Gate, which is located just outside Kasane. There is an entrance fee that must be paid each of the days you are planning to be inside the park. These fees are almost always included in any safari option you do but be sure to check with your safari provider.
If exploring the park by yourself, below are a list of prices:
| | |
| --- | --- |
| Adult | non-resident 120 BWP ($11usd) |
| Children (8 to 17) | non-resident 60 BWP ($5.50usd) |
| Children under 8 | Entry is free |
The price is cheaper if you are a Botswana National and please be aware that these prices can change. 
Other possible locations to enter Chobe National Park include Ngoma gate near Namibia and Mababe gate around 50km away from Savute.
Witnessing the big five when you visit the Chobe National Park
Many people travelling to Africa are doing so with the hope of spotting as many of the big five as possible during their vacation. It is becoming a lot harder to do, as unfortunately, rhino numbers are continuing to get lower. There are only a small number of places where finding the big five is possible in the same location, luckily Chobe National Park is one of those locations. 
It is the best location in Africa with regards to elephant viewing, with a colossal 120,000 elephants estimated to be calling Chobe National Park home. They are often found travelling in herds consisting of many hundreds and you can sit and witness this awe-inspiring spectacle as they showcase their individual personalities that highlight why elephants are considered one of the smartest animals on the planet.
I often find myself randomly producing a wry grin while thinking back at the spectacles of curious elephants trying to assist each other stuck in the mud, mothers sheltering over-exuberant young who were wanting to investigate our safari vehicles and watching first hand as the pecking order was decided each time a cocky new male entered the herd. 
Buffalo is another of the big five that travel in large groups throughout the park and shouldn't be too hard to spot either. The lions, leopards and rhinos are a little more elusive though and you will need to have a combination of luck and eagle-like eyes to spot them. It is certainly possible though.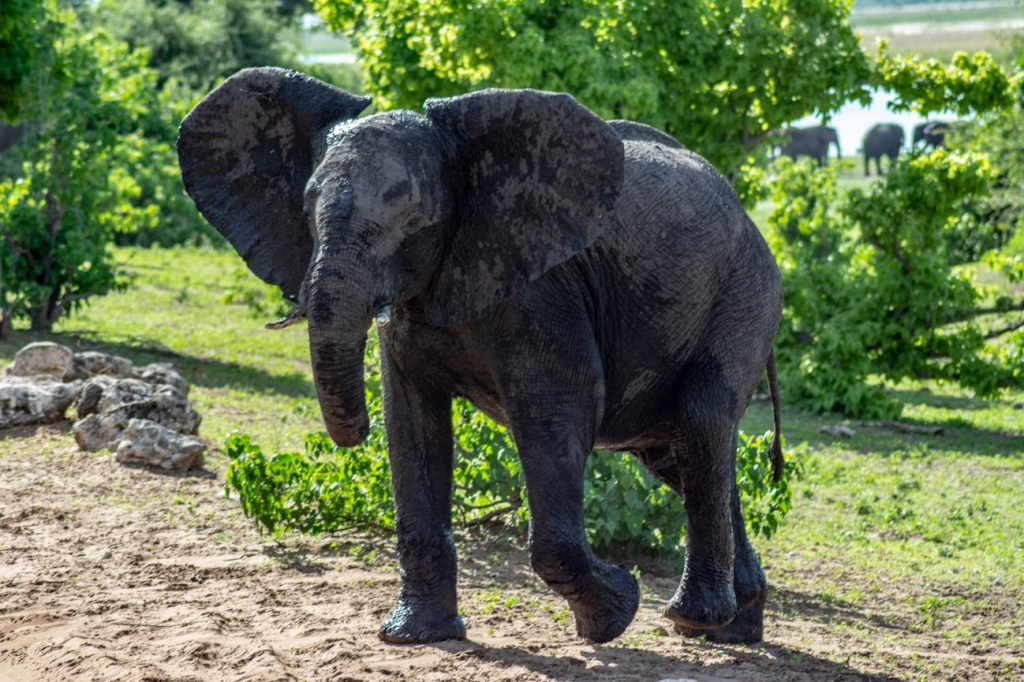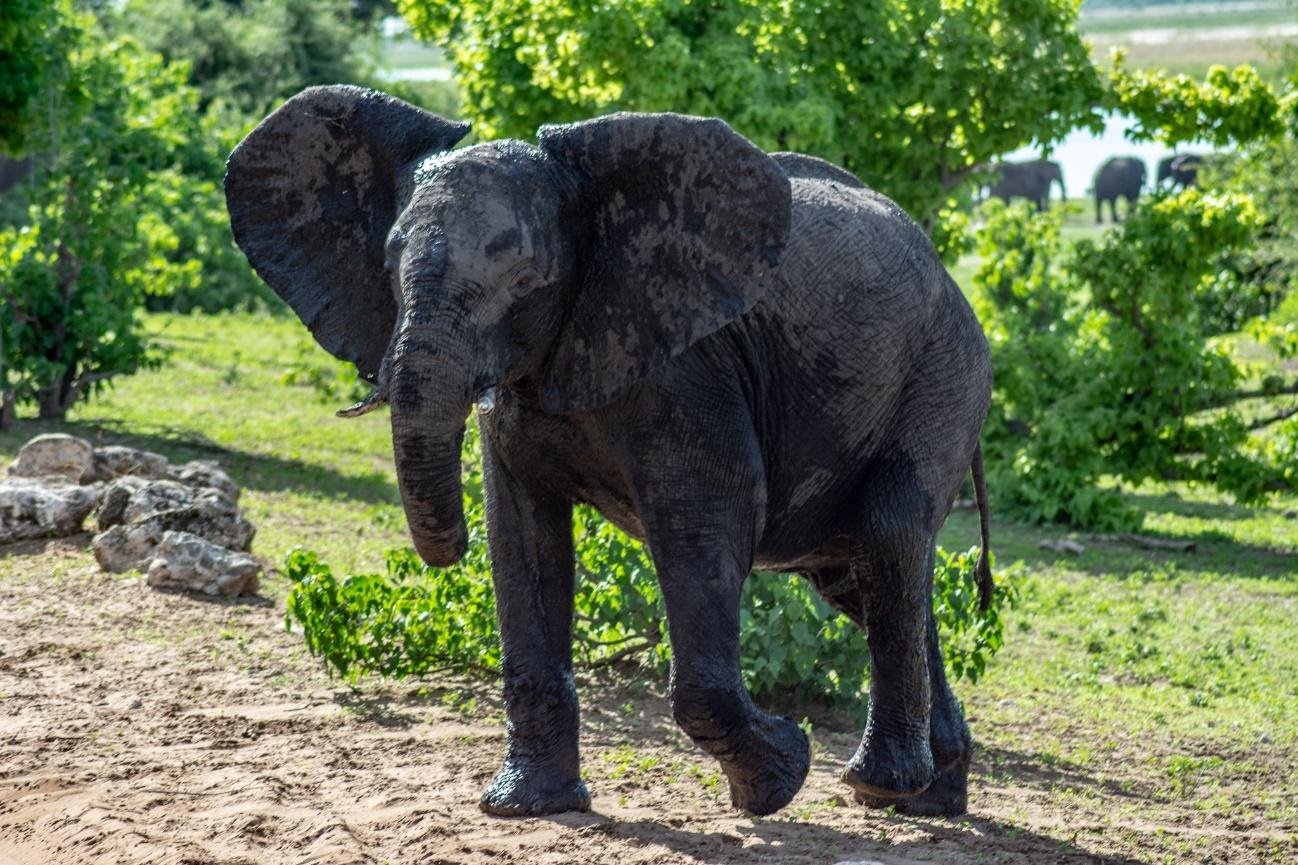 How to experience Chobe National Park
Depending on what you want to see will depend on how you travel throughout the park. The most common methods are cruise boat trips on the Chobe River and game drives through the park. 
The Chobe River cruises start in the town of Kasane and will offer you the best chance to learn about the importance of the river to the region as well as enable you the opportunity to witness many different species of bird, along with crocodiles, hippos, elephants and other animals up close and personal. 
The game drives can consist of varying lengths ranging from half-day morning or afternoon drives, full-day trips or the really committed can opt for an overnight or multi-day trip. I highly recommend spending at least one night camping inside the park if possible. While driving around Chobe by jeep safari you will be aiming to spot members of the big five. Lions, leopards, elephants, giraffes and buffalo are commonly seen with this type of excursion. 
Accommodation Options when you're Visiting Chobe National Park
The accommodation on offer when visiting here is quite varied. You can opt to do a safari combined with a one or multi-day camping experience or stay in one of the varieties of different game lodges located inside the park. 
If you are wanting to stay outside of Chobe National Park and complete river cruises and day game drive safaris then the town of Kasane offers many different accommodation options from campsites to bungalows and hotels. 
What to pack when visiting
When planning to visit an area such as Chobe National Park you will need to plan accordingly. It is completely different than packing your bag for a weekend getaway to the city. Remember to think about the likely items you are going to encounter during your time, things like insects, temperature changes, swimming, day trips, incredible scenery and wildlife etc. Below is a small list to get your mind thinking about the types of items you should be packing when going on a safari. 
Lightweight long-sleeve shirts

Hiking pants (zip-off ones are ideal)

Raincoat

Swimming shorts

Hiking boots

Sandals or flip flops

Small backpack for day trips

Sunscreen

Hat and sunglasses

Camera and action camera

Insect repellent

Binoculars 

Required medication

Headlamp or torch
 What else is nearby
As mentioned already, one of the seven natural wonders of the world, Victoria Falls, is less than two hours drive away from Chobe National Park and well worth a visit while you are so close. There are day trips you can complete from Kasane or you could make your way by public transport independently. A great place to research all the required information and find out the incredibly fun activities to do at Victoria Falls is via the travel blog called Aussieinwanderlust.
Here, Brodie has great tips for travelling cheaper plus informative information on all the activities to do, restaurants to eat at, visa requirements, accommodation options, the best time to visit and much more. So if you enjoyed this blog be sure to jump over and check out his also, you won't regret it.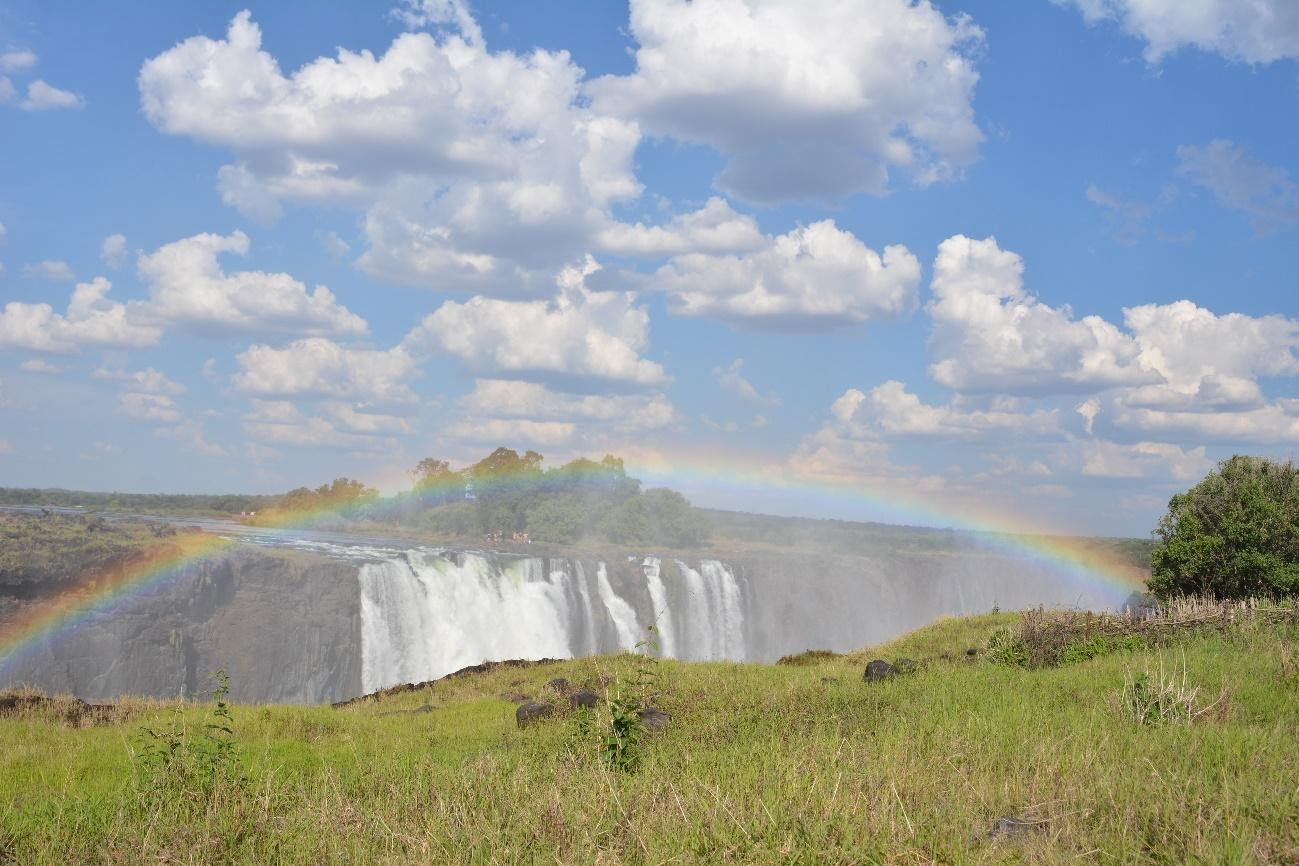 Remember, never travel without travel insurance! And never overpay for travel insurance!
I use HeyMondo. You get INSTANT quotes. Super cheap, they actually pay out, AND they cover almost everywhere, where most insurance companies don't (even places like Central African Republic etc!). You can sign-up here. PS You even get 5% off if you use MY LINK! You can even sign up if you're already overseas and traveling, pretty cool.
Also, if you want to start a blog...I CAN HELP YOU!
Also, if you want to start a blog, and start to change your life, I'd love to help you! Email me on johnny@onestep4ward.com. In the meantime, check out my super easy blog post on how to start a travel blog in under 30 minutes, here! And if you just want to get cracking, use BlueHost at a discount, through me.
Also, (if you're like me, and awful with tech-stuff) email me and my team can get a blog up and running for you, designed and everything, for $699 - email johnny@onestep4ward.com to get started.
Do you work remotely? Are you a digital nomad/blogger etc? You need to be insured too.
I use SafetyWing for my digital nomad insurance. It covers me while I live overseas. It's just $10 a week, and it's amazing! No upfront fees, you just pay week by week, and you can sign up just for a week if you want, then switch it off and on whenever. You can read my review here, and you can sign-up here!