Lake Balaton is Europe's biggest fresh water lake, and the only lake in Europe you can see from the moon (impress your gf with that knowledge boys!). It's only a 2 or 3 hour train ride from Budapest, so naturally it gets pretty popular in the summer time.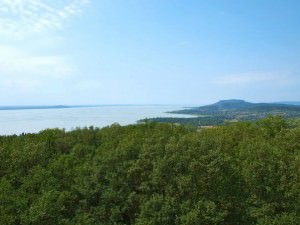 Most people flock to Siofok, home to Balaton Sound (a huge music festival held once a year here). Siofok is a bit of a tourist trap though, be warned. If you dream of sitting my a chilled lake, listening to Ed Sheeran on your iphone, soaking up some Hungarian culture, Siofok is not the place to be. It's a party town, the self styled 'Ibiza of Hungary', the constant boozing in Europe was getting a bit old to be honest, so I stayed clear and went else where. Somewhere, in my opinion, much better.
The south coast of Lake Balaton all mirrors Siofok, clubs, bars, pub crawls, 20 year old Brits and Aussies – anyone who has traveled in Europe will know exactly what I mean! The north coast of the lake is a whole different ball game, and much cooler for it.
I went to Revfulop, a 3 hour train journey from Budapest ($24 return). The town is quite small but it still has an influx of travelers. They have a popular hostel there too, one of the few on the northern side of the lake (Hullum hostel) and I'd recommend staying there for sure.
In terms of things to do here, you won't be packing your days with sightseeing, but there's something beautiful about that. Traveling around Europe, city to city, it's church after church, here it's time to sit back and smell the roses.
You can climb the hill behind Revfulop town and climb the tower, offering awesome views of the lake and neighborough villages. You can wander around the quaint town, drink $1.50 beers, $3 bottles of wine and eat goulash to your hearts content.
The lake is constantly there, shimmering at you, beckoning you in too. The water is chilly, which is beautiful when the heat starts to stifle. I was in Revfulop for 2 and a half days and it was just the respite I needed away from the city, so back I went. I have a flight to Israel to catch, but I'm certainly sad to leave Revfulop, and Hungary, behind. Happy travels!