A trip to New York is always a great experience, you get to see one of the world's most famous cities. From the moment you land to the moment you leave you will be blown away by the size of the place, how busy it is and also how you recognise most of it from the movies! I have been to New York a couple of times and have loved every minute of it, it has a great nightlife and even better tourist attractions. There are so many popular New York attractions that it can be difficult to figure out which ones you should visit, this is always important if you are going for a short break to the big apple. Here are my suggestions for things that you have to see! Depending on your time frame you might not be abel to fit them all in, so get a map and plan your route thoroughly to make the most of your time.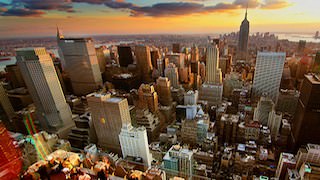 Grand Central Terminal
The icons Grand Central should be on everyone's list. You will recognise this place when you enter, it has appeared in so many Hollywood Blockbusters that it almost feels weird when you walk in because you feel like you've been there before. It is still the main transport hub in New York, but now it is also geared towards visitors. When you go there you will be able shop or even sit down for a bite to eat and drink. Don't miss out on this one!
Empire State Building
Yes, this is an obvious one. Yes, you will have to queue for a while to get up there. But, trust me this one is well worth a visit! When you walk around New York you are surrounded by huge sky scrappers everywhere, on top of the Empire State Building you will get a breath of fresh air – a view across the whole city. You need to look down on the city to appreciate how big and just how crazy it really is. Getting married? Why not pop the question here!
Central Park
We all know central park, it is such a great place to go when you need to get out of the hustle and bustle. If you need to escape the concrete jungle that is New York then head here, bring a picnic with you and soak up your lush natural surroundings. There are plenty of things to do here, you can hire a bike, hop on a boat or simply just walk around and discover the place. It is very popular and you will see lots of fitness enthusiasts jogging around.