If you are looking to get away on an exciting extreme vacation, check out all the great locations available on the Asian continent. Here are just three of the most extreme getaways for you to enjoy during your adventure in Asia.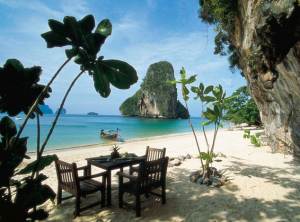 1. Resort World Kijal:
When you are looking for a destination that offers the ultimate in luxury and accommodations, check out the Resort World in Kijal, Malaysia. The Resort World will provide you with an extreme vacation experience that includes incredible premiere suites with sea views, exotic cuisines, amazing recreational activities, beautiful sightseeing opportunities and much more.
You will be able to visit the turtle sanctuary and learn about this gentle sea creatures as well as taking an environmental tour of the area and experience the eco-system of Malaysia. You can also dine in incredible resort restaurants like the Waterfall Cafe and the Restoran Kampong Meraga Beris. The resort is just steps from the ocean and has an on-site spa featuring traditional Javanese massages along with aromatherapy massages, physical conditioning, stress reduction, an ancient healing experience and the ultimate royal honeymoon experience which includes a complete package of spa services for couples. The resort also includes great on-site golf courses and water sports activities.
2. Extreme Asian Tours:
When you want to experience an extreme getaway in Asia, take a look at all the amazing tour packages that are available for you to enjoy. Whether you want to visit China with its Great Wall and unique Chinese architecture, or visit India and see the Taj Mahal along with many other local wonders, you will find plenty of things to see when you take an extreme Asian tour.
You can even choose a tour that focuses on a specific subject such as a religious tour, a railroad tour, river cruise tours, adventure tours and even specialty tours. There are several tour companies in Asia that will provide you with customized tours and other tour packages to fit within your getaway schedule. You can also find discounts and specialty packages available to help you save money on your vacation. You can also find many sports activities and safaris available for your extreme Asian experience. Whether you are into cultural events, sightseeing opportunities or historical landmarks, you will find plenty to explore in Asia.
3. Extreme Asian Honeymoon Getaway:
If you are looking for a great place to spend your honeymoon, check out the extreme honeymoon destinations available for you in Asia. One of the most exotic honeymoon destinations in Asia is Thailand. You can experience everything from world-class spas to incredible and scenic beaches. For a truly romantic and extreme honeymoon, spend your getaway in a beach bungalow under an amazing Asian sky with the waves providing a peaceful atmosphere.
You can also find many Thailand honeymoon packages to provide you with discounts on everything from bungalows and private villas to romantic cruises, spa packages, island hopping tours and canoeing trips. Thailand offers many romantic places for honeymooners to visit such as the Grand Palace, the Temple of the Emerald Buddha, the Bangkok Canal, the Temples of Bangkok and more. Take a cruise on a glass-bottomed boat while you explore the incredible coral reefs or get an herbal oil massage for two in one of the luxury spas in a Thailand resort hotel.
Gabriel Obadia is a passionate music fan and traveller who writes about Montreal guitar lessons and Montreal concerts.