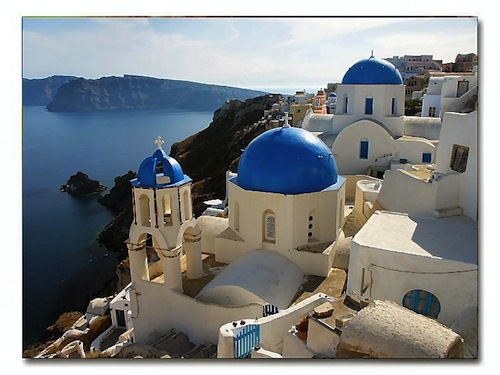 GREECE
Greece is a cheerful and charming country whose natural beauty and numerous islands have continued to woo aristocrats and tycoons for decades. The awe inspiring sea views, fine wine, gourmet meals, opulent mansions and peculiar villas never cease to bewitch.
The tiny island of Kastellorizo is a perfect hideaway off the beaten path where the wealthy Greeks enjoy luxury and nature. You can spend a perfect holiday here, cruising in the high end yachts lined up here. Its beautiful blue harbor is lined up with colorful Ottomans style houses, the luxurious Mediterraneo hotel, chain of tavernas and café bars which will cater to your hunger pangs after enjoying a dip in the crystal clear sea. Do not forget to check out its must see blue grotto which resemble the one in Capri.
To enjoy a luxury holiday in Greece combined with history and Greek culture, the Island of Chios is the place to be. It is famous for its ancient mastic villages famed for the mastic bush much prized as a breath freshener by the Ottoman sultans. The rich combination of nature and opulence will have you going back for more.
INDIA
India gives you an opportunity to marvel at the wonders of nature, magic of true love and mostly to enjoy royal treatment in style. A luxury tailor made tour is the perfect way to experience India in style. From the mystifying jungles of Arunachal Pradesh to the pristine waters of Kerala and the magnificent symbol of love the Taj Mahal, in India you can have it all. There are magnificent palaces all over India and some hotels have adopted this architectural ingenuity of the past empires to offer over the top luxurious accommodations.
In Rajasthan you can enjoy some lazy days on the Taj Lake Palace which lies on a 4 acre manmade island on the clear waters of Lake Pichola. It is a classic representation of 18th century royalty combined with modern luxuries. It is full of spacious courtyards, corridors and pavilions inlaid with stones, gilt moldings and mirrors. The rooms are embellished with Rajasthan's craftsmanship which was only used by the royals. You will enjoy spectacular views of the beautiful Maharajas palace that sits majestically on the shore. The roof top also offers a great opportunity to views of the breathtaking surroundings.
MONTENEGRO
Montenegro almost seems like a fairytale land, small and proud with so much to offer. It is famous for its mysterious Black Mountain, rocky terrains, long sandy beaches and the cobalt blue fjord and has earned a reputation as the playground of Europe's elite. Though wounded by wars and a tempestuous history she wears her wounds as medallions rather than scars. This is particularly obvious if you drive along the bay of Kotor and witness ancient rock art, unblemished Venetian naval town, Roman mosaic, fishing villages and the fortress town of Budva which pulsates with music and boasts of pristine sandy beaches and luxurious apartments and villas.
Just across the Adriatic Sea from the vibrant Budva is the Sveti Stefani Island. This exotic island has been transformed into a luxurious hotel in its entirety and a great hideaway for royals and Hollywood stars. Here you can enjoy privacy and fantastic Montegrin hospitality.