2018 Review; Travels, Money, Fitness, Mental Health
So 2018 has been and gone. Wow. I turned 35 in December 2018, where does the time go? I'll tell you where, the same damn place it goes for everyone. We all share 24 hours in a day, 12 months in a year, so don't get too old only to realise you wasted it all.  Take action. That goes for both you and me. 2018 for me was a year of new beginnings. I finished my goal of 'every country in the world' in 2017, so I was immediately in limbo. That lasted quite long, celebrations, anticlimactic come-down, business problems, excuses until finally, I owned up to what I really wanted for my next big goal, to summit Mount Everest. I've dreamed of that as a kid, but from a poor single-parent family, and not a mountaineer by any stretch, I shelved it assuming I wasn't posh/rich/capable enough. As I broke free of my post-197 country slumber, I admitted my goal.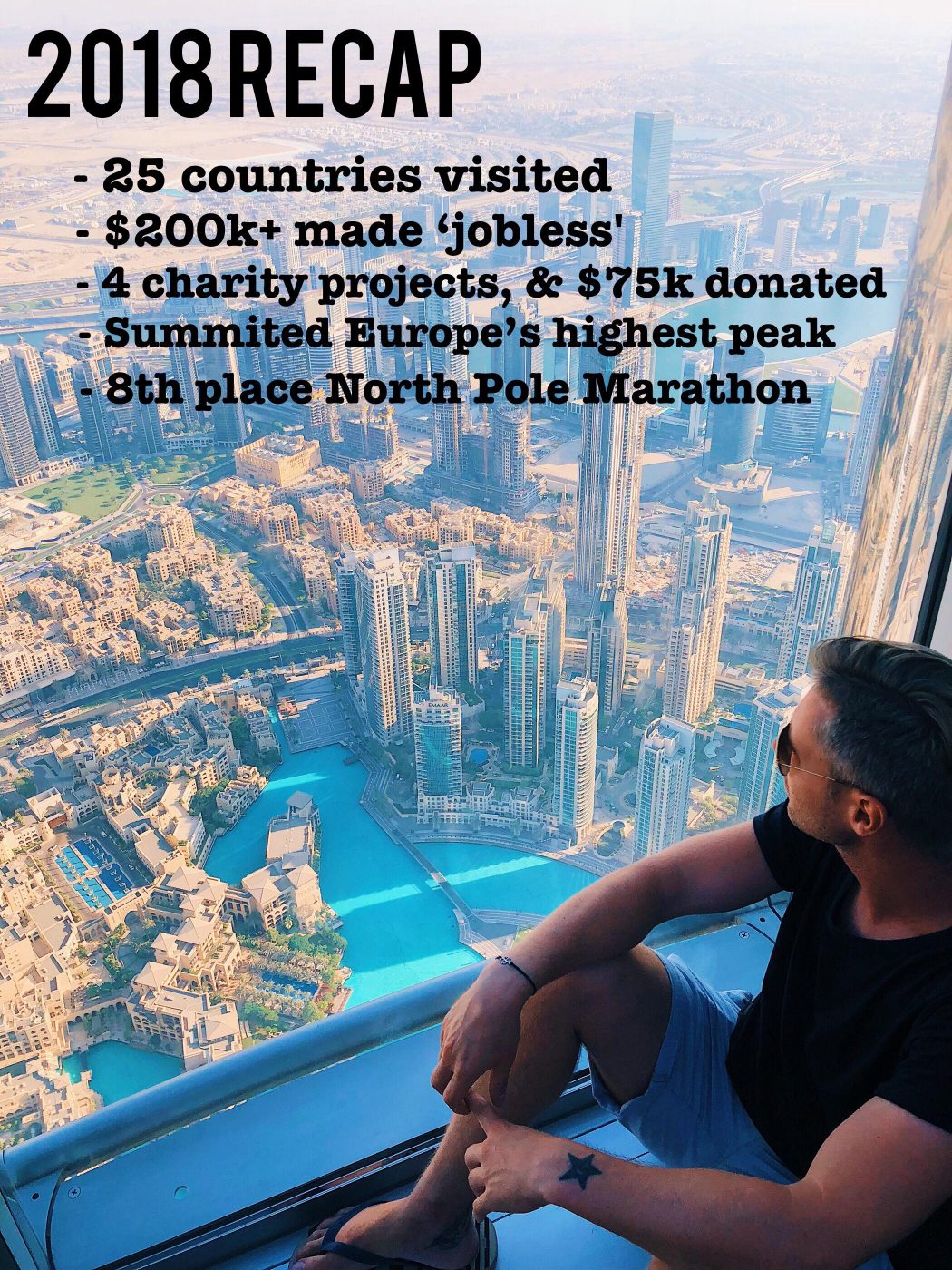 And hey, if I'm gonna do Everest, I might as well do the highest mountain on every continent,  all 7 of them, right? So 2018 was the year I began that journey.  2018 was also the year I took my foot off the business gas, I've struggled a bit with mental health, anxiety etc this year, so maybe it's that? Or maybe it's knowing I've built a nest egg now and my priorities have shifted away from chasing dollars? Probably a mixture of both, but I plan to clear my head and re-focus on 2019 one way or another.
I had always promised myself a lavish gift when I finished my countries, but considering that (properties aside) I don't own anything more expensive than a 3-year-old MacBook, I couldn't bring myself to do it. So I spent $20,000 on the North Pole marathon, and 2018 was the year I did that, more on that below.
I, along with my buddy Josh, also grew our GiveBackGiveAway foundation quite considerably, we carried out 3 charitable projects, raised and donated almost $75,000 and did some cool stuff with the money, again more on that below.
So 2018 was a good year, without being great. I put a lot of pressure on myself, and had one pretty epic failure towards the end, so indulge me for 10 minutes and let me recap on TRAVELS,  CHARITY, MONEY/FINANCES, HEALTH & PERSONAL LIFE below.
TRAVELS:
Ever since reaching my 197th country, Norway, in March 2017 I promised myself I'd slow down on the travels, spend more time in Thailand, get in better shape, build my business more solidly but each year the world shouts my name and I'm away again. No different in 2018. Also, I had delved deeply into myself to wonder if I had TRULY visited every country in the world. Did Kurdistan count as Iraq? How about the disputed territories of Abkhazia, South Ossetia etc? I would try to put that right this year so I created a fairer number of 215 countries, and I'm working through them – more info on that here.  If we consider my 197th country a reset button, then in 2018 visited 20 'new countries'  plus 3 or 4 repeats. Here's how my year went down in terms of trave:
January:
I started the year with family and friends in London, then I flew back to Thailand in early January. After a quick catch up with everyone, I took my mum to Vietnam to see Ho Chi Minh and Phu Quoc island, then we headed to Japan along with my girlfriend to see the AMAZING snow monkeys of Nagano, before we took the bullet train up to Niseko for my first attempt at skiing, a 3 day Tokyo city tour on the way back, where I took my mum for her first sight of Mount Fuji, and our plan for her to climb Mount Fuji for her 70th birthday for 'Cure Parkinson's Trust' was born (we're climbing it in July 2019, more info here) and before long I was back in Bangkok, Thailand again.
February:
I had been invited to speak at an EU event in Brussels and an event in Dubai and even I don't think shorts and flip-flops were appropriate attire, so I finally got my first ever tailored-suit made (in Bangkok, amazing – read about that here if you're ever in town). After that I was off to Doha, Qatar to catch up with an old university friend and attend a conference, I also got to explore all what Qatar had to offer and was really pleasently surprised. It was also the first time I ever flew business class, and wow Biz Class on the Qatar Air A380 was something else. I'm ruined for ever now!
March:
My biggest ever public speaking gig.  I had been invited to be the Keynote Speaker at the Middle Easy's biggest 'App' company – the Entertainer. That was a nerve-wracking but really positive experience. My title was "From welfare to millionaire:  7 lessons learned from my journey to every country in the world". I think it went well, and it was great to finally be able to draw a line under my journey and try to show the world what I've learned. We are nothing if we are not our message.
The second half of March was our first Give Back Give Away trip, it was in India and it was nothing short of spectacular. More info about that trip in the 'Charity' section below. But we got to see Jodhpur, Jaipiur, Delhi and Agra. Unreal.
April:
The best month, and the most stressful, of the year for me! I left our India trip one day early, and flew directly to Oslo, Norway, then connected to the most northern island on the world – Svalbard. I had the most amazing experience there – 3-day tour on snowmobiles, crossing the glaciers on the island, trying to find abandoned Russian mining towns and… wild polar bears. AND WE FOUND THEM!
From there, I was due to go to the North Pole. It was delayed, and delayed, so I flew to Oslo and spent 4 or 5 days there, cost me a fortune ($20,000USD to sign up for the North Pole Marathon, and then thousands more due to delays, OUCH!). But finally, I made. It was the highlight of my year, I finished 8th place in the North Pole Marathon, my first marathon, and having to train as I had been travelling in India, Japan, Vietnam etc was really tough. There was real drama when the ice we were camping on broke up, flights cancelled, we were stranded at the North Pole for 2 days longer than planned, so I missed all my onward flights again, twice.
After fighting with more flights, I flew (via 6 flights) from North Pole ALLLLL the way to Bangkok, 1 day to wash clothes, and then on to the Philippines where I was running another charity project (again, more info below). But we build a whole home economics education centre for the indigenous community there and followed it up with the 'Most Beautiful Island in the World' – Palawan. What a trip!
May:
May meant I FINALLY had 2 weeks to recover and catch up on some work, blogging, business, relationships and fitness after a hectic first 4/5 months of the year. Within those 2 weeks I signed up to climb South America's highest mountain (Aconcagua), and do 7 Marathons in 7 Days in the Sahara Desser, AKA the hardest running race in the world  – the Marathon Des Sables (I'm doing it in April 2019, people are welcome to join me if you want!).
12 days stationary was bliss, but I had promised my mum I would take her to her 50th country. She had racked a few up herself, so she was on 49 countries which meant I was taking her to Georgia for number 50, a proud day indeed 🙂 I also managed to visit a place I had dreamed of for years, Abkhazia (ever heard of it?). It's a disputed territory between Russia and Georgia, you need special permits to enter but I had managed to secure those, so I dragged my mum there too, she loved it.
From there I flew to Copenhagen to meet one of my closest and dearest friends, Anthony (ManVsClock.com). We spent a few days in Copenhagen and used that as a base to reach the Faroe Islands, it technically belongs to Denmark, but it's almost a countries. The Faroe Islands were honestly spectacular and are surely about to explode on the tourist scene.
June:
From Copenhagen, I flew to Greenland and spent a week exploring that huge land mass. Wow it's expensive to access but oh so worth it! Having been to 'every country' I felt a fraud every time I looked at a map and saw this massive 'country' staring back at me. Greenland, Greenland, Greenland. So finally we went. It's fascinating, so desolate, stark but weirdly beautiful.
I had to quickly fly back to London to try to get a last-minute Russia visa though so off Anthony and I went in a hurry!
We got it, and we were off. This time to Russia in an attempt to climb the highest mountain in Europe, Mount Elbrus. Anthony joined me, as did another friend Tom, and we had a great time. Anthony and I flew in early and explored a bit of southern Russia, in the Caucasus region, before attempting, and thankfully succeeding, in our attempt to reach Europe's highest point.
The last 3 or 4 days of the month then we finally managed to get permits, visas and licences to visit South Ossetia, a war-torn disputed territory south of Russia. Very difficult, and a little dangerous, to access. We had some contacts, through a chunk of money at it and we were in! It didn't come cheap (I think about $2k for 4 days), but it was worth it. And one more country closer to the fairer list of 215 countries in the world!
July:
Celebration time! We headed to Moscow for the World Cup, we didn't actually have any tickets but soaking up the atmoshphere, the fan zones etc was so much fun. After the North Pole marathon, and then Mount Elbrus, it was time to go wild for a few days, so we did!
Within a few days I was flying to Athens to  meet my girlfriend for a long holiday through Athens, Santorini, Crete, then onto Sicliy, Rome and Naples. Last minute, while in Athens I got an offer to go back to Russia, via Doha, to watch the England semi-final. Qatar would fly us in business class to Doha, VIP there, then business class to Moscow, watch the game, business class back to Doha, watch the final, then back to Greece to continue our holiday! My girlfriend wasn't happy, but I talked her around (eeeek!), and we had the most epic time.
Then disaster struck, Jaa's visa was single entry so we couldn't go back to Greece! Noooo! Last minute I worked out Jordan was visa-free for Thai citizens so we planned to go there instead, but Qatar had booked our flights, and the only flights available to Jordan were… FIRST CLASS. So they did it for us (thank you so much guys!), and we spent a wonderful week in Jordan exploring Petra, Wadi Rum, Dead Sea, Aqaba. And she was off.
August:
Jordan ran into August, my girlfriend flew back to Bangkok and I flew to both London and Ireland to see friends and family for 10 days before running another charity project in Nicaragua. Unfortunatley, civil war broke out there and we had to cancel our trip sadly. That meant I was in limbo, so I decided to stay in Ireland all month and get healthy, spend some quality time with my mum and friends and to be honest it was great. It was the longest I had been back in Ireland for 10 years, I was there for almost a month.
My mum had come to terms with our Mount Fuji climb in July 2019 so she was in training mode, we even managed to climb Northern Ireland's highest mountain together, in true Irish weather! I had a couple of flights to Manchester too as I had decided to organise a group trip to Iraq to finally visit the country properly, so I did that and before long August had been and gone.
September:
September was busy! First off a charity trip to Tanzania where we built 2 classrooms, then headed off on safari in the Serengeti, and then lived the beach life in Zanzibar to celebrate. I was off to Mombasa, Kenya to work with a hotel brand there which was beautiful (Diani beach, paradise!).
From there I flew to Dubai to meet my girlfriend for a few days before I headed to another destination in October!
October:
A HUGE bucket list item came in October, I had secretly been working on a group trip to Baghdad and Babylon, Iraq for months and months and finally it was upon us. 16 crazy/brave people all came together and we spent 4 days traveling around Baghdad. So we arrived, we did it, it was a little scary but beautiful and now we're thinking about where the next epic group trip can be! Kashmir? Syria? Pakistan? Let's see.
I was back in Thailand then for 2 weeks before I embarked on an attempt to summit South America's highest mountain, Aconcagua. More on that in November below 🙁
November:
So I was in Argentina, the best part of 3 weeks allocated to climb this bloody mountain, thousands of dollars, weeks of our lives, freezing but we were doing well. Acclimitized and ready to summit. Long story short – 130km winds at the summit meant it was impossible. It was a failure, and we had to bite the bullet and return home. It was the first big failure for me for years, and it's fair to say I haven't dealt with it well. I've signed up to retry in January 2020, let me know if you wanna join 🙂
December:
With my tail between my legs, we made it back to Mendoza where I was lucky to meet my mum, a spot of wine tasting in Argentina, then I flew to London to see my sister, bro-in-law, nephew and niece and continue my attempt to convert him to a Liverpool supporter. Then back to Bangkok for 4 days, Christmas with friends and then one final charity trip, our first private corporate charity trip, before the new year.
A team from London flew over 12 people, and completely funded, a water filration system for a community, 2 new classrooms and a fully-working clinic for the Burmese migrants on the Thai border. After finishing that, we went off to explore Northern Thailand – elephant rescue park, home stay in a village, parties in Chiang Mai and Bangkok, cooking classes. They were the most amazing bunch of people and they brought an awesome end to a crazy 2018. Wow. I'm tired just writing that!
CHARITY:
My goal is to donate $1m to charity. So lets get to it. The GiveBack GiveAway is stronger than ever. We had 4 projects planned – The Philippines, India, Tanzania and Nicaragua. 3 of them were a big success. Along with one corporate trip we pumped in almost $80,000USD to communities in need this year, that's pretty awesome.
India: We upgraded a school's learning facilities to a 'smart classroom'. This self-funded school outside Delhi has focused on the "poorest of the poor" and despite endless challenges they are flourishing. Now with their new technology, their kids will be ready to make the step to further education, and hopefully university, where there is a true chance to break the cycle of poverty.
Tanzania: We partnered with a Masaai school in Arusha, Tanzania. Here we landscaped, installed their first EVER playground and built 2 new beautiful classrooms. The kids were at school all summer because they didn't want to waste a second of their new playground. A beautiful outcome.
The Philippines: We partned with an indigneous tribe in Luzon island, where we built a home economics centre. This centre will allow the community to learn hospitality skills, which means they can finally get proper work in the tourism industry throughout the country, and beyond.
Finally, 2018 was the first year private businesses began to approach me. Companies that are doing well but want to 'Give Back'. So as you can see in my December recap, we carried out our first, biggest corporate project and it's been so well received. Next month we're building 5 homes for a homeless community in Cambodia with another private company, this time from Australia. We have 2 more trips to Tanzania with a private group in August too, for more classrooms, so things are going well. Now we urgently need to hire our first staff member, so get in touch if you want to move to Bangkok and help us change travel. For good.
MONEY & FINANCES
I had promised to get my head down and focus on my course and blog in 2018, but if you're still with me after the travel section you'll see that was a bit of a struggle because I've been on the road the vast majority of the year, eeeek. So how was business? It was fine. Probably around $200k earned, but I was so slack I didn't even track it this year, nor my expenses! That being said I always lost at least $10k on Crypto, and another $25k or so with the weak GBP, so that hurts! But I did some well paid public speaking and got some brand ambassadorial deals in the door so that helped out too. My main onestep4ward.com blog and my step4wardmedia.com SEO stuff is still ticking over and should keep me comfortable for another few years yet I hope.
I had one HUGE financial disaster in 2018 though. I was buying another investment property in London, and my pathetic attempts at paperwork as i traveled meant my mortgage application wasn't processed in time. So I pushed it through quickly, one week before the developer needed the full payment I flew to London to sign the documents. Only then did I discover it wasn't a mortgage, just a 2-year loan. Aaagh. So I had to cancel the loan and pay cash for the apartment which completely wiped out my cash reserves. So now I know what it means to be asset-rich, cash-broke. I'm now working on rebuilding those reserves so I can build my dream home in Thailand, but this has put me back a chunk.
FITNESS
There were 3 attempts I made this year for big fitness goals. North Pole Marathon, Mount Elbrus, Aconcagua. Those along with staying below 80kgs/15% body fat and staying true to giving up meat. How did I do?
North Pole: Delighted. I just wanted to finish, so to finish 8th, in the top 10, was amazing, and the highlight of my year.
Mount Elbrus: Loved it. Tough, but beautiful. The snow storm at the top and the awful descent don't take away from being on Europe's highest peak!
Mount Aconcagua: Disaster. After training, and spending the time and money, it was hugely disappointing to fail. To know I have to now free my schedule, spend more money, train etc again is disheartening, but we'll get it next time!
80kgs/15% body fat/vegetarianism? 2/3 ain't bad. I'm 79kgs, haven't eaten meat all year but my body fat is sadly more like 17%. Too much time on the road, too many beers and no routine is why. I must do better
All in all though, I'm happy enough with my health and fitness this year, but still lots to work on.
PERSONAL LIFE & MENTAL HEALTH
It's been a busy year. A year that I felt I was underachieving. Thankfully writing this huge post makes me realise what I did manage to acheive this year. But a year is a long period of time for all of us, so we need to set the bar high. That being said, I'm sure that's where my growing anxiety is stemming from. Set a goal, reach it, set a bigger goal. Don't stop and smell the roses.
2018 has without doubt been the year I've been most stressed and most anxious. Spinning so many plates is beautiful because it means you can acheive some pretty cool stuff, but there is a price to pay for that too. I need to find the balance. On one hand if I do less, I know I'm capable of more. On the other, if I do more, I burn out and diet, exercise, responsiblities to people fall by the way side. I think if I drink and party less, and exercise more regularly even when I'm traveling, I should be able to get a better hold on everything.
Friends and family wise? My mum is doing great despite her Parkinson's, and I was proud of her solo trip in South America. My sister and her family in London seem to be flourishing and living the goodlife so that's great. Friends? 2018 was the year I didn't put in enough effort to connect with the friends I love, when I'm stressed I don't wanna talk to people, so I don't, and then get more angry with myself. I'll work on that this year. That being said, I made some great new friends this year too, mostly through my givebackgiveaway stuff. It attracts fun, outgoing but caring people and the cliche of 'your vibe attracts tour tribe' seems to be truer than ever, so I'm grateful for that. Girlfriend stuff? Nothing new to report, up and down same as ever! I'm starting to pretty much accept that it's always gonna be like that, and that's 99% down to me, my lifestyle and my Type A personality. Let's see what happens there.
CONCLUSION:
I wrote my 2018 goals here last year. They were basically to run 4 charity projects, do the North Pole Marathon, climb Europe's highest mountain – Mount Elbrus, take my mum to her 50th country, stay around 80kgs, attend the Russia World Cup, visit 15-20 countries, stick to vegetarianism and increase my net worth by $100k. All-in-all, I was in the right ball park. Semi-final instead of a final, but far too many beers. Travels were epic, charity stuff went well. 2018 has been a good year, but I'm really focused on making 2019 great. I'll write my goals for 2019 in the next week or so and let's see if we can stick to the plan. Thanks for reading!
Remember, never travel without travel insurance! And never overpay for travel insurance!
I use HeyMondo. You get INSTANT quotes. Super cheap, they actually pay out, AND they cover almost everywhere, where most insurance companies don't (even places like Central African Republic etc!). You can sign-up here. PS You even get 5% off if you use MY LINK! You can even sign up if you're already overseas and traveling, pretty cool.
Also, if you want to start a blog...I CAN HELP YOU!
Also, if you want to start a blog, and start to change your life, I'd love to help you! Email me on johnny@onestep4ward.com. In the meantime, check out my super easy blog post on how to start a travel blog in under 30 minutes, here! And if you just want to get cracking, use BlueHost at a discount, through me.
Also, (if you're like me, and awful with tech-stuff) email me and my team can get a blog up and running for you, designed and everything, for $699 - email johnny@onestep4ward.com to get started.
Do you work remotely? Are you a digital nomad/blogger etc? You need to be insured too.
I use SafetyWing for my digital nomad insurance. It covers me while I live overseas. It's just $10 a week, and it's amazing! No upfront fees, you just pay week by week, and you can sign up just for a week if you want, then switch it off and on whenever. You can read my review here, and you can sign-up here!