When going skiing with your children it will always bit a little more difficult that when you used to go with your friends. It is important to be prepared and make the trip as enjoyable as possible for the whole family. With careful planning the holiday will be a huge success and your kids will be begging you to go back year after year. We have prepared some simple tips to follow to make sure that you are well prepared for your holiday, if you follow these tips we're sure that you'll have a fantastic time.
Here are the 3 tips to make sure you're holiday goes like clockwork and is stress free: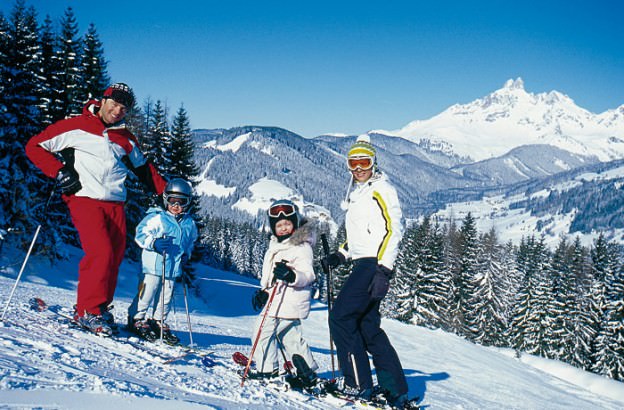 1) Choose a child friendly resort
More often than not, most ski resorts are designed with children in mind and therefore they offer good skiing and facilities for families. Even though most ski resorts are child friendly it is always advisable to do a lot of research before you go to ensure that you're staying in accommodation that is geared towards kids – this will make your stay much easier and enjoyable, it will keep both parents and kids happy. It is always advisable to look for apartments or lodges with communal areas, this means that kids won't be stuck in one hotel room getting restless.
2) Bring the right clothing
It might seem very obvious but you should always prepare the correct clothing. Every parent knows that there is very little that's worse than being cooled when you're with your kids. Be certain that you bring lots of layers for the kids to wear – a good idea is to make sure the kids wear lots of layers which they can then take off as the day goes on. Nowadays due to advances in design and technology there are clothes that can keep you both warm and dry, you'll find clothes for all budgets. Something that is often over looked are the quality of socks that people choose, your sock must be comfortable when you wear your boots, knee high socks are advisable. Remember to avoid socks that will wrinkle when you're wearing your boots, this will lead to nasty blisters and will make skiing very uncomfortable indeed!
3) Choose a good ski school
For the beginners or those that are new to skiing in the family it is always best to book some skiing lessons with a ski school – this can be for the whole duration of your holiday or for the first few days. The beginners do not want to be holding up their family members and the more advanced skiers do not want to be stationary for the holiday because they are constantly having to wait. Everyone will be happy if they can go at their own pace, the benefit of the lessons will pay off within the first day or two. Once people feel confident to ski it gives them a lot more freedom to go out and explore the slopes. Many parents choose to put their kids in ski school for the whole week, this leaves them free to go off by themselves and spend the nights with their family. Ski school is always a great way for your kids to make friends and enjoy their holiday even more.