Holi Festival in India is the celebration of good triumphing over evil. It is most often associated with the God of preservation, Lord Vishnu. As the story goes Lord Krishna, a reincarnation of Vishnu, used to play pranks a lot, and celebrated the 'Festival of colours', otherwise known as the Holi Festival, by throwing water and coloured chalk over the girls of the villages. It is one of the world's most well-known festivals because of the colour. If you don't mind getting dirty for a day it's a beautiful way to mark the end of Indian winter.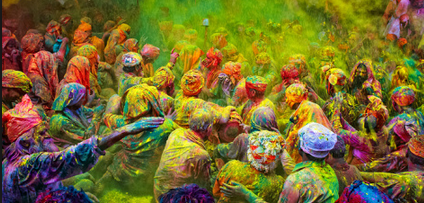 Holi takes place at different times depending on the year, this year it took place in late March but it's always worth checking with reputable tour companies such as Audley ( audleytravel.com/india) who have the low down on future dates and can even book you accommodation around the festival.
Holi in Goa
If like many you've come to India to escape the maddening crowds and lie sprawled on a desert island style beach for your trip then fear not, you can still be a part of the Holi celebrations from your sun lounger. The festival is known as Shigmo here and is celebrated with bands, parades and nigh time musical fare.
Holi in Delhi

Being the capital city Delhi spares no expense when it comes to its national festival. On the eve of Holi Holika are lit in important parts of the city, huge bonfires that can be seen from miles away. The parties don't stop here, with festivals and parades and of course the obligatory water and coloured chalk throwing taking place throughout the day of Holi.
Holi in Utter Pradesh
The northern states take Holi very seriously, especially Mathura in Utter Pradesh because this is said to be where Lord Krishna grew up. The celebrations of paint splattering can last up to 16 days here, so make sure you take plenty of spare clothes! If you're looking for origins then Gujarat is the place to see where it all began, expect games and shows all day and night here.
Holi in Rajathstan
The Bhil tribes of Rajastan in North West India tend to take a traditional style of celebration of the Holi festival. The night before a large bonfire is lit and prayers said to the goddess of Holi. Youngsters in these tribes are allowed to form companionships which may lead to marriage, so it's a popular time for all.
Holi is a great time to visit India, the country is at its most vibrant and exciting, people are amorous and your clothes get a new lease of life with the abundance of colour thrown about. There are many places to experience different ways of celebrating the festival, and many traditions, so choose wisely depending on your tastes. Check out more options with Rajasthan tour packages.