Life on the road can be tough when you're missing your friends and family, but the world is becoming a smaller and smaller place and with all the tech available to travel with you don't need to feel so far from your loved ones. I regularly talk to my mates or my family, probably every couple of days so if you sort yourself out before you hit the road, you'll be gold. Have a look at these 5 gems and if you haven't signed up to these yet, do it asap: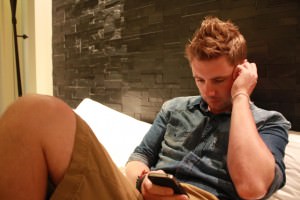 Whatsapp:
Everyone has a smart phone these days, and there are loads of awesome travel apps you can get, but surely whatsapp is the best app for keeping in touch. You can chat, share location, trade pics and vids, and it's all free. All you need is a bit of wifi and you're good to go. Get it downloaded!
Facebook:
I know I know the world and his wife already has facebook, but there's more to it that that. Get timeline, check yourself in and tag your photos location and it creates a map of exactly where you've been, really cool. With facebook chat, you're never far away although I don't think their skype-wannabe free calling is any good.
'Cards' app:
Who doesn't love a postcard, right? But often it's hard to find a post office, a stamp, a decent card – this puts an end to that. With this app for your smart phone you use your own pic, write your own message and send it anywhere in the world, I did it last week from China back to Thailand, took about 10 days and worked like a dream. Not cheap at around $6 per card, but once or twice a month isn't gonna break the bank.
Online calling:
With so much internet when you're on the road, there are loads of ways to make phone calls from computer. Skype, rebtel, facetime all allow you to do it so sign up to the one that suits you best and make your mum's day with a quick phonecall from Papua New Guinea.
Being lonely on the road a normal traveling emotion but with all the ways to keep in touch, it doesn't have to be a fear anymore guys. So hit the road and don't look back. Happy travels!