I would have to say that Val Thorens is the real gem of the world famous 3 valleys ski area. To make sure that you have the best time possible there we have put together some awesome tips.
Find A Great Place To Sleep
My first point of call is always accommodation-val-thorens.co.uk, these guys have been working in the area for years and is always my go to company. When you go on a holiday to Val Thorens you want to find a place where you can step out and start skiing – doorstep skiing is what the resort is famous for. I would opt for a chalet that has everything needed, plus with optional extras you can add; private chef, spa treatments and many more. Chat to your agent to find out if you can nab a chalet with south facing windows because the views are world class!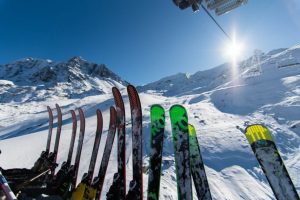 Book A Unique Ski Tour
If you're looking for a ski tour with a difference then you should look up the 3 valleys gourmet tours, there are companies that will take your group around the best runs and stop in at the finest dining you will find on the mountain. I've been on lots of ski holidays and I'd have to say that this was one of the best things I have done. We went for the 3 day tour, our guide was very well experienced and was accommodating to the varying levels of the skiers in our group.
Relax or Go Wild
The best thing about a ski holiday is that the fun doesn't stop when you take the skis off. Apres ski is always a major highlight of the trip because there are plenty of bars, restaurants and special nights where everyone has an awesome night. If you want some more excitement once you finish skiing then you're in luck – Val Thorens has some of the most thrilling activities such as; mountain biking on the slopes, zip lining, tobogganing on the longest trail in Europe and also ice driving.
Have you been on a ski holiday to Val Thorens? I would love to hear all about your experiences, tales and tips. I think it's great when we as a travel community can share our fist hand information because it makes it easier for others to plan. All you have to do is pop your comments in the box below – I am really looking forward to reading everything you guys have to share.