Trekking Aconcagua; How I Reached South America's Highest Summit!
It took 14 months, 2 attempts, and lots of anguish, but on 12th January 2020, after a couple of weeks of trekking Aconcagua, I reached the summit of one of the seven summits, the highest mountain in Argentina, the highest mountain in South America (and North America for that matter). Aconcagua conquered. Demons put to rest.
If you followed my failed attempts at climbing Aconcagua last year, you'll have read all about my not-so-glorious failure, then you'll know why I felt so much pressure trekking Aconcagua again, one year later. I had invested so much, both last year and this. Time, training, money and emotional energy. I couldn't face another failure. But that's the appeal, the allure, the glory of high altitude mountains. You have to take the risk of failure for the chance of success, and at any time the weather can take it from you. And so I ended up back the next season with the dream of trekking Aconcagua once more, but this time I had to make it to the top. If you want to read about how trekking Aconcagua really is, here you go.
View this post on Instagram
Trekking Aconcagua Youtube Video Diary:
You can see a video diary of my attempts at trekking Aconcagua below. I took some short videos, and the guys at VEEDYOU MEDIA kindly put it together for me, check it out!

THE LEAD-UP TO TREKKING ACONCAGUA'S SUMMIT
In 2018 I had trained really hard for my 1st attempt at summiting Aconcagua. I had finished the North Pole Marathon a few months before the climb, so I was in marathon-running shape. Then to tune-up, I was doing stair runs, almost 40 floors in my condo in Bangkok, Thailand until I could do 12 rounds back-to-back-to-back. It didn't do me much good though, as the season turned and we didn't make it to the top.
This time around, I had worked on my cardio quite well throughout the year again. In easter, I ran 6 marathons across the Sahara in the Marathon Des Sables, and then around Halloween time, I climbed Puncak Jaya (Australasia's highest peak), but in the month or 2 leading up to my climb, I took my foot off the gas. Visiting my family for Christmas, back to Europe and all the chocolate and booze that entails meant I hadn't trained quite as hard as I had planned, but still, I felt ready, enough though I was carrying a few extra pounds on the belly. 
For this year's Aconcagua attempt, I had signed up to climb again with Elbrus Tours, the same operator who I climbed Europe's highest mountain with 2 years previously, Mount Elbrus in Russia. I love climbing mountains with Russian guides. They don't mess about. No bullsh*t about wondering if you're ok with your blisters, no hand-holding. It's old-school guiding.
You paid, you trained, you're here. And it's their job is to push you until you get to the top. I love that style. Tough love. Elbrus Tours are no-frills, perhaps the cheapest company to climb with at just over $3k (about $1k cheaper than normal!), which was perfect too.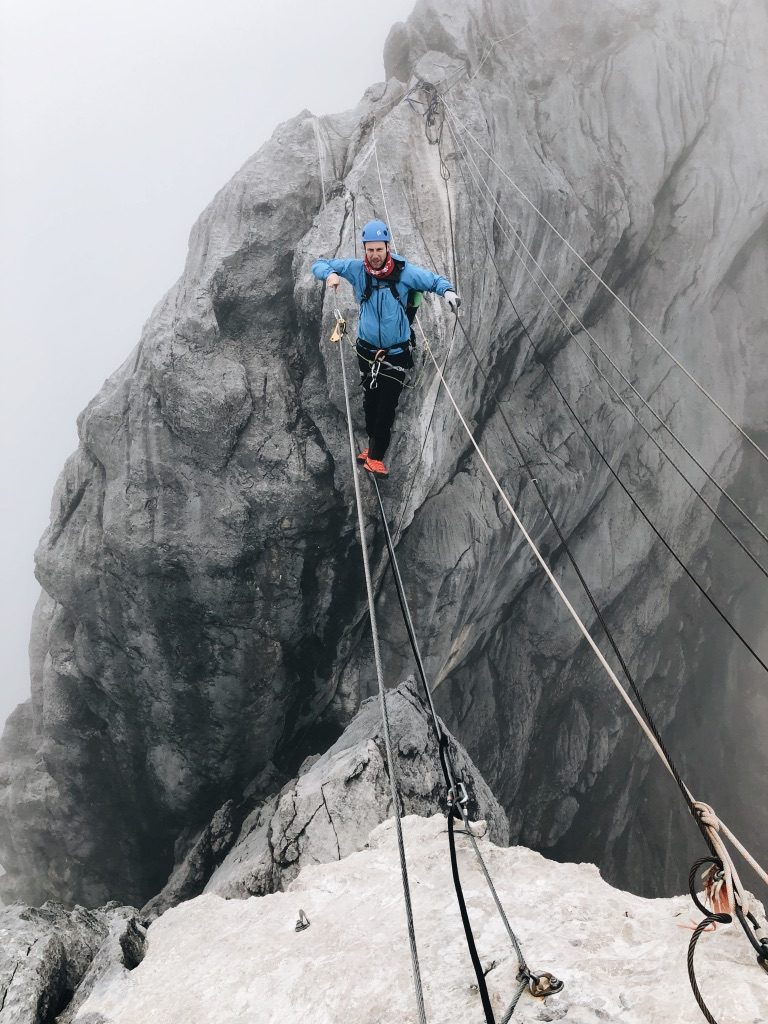 DAYS 1-5 TREKKING ACONCAGUA:
The start, to Confluencia, to Plaza Des Mulas. 
And so it begins. Trekking Aconcagua starts by flying to Buenes Airies, Argentina or Santiago, Chile and then connecting to Mendoza. Day 1 of the expedition then is in Mendoza, Argentina. Mendoza is just a few hours from the Chilean border, and is famous on the tourist trails for its wines, especially its Malbec (in fact, if you have Malbec in the house right now, chances are it's from here).
There is a small climbing community in Mendoza because the Andes are so close-by, and because of that, there are a few mountaineering shops in the town centre where you can rent or buy everything you need for the mountain, be it food or gear. I was climbing Aconcagua with a few friends so we all flew in together from London on Norwegian Air (I flew on their 'Premium Service' as I needed to pay for extra bags and that combined with the free booze made it worthwhile. Here's a review of Norwegian Premium here, I love it for the pricesumm.
DAY 1: Mendoza
Once in Mendoza, Day 1 of the trek is stationed in the town. You meet for a briefing, meet your guides, and check your gear. The next morning you go and pay for your permits (about $700USD in cash, depending on the exchange rate that day), then go and rent whatever gear you may be missing. Mid-afternoon on Day 2, you're off.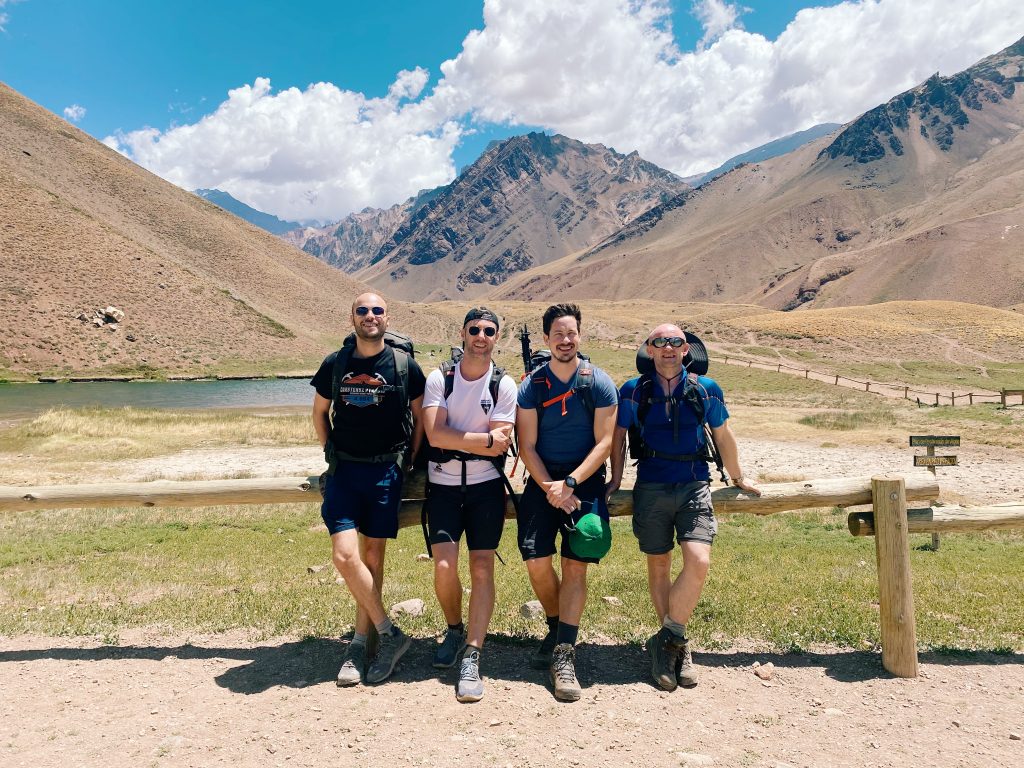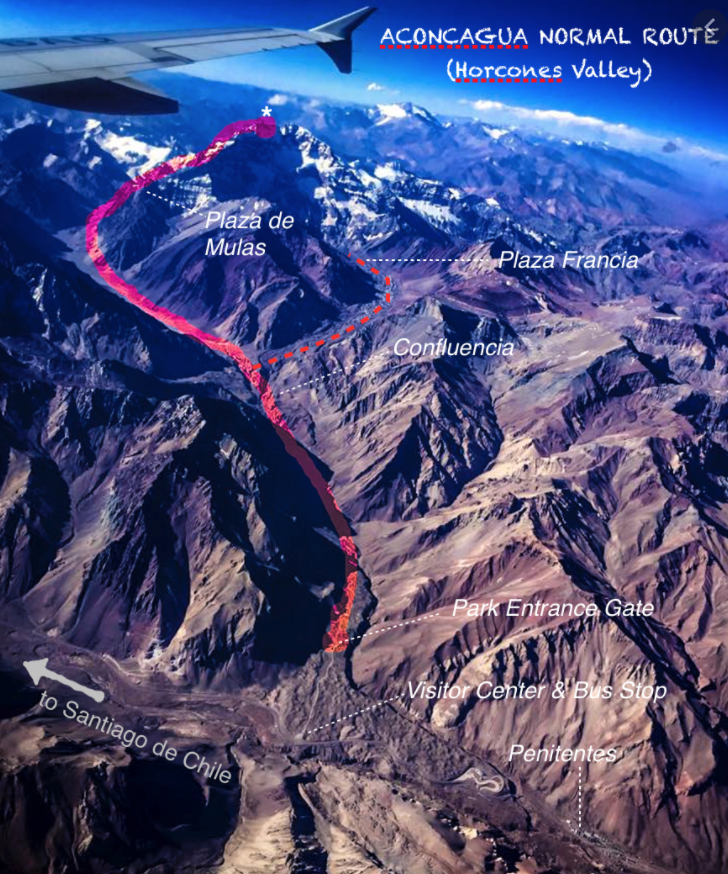 DAY 2: Los Penitentes
We drove from Mendoza, which is at 746m altitude, to Los Penitentes, a ski resort in the winter, but a hop-off point for Aconcagua in the summer. It's perfect to spend a night here at 2,579m to begin to get used to the thinner and thinner air as you climb. Also, although you're in dorm rooms, this is the last bed you'll sleep in for the next 2 or 3 weeks so enjoy it! They also have wine for sale, so savour every last drop. The next bottle will be in celebration or commiseration in almost 3 weeks from now. I've drunk for both, and I can safely say drinking in celebration tastes a lot sweeter.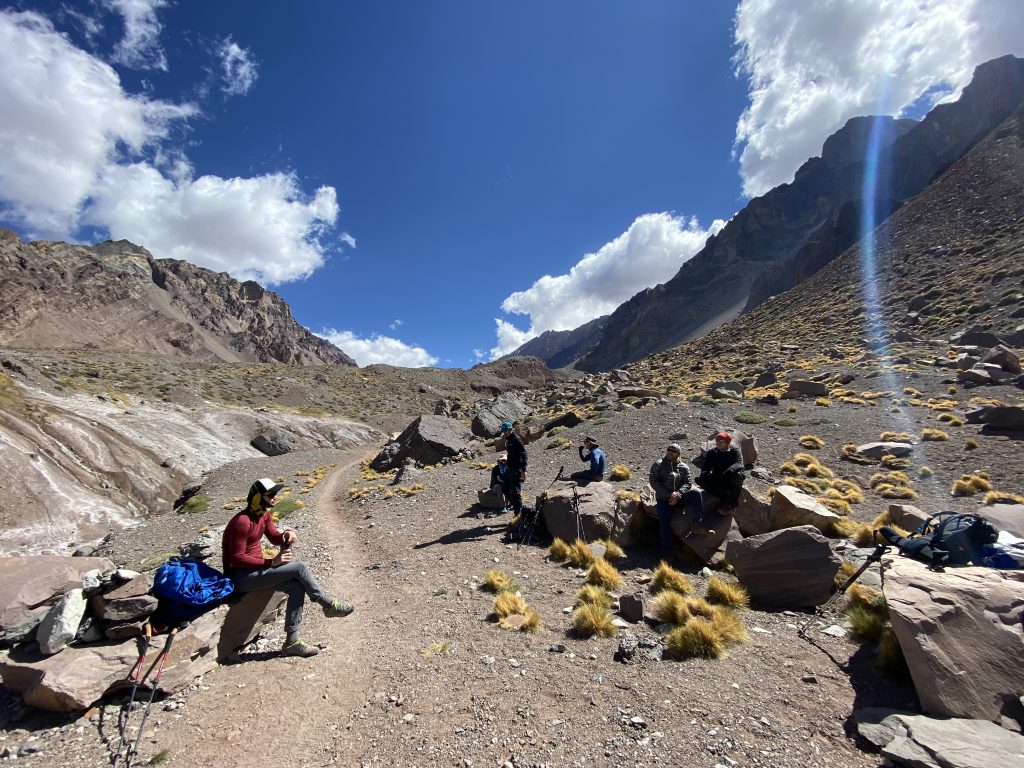 On arrival in Los Penitentes most people, including me, could instantly feel the air thinner. You're weren't short of breath per se, but you wouldn't be too keen on running a 5km at this height either. Before you settle for dinner and bed, you organise your bags one last time. Your big duffle bag, with all your 'proper' mountain gear, needs to be readied, the mules will take it to Camp 1, Confluencia, and you only need to carry your day pack the next day. A gentle start.
DAY 3: Park Entrance
The next morning you wake up and head to the official park entrance. From Los Penitentes to the park entrance is a short 15-minute drive or so. At the entrance, you sort out your paperwork, show them your permits, get signed-in and get a trash bag that you will return upon departure. The whole process takes about 45 minutes if you're in a group, and maybe 5 or 10 minutes if you're a hard-core solo climber. This is when trekking Aconcagua becomes real. And so you begin.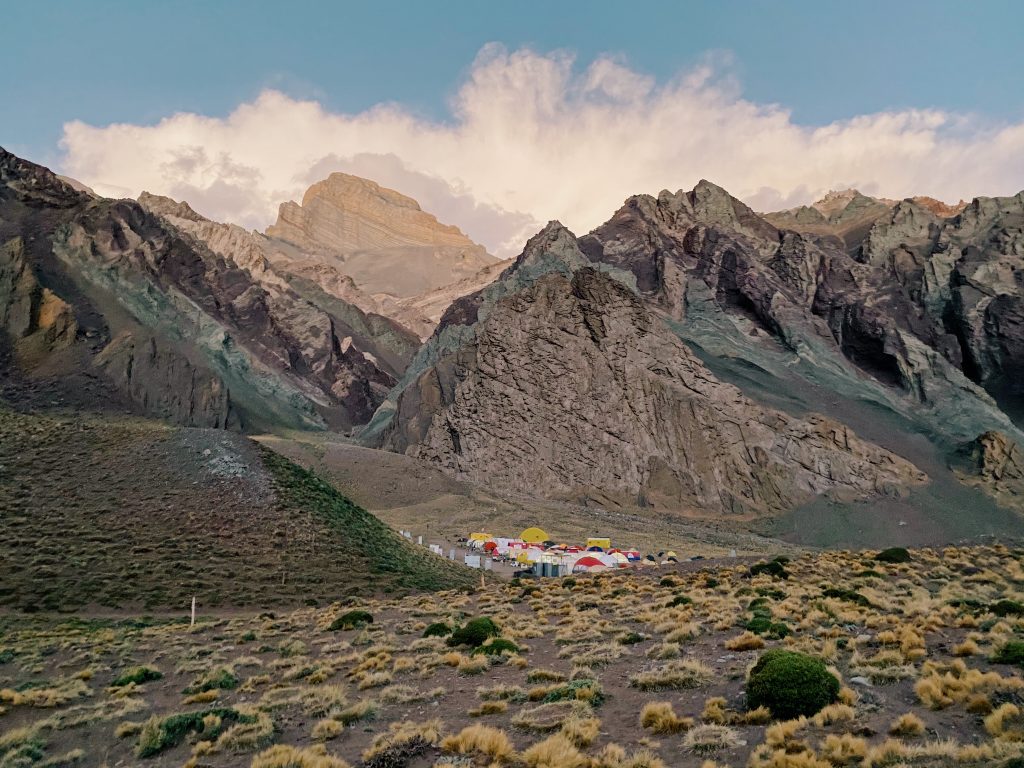 It's now Day 3 of your expedition, and from the park entrance to Confluencia Camp it's about a 3 or 4-hour hike. It's a beautiful walk, it's still warm at this altitude and there's more than enough oxygen to bounce around, have fun, take pics etc. Once you get to Confluencia, around 4pm or so, you'll set up your camp (normally 2 people per tent, unless you paid with a more expensive operator who sometimes have dormitory tents), check-in with your permit and enjoy your first night in the park proper. Dinner is provided each night in a dining tent.
Actually, when you're not physically climbing, you spend most of your time in these dining tent areas, socialising, swapping your stories and stresses, it's the only way to keep sane without the comforts of home. At Confluencia, 3,368m altitude, was the first time I could really notice the lack of oxygen. At night it was chilly, and even a fast walk to the bathrooms left you breathless.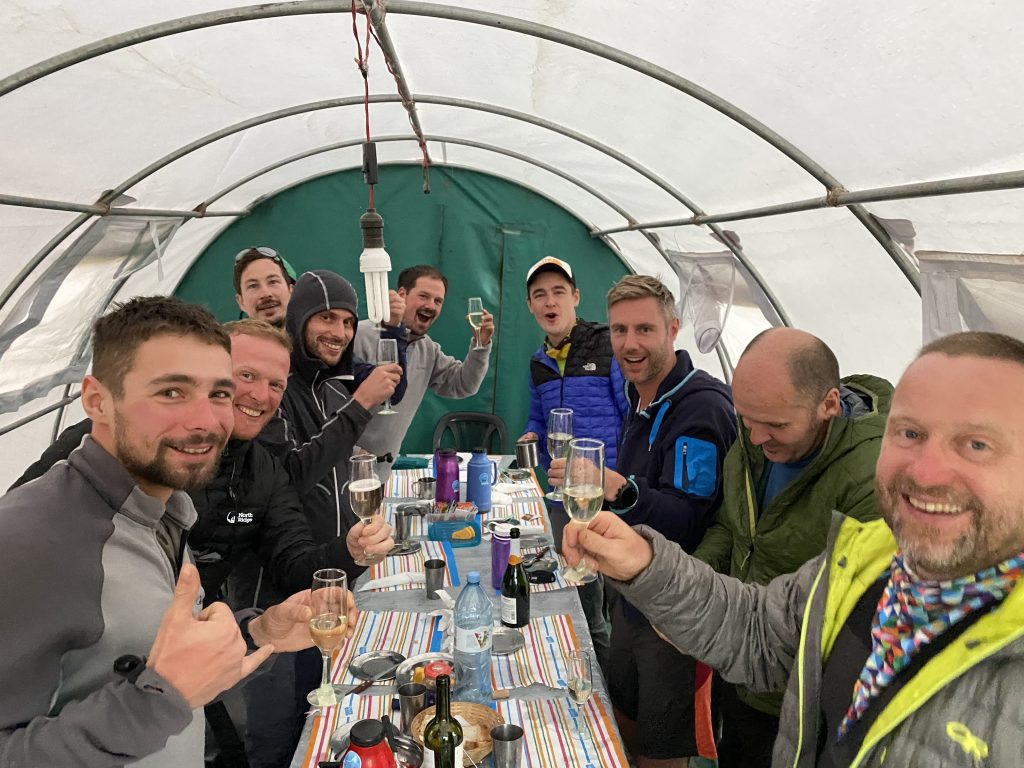 DAY 4: Plaza Francia
Day 4 is an acclimatisation hike towards Plaza Francia (as seen in the route map above). You set off around 9am or so, and hike for 6/7/8 hours depending on your speed. You start to get an idea just how high this mountain is going to be. When you reach the maximum height that day, you also have a perfect view of Aconcagua. It's gorgeous, but also the reality of tackling the whole mountain is suddenly very real. Back to Confluencia, dinner and sleep.
DAY 5: Plaza De Mulas (Camp 2)