Trekking Aconcagua; How I Reached South America's Highest Summit!
It took 14 months, 2 attempts, and lots of anguish, but on 12th January 2020, after a couple of weeks of trekking Aconcagua, I reached the summit of one of the seven summits, the highest mountain in Argentina, the highest mountain in South America (and North America for that matter). Aconcagua conquered. Demons put to rest.
If you followed my failed attempts at climbing Aconcagua last year, you'll have read all about my not-so-glorious failure, then you'll know why I felt so much pressure trekking Aconcagua again, one year later. I had invested so much, both last year and this. Time, training, money and emotional energy. I couldn't face another failure. But that's the appeal, the allure, the glory of high altitude mountains. You have to take the risk of failure for the chance of success, and at any time the weather can take it from you.
And so I ended up back the next season with the dream of trekking Aconcagua once more, but this time I had to make it to the top. If you want to read about how trekking Aconcagua really is, here you go.
 

 

 

View this post on Instagram

 

 
Trekking Aconcagua Youtube Video Diary:
You can see a video diary of my attempts at trekking Aconcagua below. I took some short videos, and the guys at VEEDYOU MEDIA kindly put it together for me, check it out!
THE LEAD-UP TO TREKKING ACONCAGUA'S SUMMIT
In 2018 I had trained really hard for my 1st attempt at summiting Aconcagua. I had finished the North Pole Marathon a few months before the climb, so I was in marathon-running shape. Then to tune-up, I was doing stair runs, almost 40 floors in my condo in Bangkok, Thailand until I could do 12 rounds back-to-back-to-back. It didn't do me much good though, as the season turned and we didn't make it to the top.
This time around, I had worked on my cardio quite well throughout the year again. In easter, I ran 6 marathons across the Sahara in the Marathon Des Sables, and then around Halloween time, I climbed Puncak Jaya (Australasia's highest peak), but in the month or 2 leading up to my climb, I took my foot off the gas. Visiting my family for Christmas, back to Europe and all the chocolate and booze that entails meant I hadn't trained quite as hard as I had planned, but still, I felt ready, enough though I was carrying a few extra pounds on the belly. 
For this year's Aconcagua attempt, I had signed up to climb again with Elbrus Tours, the same operator who I climbed Europe's highest mountain with 2 years previously, Mount Elbrus in Russia. I love climbing mountains with Russian guides. They don't mess about. No bullsh*t about wondering if you're ok with your blisters, no hand-holding. It's old-school guiding.
You paid, you trained, you're here. And it's their job is to push you until you get to the top. I love that style. Tough love. Elbrus Tours are no-frills, perhaps the cheapest company to climb with at just over $3k (about $1k cheaper than normal!), which was perfect too.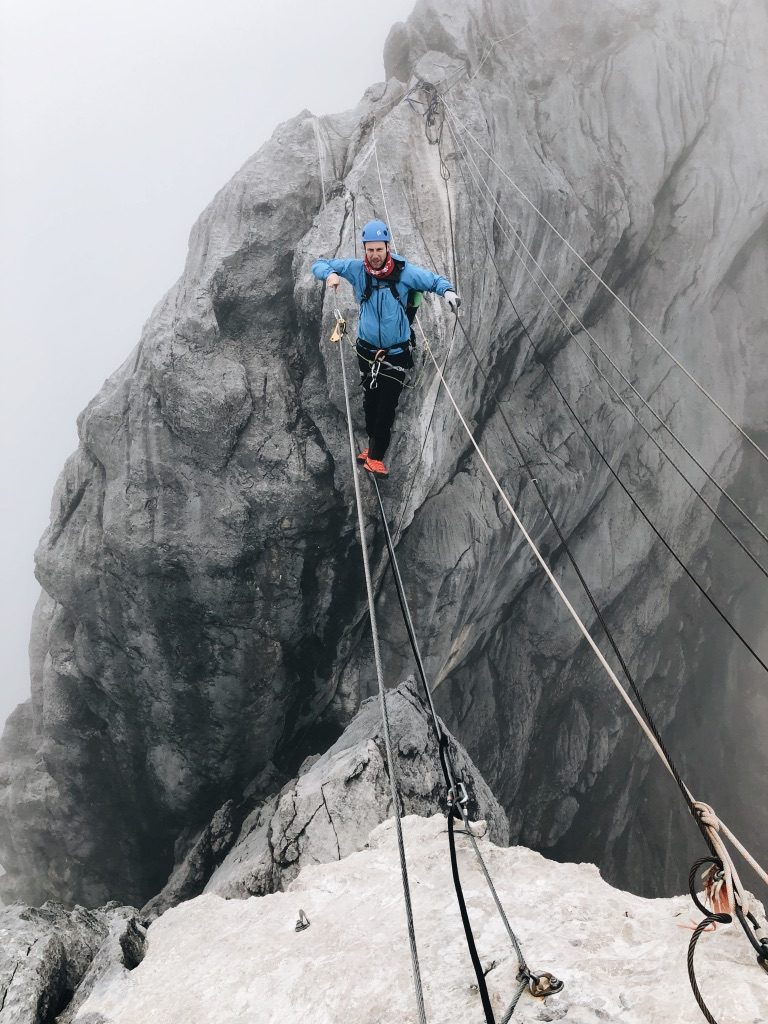 DAYS 1-5 TREKKING ACONCAGUA:
The start, to Confluencia, to Plaza Des Mulas. 
And so it begins. Trekking Aconcagua starts by flying to Buenes Airies, Argentina or Santiago, Chile and then connecting to Mendoza. Day 1 of the expedition then is in Mendoza, Argentina. Mendoza is just a few hours from the Chilean border, and is famous on the tourist trails for its wines, especially its Malbec (in fact, if you have Malbec in the house right now, chances are it's from here).
There is a small climbing community in Mendoza because the Andes are so close-by, and because of that, there are a few mountaineering shops in the town centre where you can rent or buy everything you need for the mountain, be it food or gear. I was climbing Aconcagua with a few friends so we all flew in together from London on Norwegian Air (I flew on their 'Premium Service' as I needed to pay for extra bags and that combined with the free booze made it worthwhile. Here's a review of Norwegian Premium here, I love it for the pricesumm.
DAY 1: Mendoza
Once in Mendoza, Day 1 of the trek is stationed in the town. You meet for a briefing, meet your guides, and check your gear. The next morning you go and pay for your permits (about $700USD in cash, depending on the exchange rate that day), then go and rent whatever gear you may be missing. Mid-afternoon on Day 2, you're off.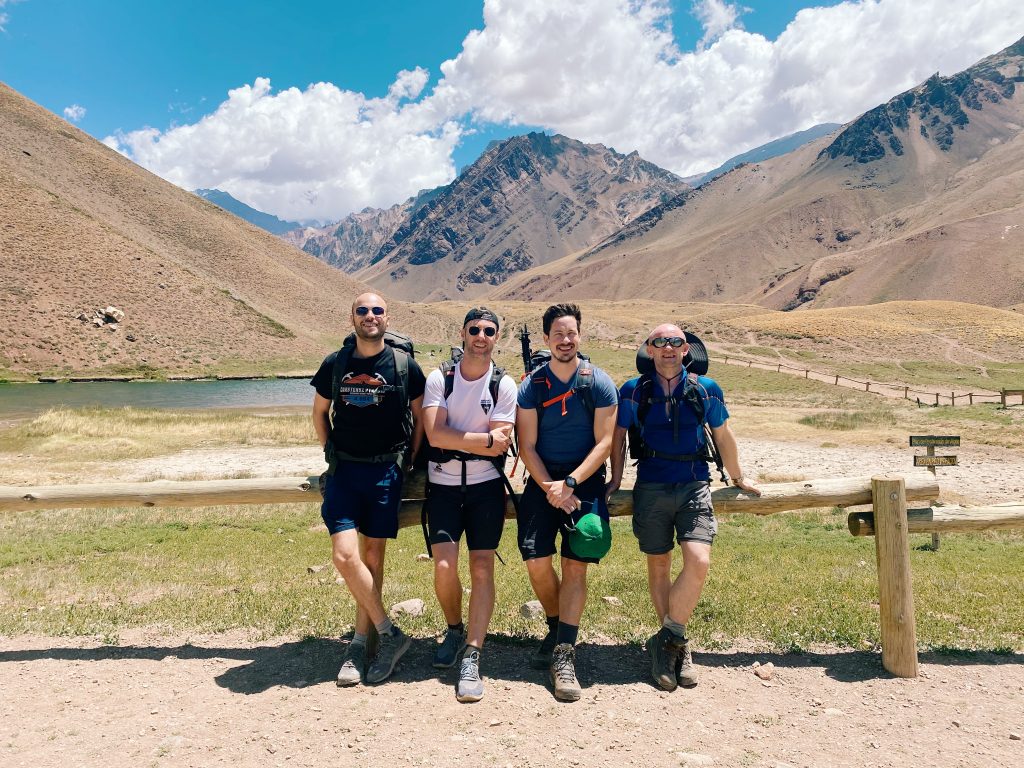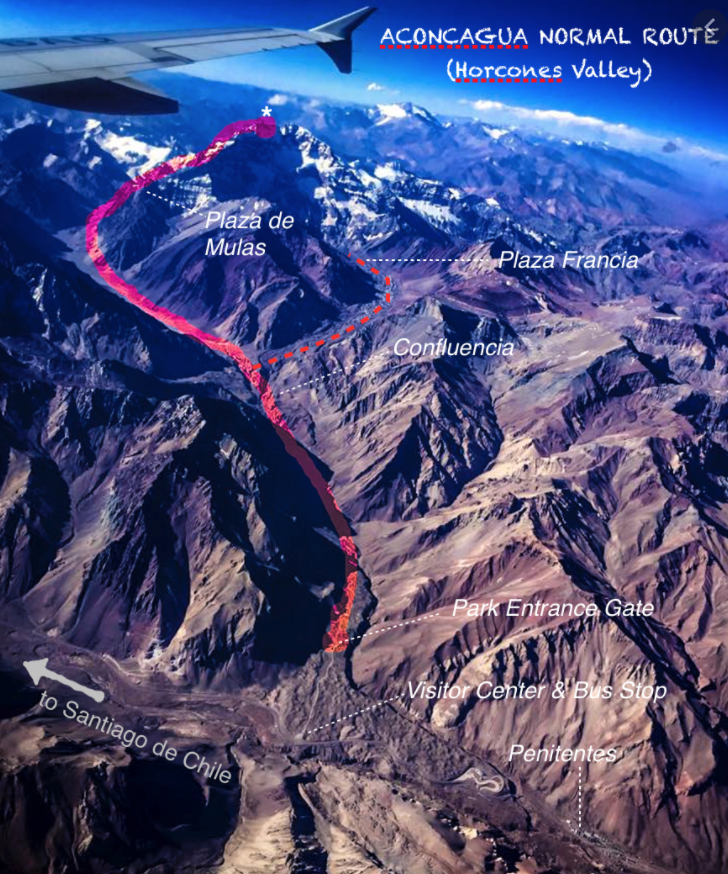 DAY 2: Los Penitentes
We drove from Mendoza, which is at 746m altitude, to Los Penitentes, a ski resort in the winter, but a hop-off point for Aconcagua in the summer. It's perfect to spend a night here at 2,579m to begin to get used to the thinner and thinner air as you climb. Also, although you're in dorm rooms, this is the last bed you'll sleep in for the next 2 or 3 weeks so enjoy it! They also have wine for sale, so savour every last drop. The next bottle will be in celebration or commiseration in almost 3 weeks from now. I've drunk for both, and I can safely say drinking in celebration tastes a lot sweeter.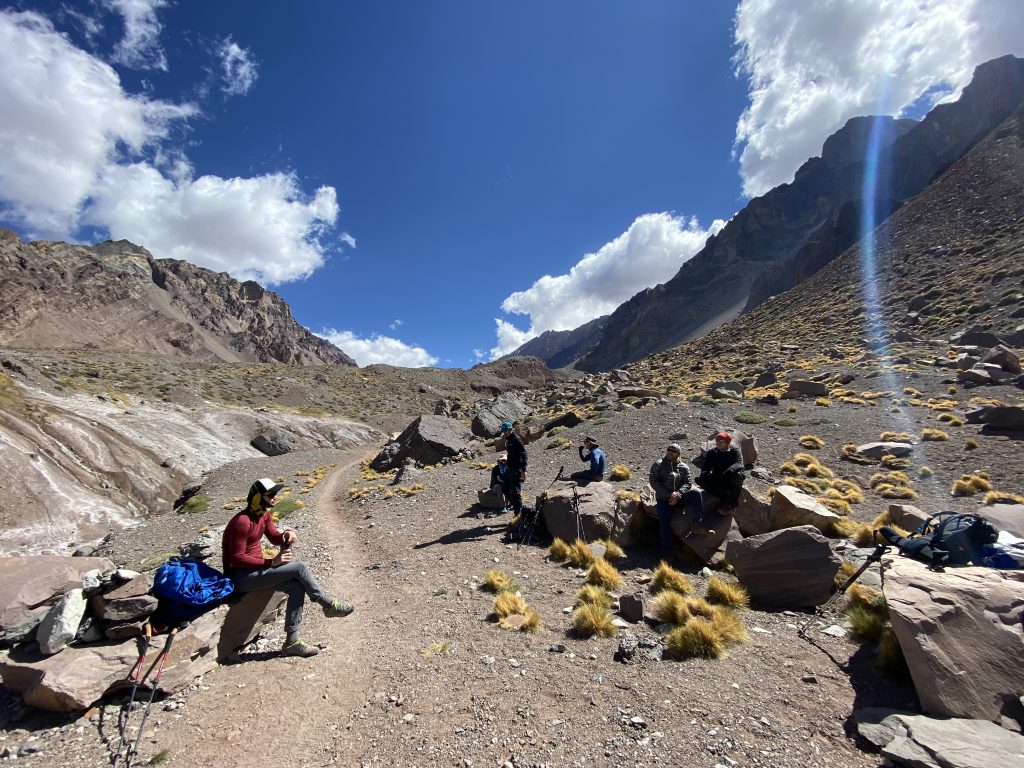 On arrival in Los Penitentes most people, including me, could instantly feel the air thinner. You're weren't short of breath per se, but you wouldn't be too keen on running a 5km at this height either. Before you settle for dinner and bed, you organise your bags one last time. Your big duffle bag, with all your 'proper' mountain gear, needs to be readied, the mules will take it to Camp 1, Confluencia, and you only need to carry your day pack the next day. A gentle start.
DAY 3: Park Entrance
The next morning you wake up and head to the official park entrance. From Los Penitentes to the park entrance is a short 15-minute drive or so. At the entrance, you sort out your paperwork, show them your permits, get signed-in and get a trash bag that you will return upon departure. The whole process takes about 45 minutes if you're in a group, and maybe 5 or 10 minutes if you're a hard-core solo climber. This is when trekking Aconcagua becomes real. And so you begin.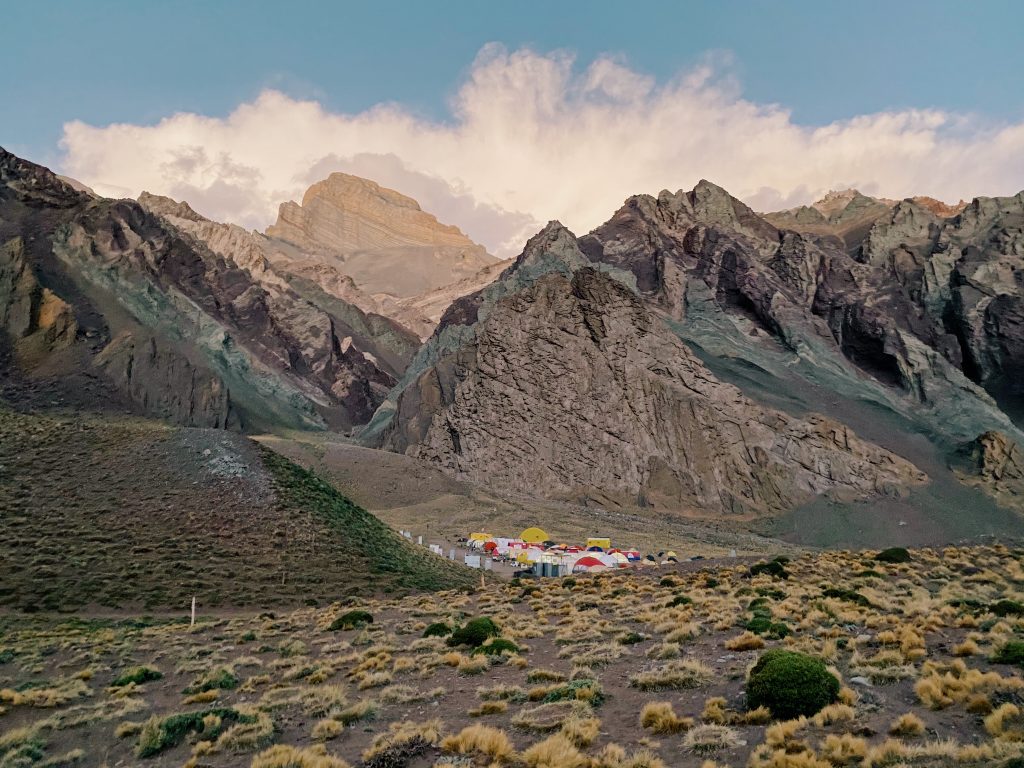 It's now Day 3 of your expedition, and from the park entrance to Confluencia Camp it's about a 3 or 4-hour hike. It's a beautiful walk, it's still warm at this altitude and there's more than enough oxygen to bounce around, have fun, take pics etc. Once you get to Confluencia, around 4pm or so, you'll set up your camp (normally 2 people per tent, unless you paid with a more expensive operator who sometimes have dormitory tents), check-in with your permit and enjoy your first night in the park proper. Dinner is provided each night in a dining tent.
Actually, when you're not physically climbing, you spend most of your time in these dining tent areas, socialising, swapping your stories and stresses, it's the only way to keep sane without the comforts of home. At Confluencia, 3,368m altitude, was the first time I could really notice the lack of oxygen. At night it was chilly, and even a fast walk to the bathrooms left you breathless.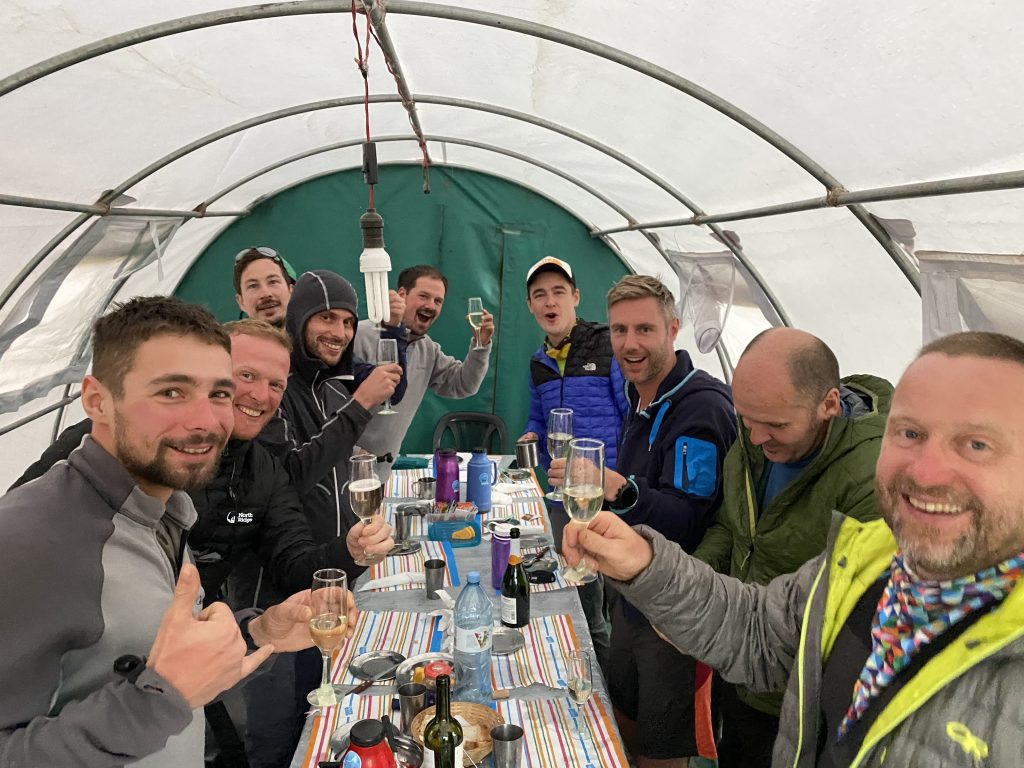 DAY 4: Plaza Francia
Day 4 is an acclimatisation hike towards Plaza Francia (as seen in the route map above). You set off around 9am or so, and hike for 6/7/8 hours depending on your speed. You start to get an idea just how high this mountain is going to be. When you reach the maximum height that day, you also have a perfect view of Aconcagua. It's gorgeous, but also the reality of tackling the whole mountain is suddenly very real. Back to Confluencia, dinner and sleep.
DAY 5: Plaza De Mulas (Camp 2)
Day 5 is a long day hike to Plaza De Mulas, or Camp 2. This will be the base camp from which all your hopes of summitting will be decided. The hike to get there is long, huge mountains, open plains. It reminded me a lot of the steppes of Mongolia and Kazakhstan. Your training will start to show here, although the first 3 quarters of the hike offers a gentle gradient, if you're out of shape, you'll start to see it. On our group, an American guy quit on this day, so it's not to be sneezed at. The 6-8 hour hike gets a lot more difficult as you finally approach your destination. You see Plaza De Mulas in the distance, and suddenly you have to hike some steep hills.
The chit-chat generally slows down and you get to work. Finally, you reach camp, check-in with your permits, set-up tents and then hit the dining tent for dinner. You're now at 4,389m altitude, and you'll know it. The people who are already at camp will be moving a lot more freely than you, having been there for multiple days and acclimatised, but on your first night there, it can be tough. Don't expect to sleep too much tonight.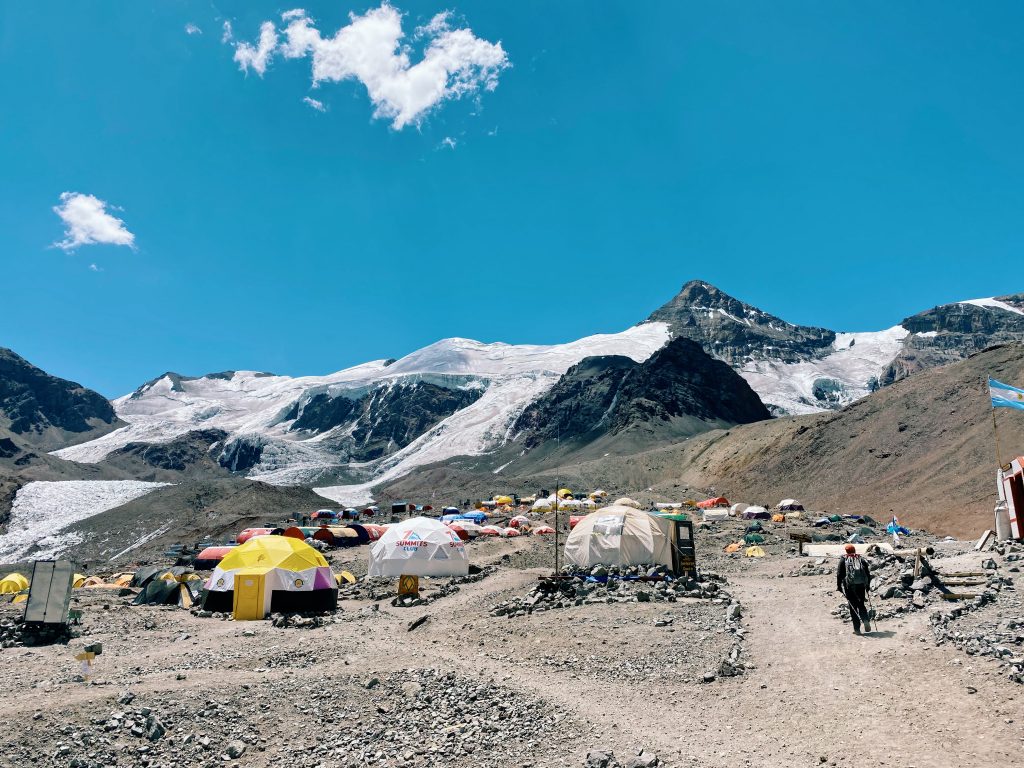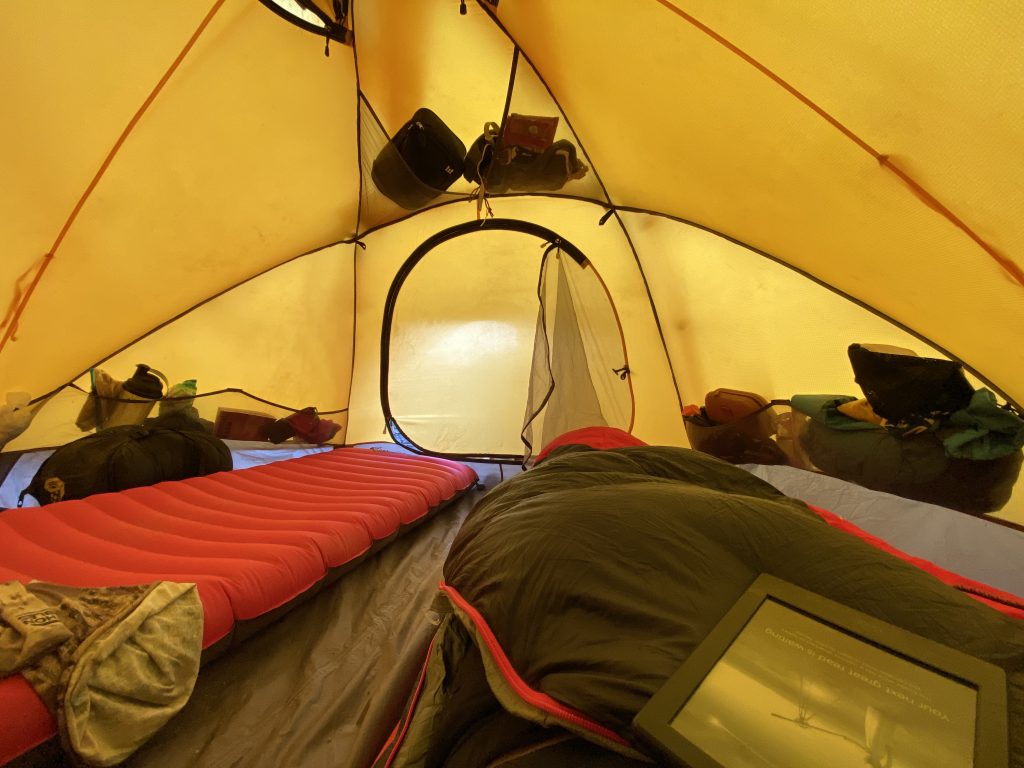 DAYS 6-13 TREKKING ACONCAGUA:
A WEEK OR MORE PREPARING FOR SUMMIT
Hunker down, it's going to be a week living here at Plaza De Mulas. We made ourselves comfortable knowing that we'd be here for a while. Last night, I slept pretty badly, but it's normal when you have climbed 1000m in altitude the previous day, although that doesn't make it feel any better. I'm not a big camper at the best of times, but the tents were pretty comfortable although I was hugely jealous of my buddy who brought a proper inflatable mattress (do that if you come!).
DAY 6: Glacier Hike
On Day 6, we took a little walk to the nearby glacier. Some used it as an opportunity to test their bigger boots, but it was more about seeing how our bodies were reacting to being just short of 5000m. The weather was beautiful, but on the forecast, on my phone, I could see bad wind coming in about 5 or 6 days, not good news for our summit attempt. Day 6 is a pretty easy day, to be honest, and that evening you have to check-in with the Doctor, check how you're doing and do a blood-oxygen test.
We were all doing pretty well, apart from the fact that most people (in the whole camp it turned out) were getting diarrhoea. Something had happened with the rainfall and early ice melting, which meant there were far too many minerals in the water they were melting for us to drink. Basically, it meant if you drink water, you get the shits. And you're at altitude, so rule 1 is to drink as much water as possible. Not too nice, especially considering there was only 1 drop toilet to share between the group.
The mineral content continued to be an issue throughout the whole expedition, and the number of toilets we used stayed the same, so I'll leave the rest up to your imagination. Not ideal at all.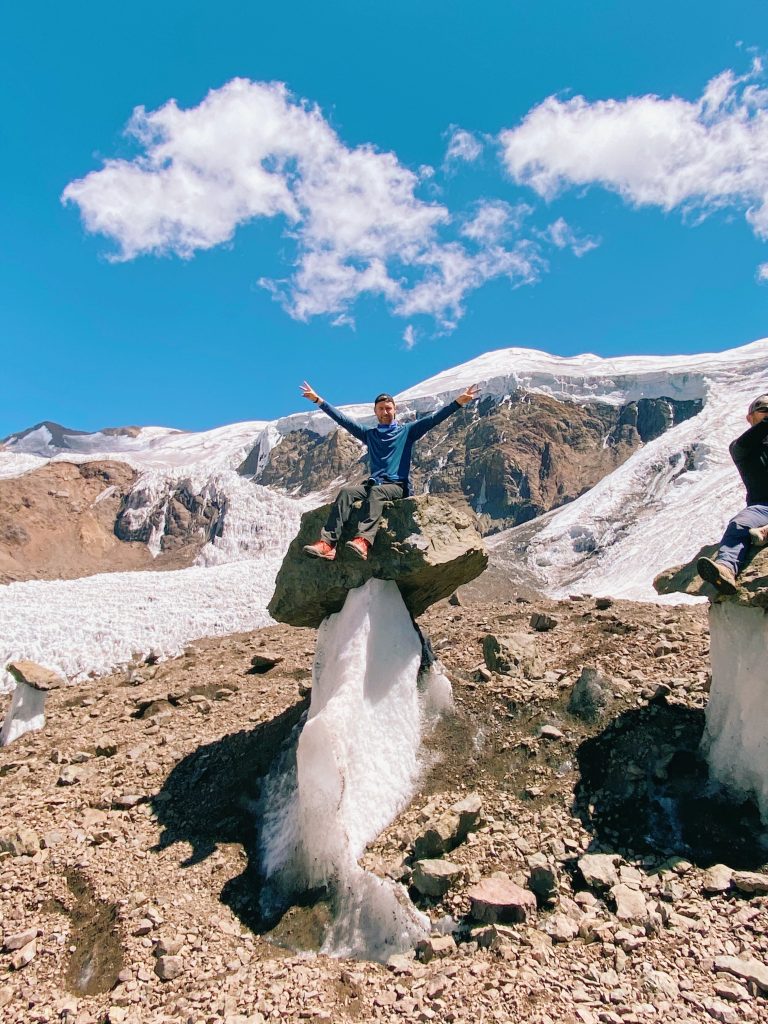 DAY 7: Acclimatization hike
Anyway, I slept a little better on night 6, and on night 7 we would climb a little higher for the day, and return to camp again. We would head up the track to Camp Canada, which sits at 4930m, so this was a good test for our acclimatization, and our fitness. Some of the group fared better than the others, but generally, we were all in decent condition. Looking back down at Plaza de Mulas put things in perspective, we were only at 5000m, and with the summit at 7000m, things were going to get a lot tougher before we can take this big boy down.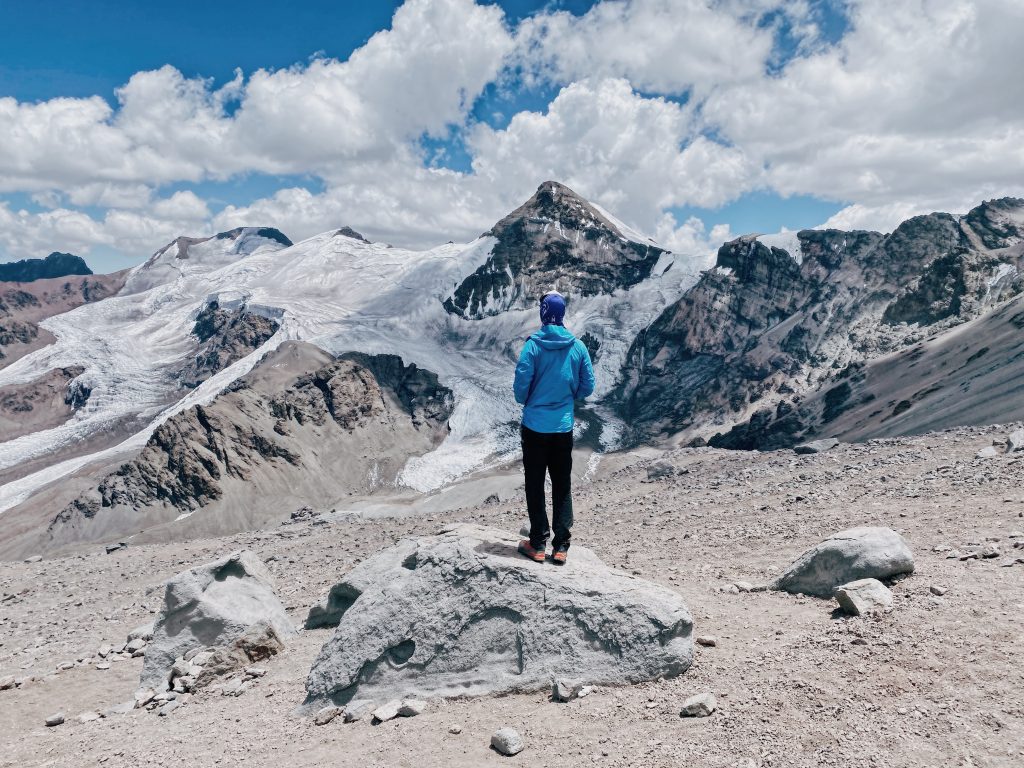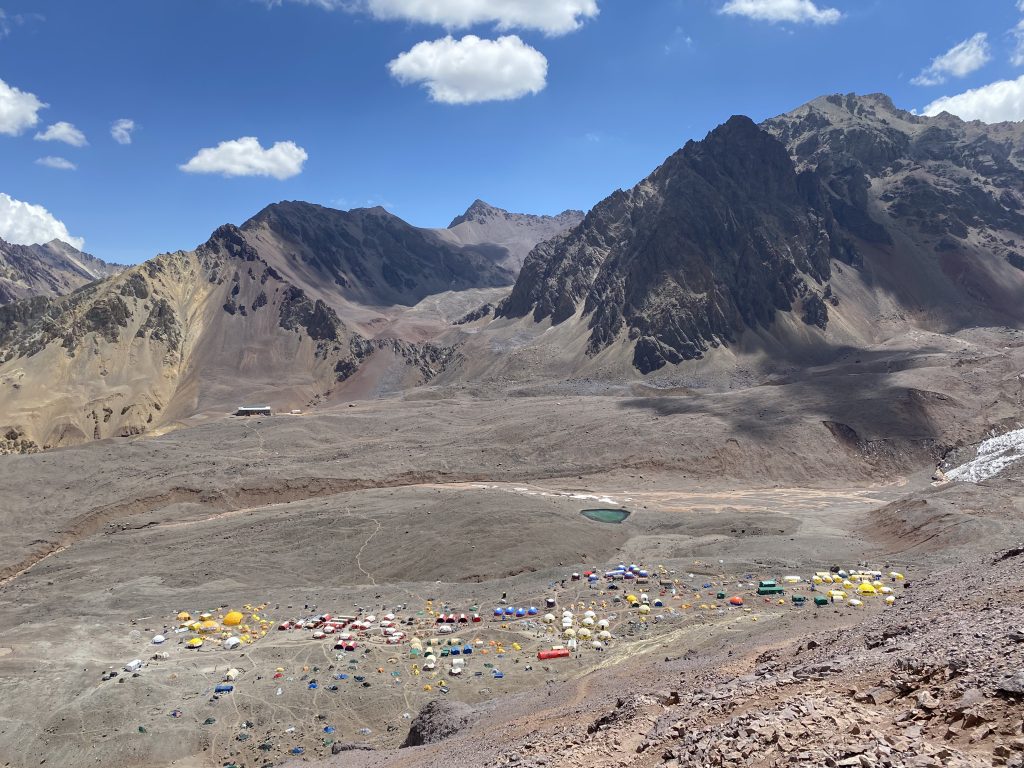 Once we got back down to Plaza De Mulas, it was time to regroup. We had been on the expedition for over a week now. The next day was as a rest day, Day 8, and the schedule for our summit was changing regularly due to the ominous forecast. The season had been great, but it was now confirmed, bad winds were coming. So Day 8 was spent with me reading my kindle and stressing out about another failure. Lesson learned – that did me no good at all, and on reflection it wasn't fair on the group, burdening them with my worries. I should focus on what I can control, my rest, my calorie intake, my water drinking, my sleep. Noted.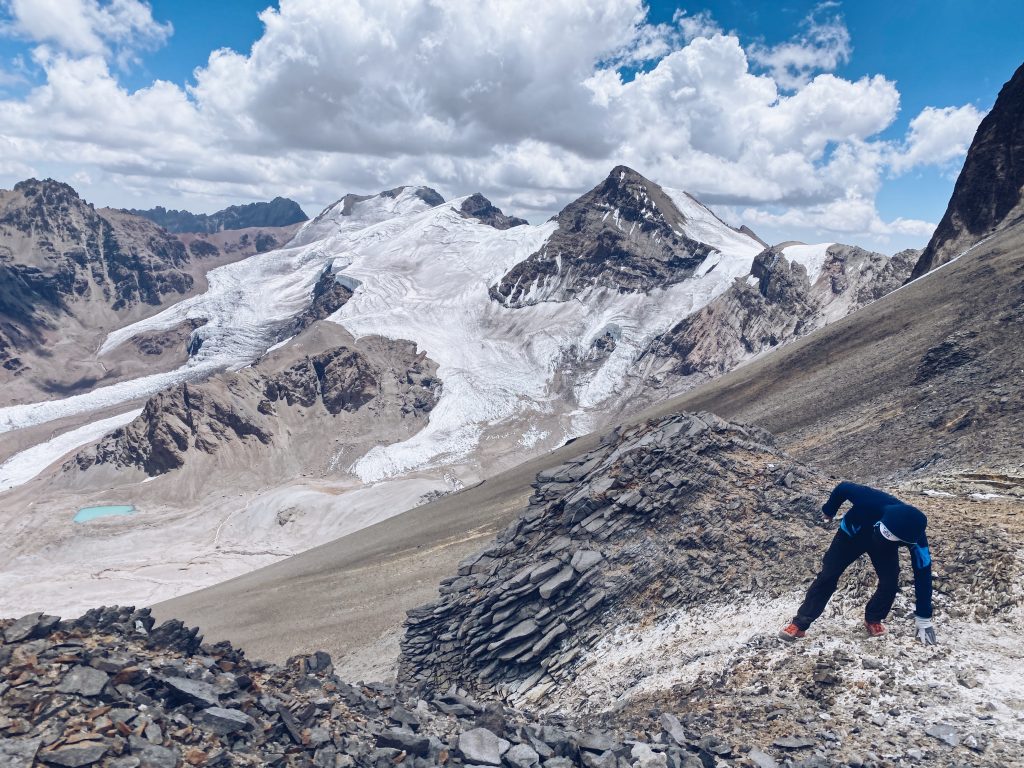 DAY 8: Rest
Our plan, regardless of the weather, was to rest on Day 8 as stated. Then on Day 9, spend all day climbing to high camp 1, Nido de Condores at 5380m. We'd spend 1 night there to help us acclimatize, and then on Day 10, we'd hike back down to Plaza de Mulas, sleep there and take another day of rest there on Day 11. And so we did that, but I was feeling strong. And the weather forecast was looking worse and worse. From zero winds and blue skies, I could see 100kmph+ winds coming, exactly the same weather conditions that caused me to fail last season.
Once we reached high camp 1, I asked our guides could I make a summit attempt tomorrow, and skip a week off the expedition length. I felt I could make it, but they (correctly) told me I signed up for a group trip, so I would stick to the group itinerary. Fair enough.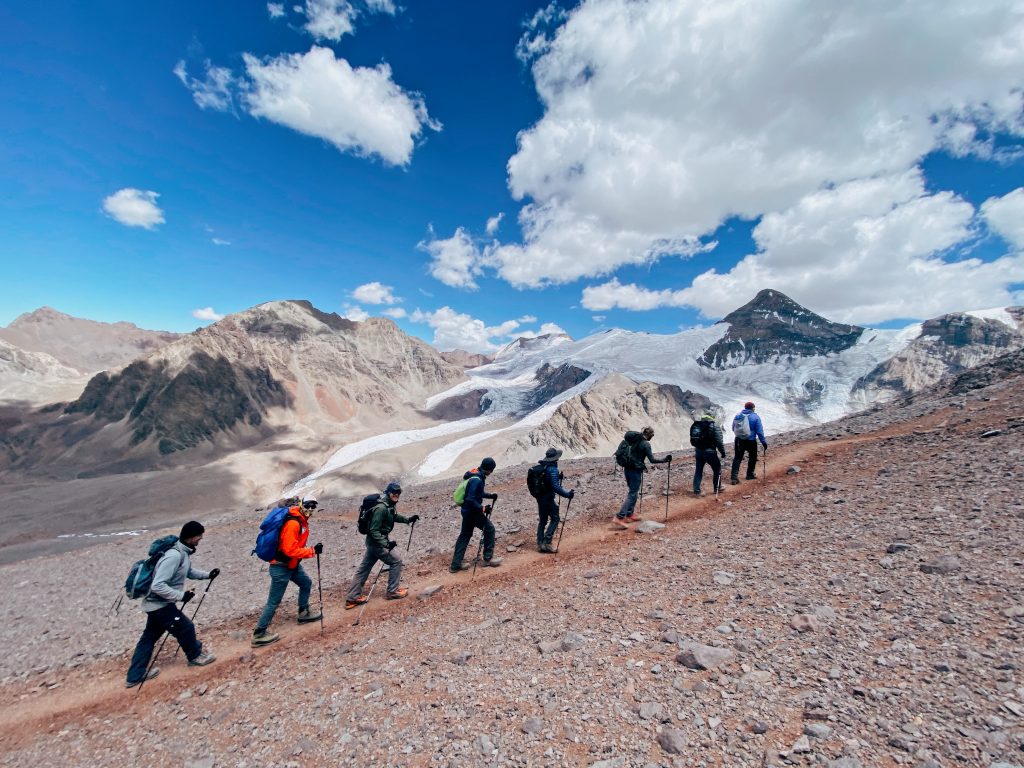 DAY 8: Nido De Condores (Camp 3)
So Day 9 we made our way from Plaza to Mulas to Nido De Condores. The hike to Nido was pretty nice, if a little steep. It started to snow a little, and the whole climb took around 8 hours. First, we reached Camp Canada, where we had been previously, took a short break and then continued. The last couple of hours were quite tough, but I was in my hiking boots, not my summit boots, so that helped.
Once we got to Nido, the weather had fully turned. It was FREEZING. We could barely deal with being outside, wanting to run straight to our tents, wind howling, darkness approaching, and snow battering us at horizontal angles. Our guides told us to dress up and congregate around their tent for dinner, which was the last thing I wanted to do, but they have so much experience that I knew they were right.
Their theory was that we need to move around to acclimatize better, that and of course all of us in our tents by 4pm until the next day would do the group morale no good at all. So we listened to them, and huddled around, shivering, eating together outside. By 6pm or so, we all scrambled back to our tents in darkness. That night I slept with my t-shirt, thermals, hoody, Goretex, big down jacket and my -30 sleeping bag. Again, the reality of the task was stark.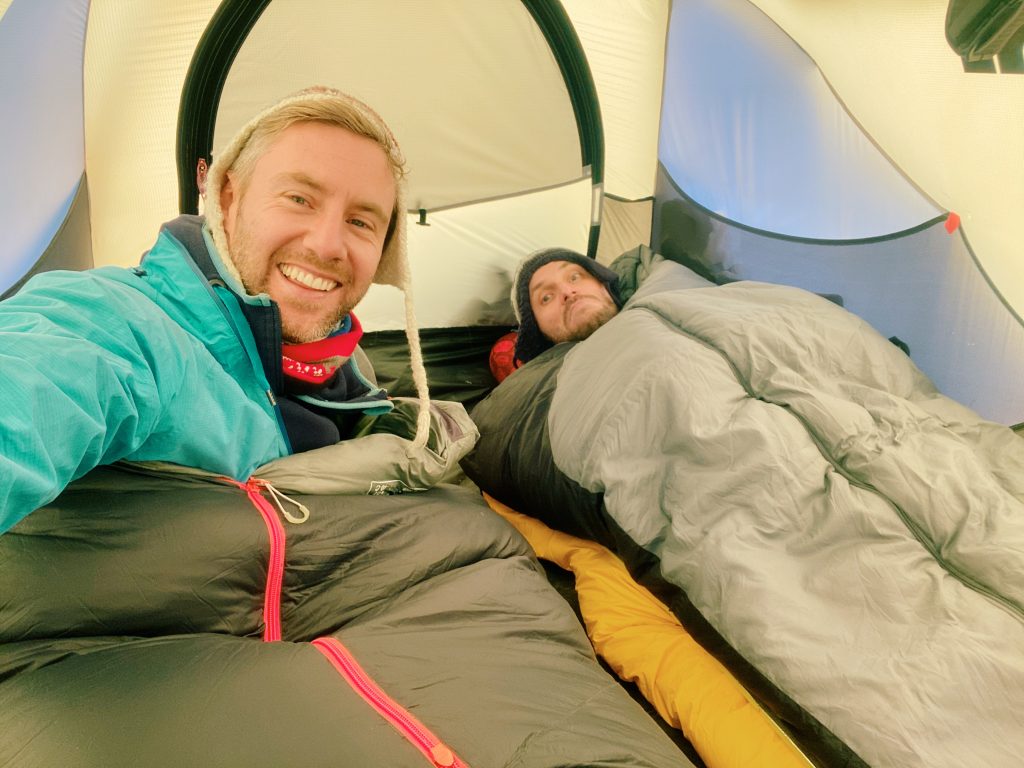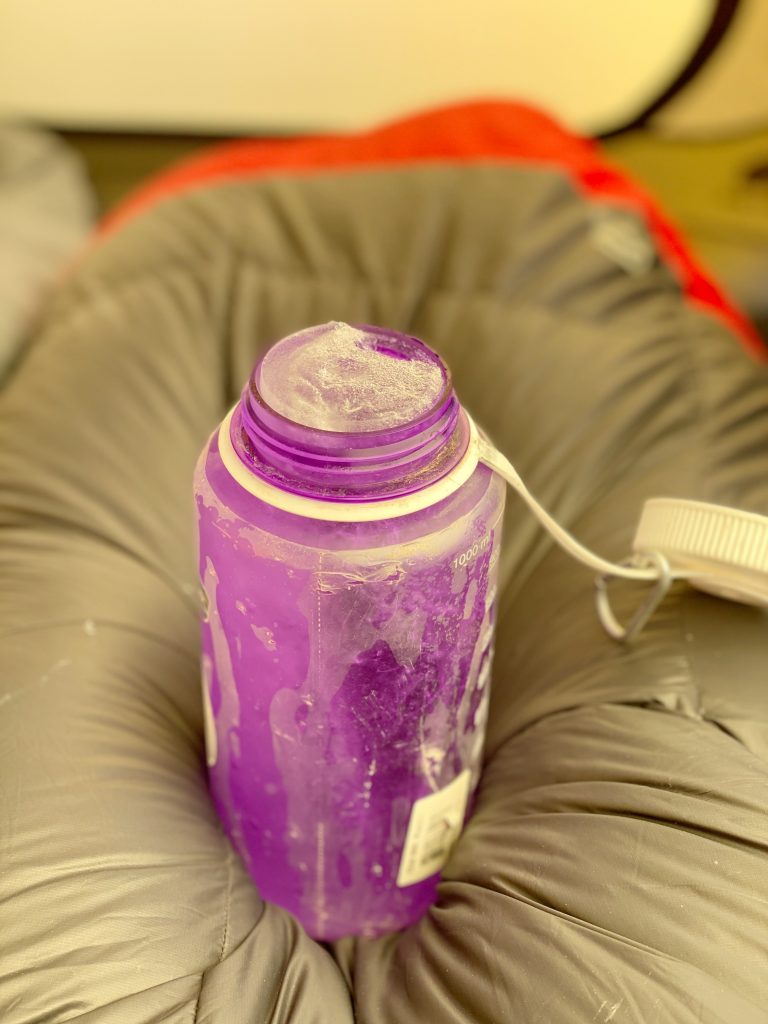 DAY 10: Back to Camp 2
Thankfully after a cold night, the next morning wasn't as bad, so we had brekkie all together, packed up our gear and headed back down to Mulas. What took 8 hours to climb yesterday was reduced to a half-jog down of about 90 minutes. It's crazy how your body reacts, and conditions itself, to altitude and the varying levels of oxygen it provides you. 
Getting back down to  base camp this time around, over a week since arriving at Plaza De Mulas the first time, was a new experience. I remember when I first arrived on Day 3, I was puffing and panting just walking around. Struggling for breath. But after sleeping at high camp, and spending over a week at this altitude, I felt great at camp. I slept so well that night, it was almost like being at sea level. Weird. 
DAYS 11 & 12: Rest
Day 11 was a rest day as planned. With the weather turning even worse, we rested Day 12 too in the hope there'd be a short break in the wind. It was obvious now that the conditions to summit were going to be tough. You hope for winds of 40kmph or less, the best we could hope for would be 60, if we were lucky. From low camp, we could see the summit and things were starting to look a little nastier up there. Even here, it was getting snowy and cold. But time waits for no man, so we took our 2 rest days, and on Day 13 we would begin the 2 day ascent. Bad weather or not.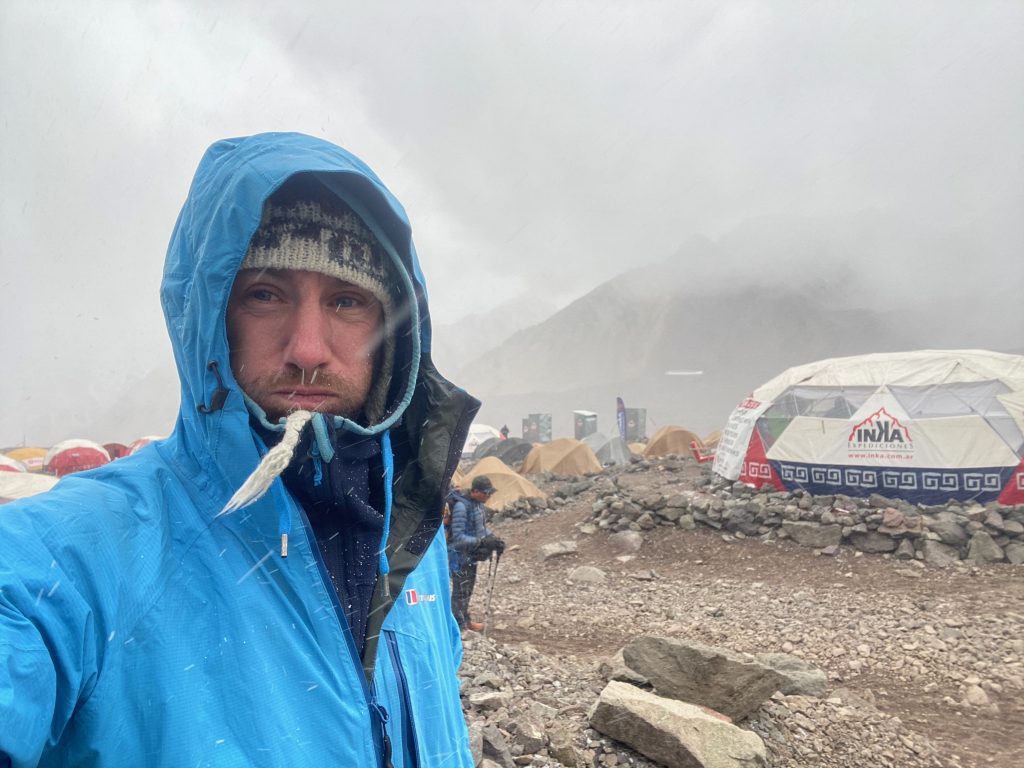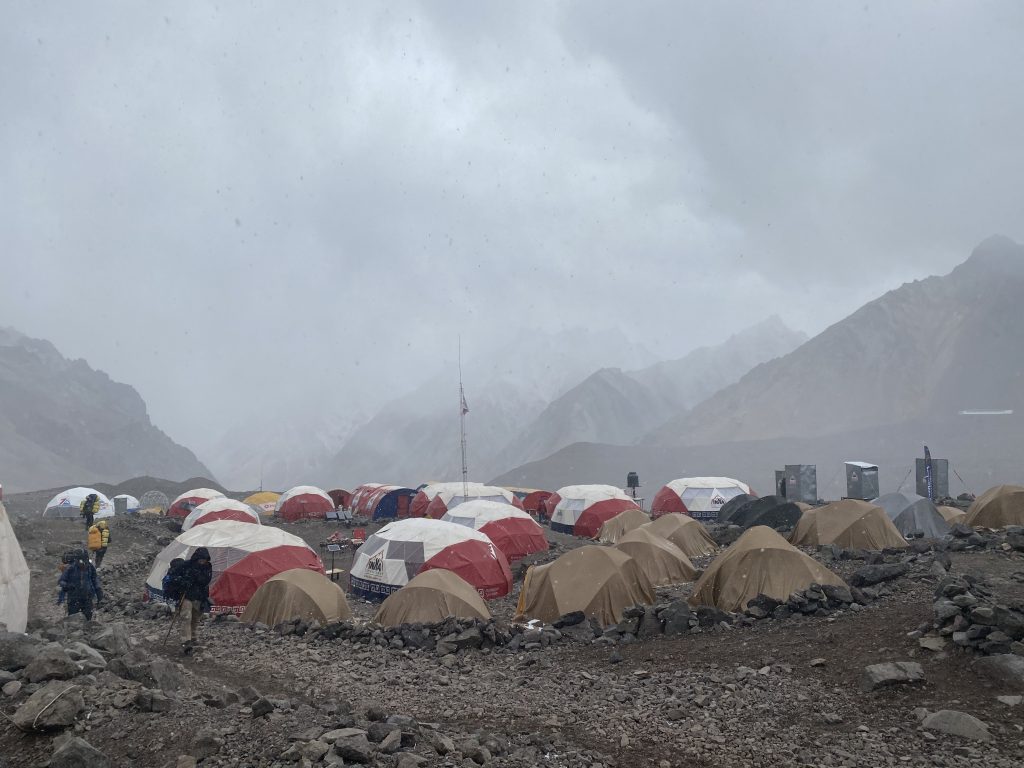 DAY 13-16 Trekking Aconcagua;
Our summit attempt: Failure, Injury & Success
Breakfast on Day 13 was a nervous affair. Many of us had been up for hours sorting out our bags and our gear. After we leave Plaza De Mulas, we leave our big duffle bags at low camp, meaning that we can't forget anything at all.
Porters are available for $100+ or so to carry your gear to Nido De Condores, but I figured I've come this far, better to try to do it myself, so I passed on the porters. I wore my big boots for the first time on this expedition (La Sportiva Olympic Mons – they were GREAT! Highly recommend them) so I didn't have to carry them and try to minimise the weight I'm carrying on my back.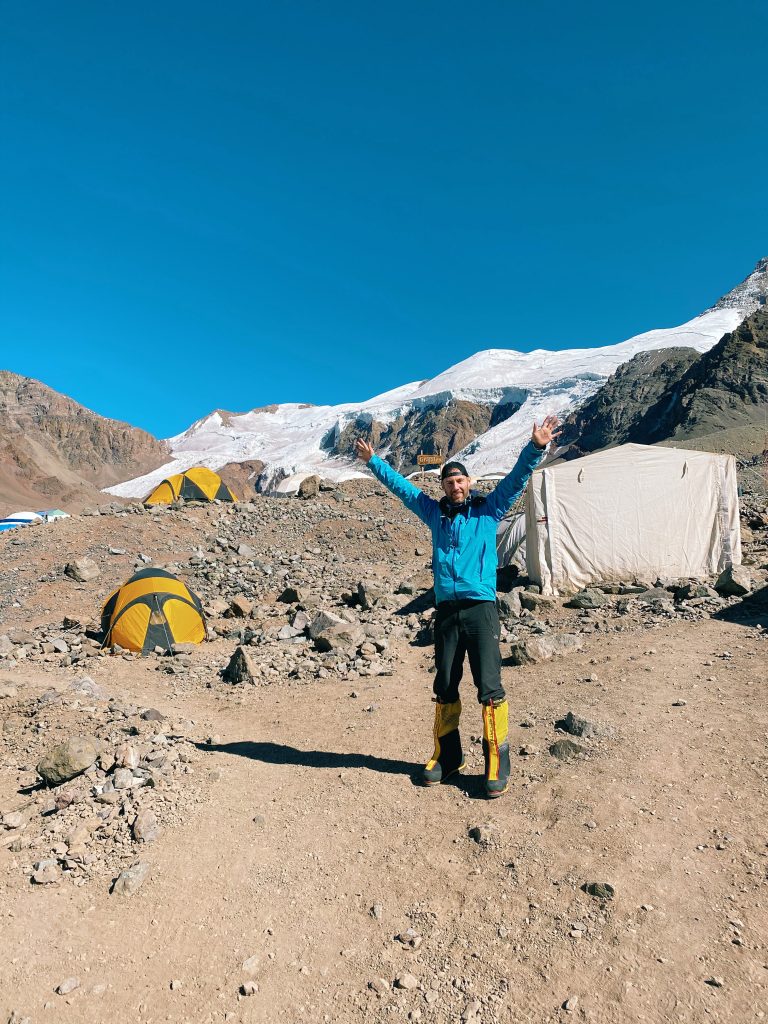 Normally a summit attempt, 2 weeks into the expedition, looks like this:
Plaza De Mulas to Nido De Condores on Day 13. Sleep there.
Then on Day 14, hike to Camp Berlin/Colera at 5895m, sleep there.
In the middle of the night on Day 15, start the summit climb from Camp Berlin.
Back to Berlin and sleep,
Then to Plaza de Mulas on Day 16
And out of the park on Day 17. By Day 18 you're drinking wine in Mendoza.
But for us it was going to be different:
Due to bad weather, the standard summit attempt possible for us. So our plan was to cut a day out.
We would climb from Plaza De Mulas to Nido De Condores on Day 13.
Go to sleep early, and that night attempt to summit from Nido on Day 14, skipping the middle day.
That would mean we would starting from much further from the summit, and we'd need an 18-hour day at high altitude for our summit push.
We had little other choices with the weather conditions, and I was just grateful to even have a shot at the summit, so we focused and got ready for the pain.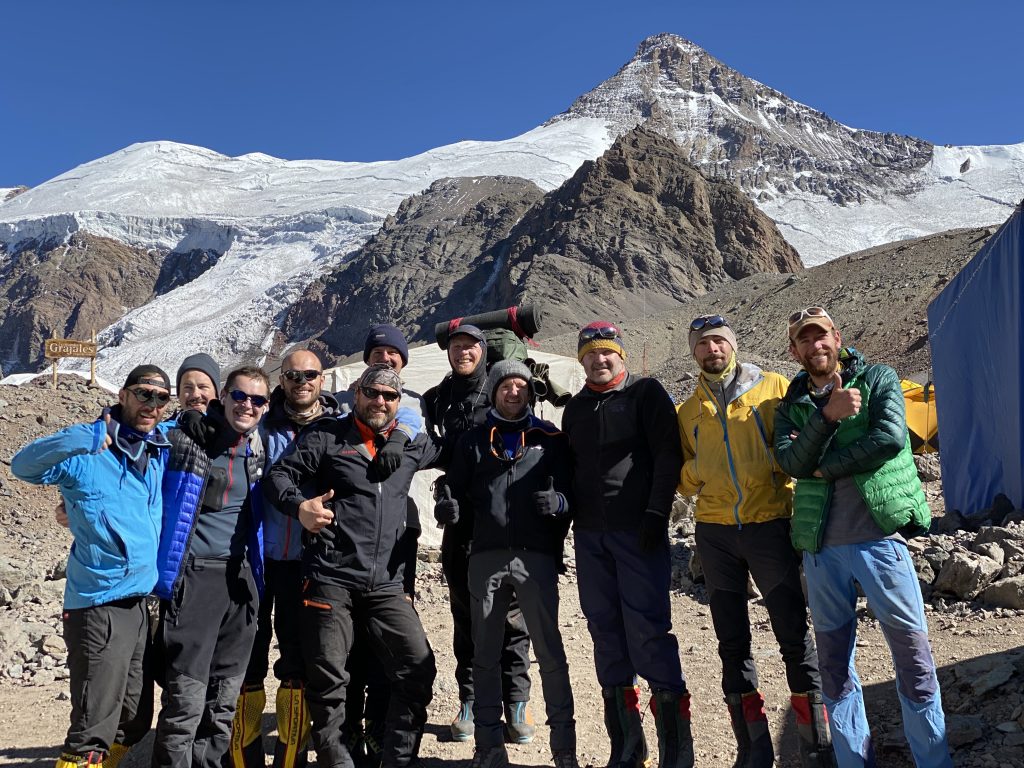 DAY 13: Back to Camp 3 & Plan Changes
Setting off on the morning of Day 13 with the big boots on, and a bag full of gear on my bag, it was tougher than I expected. I had skipped up to Nido the last time in smaller boots and no bag and hadn't really factored in just how much more difficult it would be with an extra 10-15kgs. But I managed it, just about.
By 4pm or so I was in Nido De Condores, and thankfully the weather was better than the last time we were here, so we could chat with the group, try to stay calm, but all knowing that the next day was going to be tough. Despite the good weather at camp, we knew the forecast for the summit tomorrow was pretty bad.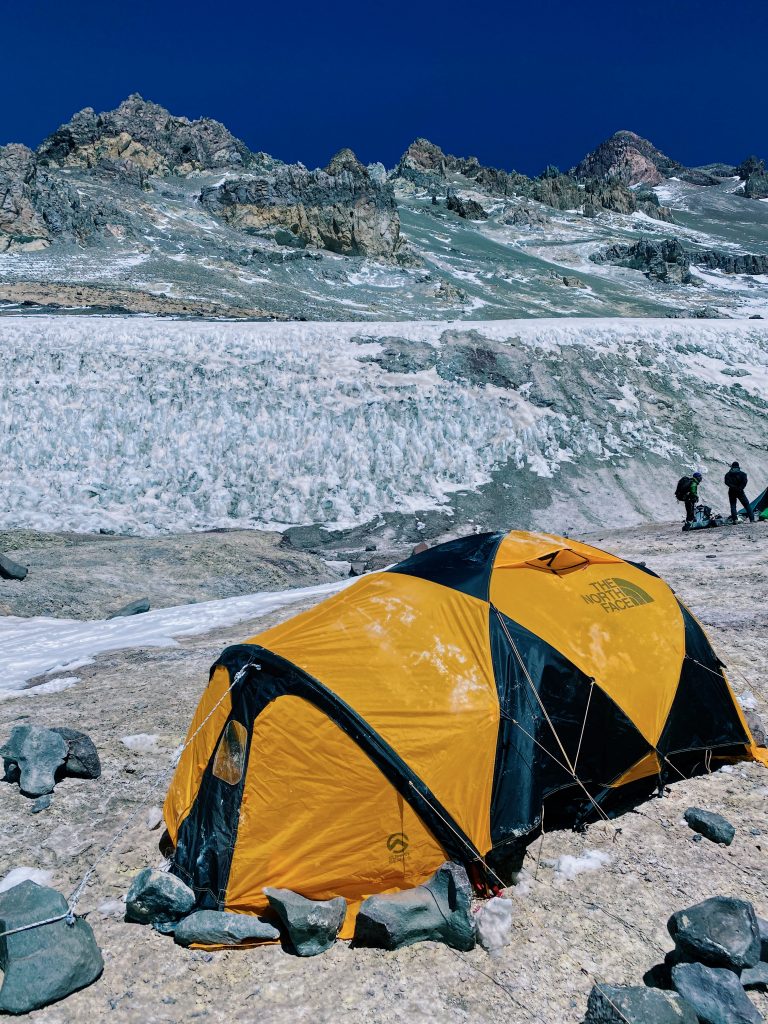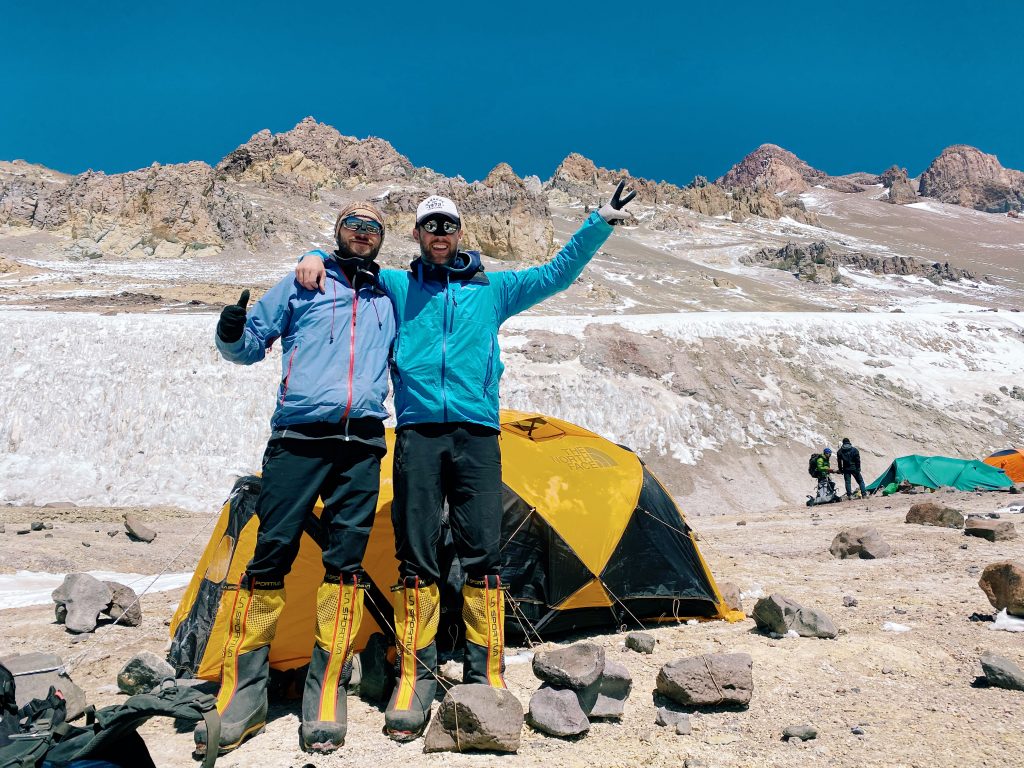 Trying to go to bed early at altitude is tough, that combined with the nervous energy about the summit attempt means it's all but impossible to actually sleep. I lay in my sleeping bag for hours, visualizing, but also fearing failure so deeply.
DAY 14: 18 hour Summit Push
The alarm was set for 2am, not that I needed it. We would start the climb at 2.45am, so that would give me 45 minutes to get my gear on and then get going. When I got up at 2am, the water in my water bottle had frozen solid.  The team couldn't melt more snow at this late stage, so I only had a little left that was drinkable. This meant I would have less than a litre of water for the whole summit day, all 18 hours of it.
I guzzled what wasn't frozen down, and spent the next 40 minutes getting my big boots sorted, ensuring all my gear was on correctly. One mistake with our gear and it could mean failure, frostbite or worse. In a bit of a panic, I didn't give myself enough time to get prepped, so when Misha, our head-guide was ready to go at 2.45 I hadn't had 'breakfast' yet. I didn't want to disappoint anyone, or make anyone wait in the freezing cold, so I rushed to the line, smashed 2 frozen protein bars and we were off. 
Head-torches on, wind swirling, the temperature well below zero. No-one else from our camp seemed to be attempting the summit, it was just our group on the moutnain. I thought that was odd. But it became obvious why as the day went on, the weather was far from ideal. In our single-file lined  we slowly, very slowly, began making our way higher there was no chit-chat. No banter. Just focus and fear.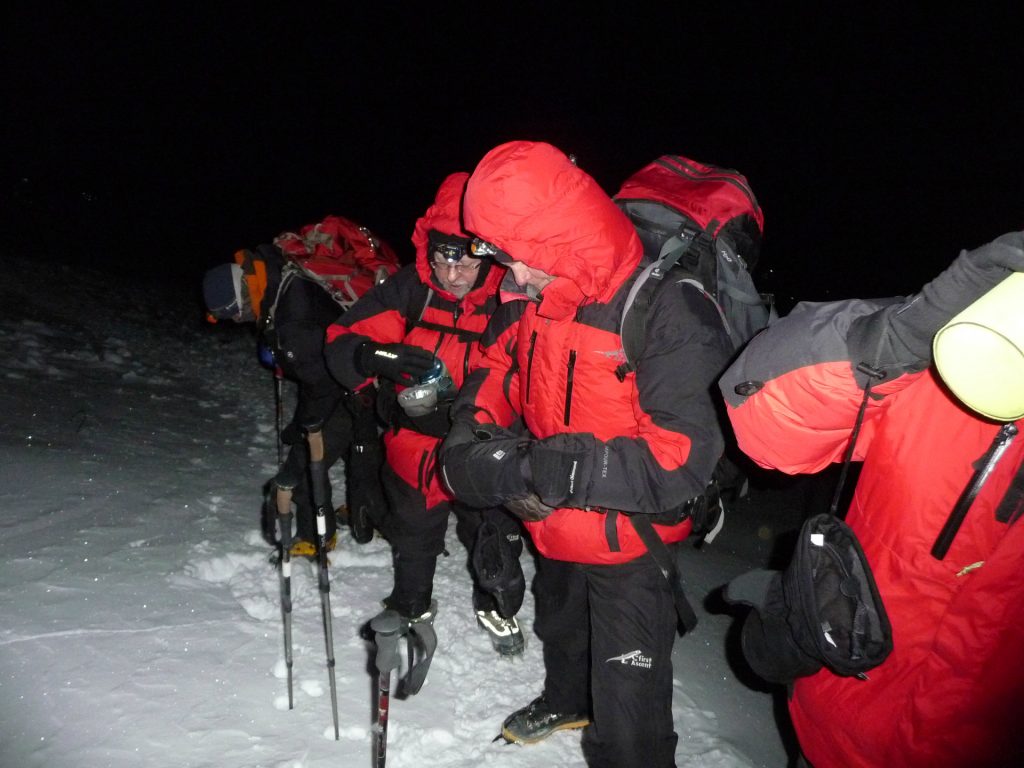 The cold
It was colder than I had expected, but my gear was holding up well. When I climb, I almost exclusively wear The North Face stuff, sure it's expensive, but you know you're getting quality. For my summit footwear, I used triple-layer La Sportiva boots, this was the first 'real' mountain I had climbed with them. They had been really comfortable yesterday from Plaza De Mulas to Nido De Condores, so I was quietly confident in them again today. 
The first couple of hours were ok, just about. Some of the group were struggling a little more than others but we were together. A couple of pit-stops to catch up and on we went. By this stage, I could finally see 1 other group below us. So someone else was attempting the summit from High Camp 1, it was quite reassuring to know that. 
Camp Colera
For the first couple of hours though, I thought the wind was tricky. That was until we reached Camp Colera. We had to use the fixed ropes over the apex of the scramble just to stop ourselves being blown over. Finally, we were now exposed to the real summit winds, the ones we had seen in the forecast, and it was a sombre reality check. We were already almost 3 hours in, tired and cold. Already tired, we had just reached the point where you would normally start your summit attempt from. We were only getting started. Wow.
To be frank, the next 6 hours we a bit of a blur. I took a couple of video clips, and zero photos. I had planned to document it all clearly but it was just so, so cold. Every time, I took my hands out of my gloves, they would freeze. It would be agony for another 20 minutes or so while they returned to normal. From wanting to blog the experience in detail, now I just wanted to make it up. Forget the photos. 
Independencia
There we essentially 3 sections from Camp Colera to the summit. The section from Colera to a small hut called 'Independencia'. The next section from there, across there Northface of Aconcagua to the Canaleta and cave. And then a final push up the gulley to the summit. It sounds easy when I write it down!
The first section, it was still dark. We had been going about 3 hours or so already, so then we zigzagged our way up the mountain for another 3 or 4 hours. The wind had reached 60kmph, the strongest our guide had climbed this mountain with before, and it was tough going. Our group began to get a little stretched and we would be forced to take breaks every 20 or 30 minutes to bunch up again.
It was so, so cold. Probably about -10. When you're trekking, your gear kept you warm, but as soon as you stopped, exposed, you were instantly freezing. All my snacks, my energy gels, my bars, all frozen solid. Along with my water. I had planned to consume so many calories on summit day, but it was such hard work to bite into bar that were frozen solid. Each break I managed to maybe take 1 or 2 bites of 1 bar. 
ANTHONY GOING BLIND
The sun began to rise around 6.30am, we had been going 4 hours or so, and that helped lift morale a little. We could appreciate the beautiful views of the Andes briefly, before continuing the zigzags. By about 8 or 9am we had reached Independencia. We were a little behind schedule, and the group looked shot. It was a worrying site. More worrying still was the state of one of my closest friends, Anthony. He could barely walk, stumbling around like a drunk man. I sat him down, away from the guides, and asked him how we was. His eye-sight had reduced by 50% and we couldn't really talk. I asked him would he like to continue, and he was set on it. So I gave him 2 emergency altitude sickness pills, and the rest of my water.
We waited there for 15 minutes or so and when we set off, Anthony walked right by all of us, he couldn't see us at all. Someone pulled him into our line, and we made our way up one more hill until we had to fit our crampons. As we got higher, the snow level increased, and by this stage a full blizzard had begun.
The travese was staring at us. Finally, all our fears about the weather came true. We were finally fully exposed, and the winds were 80+kmph. The next day, the guides told us they had expected the Argentinean rangers to call off the Summit attempts, but they never did, so the Russians carried on. THIS is why I like to use Elbrus Tours, many other operators cancelled their summit attempts that day. 
We slowly crossed the traverse, the blizzard in full flow. Our group was getting more and more stretched, but on we went. I could barely see, and all I would do is make sure my foot was stable and take another step. To my right, almost a sheer drop down the mountain. Behind me the group. And in front of me, just Misha, our guide. But on we went. 
Finally, we reached the other side, maybe 3 hours or so later. There's a cave where you can seek some cover from the wind. I threw my bag down there and tried to attack my frozen snacks again with limited success. We waited while the group reconvened, but people were in a bad state. Anthony finally arrived, almost entirely blind, and stumbling from one rock to another. We could barely walk. Misha told me he needed to be evacuated so I broke the news to him. It was almost a relief in fairness.
Trekking Aconcagua was important of course, but his sight was more important than any mountain. Anthony was administered with an emergency injection. Viktor, another Russian guide in our group, and Paul, another close friend of mine, roped each other in and they made their way down, to be helicoptered off the mountain to the hospital. I wouldn't see the boys again for another 3 days. It was terrifying.
SUMMIT PUSH
The rest of us took some deep breathes. The guides, of course, had seen it all before. People's legs stop working, people lose their sight. But for me, it was traumatizing, and for Anthony, even more so. Misha had suggested a couple more of our group should head down with Viktor, but equally, on the mountain it's all about personal responsibility, so the boys continued. We were 4 or 5 hours from the summit. They planned to give it everything to make it, as did I. 
The last push was tough. Aconcagua's canaleta is famous for climbers. 2 steps forward, 1 step back. Loose rock everywhere. And it's so steep. You're almost at 7,000m and each step feels like sprinting the 100m. People want to take breaks every few steps, but time was against us so we had to push on. Honestly it felt like we'd never reach the top. Hours upon hours. You could see the summit, but I just couldn't go any faster. My lungs were screaming. My quads too. But finally I let myself dream. I knew at this point that the summit was mine. Just suck it up for another hour or 2, and all this chat about trekking Aconcagua, we'll be there.
Focus on one step, then another. And on we went. I actually felt stronger and stronger towards that last push, until finally, one last clamber over a few rocks and you see the cross that marks the summit. We did it. And so did the boys who Misha thought should call it a day. They saw their limit and went beyond it. Truly, truly amazing. You look at people differently when you know they're capable of pushing themselves that hard. I felt like that when my 70-year-old mother nearly killed herself getting to the top of Mount Fuji, Japan. I often wonder if I have that strength, but these boys do. So Bryan and Dave. Wow, you guys are amazing. Trekking Aconcagua was finally looking like it was going to be a success.
The Summit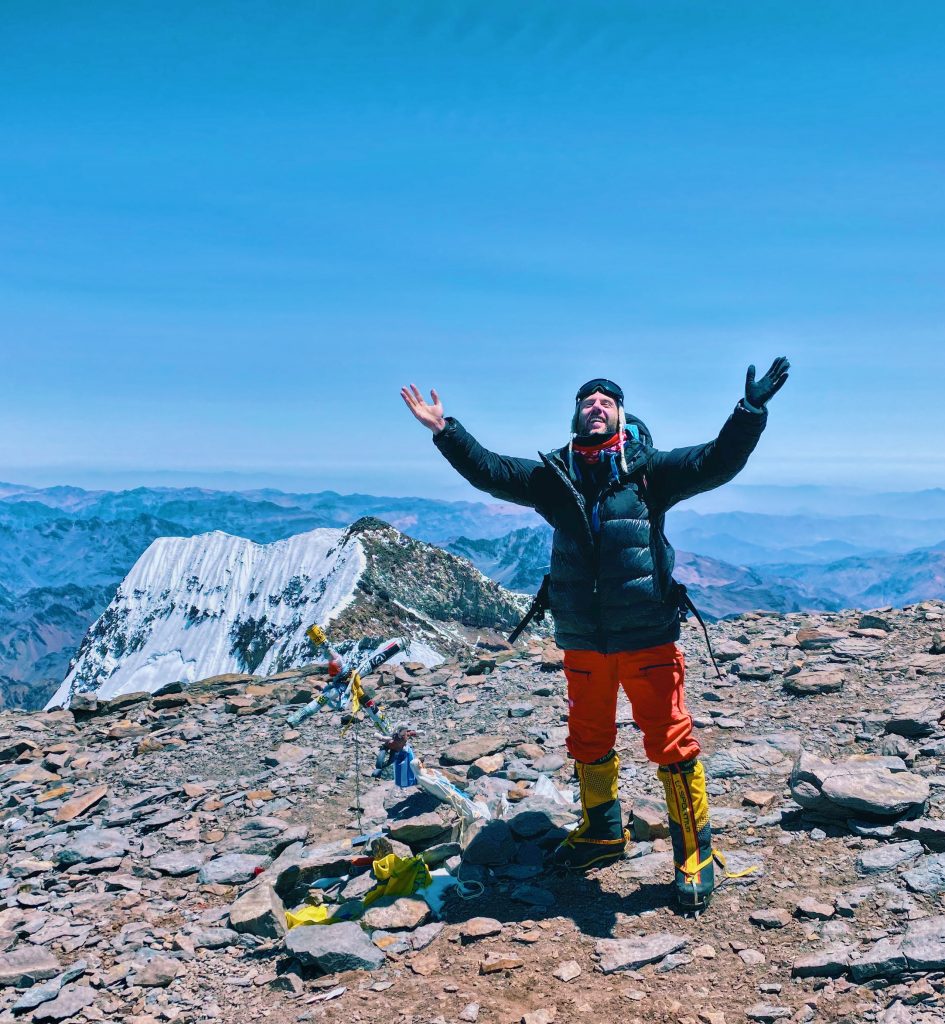 Finally, I was energised again. Conversation. Photos. Videos. The mind is a funny old thing. Where was all this energy hiding when I was struggling a few hours ago? But it was here now, we had made it. After 30 minutes or so, it was time to face going down. The worst thing about mountain climbing! 
We were spent. But you'd die if you stay at the summit, so down we went. It took 4 or 5 hours for most of us. Once back at Nido De Condores, I climbed back into my tent. 18 hours since I left it. Finally i drunk some water and ate some snacks. The plan was to go back to Plaza De Mulas the next day, then the following day make the 35km trek down the mountain. F*ck that. I set my alarm for early the next day, asked the boys to join me, and we did the whole thing in one day. tTekking Aconcagua was done. Mendoza was waiting. Malbec, a hot shower and, most importantly, checking on Anthony, was all possible in Mendoza. 
Most of the boys joined me. It was a torturous day, but it's manageable knowing that you've made the summit. I've done that walk last season having failed. And that was hell. This was just one last push until I never come back to this damn park.
Back to Mendoza
And so we were in Mendoza. Anthony was in a bad state, still almost totally blind. But I can tell you guys now, 2 months on, he's 99% back to normal thankfully. And for me? I had planned to climb Denali in May and Everest in April 2021. With the Coronavirus outbreak, who knows what will happen. Denali is canceled. So now I have to choose Everest or Denali next year. Scary times, but I'm ready for another challenge. 
In the meantime, I'm locked down in Bangkok. I'm going to train hard, so that next year I'm the fittest I've ever been. None of this beer belly stuff. It's time to ramp this up. Let me know if you want to join me!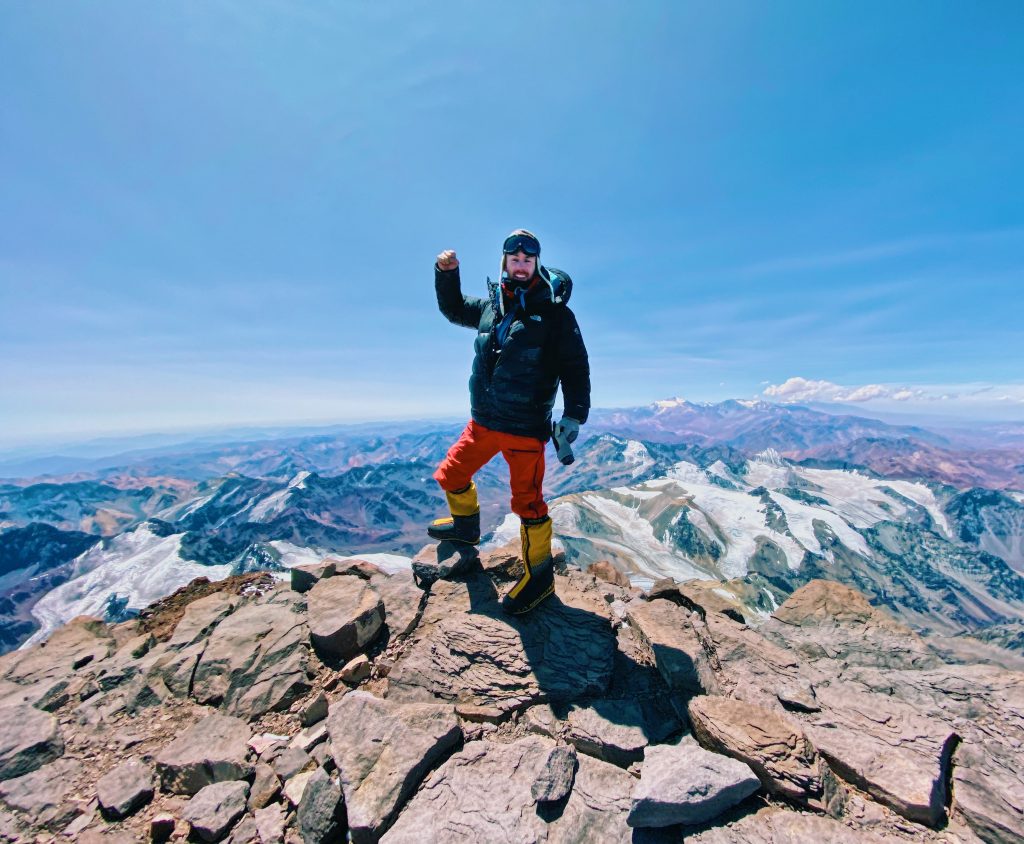 Remember, never travel without travel insurance! And never overpay for travel insurance!
I use HeyMondo. You get INSTANT quotes. Super cheap, they actually pay out, AND they cover almost everywhere, where most insurance companies don't (even places like Central African Republic etc!). You can sign-up here. PS You even get 5% off if you use MY LINK! You can even sign up if you're already overseas and traveling, pretty cool.
Also, if you want to start a blog...I CAN HELP YOU!
Also, if you want to start a blog, and start to change your life, I'd love to help you! Email me on johnny@onestep4ward.com. In the meantime, check out my super easy blog post on how to start a travel blog in under 30 minutes, here! And if you just want to get cracking, use BlueHost at a discount, through me.
Also, (if you're like me, and awful with tech-stuff) email me and my team can get a blog up and running for you, designed and everything, for $699 - email johnny@onestep4ward.com to get started.
Do you work remotely? Are you a digital nomad/blogger etc? You need to be insured too.
I use SafetyWing for my digital nomad insurance. It covers me while I live overseas. It's just $10 a week, and it's amazing! No upfront fees, you just pay week by week, and you can sign up just for a week if you want, then switch it off and on whenever. You can read my review here, and you can sign-up here!