Prepare your wallets for some serious stretching, this place is pricey! If 70 euro ($90) for a return 70 minute train journey wasn't enough, how about 2 euro ($3) for a can of coke in a grocery store?! Ouch.
The alps talk your breath away every time you see them when you're in Switzerland, and you see them a lot. Every bus journey and train ride is gorgeous, it's Europe's answer to New Zealand and Canada.
The average salary is through the roof, the people are super polite and did you know last year Switzerland became the first country EVER to have a referendum on taxes and the people, yes the people, voted that they should be taxed MORE!? WTF?! This is Switzerland.
Anyways, Zurich is pristine, pretty, perfect – dare I say sterile? People love Switzerland and I can see why, but it's not for me. I live in Bangkok, I like chaos, I like unpredictability, I even like a little bit of corruption, this place is too clean!
I had a great time here though, albeit only for 4 or 5 days. Zurich does have a lot to offer, so make sure you check out the main 5 things to see when you're here:
1.     St Peterskirche Church:
In an everlasting bid to collect superlatives, I've ticked off another one. The largest clock face in the world is found on St Peterskirche's tower (almost 9m in diameter, how thrilling)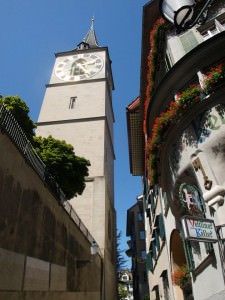 2.     Bahnofstrasse:
Not a lot sums up Switzerland better than its busiest street. Think financial institutions, expensive watches, not a piece of litter in sight and people walking around in perfect order. Window shopper's delight, but for me it sums up Switzerland's 'too perfect' atmosphere.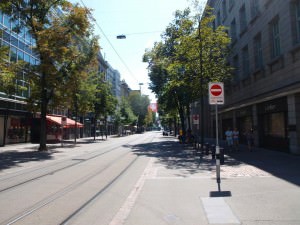 3.     Fraumunster:
World famous for its stained glass windows, it's free to enter and wander around. Although I predict the tour groups full of 60+ year olds will be a lot more interested than you.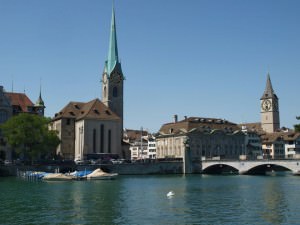 4.     Lake Zurich:
I couchsurfed in Zurich, and my awesome host took me to the lake as soon as I arrived. If you're here on the weekend, start from Bellevue and wander down the 3km boardwalk, it's excellent. There are countless swimming spots too, and in true trusting swiss style, you can drink on the street so grab a 6pack and a bottle of wine and lounge away the rest of the day. Perfection.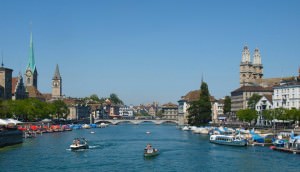 5.     The church that you climb:
Surprisingly omitted from my Lonely Planet guide but right across the bridge from Fraumunster is WHATS THE NAME. For a couple of euro you can climb the tower and see Zurich from up top, in the distance you can see the beautiful Alps, snow capped all year round. Mesmerizing.
Switzerland almost purified me, and we can't be having that. Happy travels!