The largest expense of your travels if where you're going to lay your head for each night you're wandering around the globe, check out these 5 ways of finding dirt-cheap napping spots: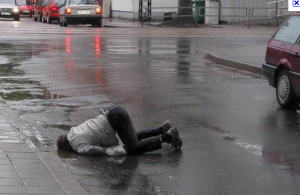 1) Couchsurf! Not such a big secret anymore but still underused. Sign up for couchsurfing and before you know it you'll have new friends offering you a bed all across the globe, it's really THAT good. Full kudos to the guys who invented this site, they really created a movement.
2) Night buses/night trains: The old faithful night bus, yes it's uncomfortable, yes you're not going to get a 'real nights sleeps' but if you save yourself $15 and arrive in your new destination bright and early, it's a perfect outcome. Also, across asia night trains have sleeper compartments where you get a bed, what more could you ask for!?
3)  Hostels: These fit everyones need, in fact I've spend the last 2 years convincing my sixty-something year old mum that hostels aren't what she thinks! These can be fresh, clean spots (forget the dingy preconceptions!) and normally they provide dorm rooms, rooms with 6-12 people, which offer the greatest value of all.
4) Exploit your friends: If you've got some friends living abroad, take advantage of them! It's not normally very nice to have someone living with you for a month, but for a coupe of days will be fine, they'll surely be glad to see you. Having friends in a variety of places is an invaluable asset while traveling! Meet people from all over through MyZamana, and broaden your list of places to travel!
5)  Help Exchange: The new kid on the block, like couch surfing but you have to work! If couchsurfing's freeloading ethos doesn't appeal, this should be more on the money for you. You work, always get room and board and can stay for months. Pretty cool huh?
6) Make the smart choice: Bargains can be found everywhere, and the don't always have to be what you expect. For example trying to stay at one of the  apartments in Venice can cost around 15€/night so it's really cheap compared to staying in a hostel! This way you'll safe in food, too as you can go to a supermarket and cook at home. So make sure you keep your ear to the ground for bargains wherever you are, who'd have thought  Venice apartments would ever be the cheapest option?! Ask people wherever you are, and you'll get the best ideas for some bargains.