From the coastal waters to the tops of mountains, England has no lack of wildlife viewing destinations. One need merely choose a bird, animal or location for the chance of experiencing a weekend with nature. Explore the many options available for young and old animal lovers alike with these 6 perfect weekend breaks that will provide ample opportunities to see some of England's best wildlife: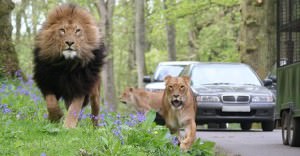 New Forest National Park, Hampshire
The country's newest national park serves as home to hundreds of species of native and exotic animals. The new reptile centre features a number of amphibians and reptiles including rare sand lizards and smooth snakes. The specially designed Reptile Trail offers a one-mile trek through lush woodland and the chance to see the creatures in their natural habitat. The park houses a number of mammals in expansive cages and outdoor enclosures. See everything from badgers, deer, foxes and ponies to wild boar and bison. Bird watching enthusiasts see many different feathered friends and the butterfly garden enchants all.
Narrowboat Break, Avon Ring
The Avon Ring is a world famous canal ring that contrasts the quiet of the Avon with the locks of the Lickey Hills. The UK's largest provider of narrowboat holidays Anglo Welsh offer weekend narrowboat hire for the Avon Ring. Take time to visit the beautiful towns such as Shakespeare's Stratford Upon Avon, Worcester with its magnificent cathedral, and Tewkesbury. The quiet and tranquility experienced on a canal boat holiday provides the perfect opportunity for witnessing countryside life and its array of wildlife. Unspoiled by urban development in many locations, the canals of the Avon Ring provide the perfect wildlife habitat for an array of animals including otters, water voles, bats, fish, frogs, swans, ducks, moorhens, coots, kingfishers, grebes, geese. Whilst passing by farmland you may also be lucky enough to see some of Britain's many birds of prey. Watch for buzzards, kestrels and sparrow hawks.
Pembrokeshire Coast

By land or by sea, the coast and islands around Pembrokeshire provide innumerable opportunities for viewing bird and marine life. The many rare bird species returning time and again include choughs, skylarks and stonechat that flutter among fields of wildflowers. Take a boat journey out to sea and catch a glimpse of basking sharks, blue whales and dolphins along with orcas, sunfish and turtles. See the new pups as Atlantic grey seals give birth on the shores. Watch the pods of porpoises play in the water. Anytime of year, Pembrokeshire offers amazing wildlife viewing.
Exmoor National Park
Exmoor National Park remains popular for the native ponies that roamed the land for centuries, well before human habitation. The ponies run and breed freely on the moor. Fallow and roe deer also make the park home. The destination features approximately 40 species of mammals in all and over 100 bird species. Enjoy a self-guided tour or partake of an expedition run by various safari and wildlife experience companies in the area.
Snowdonia National Park
With 17 national nature reserves, viewing wildlife at Snowdonia remains likely. From the deep valleys to the mountain peaks, many species live here under protection. See amphibians and reptiles, small mammals and deer along with birds of prey soaring overhead. Llyn Tegid harbours a number of fish including the rare gwyniad. Bird watchers enjoy seeing black and red grouse, cuckoos and goshawks in addition to crossbills and puffins. Experienced guides gladly take visitors to various locations throughout the park for the best wildlife viewing opportunities.
Longleat Safari & Adventure Park
This expansive park located in Wiltshire features the largest animal safari outside of Africa. View animals in a natural habitat while driving through areas in a personal vehicle, taking boat rides down the river or while comfortably seated aboard the park train. Housing over 100 species of domestic and exotic animals means everyone has the chance to see their favourites. Under the guidance of a park ranger, upgraded tours let guests experience up close encounters with many different species.
Spending a weekend on a wildlife adventure relieves stress, provides a learning experience and offers a great way for spending time with family and friends. Start planning a break today and prepare to have a weekend full of fun and memories.