Ok guys, so I don't often promote competitions online, normally because they're never realistically winnable, and rely on far too much luck (which I don't really believe in). So when Thomsons holidays told me about this one, it was a very different prospect.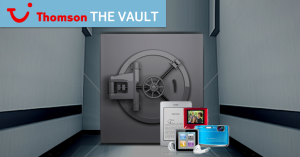 Basically, this relies more on interpretation than fortune. Their competition is named 'The Vault' and the premise is that over at Thomsons HQ, the vault is sitting jam-packed with goodies to give you to participants ranging from kindle vouchers, to digital cameras to one huge, grand prize (which, I'm hoping will be a holiday!).
So 'The Vault' only opens sporadically throughout the week, answering only to a preset time lock. When the vault is open people answer a question (remember, you have google to help you!) and then get entered into a sweepstake to win one of the prizes, couldn't be more simple.
How do you know when to check the Vault I hear you eager folks ask? If you go to the Thompson facebook page, there are hints and clues released there during the week, find the clue, go to the vault, win your prize. Easy.
I'm off to check now, good luck guys and let me know if/what you win! Happy travels!