Building A House in Thailand as a foreigner; My Experience
Building A House in Thailand wasn't as complicated, or stressful, as I thought it would be to be honest.I'll explain why below. But to cut a long story short, it took about 1 year to build our dream house in Chiang Mai, finishing in 2021, and it cost about 22mTHB. At the time that was about $700,000USD. I'm going to go through the process so you guys can see how it works when building a house in Thailand.
My original total budget for land purchase then house build was 9mTHB ($300kUSD). I ended up going way over, more than double! I need to add, this was nothing to do with my project manager, or developer. It was due to me. Every time. How about this?! Can we add that? And that!? And lo and behold, the house was a lot pricier by the end. It was worth though, however stressful.
So let's have a look at how to build a house in Thailand, and also my personal experiences: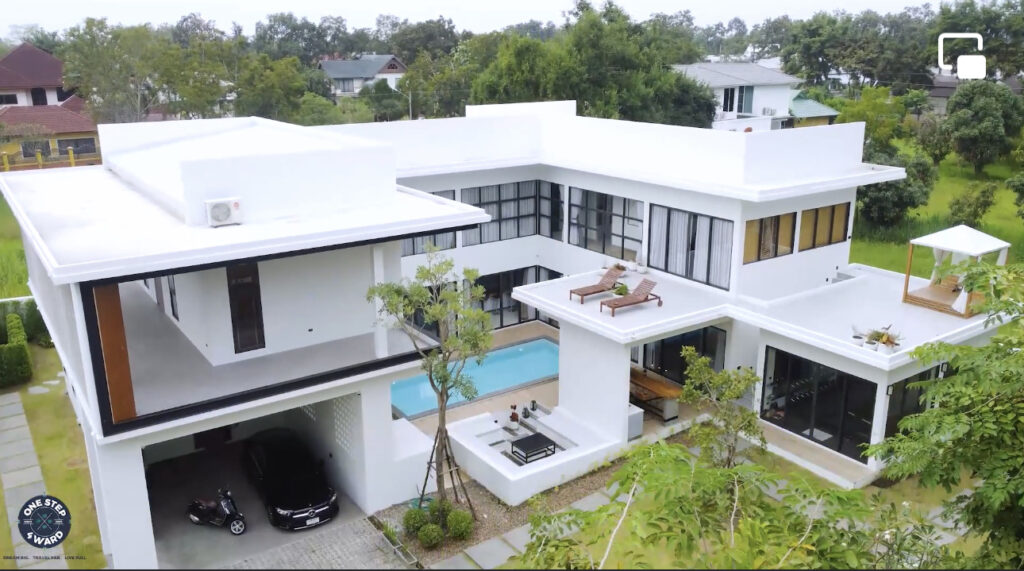 Build or Buy?
I've always been obsessed with houses. I grew up in a tiny house in Northern Ireland. 2.5 bedrooms. One bathroom. No central heating, no double glazed windows, no car for most of it. But I always used to watch TV shows on house renovations, and Grand Designs in the UK all the time. It was ALWAYS my dream to build. I'm not sure why? Male ego? Perhaps. A man's desire to cut the land in his vision? Very possible. The drive to create something? For sure.
So I wanted to build my house in Thailand, rather than buy, for 2 reasons:
I wanted exactly what I want. My dream was to have a home cinema, a home gym, a man cave, an annex for my mum, a big office, a pool etc. If I bought a pre-existing home, it's unlikely it would tick every box.
I simply couldn't afford to buy the house that what I want. Building would be 30-50% cheaper. It would make it JUST ABOUT affordable.
How I afford to build my dream home in Thailand
A question I get asked constantly! If you follow my blog, or social media, you'll know I was a lowly English teacher in Thailand when I first came here over 10 years ago. 22,000THB per month, about $600 a month salary.
Then I started my blog, tried to visit every country, started down crazy things like rowing the Atlantic or running a marathon at the North Pole, I even climbed Mount Everest. My blog started making money. And while other bloggers, youtubers, instagrammers all started buying Rolexes, and renting gorgeous apartments, I bought a little 58sqm, 600 square feet, 2 bed condo in Bangkok for the first $100k I saved, and then lived there for 10 years. No rent. Never upgrading to somewhere snazzier. My eyes were on the big prize.
Saving, investing, watching every penny. Always taking buses rather than taxis, second hand TVs etc, always being careful what I ordered from the menu. Awful flight connections for my journey to every country, 10 hour layovers, 4 stops. But $500 cheaper. Often people laughed at me. My mates teased me a lot! But the teasing no longer happens. I saved my $700k. And now I'm mortgage free on my dream home, 10 years later. At the age of 38. It was all worth it.
So then came the process of starting to build my Thai home.
Step 1: BUYING LAND IN THAILAND
Buying land in Thailand as a foreigner is tricky, but possibly (kind of). I blogged about the 4 or 5 ways to do it HERE, so check that out for more info. Regardless of how you choose to proceed with that, that's obviously step 1. Remember in Thailand they use a Thai measurement of Rai and Talang Wah, rather than square feet or metres. 1 rai is 400 Talang Wah, which is 1600 square meters.
My experience buying land:
For me, in 2020, I bought 300 Talang Wah, for about $180,000USD about 15 minutes outside Chiang Mai city centre. I would have liked to be maybe 5 minutes closer but the price is wild! I started searching in 2019, and I searched for about a year. My original land budget was 3mTHB (about $100k at the time). I assumed Thai land was cheaper than it was! It was a painful lesson. I also didn't want to squeeze my dream house on a smaller plot of land, so I ended up paying 6m.
Also, I wanted to live in a gated community, and the one I choose is one of the few that allow you to build any design of house you want. Most only allow a set design from their construction company. Because of that, our gated community now has about 40 luxury villas. It's lovely. Tennis courts, a lake, lots of trees to walk and run each morning. I used an agent in the end to help me find the specific plot. But the agents in Thailand are generally part-time, so you have to basically tell them where you want to buy. I told them my gated community, and they came back with 4 or 5 choices. From there I choose the plot.
Since then, land prices are up 15% to 20%. As always with land, houses, property – the best time was 10 years ago, the 2nd best time is today. It only gets harder!
Getting a lawyer
The process of buying land, then building a home in Thailand isn't as complicated as you think. However, don't skip getting a lawyer. My total lawyer fees (include wills, buying land, building a house, prenups, everything) was about $4k. The peace of mind that provided was amazing. If you're in Chiang Mai, or Bangkok, and need a recommendation, message me on instagram.com/onestep4ward. I'm happy to share the guys I used.
The process from finally choosing a piece of land, to buying the land, took about 2 weeks. Pretty fast. Then another 4/5 weeks to get my name on the land deed (superficies contract).
The lawyer did all the due diligence on the land etc too.
For reference for how long all this stuff took. The final land purchase was 11 August 2020 for us.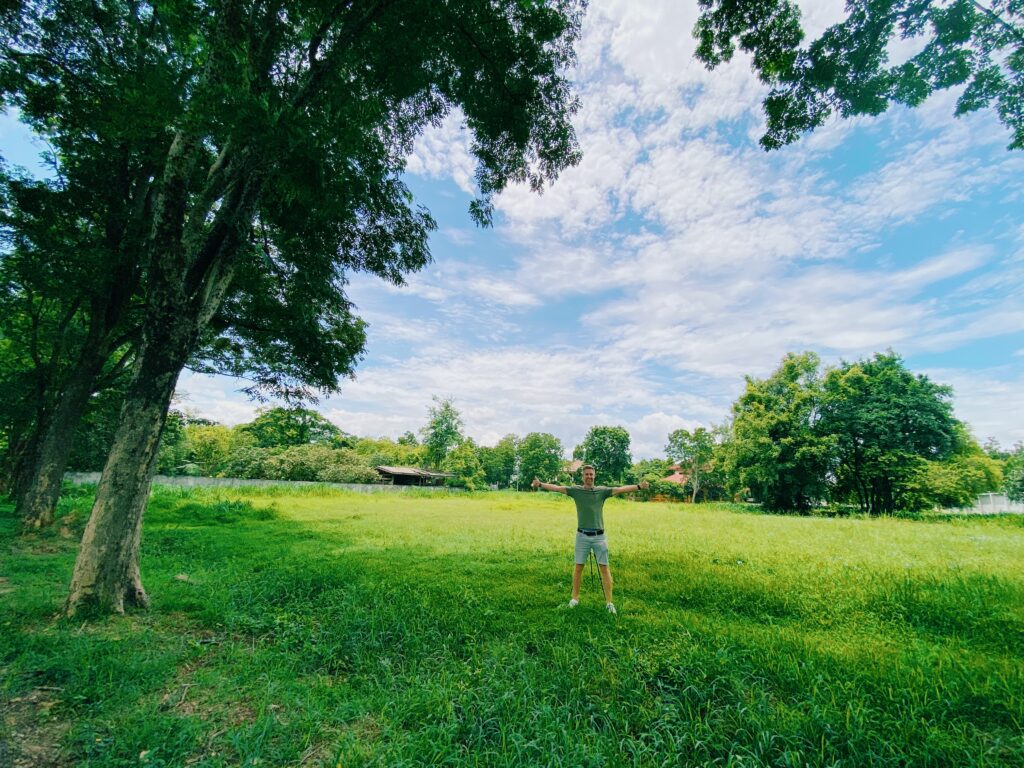 STEP 2: FINDING A BUILDER
So you've sorted your land. Now you need to find a builder. Thailand has A LOT! A lot of good ones, a lot of crap ones, a fair fee conmen, and even less great ones. So be careful.
The culture of business in Thailand is so, so different from the Western World. Most developers/builders don't even have websites. They do all their business via FaceBook and Line app. Its wild. So don't expect a polished beautiful website where you can peruse a host of different options.
Also, the onus is on you. Sales, and sales people, in Thailand are also very different. The work-life balance here is what makes it such a charming place to live. But that means the sales people are too busy choosing what's for lunch, or planning their friday night, that to get back to you. Expect plenty of that.
Getting a quote
I contacted more than 10 construction companies in Chiang Mai. All via FaceBook. And I met maybe 4 or 5. They show you what you can build, how many sqm, for how much. You can then ask them to go and see their projects that they've completed. I spent a lot of time doing this! And the price, for lower end properties, is very tempting. You can build a 300sqm (3,200 square feet) house, with 4 beds and 5 baths, for around $150kUSD. Really cheap. And looking nice and modern. But of course, when you pay less, the quality is less. The materials aren't as high-end etc. So be careful. And shop around!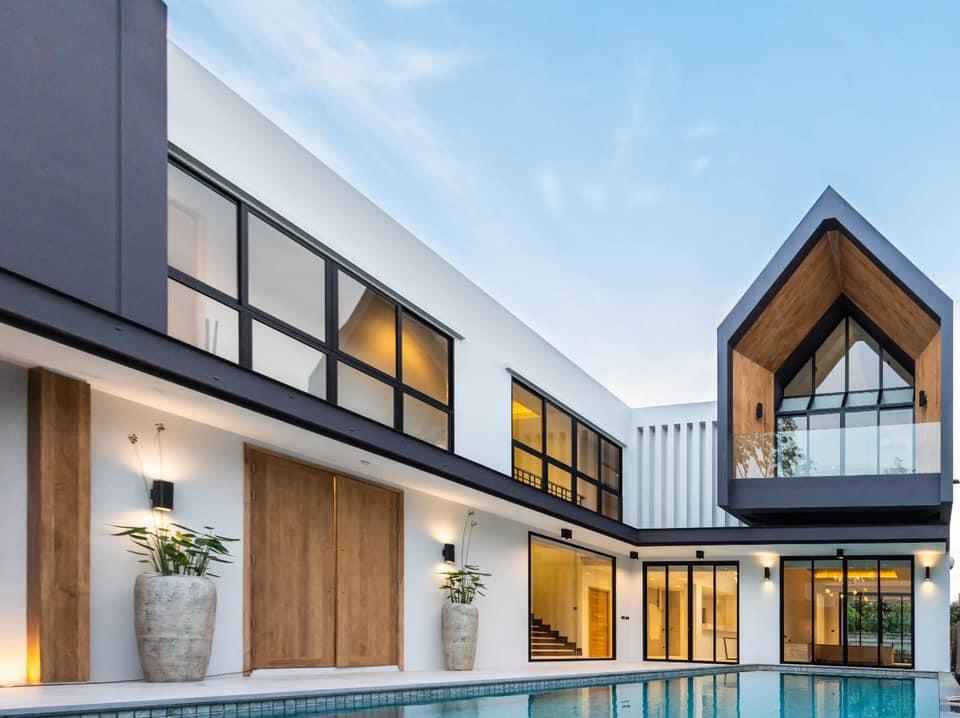 My personal experience choosing a builder
Before I bought my land, I had an idea of a budget for my dream house. It was about 9mTHB (very roughly, about $300kUSD). So i didn't only go and look for land, I also went to look at properties for sale. Even though I was 98% sure I wanted to build, the thought of buying a sexy villa and moving in the next day was so, so appealing. So I visited a lot of places in the 10/11/12mTHB range (up to $400k or so). And they were lovely!
The agents, however, also kept showing me places up to 20mTHB ($500k+) and beyond. More than I could afford. But there was one style of house that I had fallen in love with. So, so cool. Ultra chic. Modern. An actual dream house. I saw about 5 of them. All the same energy. After a couple of months of more searching, I finallys stumbled across who had built them. A local Thai guy had built every single one of these gorgeous homes! I reached out to him and saw if we could cut a deal.
It was summer 2020, COVID was kicking off. I didn't know then, but Sutast (the legendary Chiang Mai builder) was in such high demand it was hard to get him, but due to COVID, we met and he accepted my plan. We were on!
STEP 3 CONFIRMING DESIGNS:
Once you think you're going to go ahead with one specicial developer, eventually they will send a very rough outline, and an approximate budget.
At this stage, you confirm you're going to work with them. You pay a deposit, or a fee, and they work on the actual design of the house they will build.
My experience
For me, I paid 300,000THB ($9kUSD) for this service. Sutast is arguably the best, and most in demand developer in Chiang Mai. He generally only does luxury houses, and for sure I was the poorest client he ever had! He has a team of interior designers, engineers etc. So you can pay for this service, and then once he designs it all for you, you then can find a different (cheaper) builder if you want. Or, if after this service, you choose to go with him, you get 50% of that fee back. That's what I did.
Project Manager?
In Thailand, pretty much all developers also include the design process too. So you don't really have a need to have an external project manager. Once you have selected your construction company/developer, you then discuss exactly what you want. You have a lot of back and forth about ideas, concepts, styles.
Floor Plan
My wife and I literally drew some floor plans on paper. We had no idea what we were doing. So we had 3 or 4 meetings with Sutast directly. And eventually they transformed that into a real floor plan.
This process took a couple of weeks. Feedback from us. Feedback from them. Sutast and his team had a much better idea about how the flow of houses should work, so their advice was really helpful. And we took most of it onboard. Our design ended up around 650-700sqm, more than 7000 square feet. The budget would need to be increased if I wanted the design we created!
This was 15th August 2020, for reference.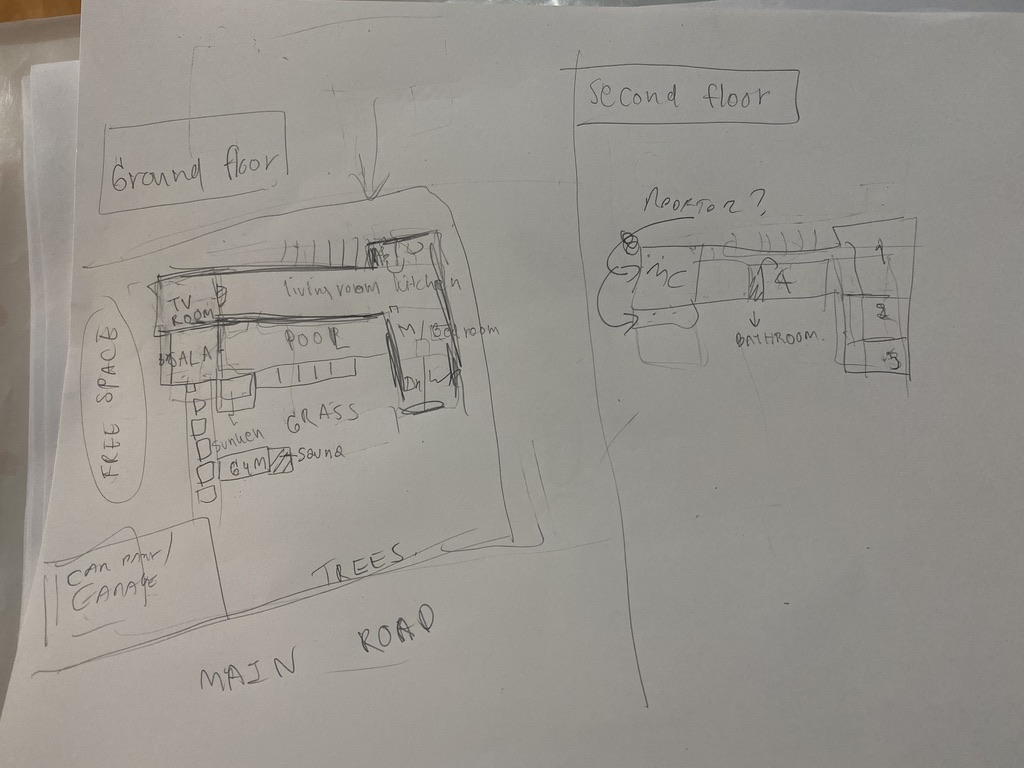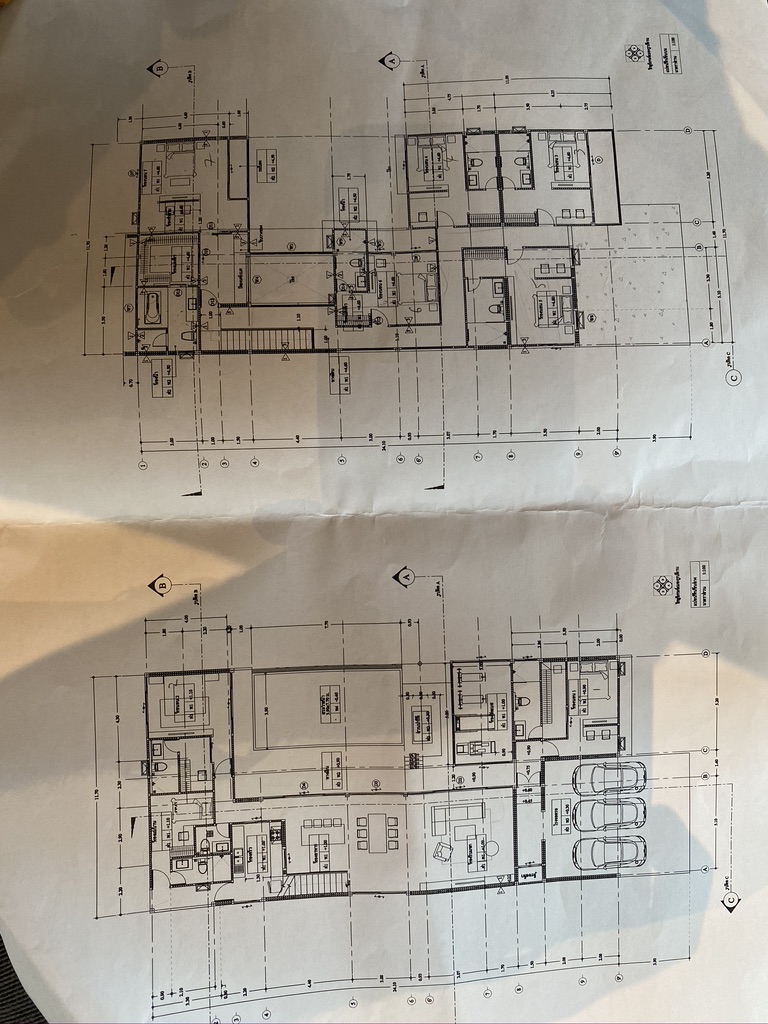 Exterior Designs
Once we had confirmed and finalised the floor plan, next was the actual visual design of the house. We had created a google drive link with endless images, comments etc about what we want.
We were pretty confident they'd produce something beautiful, because all their other projects were GORGEOUS. I couldn't believe I might actually own something like they have produced. It was blowing my mind. Before long, we had the first mock-ups of our house, how it would look from the outside.
This was now September 2020. You can see the image, and compare it to the final house – almost identical!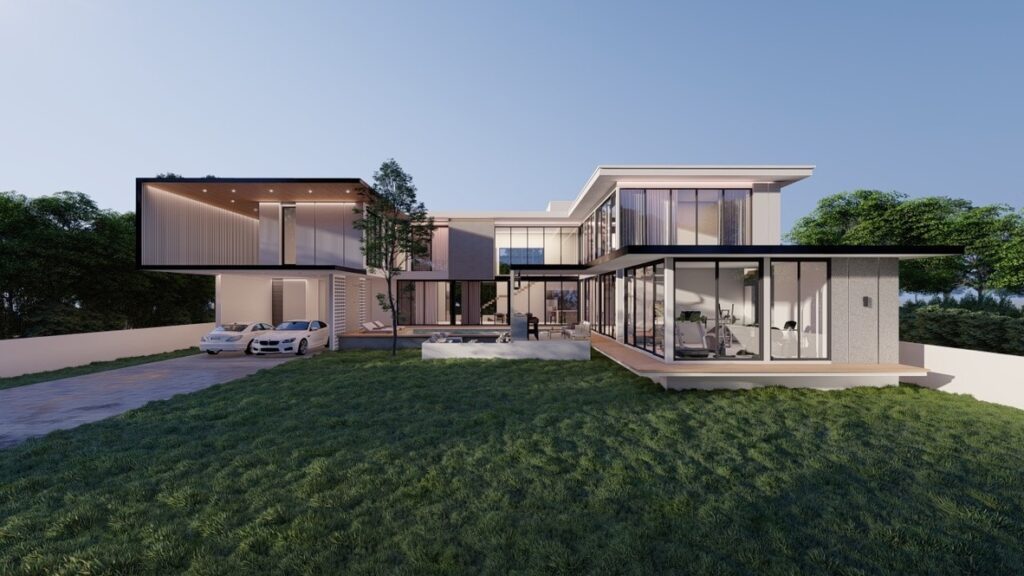 BOQ & Final Quote
With the floorplan and exterior finalised, the company draws up a BOQ. This is an in-depth quote of EVERYTHING (from bricks to light switches to interior cables). This will be the final, final quote. Unless you personally choose to change anything (which you will, and we did!).
For me, after all my additions, my 9MTHB was blown! In my mind, it would be a 3mTHB land purchase and a 6mTHB build price. This kind of budget is 100% possible in Thailand by the way. And it would be pretty epic too. However, after discussing floor plans, sizes, designs etc, it wasn't even close to possible for my choices.
Our final build budget was around 14m or 15mTHB, I can't quite remember. But something like that. That was about $400-450kUSD.
Payment schedules
As part of the BOQ, when you sign it, you'll then confirm the payment schedule. They predicted 13 months for our build, so we would break it down in 13 payments. That would mean, very roughly, I would be required to send 1mTHB ($33,000USD) on the first of every month to Thailand. Ouch.
Financing/Mortgages in Thailand
This 1mTHB payment was heavy. As a self-employed person, who basically falls between the cracks of Irish/UK/Thailand/Digital Nomad, it means you have no hope of getting a mortgage or a loan. That means you have to pay cash. There is simply no way around it. So that's what I had agreed to do.
Actually i didn't have the 15mTHB in cash that I would need. And I had planned to buy the land, then work 1 more year to save the remaining funds. Sutast told me the price of materials was starting to go wild during COVID, and if I could find a way to do it now, I should as it could be 20% more expensive next year. F*ck. Let's do it. I started the project without enough money to finish it. Highly stressful.
In hindsight, Sutast was 100% correct. Construction prices, concrete, steel etc went mental during COVID, and to this day, so I'll always be thankful for that nudge he gave me to start early. Even though I'm sure the financial stresses of that are why I'm grey at 39 years old today!
Contracts
I signed the contract to pay 1mTHB a month. We signed the final quotes. And that was that. Work could commence after I sent my first 1mTHB. Which I did instantly.
Interior Designs
This is an ongoing process during construction.
The discussion, and back and forth, on the interior probably took 4-6 weeks to be honest. Every idea you see online, you send them. And for the price you pay, our developer gave us UNLIMITED changes. We did literally hundreds (sorry Sutast!).
We received these images on December 1st, and signed them off immediately. So beautiful. And our final product looks almost identical. This is why it's better, if you can afford it, to go for a higher-end builder and designer. They take so much stress out of the process, but you do pay for it.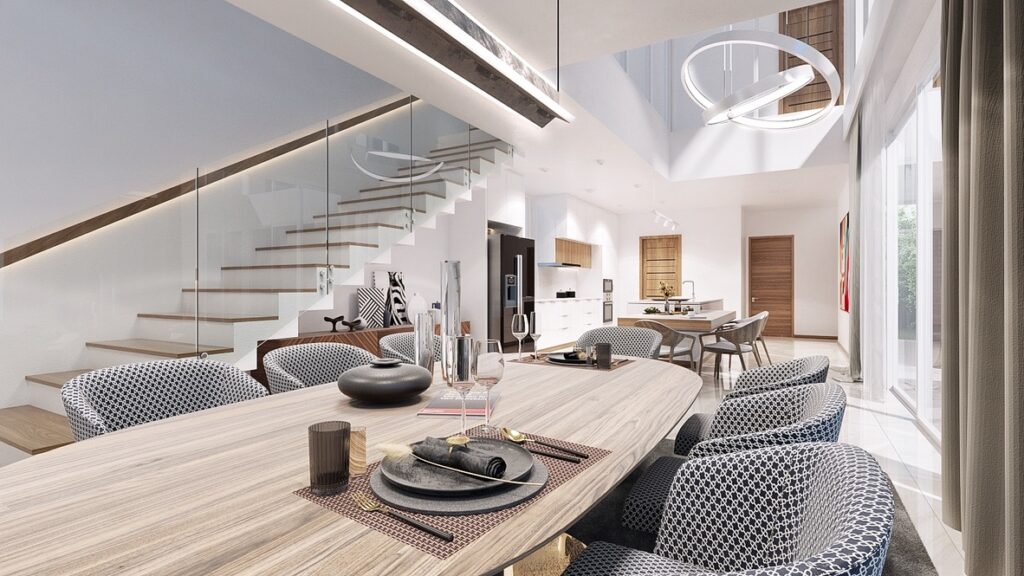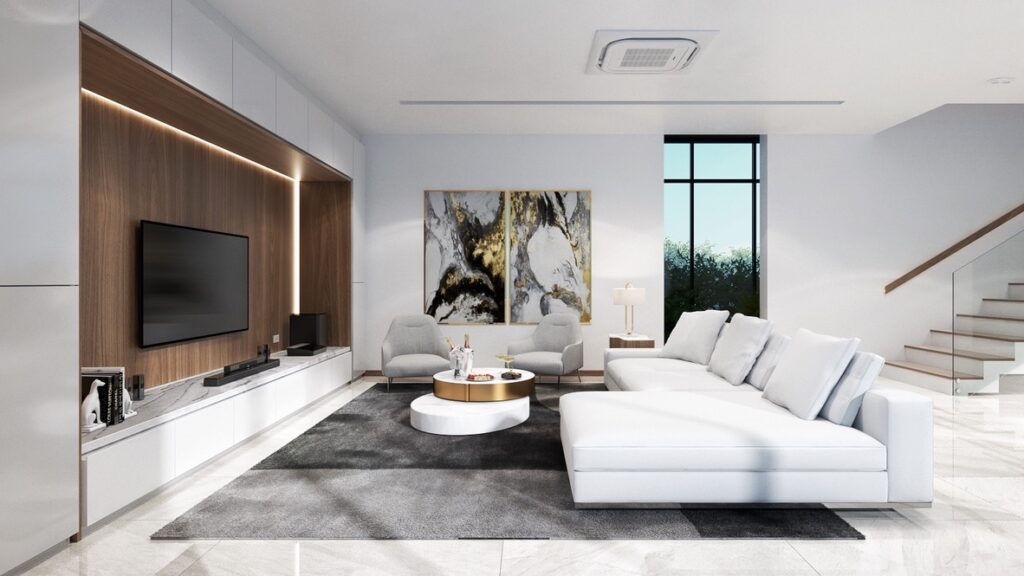 STEP 4: CONSTRUCTION
Some small delays. Permission from the land office to build, registration etc. Finally on 4th February 2021, construction began.
I had stupidly, last minute, decided to ROW ACROSS THE ATLANTIC OCEAN in a tiny row boat, unsupported. From Spain to the Caribbean. It would take 2 months. Covid was in full full, but i managed to fly back to the UK. Those 2 months turned into 6.5 months. Our row was delayed as we couldn't get into Spain. Then we did the actual row (it was brutal!), then we were delayed getting back to the UK due to COVID. Then Thailand was on lock-down so I had to wait to get vaccinated in the UK before I could come back.
Long story, even longer delays. Almost 7 months later I got back to Thailand, with construction over half way done. It was tough, but it may have been a blessing to be honest. Although it was tough on Jaa to manage the process herself.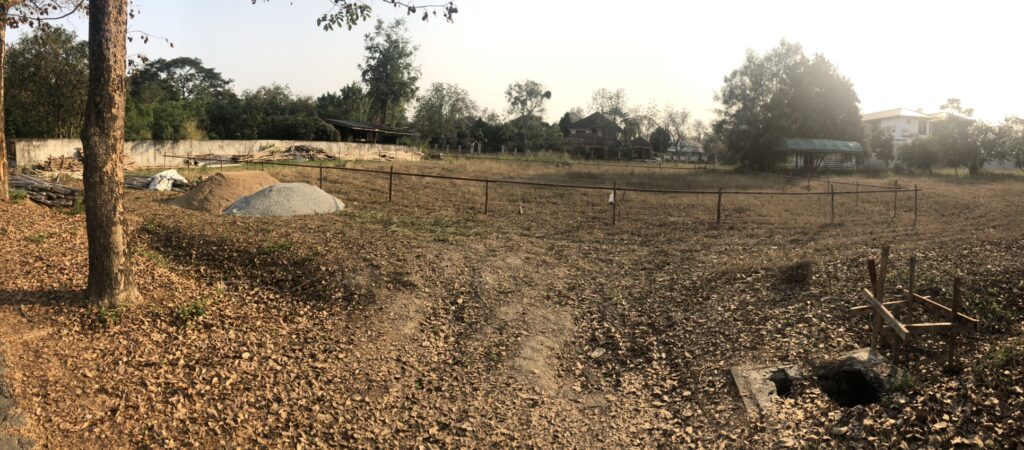 Changes
Our developer is a superstar. So we continued to tweak some designs. Both internally and externally. And they gave more and more mock-ups. Perfect.
What I STUPIDLY didn't consider was that all these additions had additional costs. They weren't included in the BOQ of course. But I was focused on rowing the atlantic, so I got carried away. Especially by our 'morning coffee room'. It looked so cool. All glass, double height. It would also give Jaa her own space, where I had my mancave upstairs. Great.
Then the new quote came. F*ck.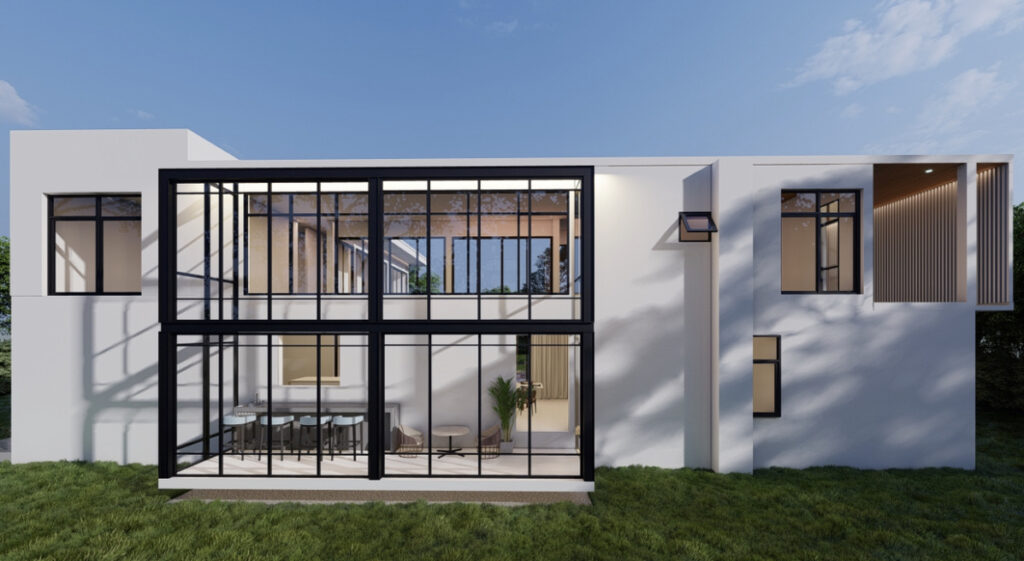 Running out of money
Our edits had added on an additional 2mTHB ($65k ot so). And I literally didn't have it. Frantically I asked Sutast what we could do.
We could remove the gorgeous wrap around wooden balcony, or we could remove the gym, or we could remove the pool. Or we could remove the coffee room. You can see the design without the wrapped balcony below. It's not half as nice! We needed a solution,
I didn't want to remove any of that! But I literally couldn't afford the new design. Through some genius designing, their team removed the sauna from the gym, our 5th bedroom, turned it into an open-plan 'library', and also cut out 2 metres from the middle of the house. Reducing the whole size. But we wouldn't have to lose any of our favourite stuff.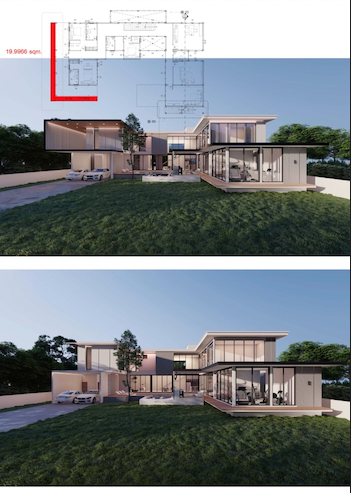 Ongoing Construction; Progress Pics
And on they built. I was half way across the Atlantic in a row boat, and those guys pushed forward.
March 2021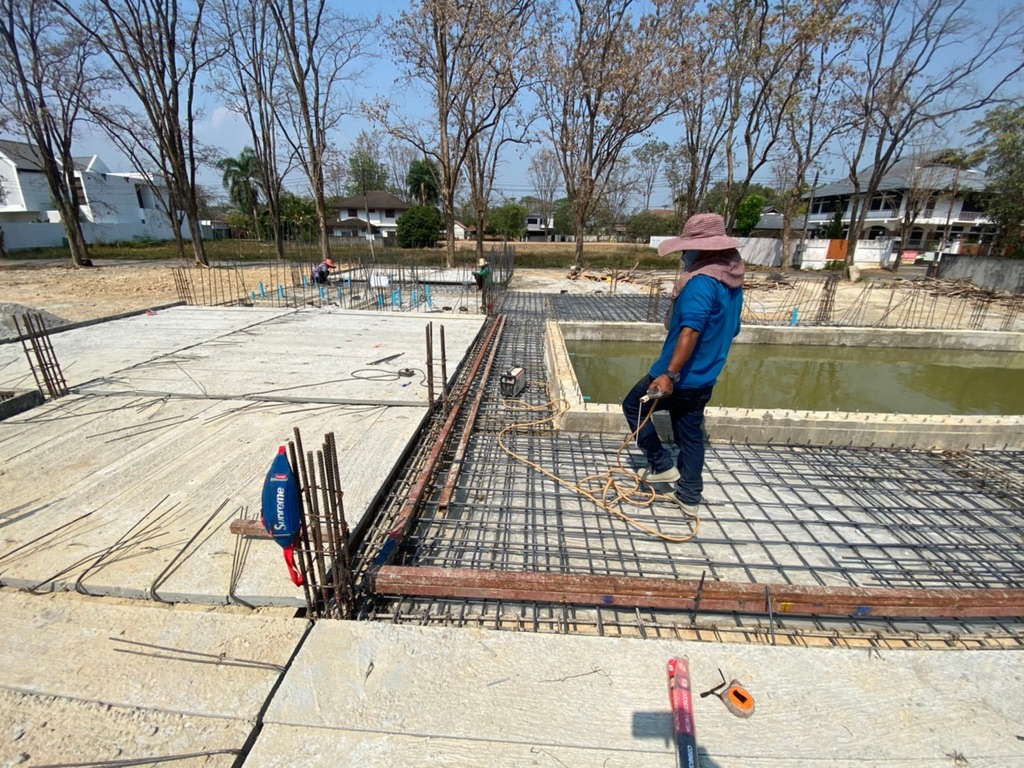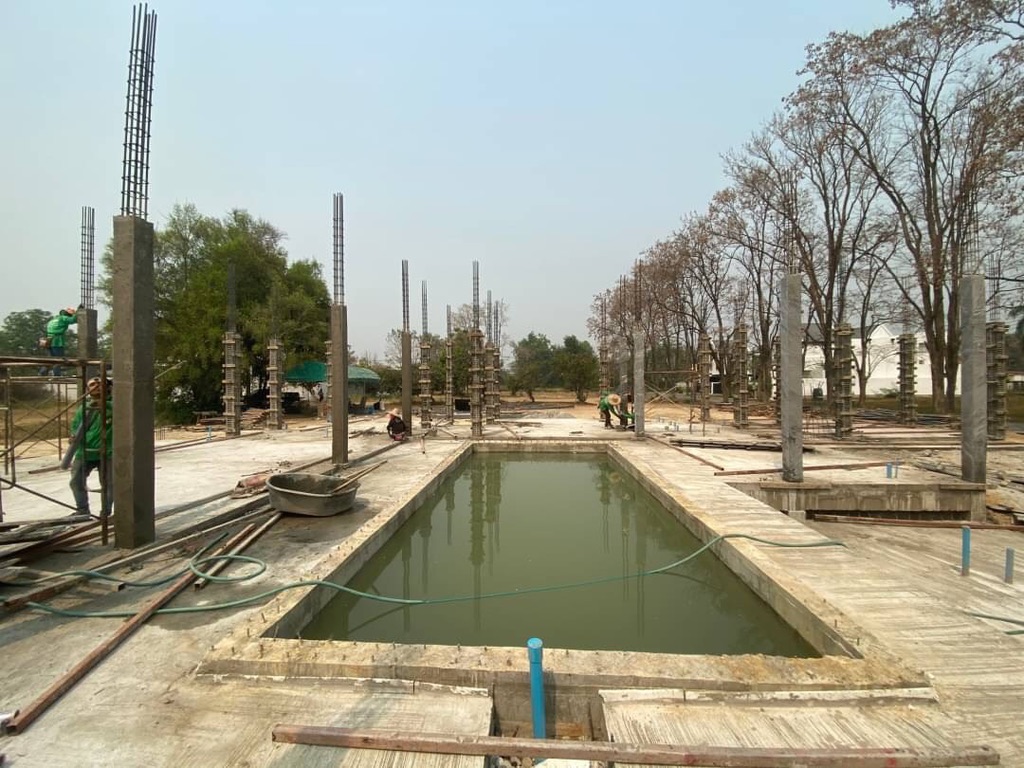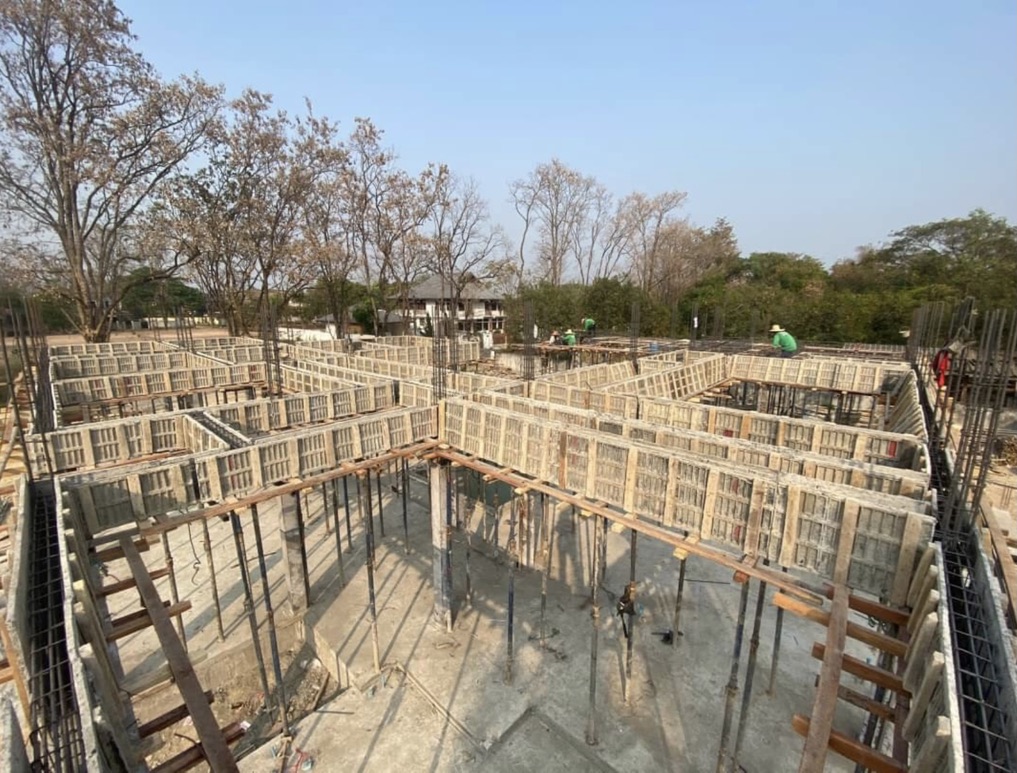 April 2021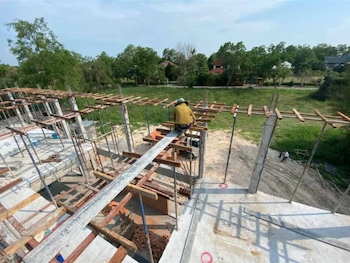 May 2021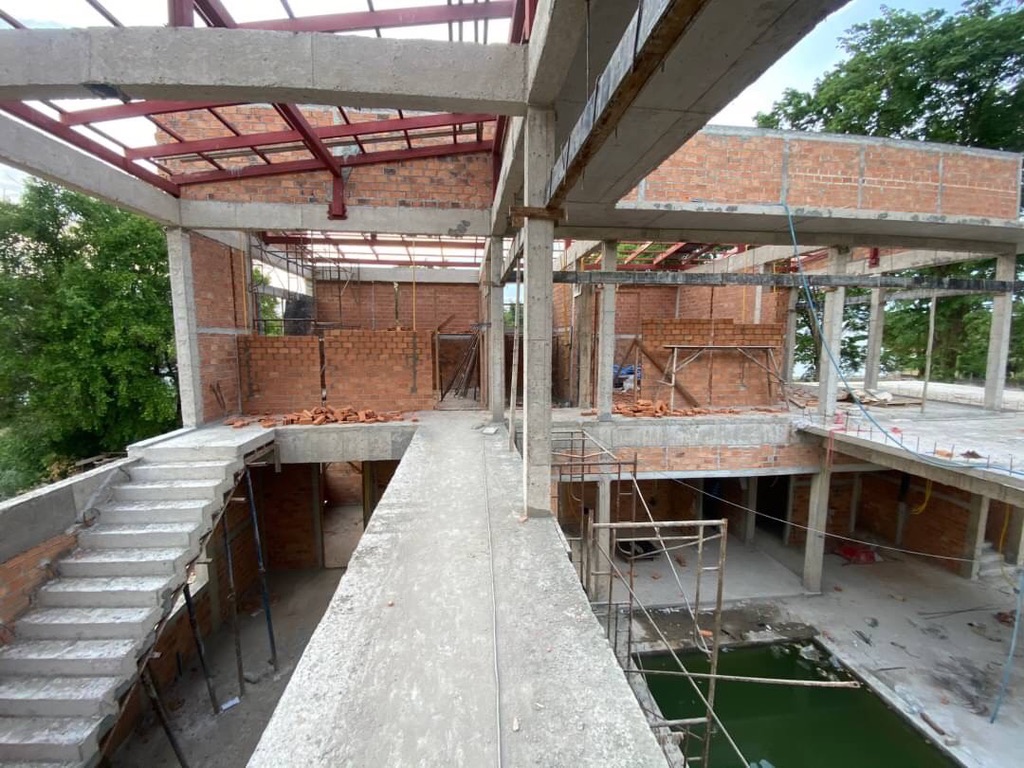 June 2021
I finished my row, did a 30 day quarantine in a hotel room in Bangkok, and finally made it back to Thailand!
When I cried the first time I saw the house. I couldn't believe it. Was this really mine?! Jaa and I were getting married in December, and I started dreaming it could be ready by Christmas 2021! Wow!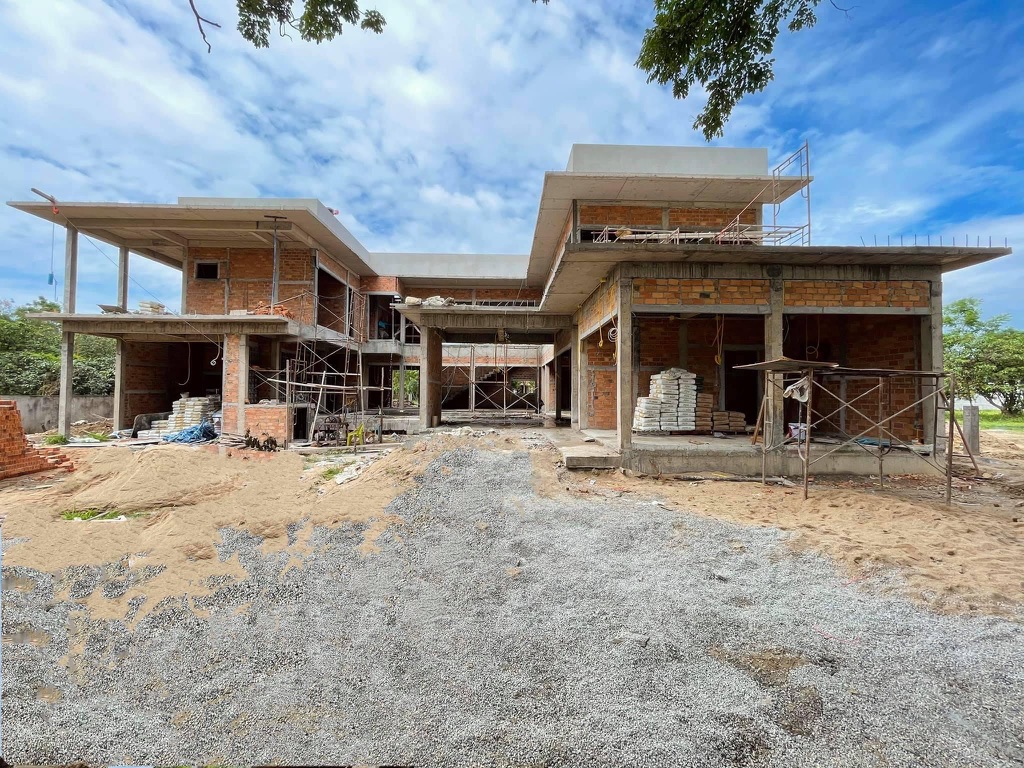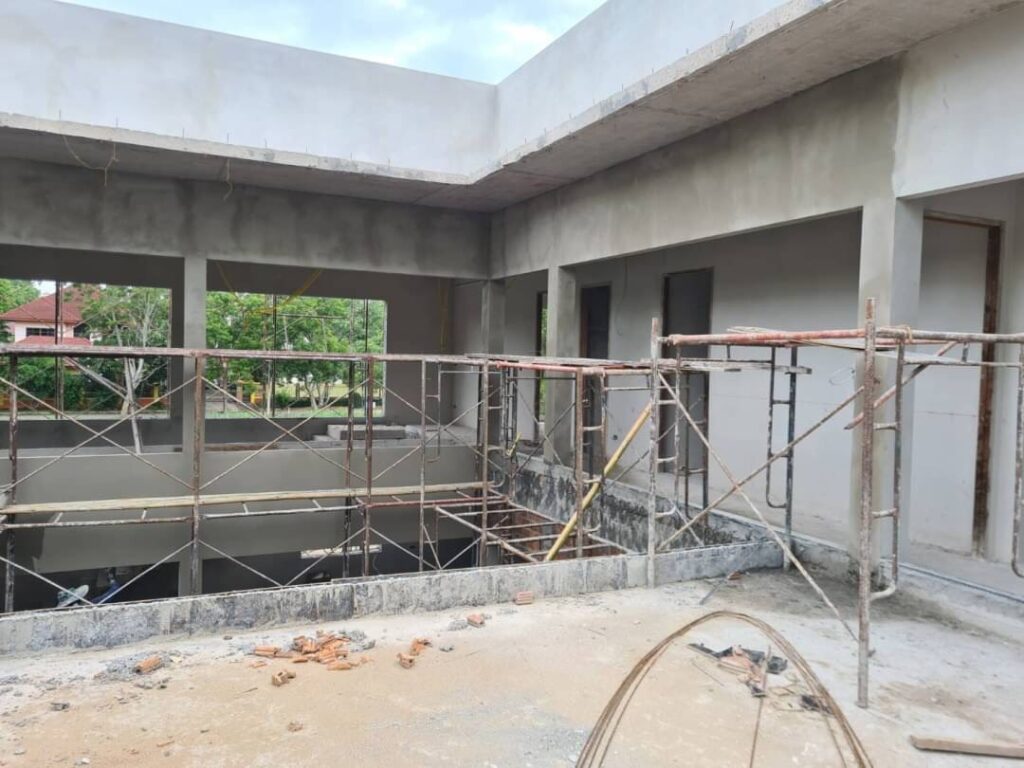 July 2021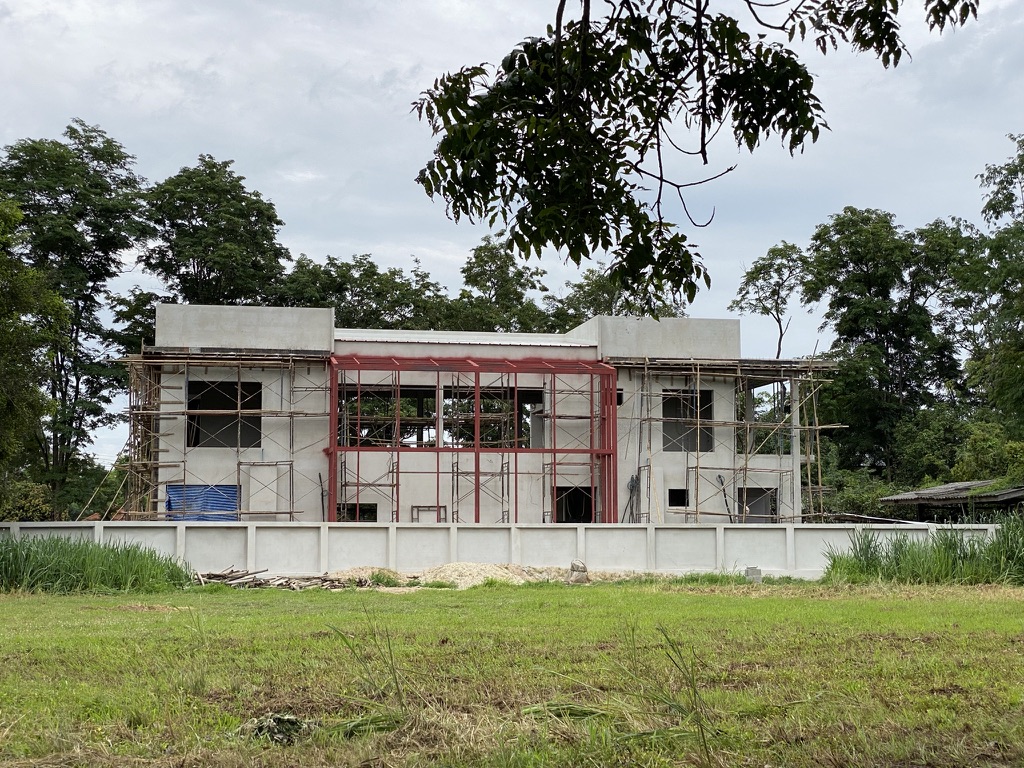 STEP 5: CHOOSING PRODUCTS
This is something I never knew even existed! We were still based in Bangkok, but we were flying up to Chiang Mai twice a month to check on the build, and each time we had a few meetings with our developer.
We had us choosing which light switches we wanted, with which kind of haptic feedback! Which plug sockets, which direction of the toilet flush! Crazy. But also amazing. The level of detail was insane. We were constantly in shops choosing which kind of marbles, which exterior lighting, which aircon unit. Stuff I had never considered. So much work. Thankfully Jaa chose most of it.
I was at the point that I just kept saying to Sutast "make it look as nice as all your other properties, thats' fine". Or "Please just make it look like the CGI designs you showed please". I couldn't face looking at another tile. They all very quickly looked the same!
Additional costs
Be careful when you building a house in Thailand, or anywhere. If your developer is ethical, like ours, the price is locked. However, the issue is the changes WE keep making. Our exterior gazebo area. Polished concrete as discussed? Yes, free. Great. Maybe we should tile it? Looks better. Can you do a mock-up? Yup, definitely better. Ok let's do that. Aaaand another few thousand dollars.
This happens a lot. More storage in our pantry. More storage underneath each sink. A built-in shoe rack at entrance. Thousands more dollars. The process is highly stressful, and you constantly think "I'm only ever goign to do it once, let's just do it". Suddenly, your 10s of thousands over budget (again). I was working like a madman to keep up. And just about managed to keep my head above water.
August 2021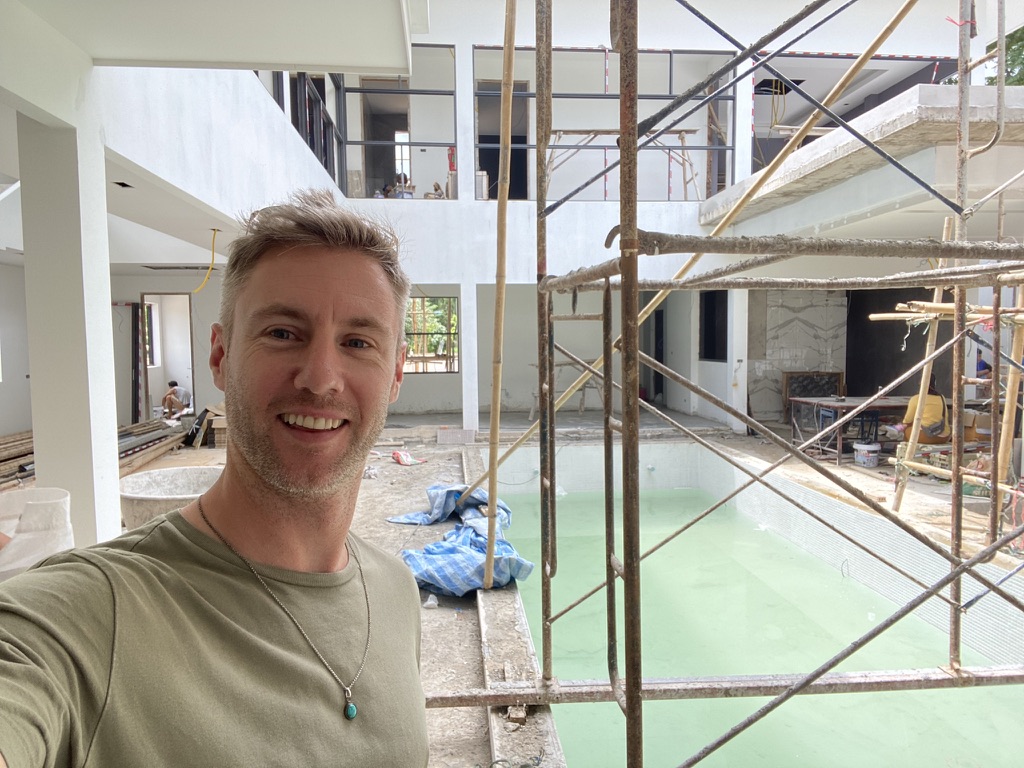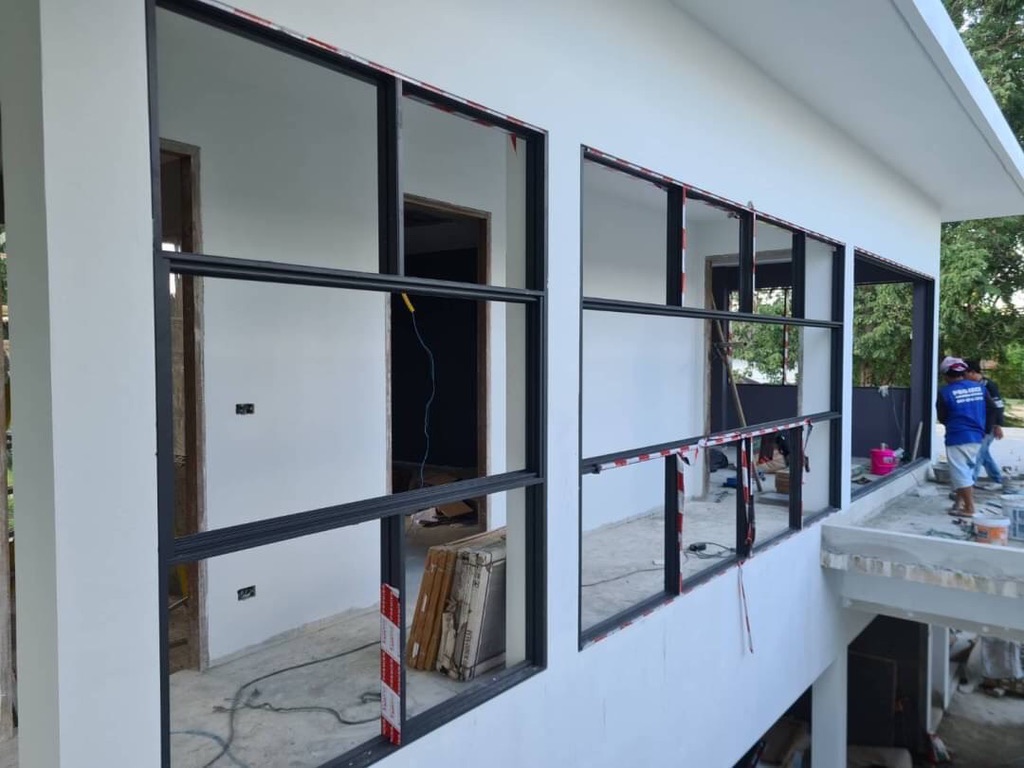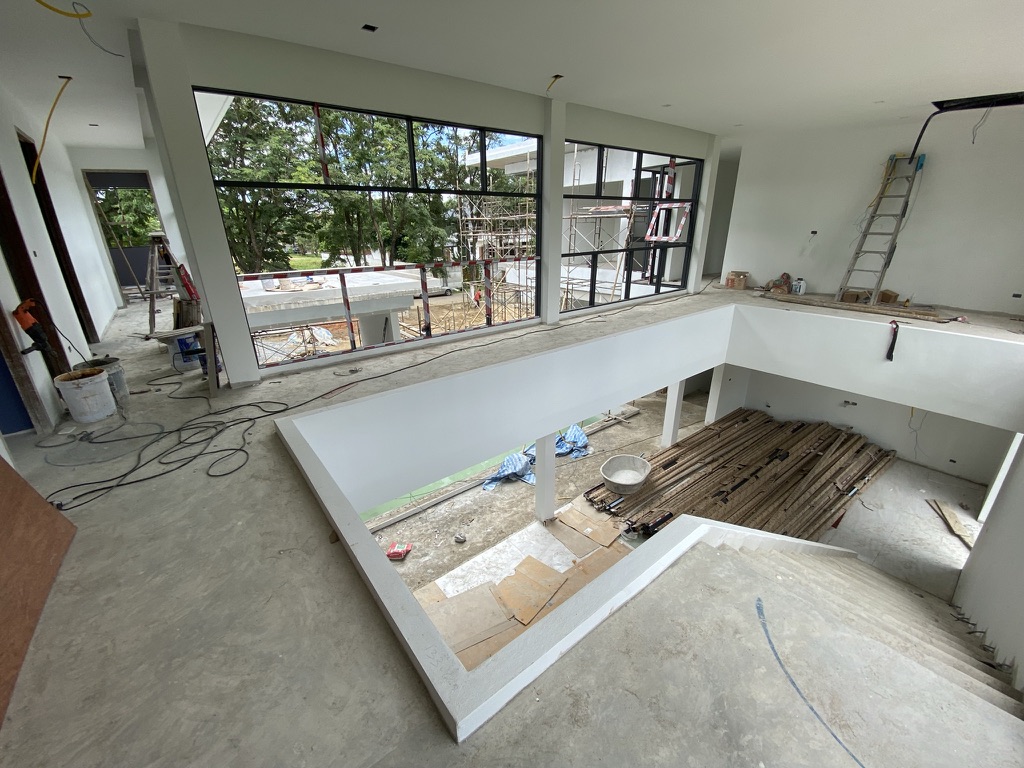 More interiors
The actual building was looking almost done. So we had to sign off on any additional changes we made to our interior designs, of which there were many. Final master bathroom, final walk-in wardrobe, final man cave etc etc.
And with all these final, final confirmations, we're back with the developer at shops every other day. Texture of kitchen islands, features walls. Sink choices. It never ends. And things you had no idea about, thinks like double sinks, turns out they all cost a fortune!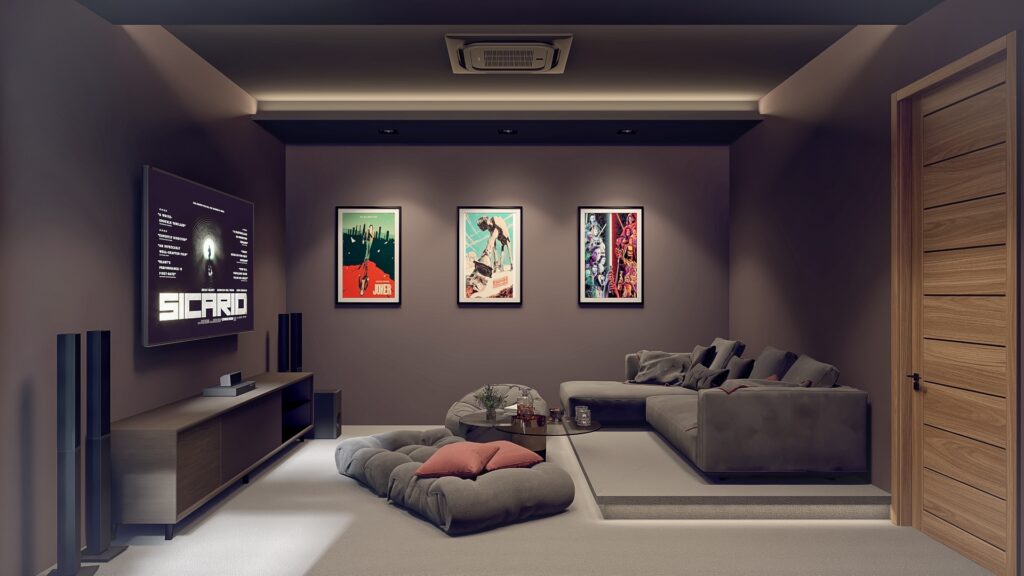 September and October 2021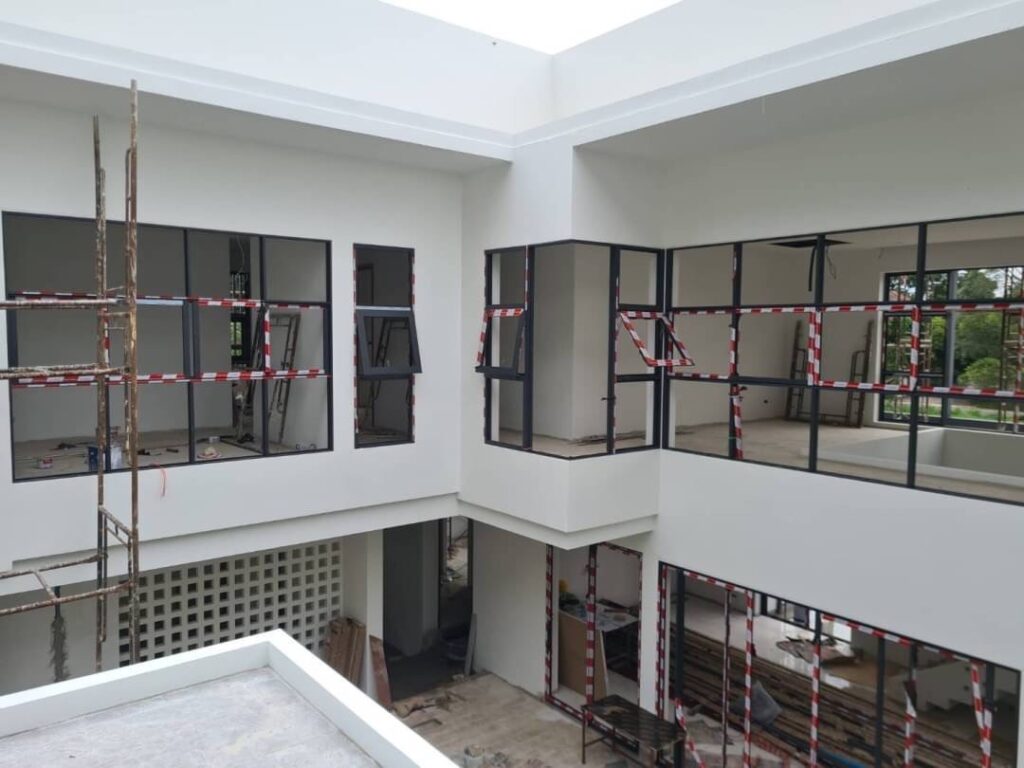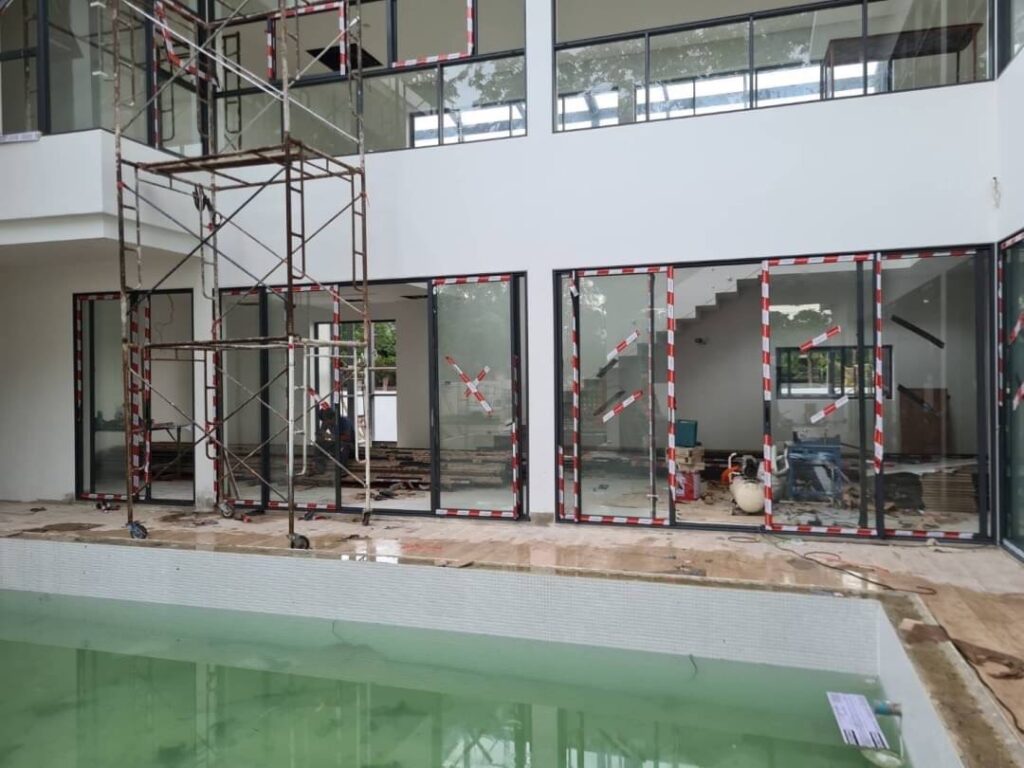 November 2021
I was in Africa running some of my group trips for another 2 months, including my mum and I running a charity trip doing the Serengeti Marathon (raising $20k for Parkinsons). But the house had seemed so far ahead of schedule, then September and October, and now into November and the progress seemed to slow.
It turns out it's always like this apparently. The main building blocks, early on, are always faster than you think. Then as they get to finalising stuff, making it both look nice and actually work, the work slows down!
Into November, we had a team of 8 carpenters doing all the built in furniture, building the kitchen etc.
Into December, my pipe dream of having Christmas here had gone. No chance. Let's hope for an early finish in 2022.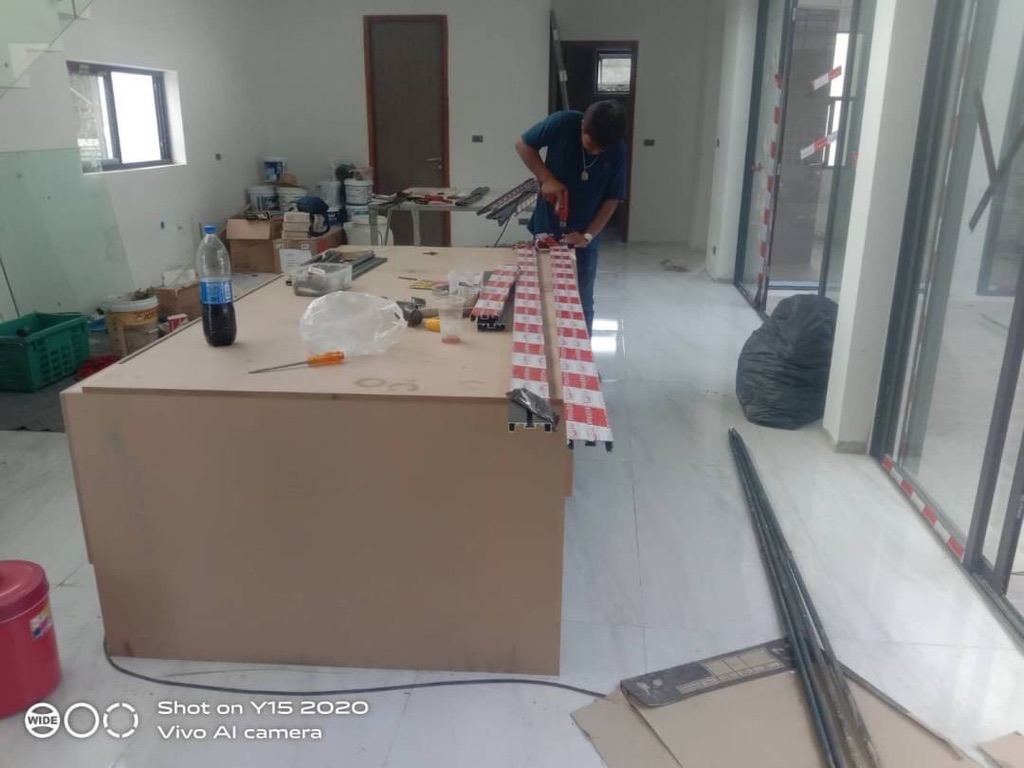 January 2022
Into the new year, and we were into furnishing mode. The building hadn't been finished but you could SEE IT. It looked like a house!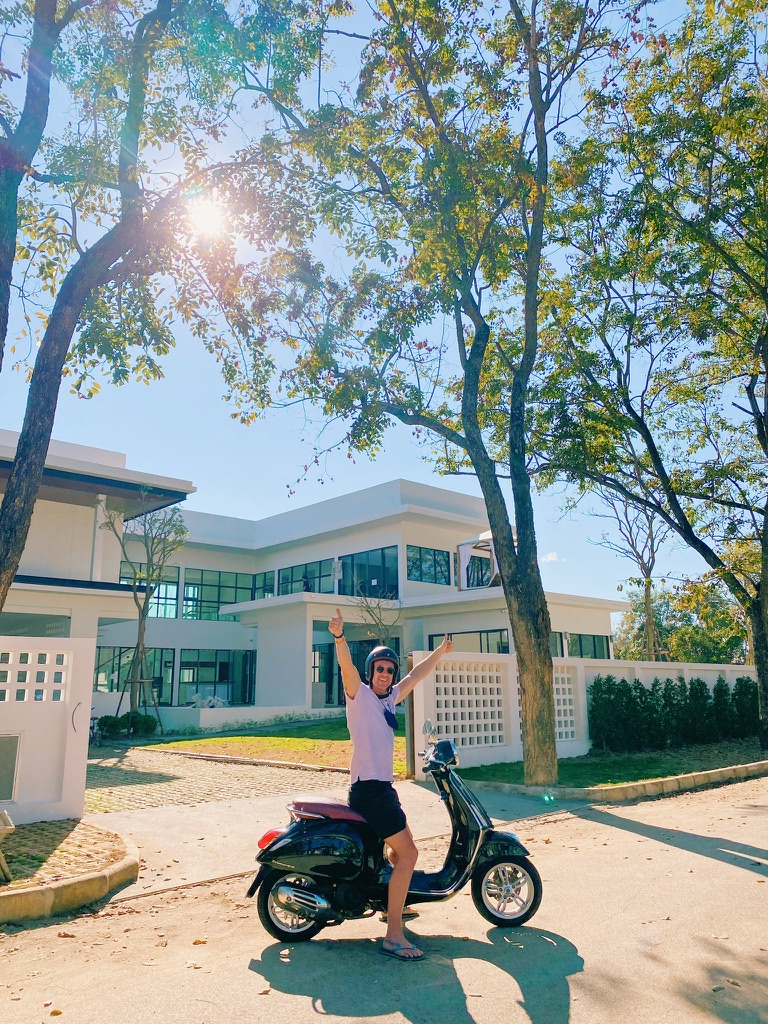 February 2022; WE MOVE IN!
Almost a year to the day, the house is finished! The water is working, the TVs are on, and the aircon is blasting! We had a few final tweaks to furnish, but it was done. Our job of Building A House in Thailand was finally finished.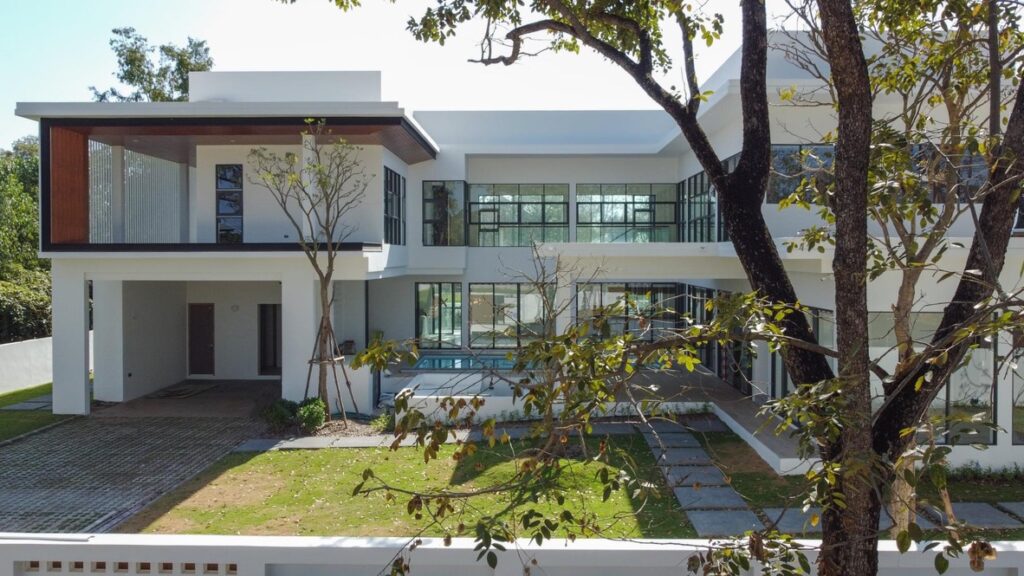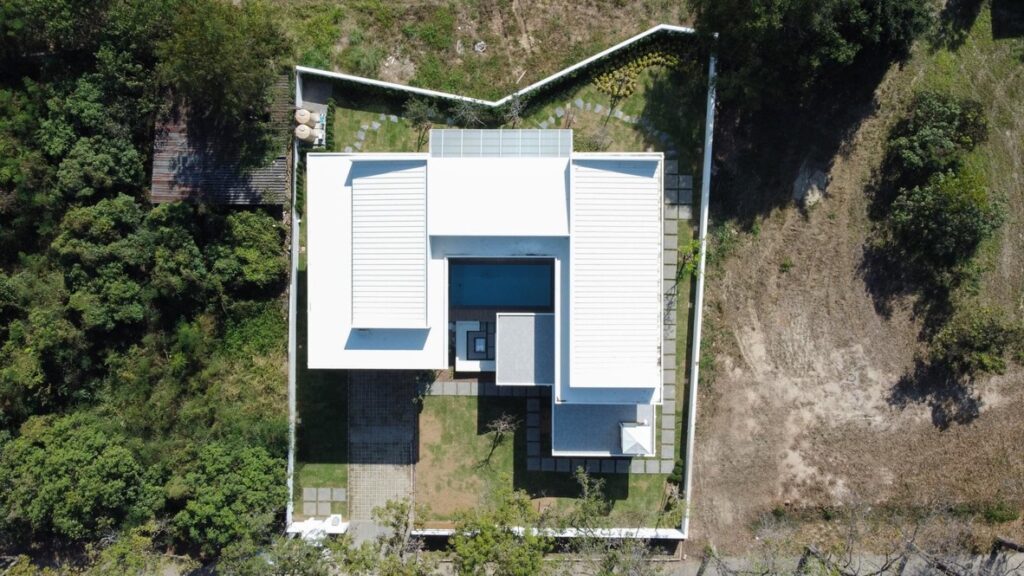 Registering the legal stuff
When Building A House in Thailand as a foreigner, you need to be added to the house registry. Electrics, water. Everything. Thankfully our developer did everything for us. All we had to do was get the internet installed.
FINAL PHOTOS AND VIDEO OF OUR HOUSE
It's now 2023 and we're very happy here. I can't believe this place is mine. No mortgage, and not too much stress. Here our some final photos of the place now it's fully furnished. What a ride.
Open living Kitchen Living Dining
I always dreamed of having a large spacious central living area where everyone i know is always welcome to come and drink coffee, or preferably wine! We want to host Christmas, and events. So to have this was truly a dream come true. And of course, a massive TV for me!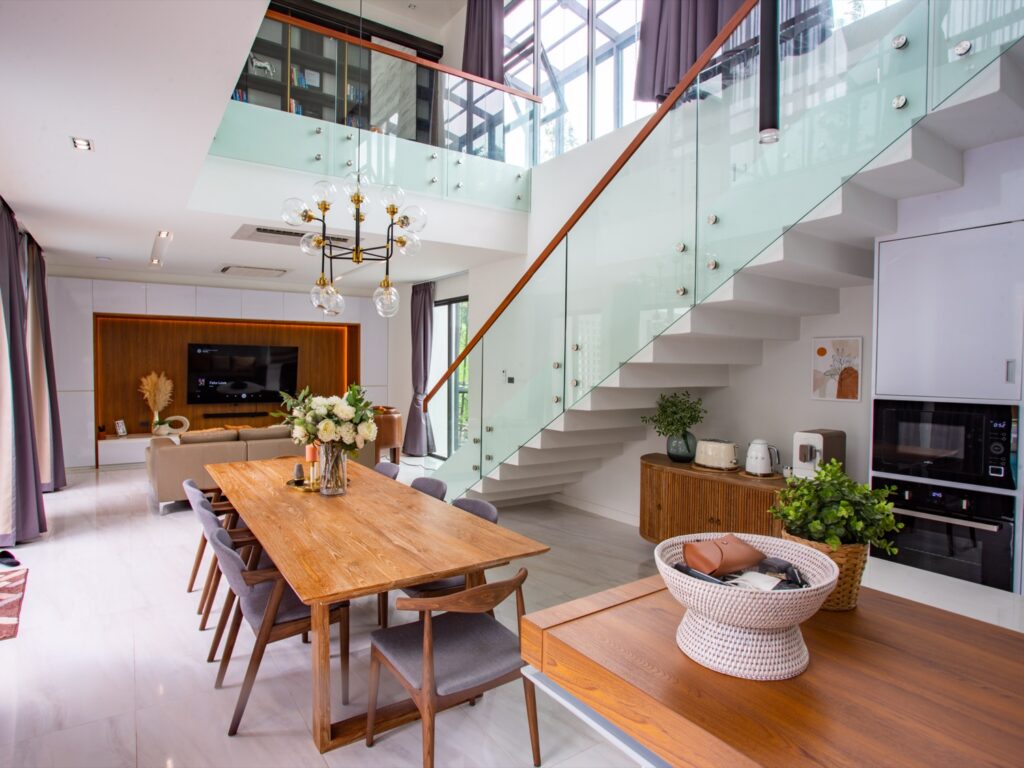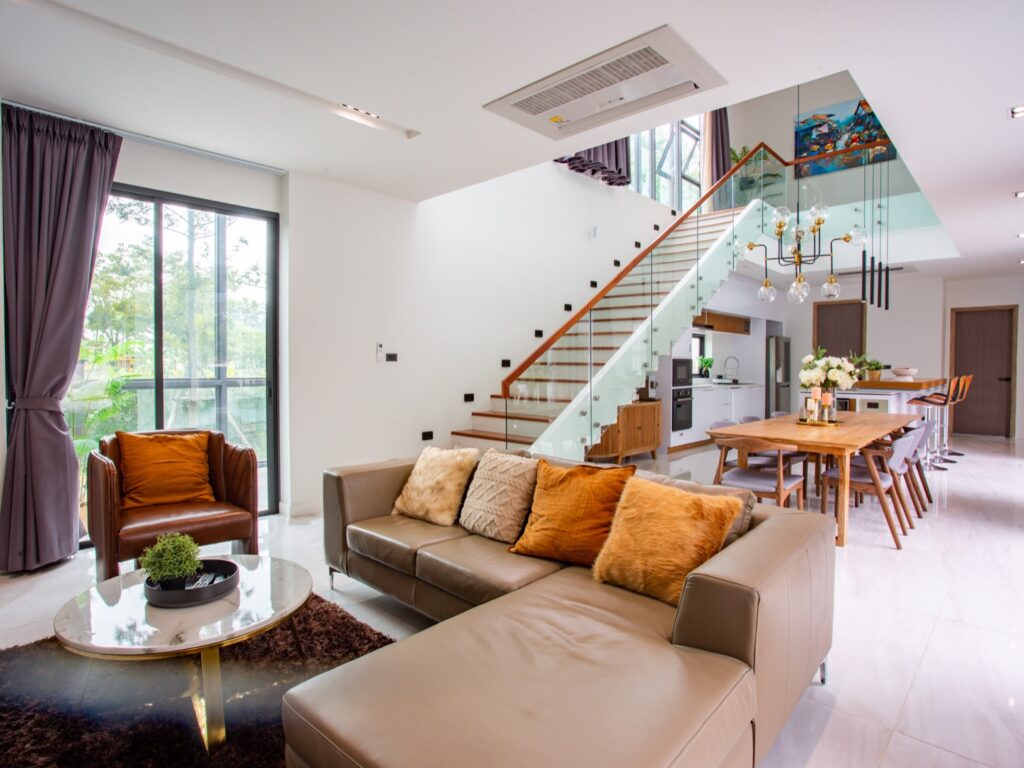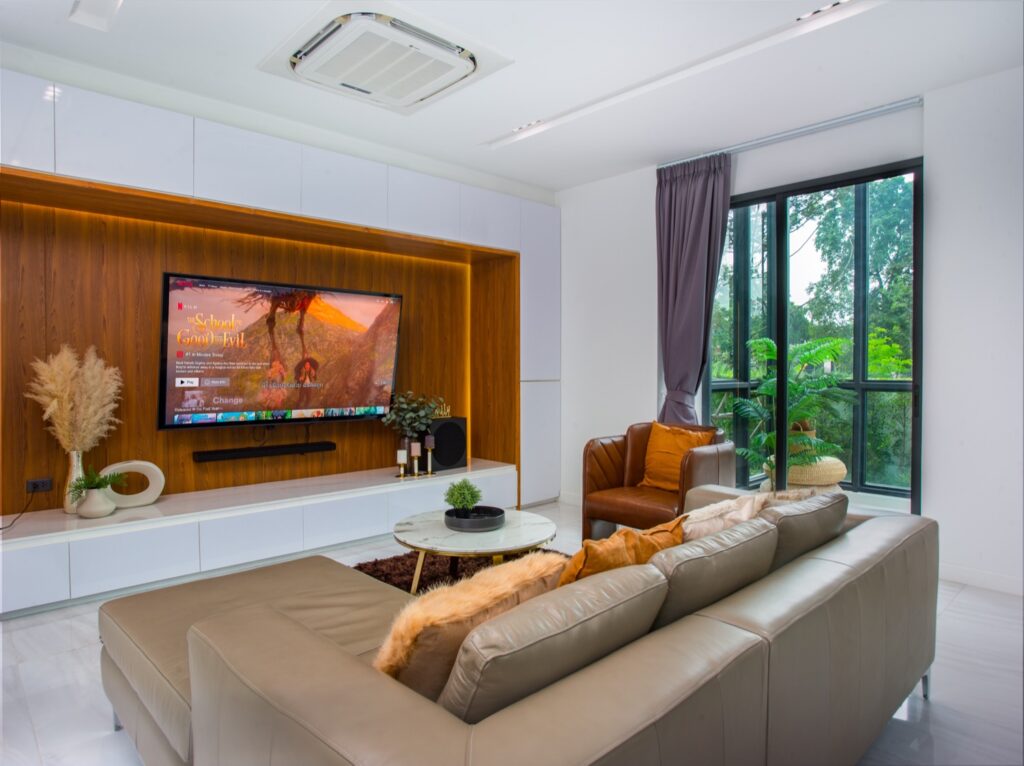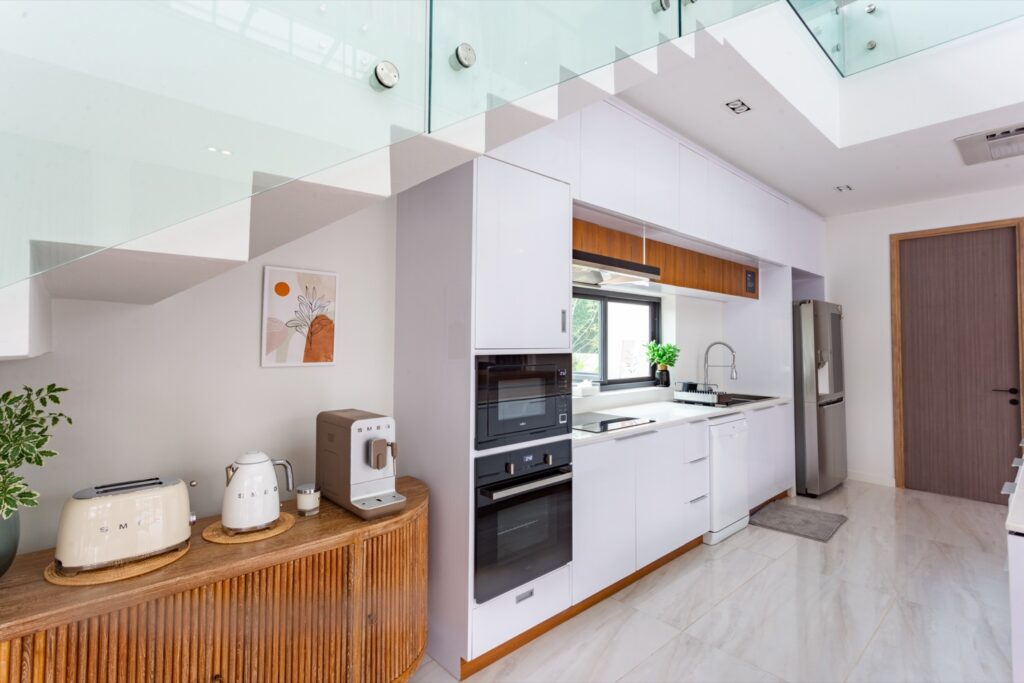 Pantry
To keep the open plan area tidy and lovely, we have a pantry for storage, laundry etc.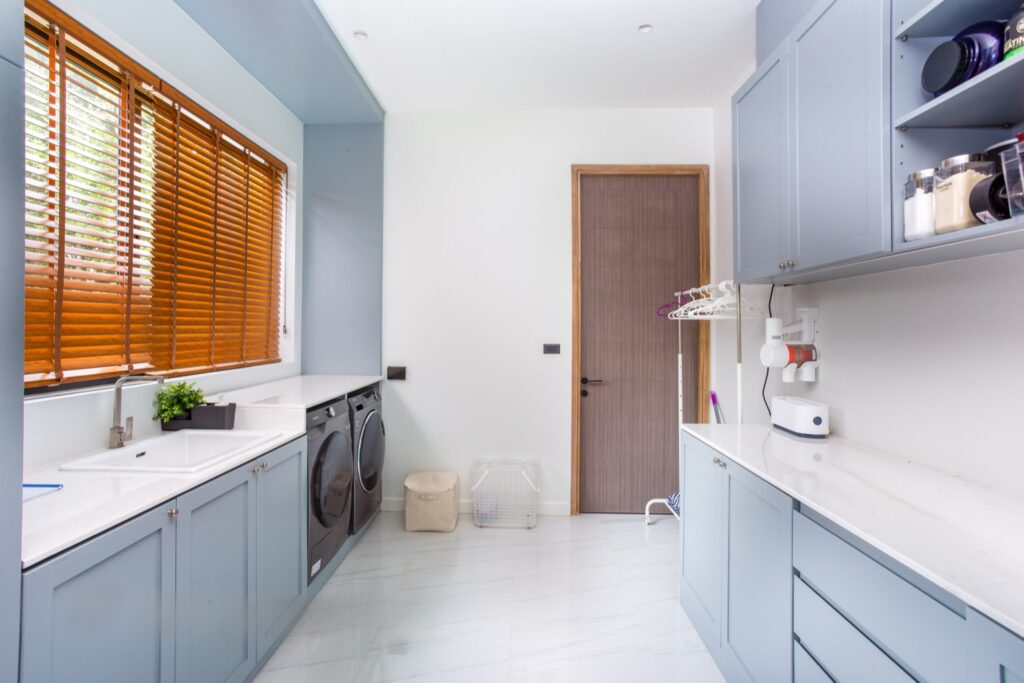 Master Suite
When Building A House in Thailand, you can have what you want. It feels weird to even type that! So we wanted to master suite to have electric black-out blinds, so in the morning we can press the button and the pool be right there, greeting us. It's a perfect way to wake up. Makes checking the emails or going for a run slightly less painful!
I got a custom built super wide mattress. Probably the most lavish purchase in the house, but I love it every single night I sleep in it! The walk-in wardrobe allows us to keep the sleeping area free of clutter, that's really helpful.
In the bathoom having his and hers showers, and his and hers sinks was compluslory! After years of tiny condo living, we both wanted space! Also, a luxury bathtub in Thailand is actually quite tricky to find, we got ours from Trusol and it's gorgeous.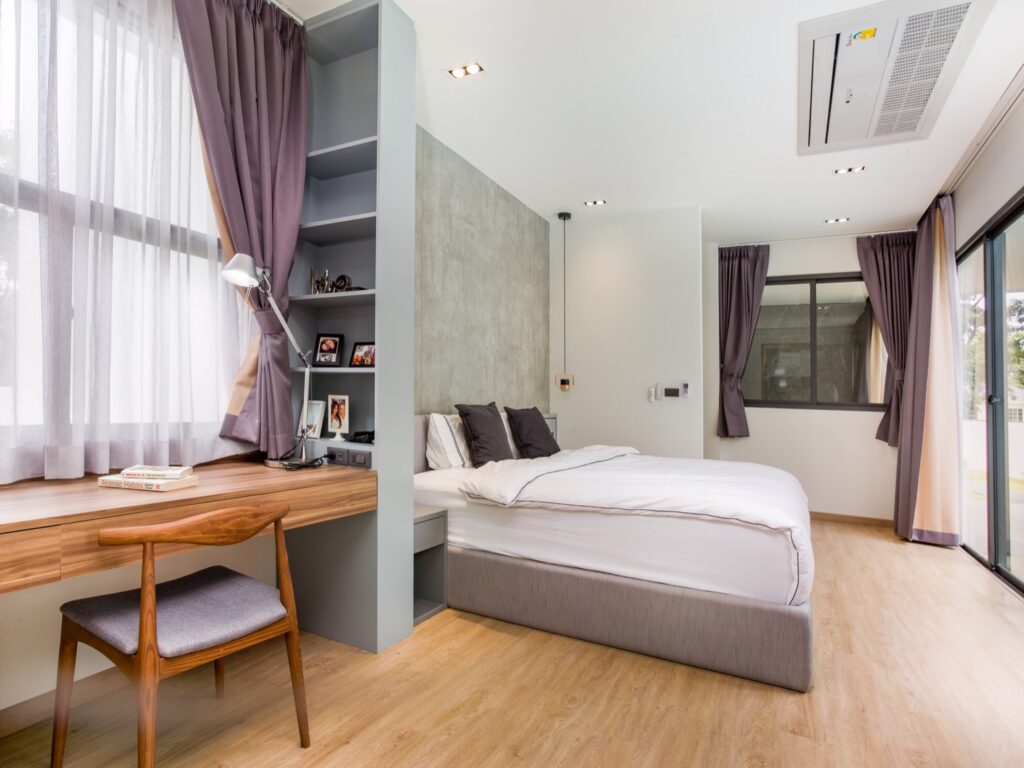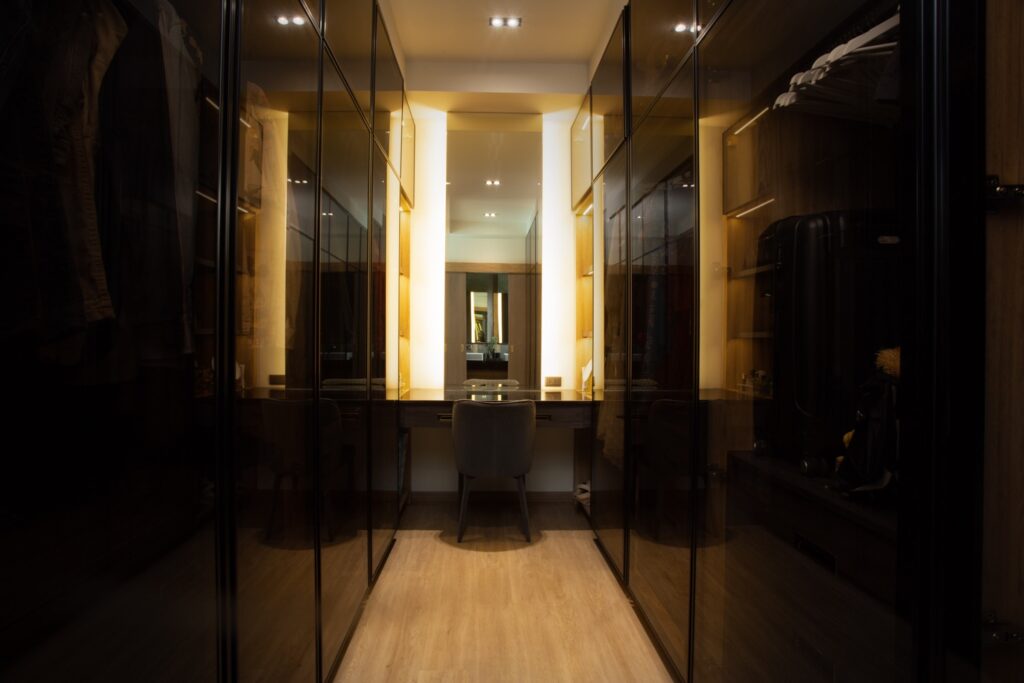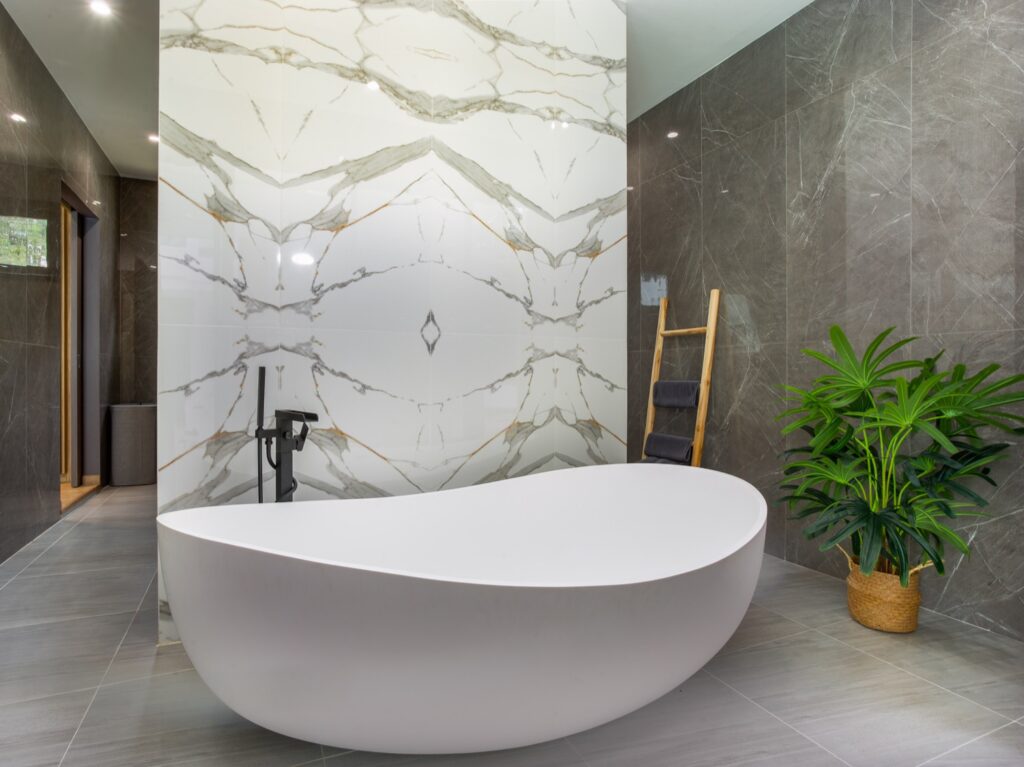 Guest Bedrooms
We have 3 guest bedrooms, one of which is a stand-alone annex on the ground floor for our parents. It has an electric hob, walk-in wardrobe etc too, so our parents can come and stay and not feel like they're bothering us.
Then upstairs we have 2 really big guest rooms, complete with desks and ensuite for future kids we hope.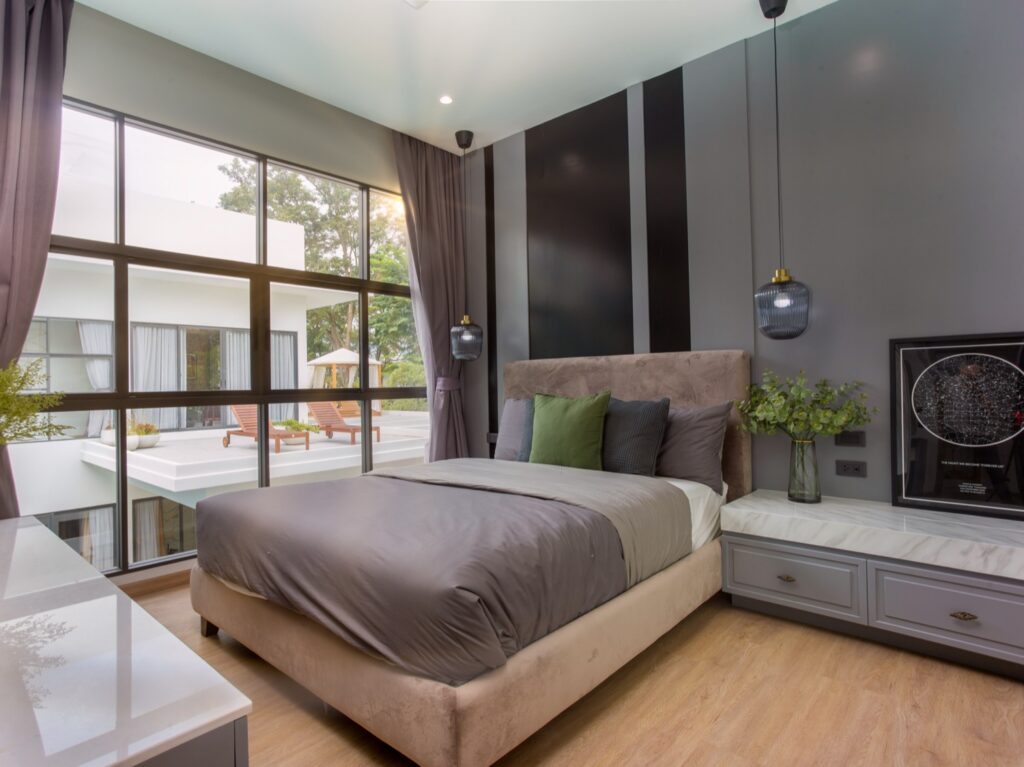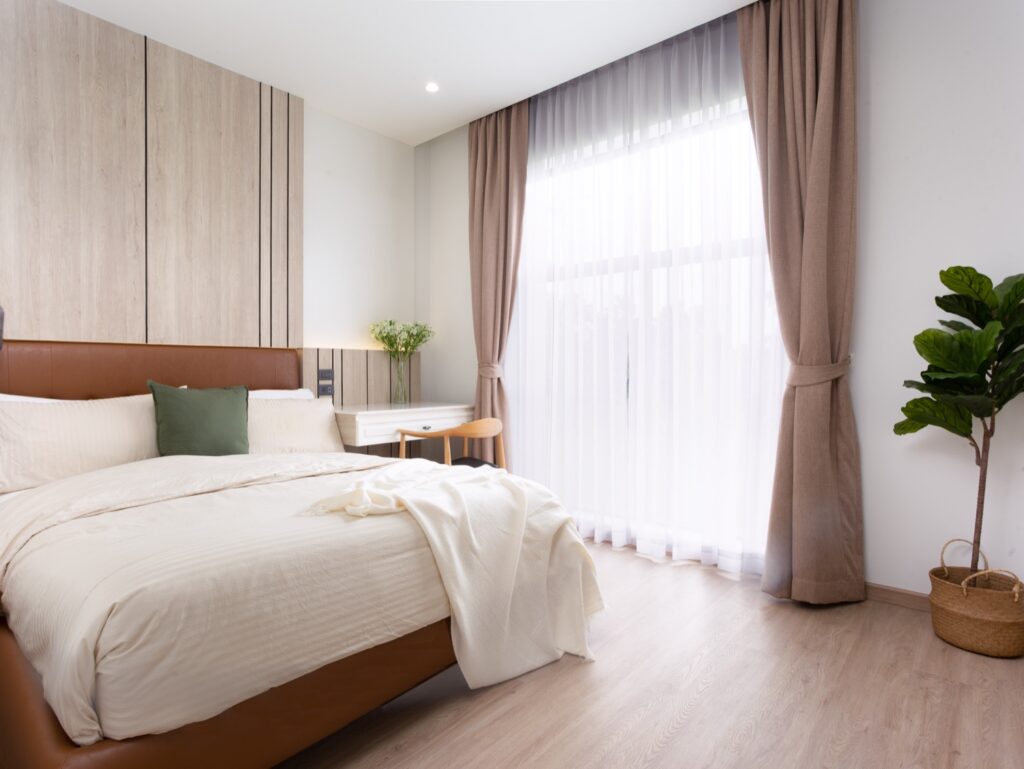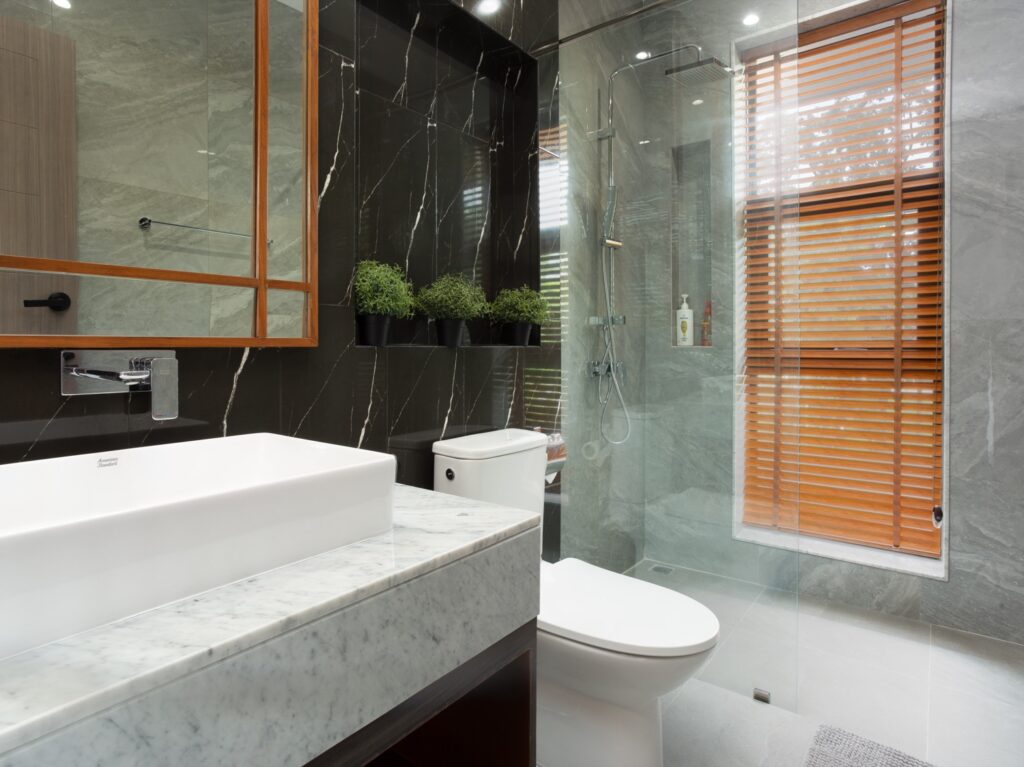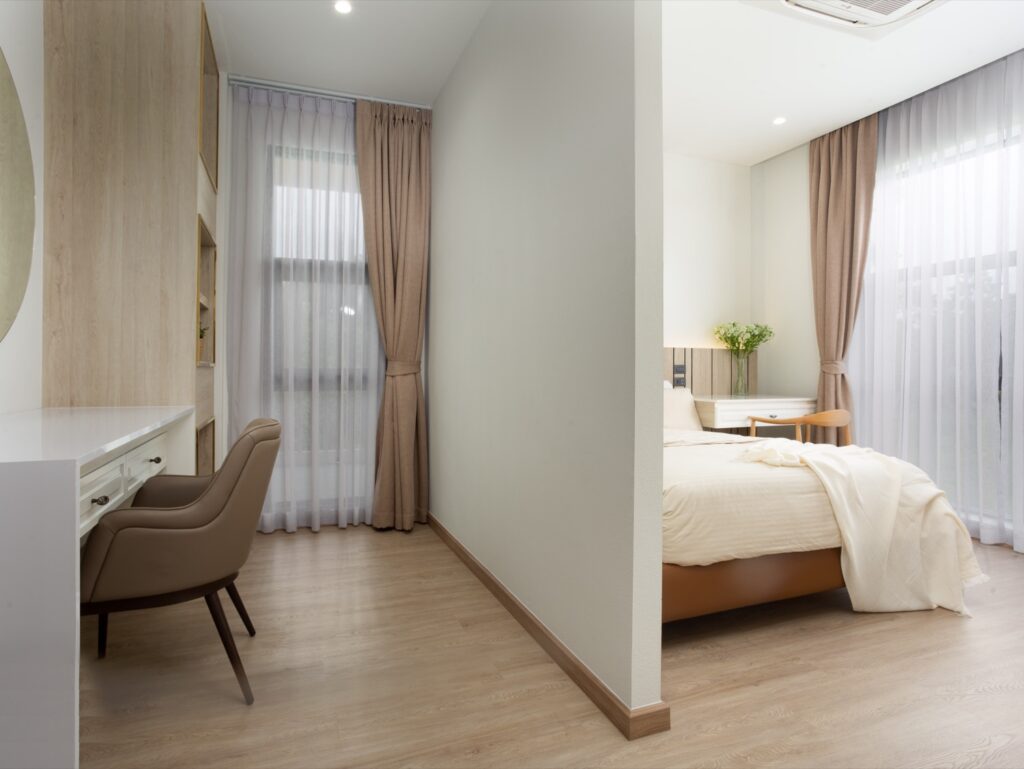 Guest Annex (my mum's area)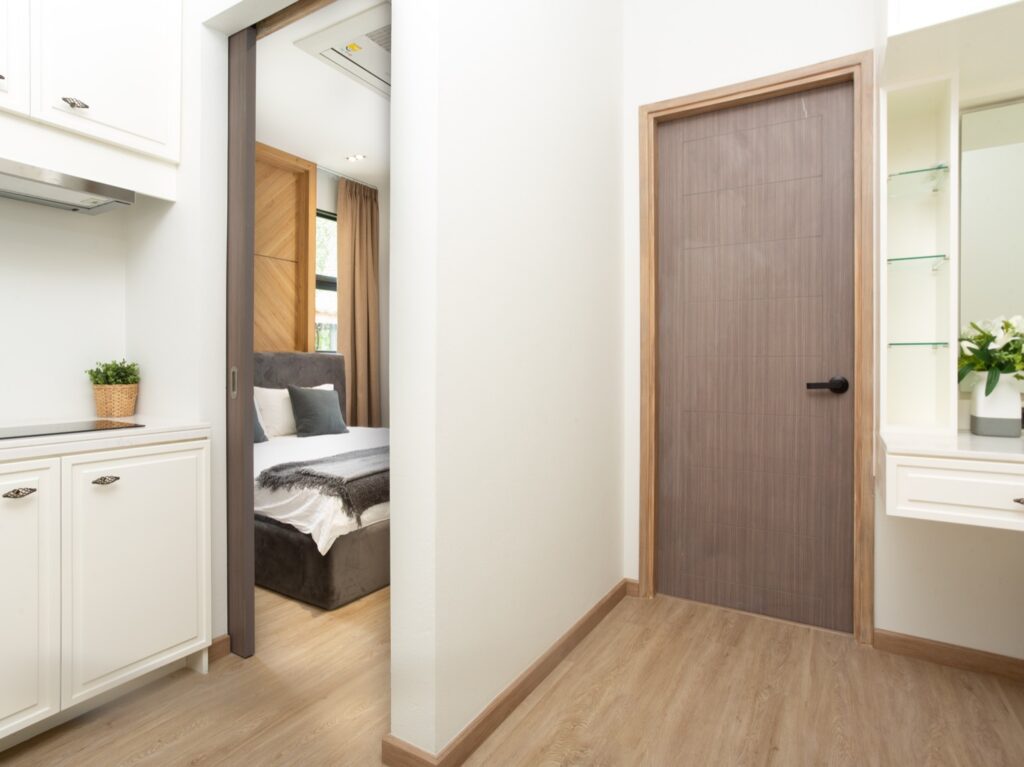 Office
The only reason I can afford all this stuff is the money I make online. So this had to be a big room, allowing me space to think and breathe. It also houses all my cool stuff from around the world, from my travels, adventurers and sporting endeavours.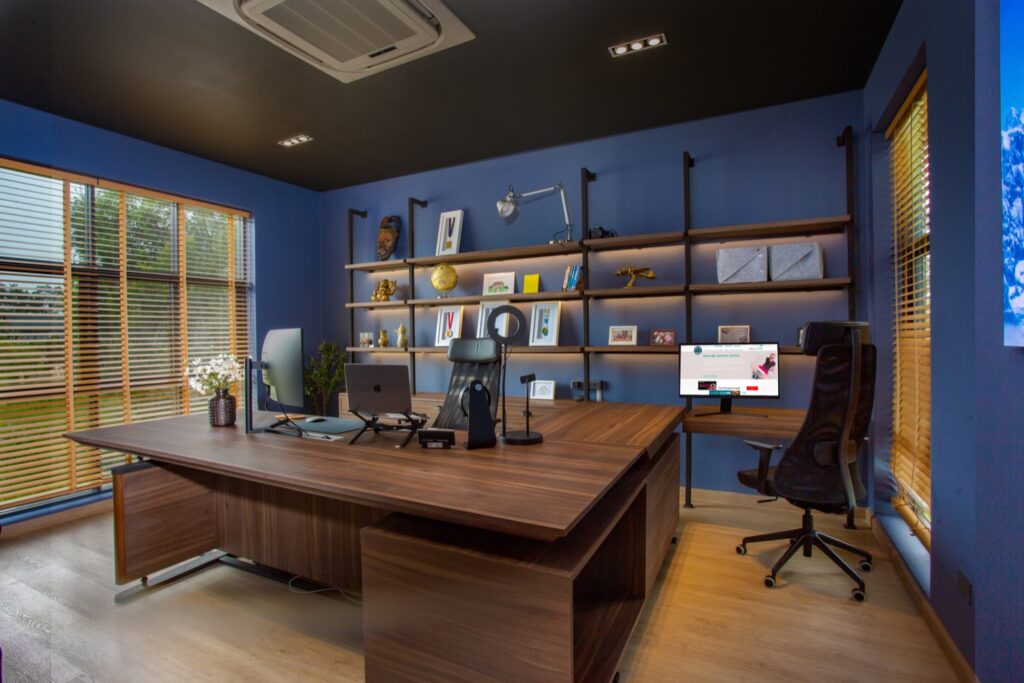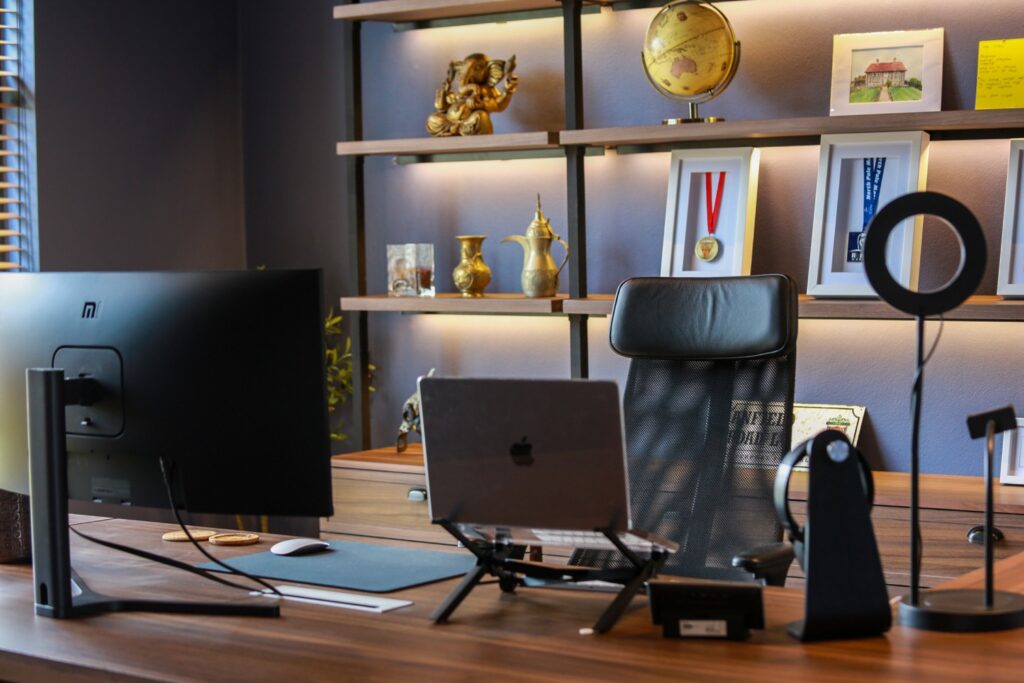 Mancave
Basically a room for me to play Playstation, watching football and escape to drink whiskey with my friends!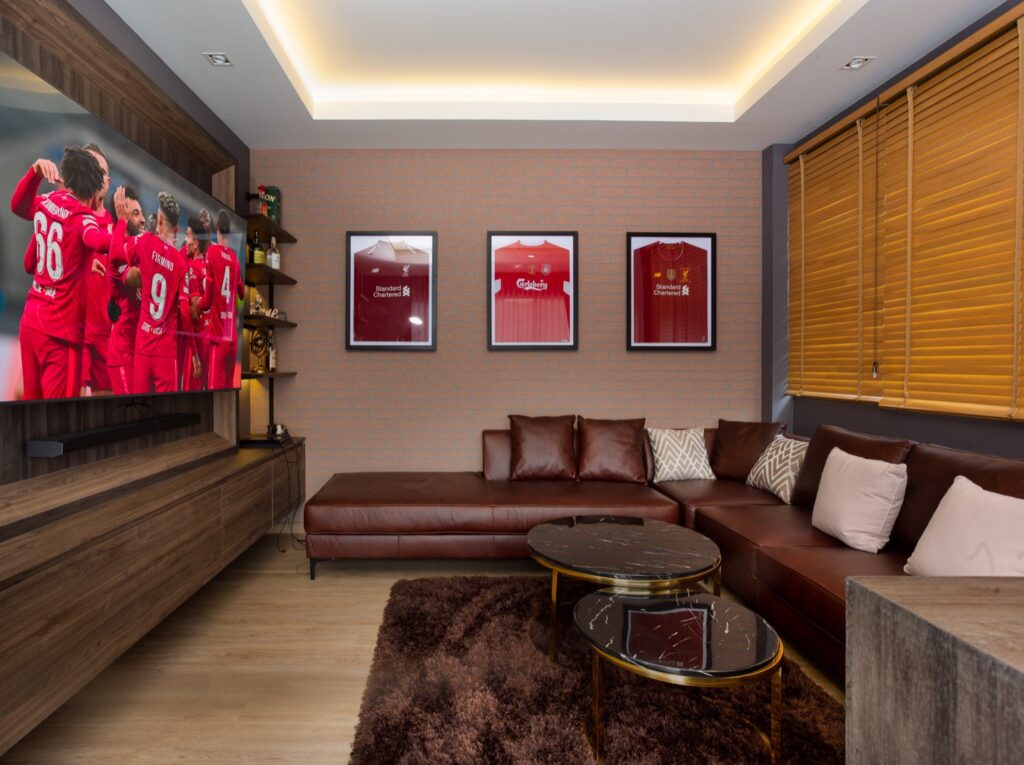 Coffee Room
I have my mancave, so it's only fair Jaa too has somewhere to escape to.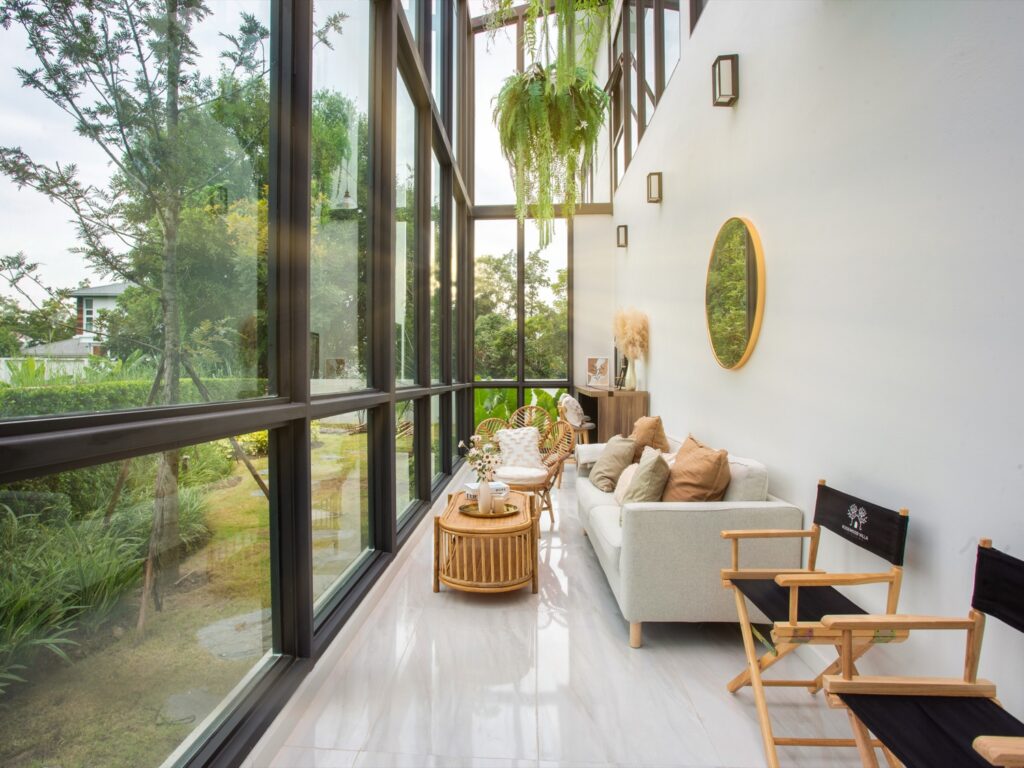 Cinema
'Library' area
When I ran out of money and lost our 5th bedroom, they managed to use half the space and turn it into a lounge/library area. Really cool.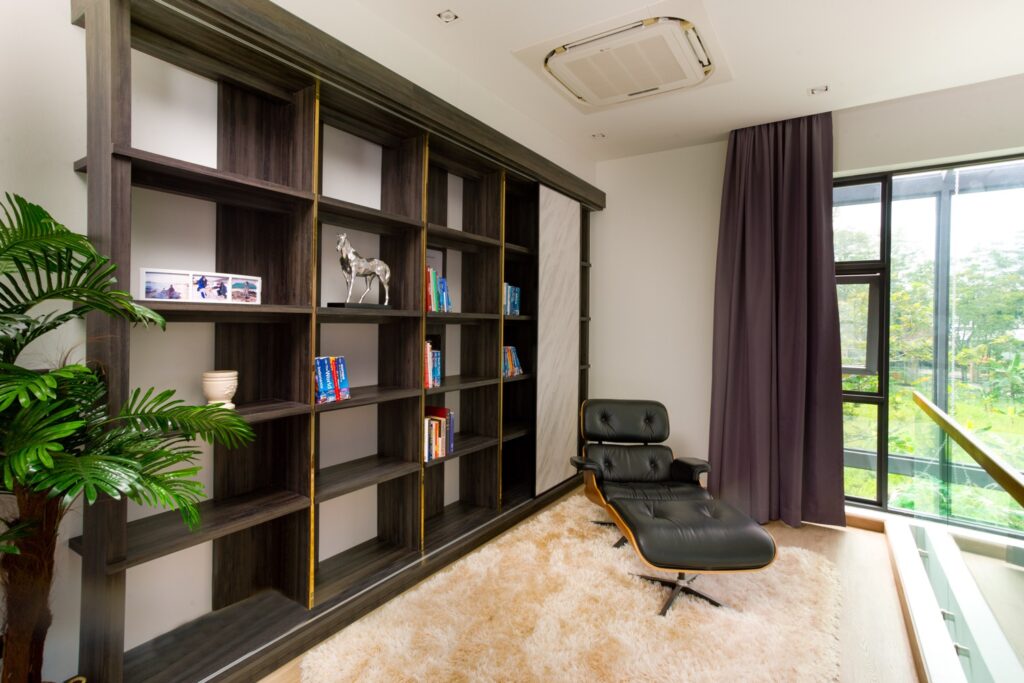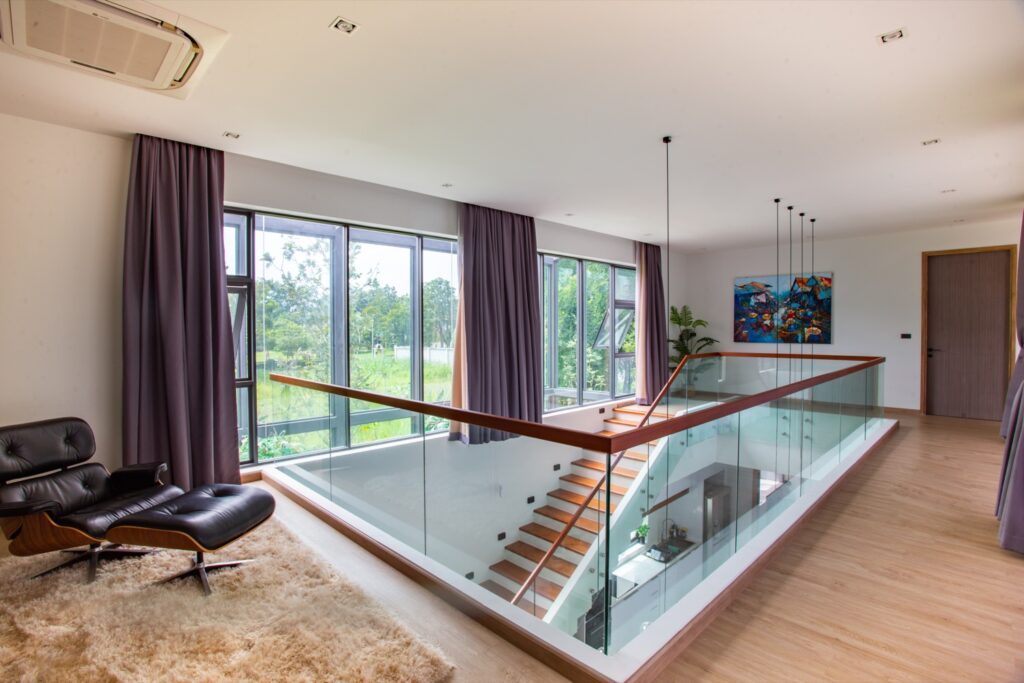 Outdoor dining and pool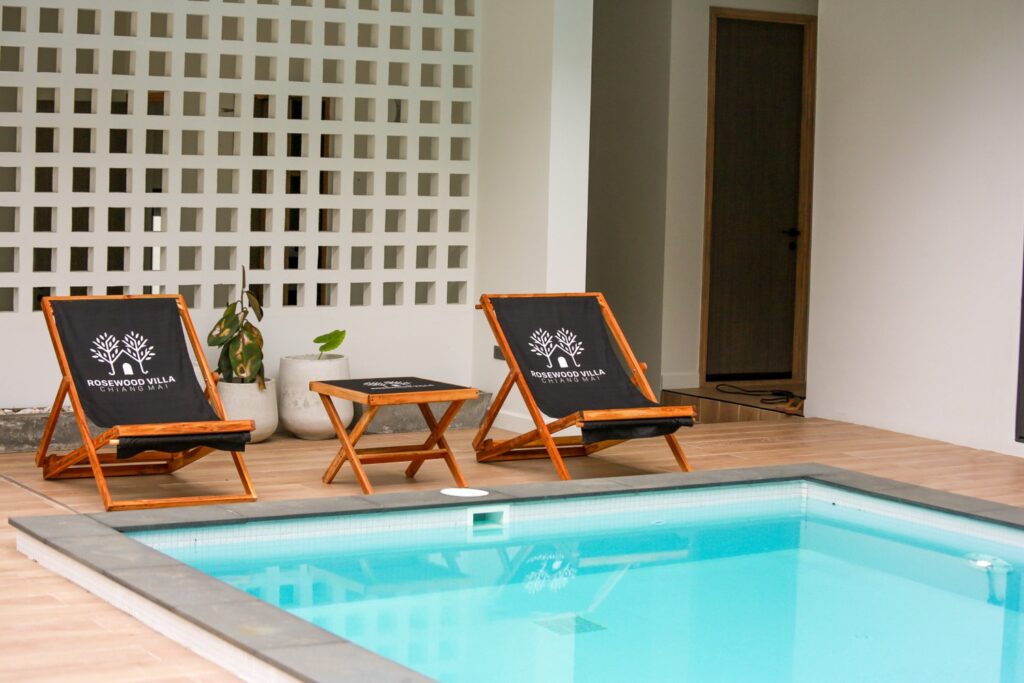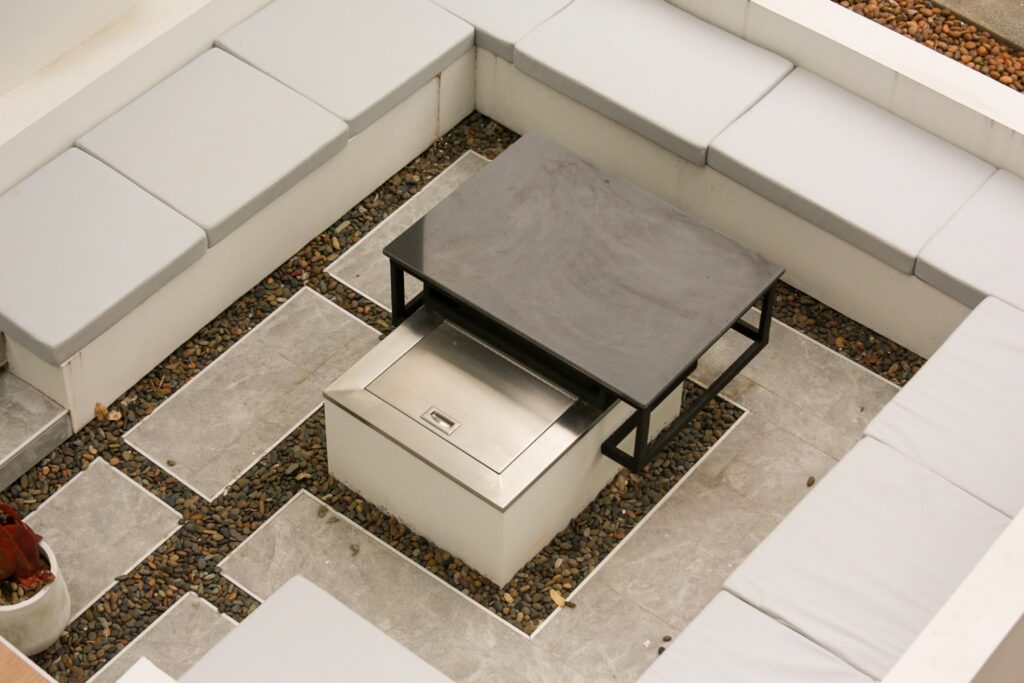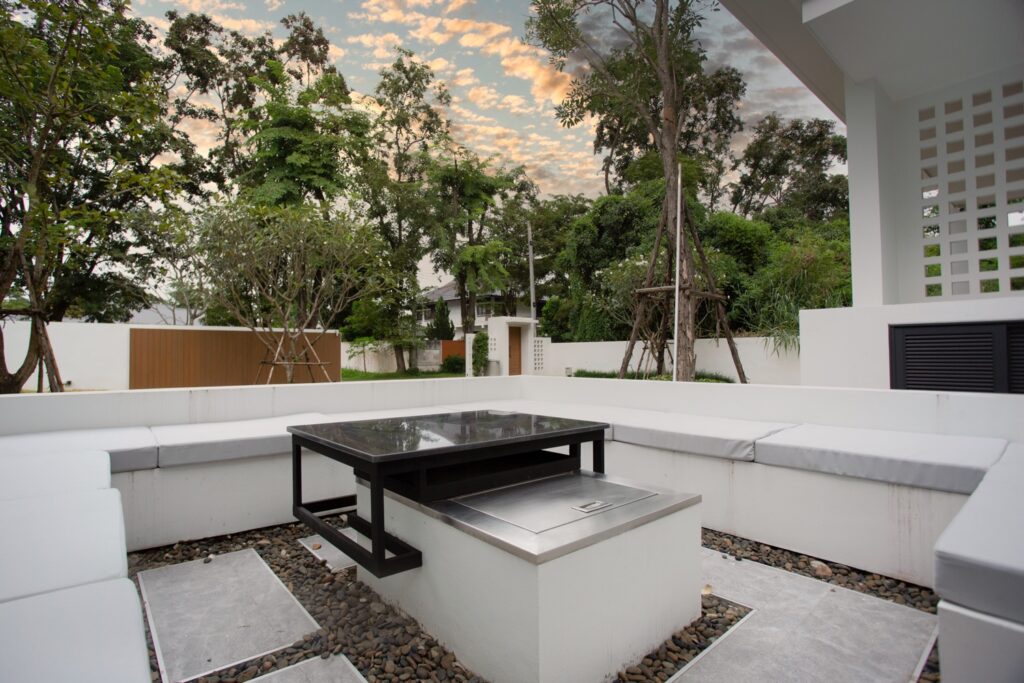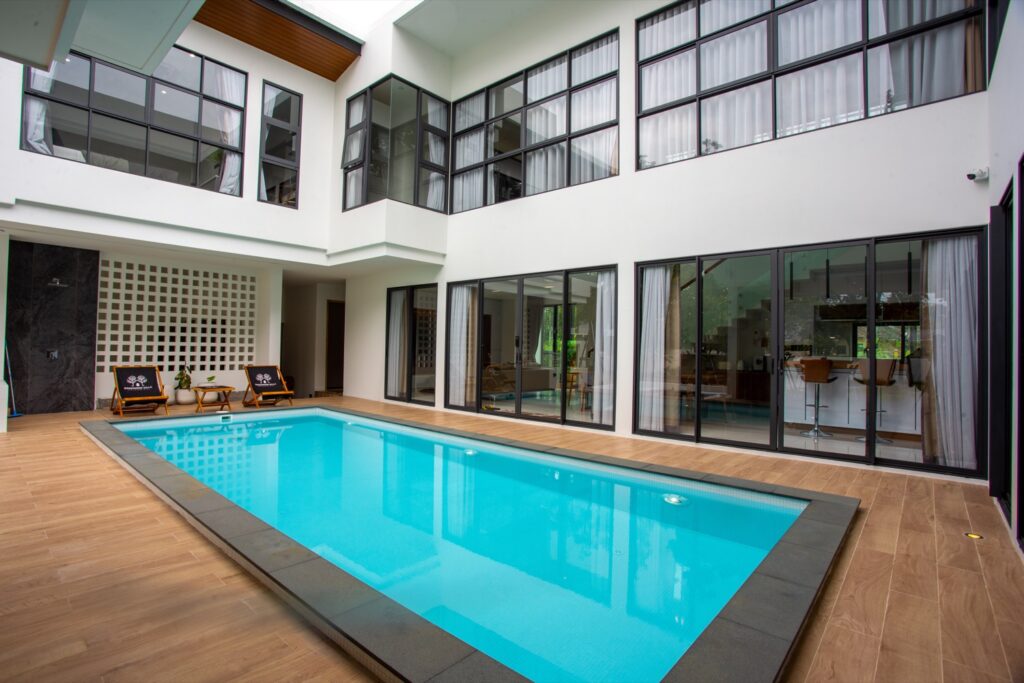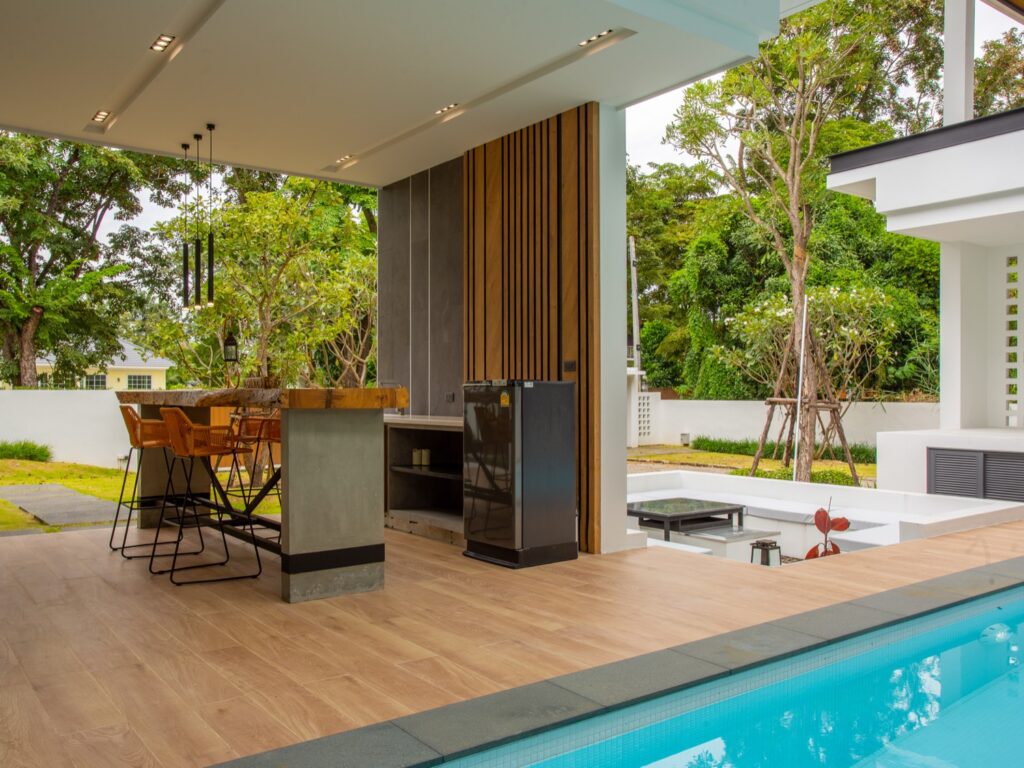 Exterior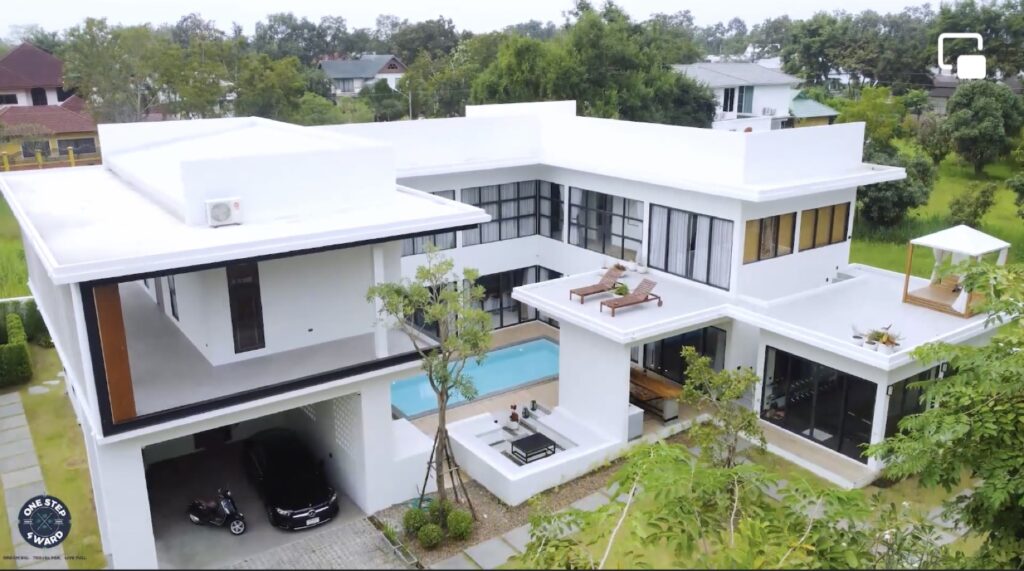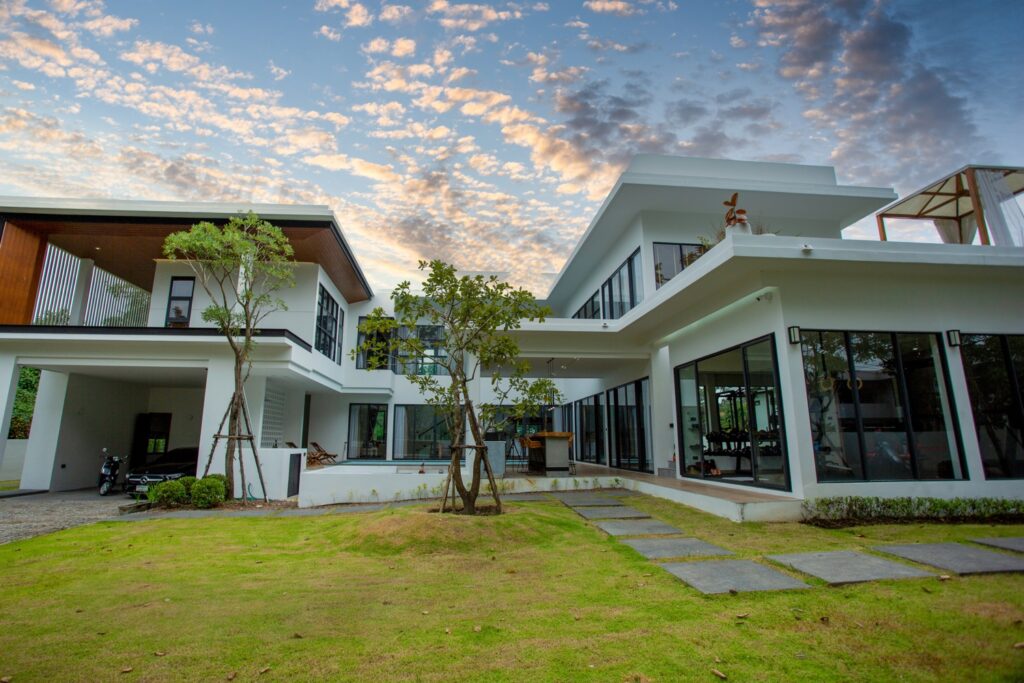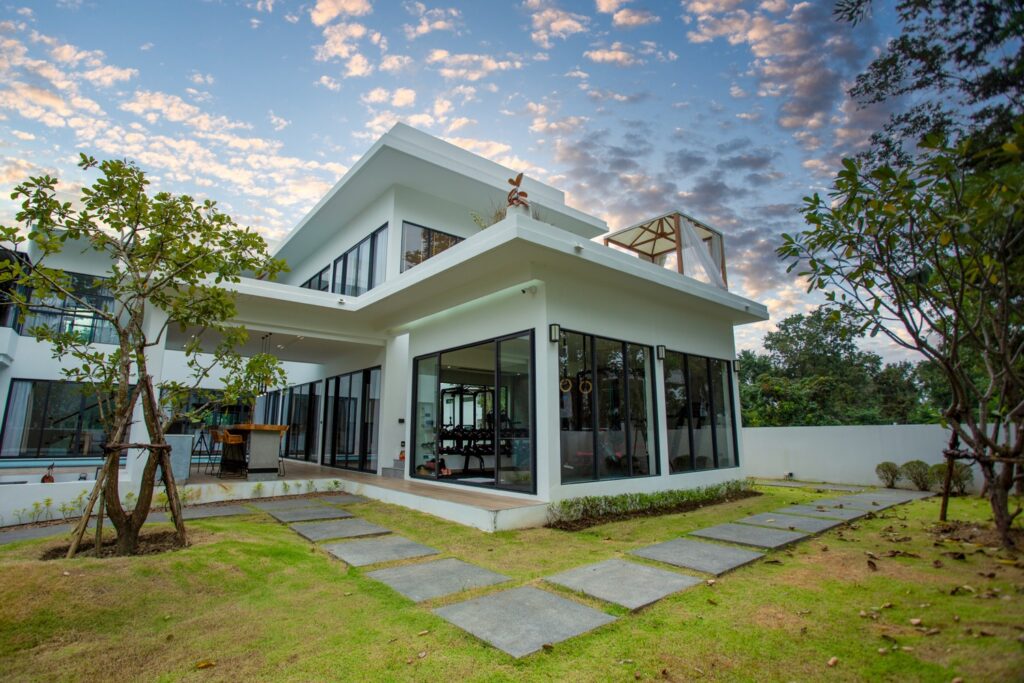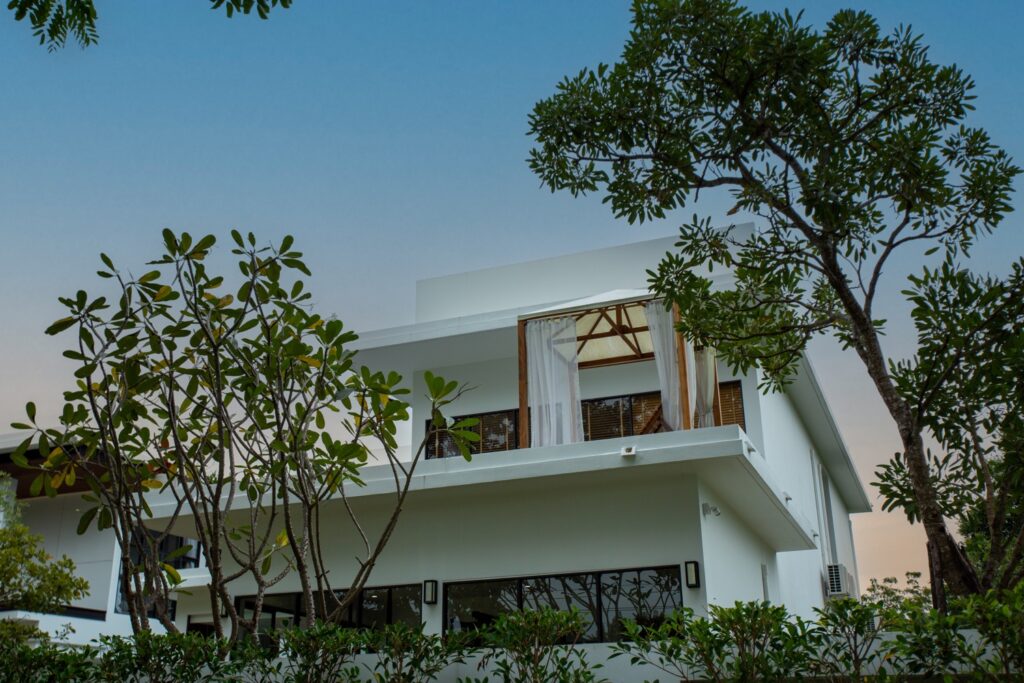 How much does it cost to run our house?
Building A House in Thailand is much cheaper to run than in the West. A LOT CHEAPER. And thankfully, we have no mortgage, but the cost of running a big house still can add up, so let's have a look at the monthly cost:
Swimming pool maintenance: A team of 2 come weekly for $85 a month.
Internet: I have access points all over the villa, so it's like having direct internet in each room. Super import for me. Then I got the best internet in the country. $35 a month.
Water bills: About $30 a month
Property Tax and community fee: This will blow your mind, but about $25 a month.
Electricity Bills: $300 a month or so. This is due to the air con I guess.
TOTAL COST TO RUN THE HOUSE: $475 a month or so, call it $500.
My Final thoughts on building my dream house in Thailand
It was my dream. Every decision I made for a decade had this goal in mind. Every small bit of suffering, of frugality, of humility. And I'm so grateful to my mum for drumming that financial discipline into me. We did it mum. I'm so proud that this is my house. I know it's bad to say, but it's how I feel. I can't believe a guy like me, lives in a place like this. Sure I made some mistakes, but overall it was such a win. Building A House in Thailand was actually a bit easier to do than I thought, truth be told.
On a side note, the house cost about 22m to build ($700k) and is worth over $1m now. This is the main driver why I want to get more into real estate. Those rich people have been making fortunes while we've been sleeping! It's no wonder they keep it a secret. I know it now though, so let's make some moves! If anyone wants to join me, and build villas with me in Thailand, you're more than welcome. I need more investment anyway, so let's do it!
Mistakes I made and what I'd change
Some small stuff really. A bigger walk-in wardrobe. I'd maybe make the pool in the garden rather than 'wrap' the house around it so it's in the sun 12 hours a day. What else? A bigger space for a HUGE fridge. For sure I made a mistake there. A bigger couch downstairs and seating area in the main body of the house i think too.
All-in-all though, I used every single dollar to my name to build this. I even had to borrow some last bits from my mum, and she doesn't have much (paid back now thankfully!). So any changes, I simply couldn't afford. I'm happy with what I could afford though.
FAQs on building a house in Thailand
I'm available on email and on instagram if you guys have any questions. I'm going to build my mum a little house, with the same developer, next year. So as she gets older, she can spend longer and longer in the sun, in Thailand, with a better quality of life and a cheaper cost of living. So if I've learned anything, it's that I encourage everyone to do this if they can. It doesn't have to be a huge place like mine. But the cost, for the time being, is a winner. And it wont always be like this.
I often think that in the west we moan about 'Boomers' winning the lottery with their properties. Buying it cheap, and now worth a fortune. Well I think this is our chance. I'm glad I didn't miss it.
Remember, never travel without travel insurance! And never overpay for travel insurance!
I use HeyMondo. You get INSTANT quotes. Super cheap, they actually pay out, AND they cover almost everywhere, where most insurance companies don't (even places like Central African Republic etc!). You can sign-up here. PS You even get 5% off if you use MY LINK! You can even sign up if you're already overseas and traveling, pretty cool.
Also, if you want to start a blog...I CAN HELP YOU!
Also, if you want to start a blog, and start to change your life, I'd love to help you! Email me on johnny@onestep4ward.com. In the meantime, check out my super easy blog post on how to start a travel blog in under 30 minutes, here! And if you just want to get cracking, use BlueHost at a discount, through me.
Also, (if you're like me, and awful with tech-stuff) email me and my team can get a blog up and running for you, designed and everything, for $699 - email johnny@onestep4ward.com to get started.
Do you work remotely? Are you a digital nomad/blogger etc? You need to be insured too.
I use SafetyWing for my digital nomad insurance. It covers me while I live overseas. It's just $10 a week, and it's amazing! No upfront fees, you just pay week by week, and you can sign up just for a week if you want, then switch it off and on whenever. You can read my review here, and you can sign-up here!