When making an expensive purchase of a secondhand item, you need to be particularly aware of the potential for buying stolen goods. Caravans are a perfect example. They may simply be stolen, or they could being used for money laundering purposes. Either way, unscrupulous criminals will not hesitate to take advantage of your naivity. Or, let's face it, your willingness to look the other way for what seems like a bargain. But that bargain soon turns into an expensive nightmare when the police track the caravan down, for you will not be entitled to keep it, even if you paid for it in good faith.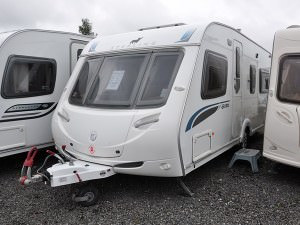 Another concern is the number of caravans sold that have previously been written off by insurance companies. Not only are these items illegal, but they are obviously not roadworthy, and are probably quite unsafe. Thankfully, for the conscientious caravan investor, there is a scheme in place for the express purpose of authenticating your vehicle.
CRiS (the Caravan Registration and Identification Scheme) is there to help you establish the legitimacy of any caravan. In short, if a caravan is not registered with CRiS, it's likely to be dodgy. Any caravan manufactured since 1992 by National Caravan Council-approved companies is on the CRiS database, and most caravans made before that date will have been retroactively registered. Each caravan is given a 17-digit Vehicle Identification Number (VIN) which, along with a thorough description, should be presented to any prospective buyer by the current owner. The number will be listed as part of the CVR6 document used to authenticate vehicle ownership.
So, if you're looking into buying a particular caravan, contact  CRiS, who will confirm that the seller is in fact the registered keeper, and also run a check to see if your intended investment has been:
-Purchased on finance
-Reported stolen
-Reported as an insurance write-off
Once the caravan has been authenticated and the payment made, it's vital that you maintain the authentication cycle by registering yourself as the new owner. This will help you when the time comes for you to sell.
CRiS Extra
For even more peace of mind, you can register your caravan with CRiS Extra. For an extra fee, you get an ID kit, an electronic tag and CRiS marks your vehicle with a unique set of 1000 micro-dots.
Check out the Park Resorts website, for more security info and a  list of UK holiday parks.