Camping gets more popular, year by year. It's cheap, green and can be great fun. Whether you go with friends or with your family make sure you get close and personal with Britain's countryside.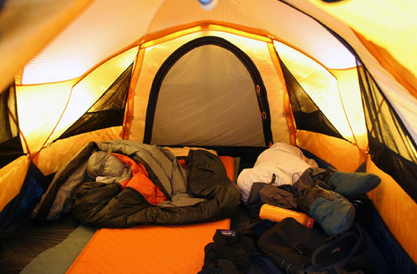 But what are the best camp sites in the UK?
Dartmoor
Dartmoor National Park is the largest area of open country in Southern England. Many people come here to enjoy the beautiful scenery, but also to get active. The park offers lots of opportunities for climbing, hiking, cycling, horse-riding and canoeing; and it's also one of the few areas where wild camping is allowed.
Cornwall
With the longest stretch of coastline in Britain, there is so much to see, do and explore in Cornwall. A campsite with breathtaking views, just yards away from the cliffs, is the Treen Farm Campsite in Penzance. Families should try the Trevornick Holiday Park in Holywell Bay.
Lake District
The Lake District National Park, located in the north-west, is England's largest National Park. Camping at the Lakes will be a romantic experience to enjoy with your partner. But also with friends there are lots of things to do, like hiking, cycling or fishing.
Right before you leave go through your list:
Tents. Check.
Camping Equipment. Check.
Food. Check.
First Aid Equipment. Check.
Clothing. Check.
Looks like you have managed to pack everything you need. But hang on – how are you going to get all of that equipment to the camping grounds? That's where a high quality utility trailer comes in. These trailers can be largely beneficial as they can be used and reused. They are sturdy and can carry a surprisingly large load. And best of all, they take the stress out of trying to stuff every bit of equipment into the back of your car. But which one do you go for?
Personally, I would suggest a trailer from the Daxara Buddy Range. The Buddy 1 is the smallest, at 2'11" by 3'7" with a capacity of 245kg, with the buddy 2 3'2" by 4'1" with a capacity of 323kg.
But what is it that makes these trailers particularly special. Well, to start, the trailers both have profiled galvanised steel sides and a galvanised steel chassis. Whilst this may not seem immediately special – the galvanisation protects the internal metal from the wear and tear of everyday weather. They also have mudguards, to protect your belongings from any debris that may have been thrown up by the wheels. The rear lights add another safety feature, making it better visible in the dark to other drivers. The trailers also feature a drop down rear tailgate – which will make it so much easier to load and empty – no more lifting heavy cases and bags over high walled trailers or into boots – with this drop down tailgate you can just roll or wheel it in! The style of wheels used mean that the trailer can be stored on its end, which means less space occupied when not in use. And, if all of that wasn't enough to get you excited, the trailer comes with a flat cover as standard, so you can even get out and about with your trailer in the colder months, despite the rain and sleet.