I had finally made it to El Salvador after the best bus journey of my life from Guatemala City to San Salvador across the border ($35 USD, wifi, food, the lot!). From Guatemala city I wanted to head straight to the Salvadorian coast and experience some of the surfing lifestyle I had heard so much about. With that in mind I quickly researched the best place to stay in El Tunco and there was one resounding answer, Casa De Mar. Whilst hostels and dorms certainly serve a purpose, when you're in a cheap country like El Salvador, it pays to take advantage of the geoarbitrage, and if that involves me having a Jacuzzi in my room, so be it!
El Tunco is one of the most popular spots for foreigners in all of El Salvador – nice bars, fresh seafood and endless surfshops. But one hotel stands out amongst them all, it's about a 5 minute walk along the beach to the main town and it's the only hotel which rivals western standards – the Casa De Mar.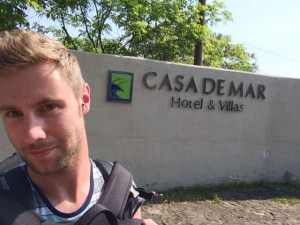 The rooms are all luxury individual villas on stilts, and they have so much space available in them I wanted to run around my room doing starjumps half the time. The place is almost as big as my apartment in Thailand. Each room has 2 large queen size beds, so the price plummets if you share with your buddy (about $75 each, bargain).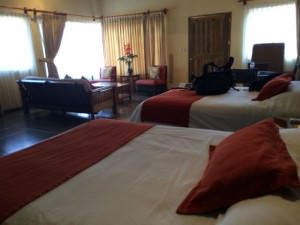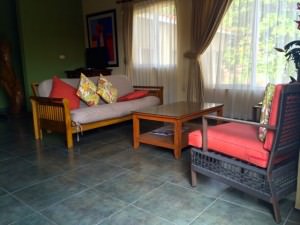 My room had a suite area to chill, and also a table and chair combo to do some work (or eat snacks, realistically probably the latter). The bathroom offers some extra luxury for people who stay here too, the rainfall shower is nice but the step-up-to Jacuzzi is the real main event. Traveling to other countries is one of the best way to feel adventurous, I love it for it but when you get a chance to whack a movie on a laptop or read a book in your own private Jacuzzi, it's so nice to escape the madness of the country your in and just enjoy the self indulgence. Perfection.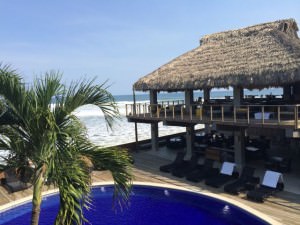 The rest of the resort it great too, a nice pool (which you need because the sea is almost exclusively for surfers), great breakfast in an outdoor patio looking onto the ocean. That's a great way to start your day every morning – fresh fruit, coffee and a la carte inclusive breakfast. I literally spent 2 hours each morning down there just gazing into the ocean, contemplating life. It's a weird thing, luxury, when you're roughing it you are always thinking about your literal next move whereas when you're fully relaxed and loving life, it allows you the mental space to consider the bigger picture, I really appreciate that these days.
There's also a restaurant attached to the hotel with sea views, and this is another wonderful example of the value of be had in Central America. $2 coconuts and beers to drink from, $7 shrimp tacos, at the best resort in the whole place, overlooking the
Pacific Ocean, I paid more than that for a Subway Sandwich in London last month (with a wonderful view of a broken orange toilet, not quite the same thing).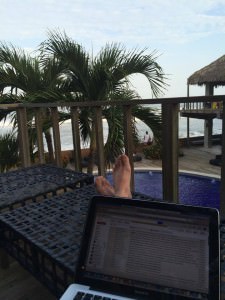 The main draw for El Tunco, aside from meeting and drinking with people, is the surf. Lessons range from $15-$30 an hour and it's some of the best surfing on the continent. I'm an absolute novice but I really can't get enough of it, I'm thinking of making my Central and South America a trip a bit of a surf experience now – let's see.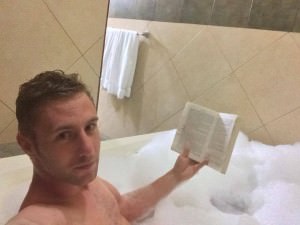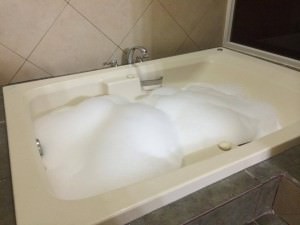 Anyways, I had planned just to stay 2 nights at the Casa De Mar but I got stuck and extended another night – it's so tough to leave. But I promise I'll leave tomorrow, I promise. Maybe one more night….