This is the one place where I feel fully qualified to chat about and having spent over 18 months here I can truly say I love this city! It's the first place outside Europe I could really consider 'home' and I could really see myself settle here for a while in the not-to-distant future. If you are in Thailand – I really recommend you spend at least a few days here, you can't help but love it 🙂
I'm going to imagine you are going to Chiang Mai for a few days and you want to know the coolest things to see and do whilst keeping it as cheap as possible (sound about right? :P)
THINGS TO SEE AND DO
TEMPLES – You can't be in a Thai city without visiting some temples (or 'Wat' in Thai). There are literally hundreds but I would say there are 2 that you shouldn't miss…
WAT DOI SUTHEP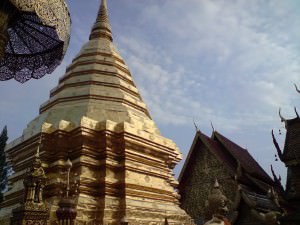 The temple is in the North of the city, located at the top of the mountain. It has a great history about a white elephant carrying some of Buddha's remains up the hill and dying on the way up, marking the area as the temple grounds. It's beautiful and so peaceful – away from the busyness of the city. The drive up there is a sight in itself and the temple will take your breath away.
WAT PHRA SINGH
This is right bang in the city centre and demonstrates more beautiful buildings and awesome Thai/Buddhist architecture. It's also a good focal point because if you know where this Wat is then you have your bearings for the whole city. I figure 2 temples is enough, for me anyway, there are loads dotted around but if you are gonna see any… see these.
ELEPHANTS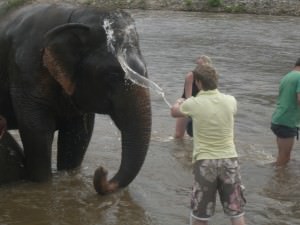 This is a controversial issue guys :S
Basically, everyone dreams of coming to Thailand and going on an elephant trek, where you sit on the back and go for a walk in the jungle. I (regrettably) did it, you have probably thought about it but I urge, urge, urge you not to do it! Having lived in CM (Chiang Mai) it doesn't take long to see how bad this is for the elephants. They get taken from their families, go through the most tortuous ordeal for their spirit to be 'broken' and then get whacked on the head to walk around a beaten track through the jungle. Similarly, you will come across elephants being paraded around the city coaxing you into buying bananas to feed them – again, this is horrible for the poor elephant who isnt used to walking around cities all days, dealing with all the vibrations from the traffic etc. HOWEVER, all is not lost!
There is a centre who raises funds to buy and then rehabilitate these trek and street elephants, a brilliant brilliant place. It's called the Elephant Nature Park and it's 100% legit, no profiteering, no tourist scam – all on the level. If you want you can actually volunteer there too and stay with elephants for weeks! It's all very cool and you can wash the elephants in the river, feed them, play with them etc. It's a tad more expensive than the treks (around 1000 Baht for one day) but it's certainly a worthy cause and you can sleep well knowing you didn't exploit these beautiful big creatures one little bit.
TREKS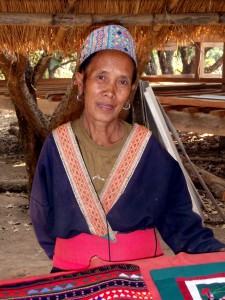 Chiang Mai offers ridiculously awesome treks into the beautiful Northern Thai jungle. Most TATs (they are the small tourist offices you see doubted around backpacker areas in Thailand) offer 1, 2 and 3 day treks into the jungle, staying with hill tribes, going on bamboo rafts, swimming in waterfalls etc. These are a lot of fun and well worth the investment of time. A day trek costs around 500 baht and then naturally double that for the 2 days (thats 100 baht if u dont have a calculator handy :P)
You can really lose yourself in the jungle up here, so pack away your laptop, phone, ipod, calling card and get stuck in. Staying in local huts, eating over the camp fire, sitting on a big boulder watching a waterfall cascading down in front of you – tell me that doesn't sound appealing 🙂
I've only scratched the surface of temples, treks and elephants and you would already have spent at least 3 or 4 days here, CM really is a cracking place!
Animals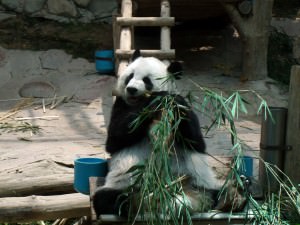 Chiang Mai is home to the most amazing zoo in South East Asia, which has recently soared in popularity thanks to the Chinese government 'lending' 2 distinguished guests – Chuang Chuang and Lin Hui, 2 of the few pandas currently residing outside China. A snip at 100 baht entry and certainly worth a day of your time. The pandas aren't the only attraction and you will still get your staple fix of monkeys, lions and elephants but you can't help but drop your jaw when you see the pandas jumping around their generous enclosure and taking a seat on their 'easy boy' lounge, absolutely amazing!
The zoo is a brilliant way to spend a day, a less animal-friendly way to spend your day is a trip to the monkey farm and snake pit. If you have seen the new Rambo movie you'll recoginse Rambo's new home as Chiang Mai's snake pit. Which is pretty much a crazy thai guy who plays with cobras, pythons and all the rest :S this is not for the faint hearted!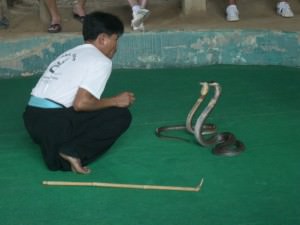 Snakes get close to the audience and, all-in-all, im not overly sure of the health and saftey issues haha; however, if you want to see a guy get up close and personal with some lethal serpents, then this is your place and I can't deny that I did have a fun (if a little frightening) time here. To get here you need to take a 100 baht tuk-tuk or jump on your back and open the throttle for 20 mins, another wonderful ride 🙂
Next up, and right beside the snake pit is the monkey farm. You get to see monkeys playing basketball, lifting weights, kissing the audience etc. It must be said it left a bitter taste in my mouth, the prospect of these cute animals learning their trade, so it is what it is and I'll let you judge whether to visit or not..
ACTIVITIES
A hidden gem in the Chiang Mai backpacker pocket – CM has a host of activities for the adventure sport lover and if you love to feel the adrenaline (like me!) then you better have a few more spare days to burn in beautiful Chiang Mai! First up is the 165ft bungee jump or jungle bungy , cheap as chips and accident free since 1990 😛  I do have a video of my bungee jump but luckily enough I'm having technical difficulties uploading it so happily we don't have to hear my excessive use of swear words and screams :s Also, you can jump for free if you jump naked 😛
It's part of the  Chiang Mai X-Centre complete with paintball, xorbing, off-road biking, and drifter kart, if you have some spare time, a few upbeat peeps and a little bit of spare cash then get ready to face your fears! This place is awesome!
Next up, is the shooting club. Again, cheaper than anywhere you will find in the western world. Personally, I had never shot a gun in my life and this was a cool experience. Apparently, shooting automatic machine guns is illegal but I don't want to confirm or deny that the staff offer you the chance to shoot them off the record 😉
I think the price is around 50 cents a bullet so, if this alleged automatic weapon is available, be careful when you hold down the trigger!
Recently, Chiang Mai announced another awesome activity – flight of the gibbons , i think it's around 2k Baht but, yet again, another brilliant way to spend the day and definitely family friendly (at least for those of you who don't get too scared of heights!)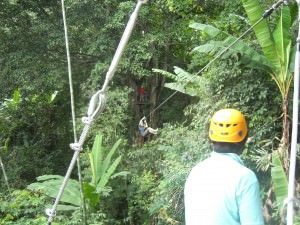 Basically, you get driven into the thick of the jungle and strapped to crazy wires across huge trees with sheer drops beneath you and then you swing through the jungle (like a gibbon, get it?! :P). Loads of fun and some awesome photo opportunities that your friends will struggle to ever live down lol.
Also, in a similar vein there is a brilliant rock climbing club in Chiang Mai so if climbing sheer cliffs in the heights of the northern Thai jungle floats your boat (it certainly floated mine) then check out some of the clubs here. Whether you an Olympic standard climber or a novice, you are guaranteed a cracking time with breathtaking back drops.
I think that covers most of the 'adventure' sports in Chiang Mai, or at least the ones I know about :S Lets move on to perhaps the greatest thing about Thailand….
ALSO, make sure you ensure your trip to Chiang Mai coincides with a Sunday – each Sunday Chiang Mai hosts 'Walking Street Market'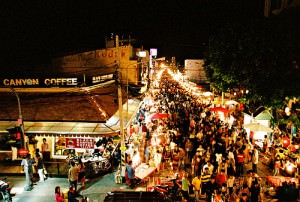 Half the city shuts down and there are endless stalls to sample all the food from across the country, buy a host of trinkets and keepsakes to bring home to your loved ones and fully soak up the brilliant atmosphere that defines Chiang Mai, 4 hours will pass like 4 seconds, this is a really 'must'!
Chiang Mai, being the mecca that it is for backpackers and the like, boasts quite a vibrant yoga scene.  There are many great studios in town (such as Wild Rose, Namo, and Mahasiddha) where you can find a variety of classes, ranging from traditional Hatha yoga classes all the way to meditation workshops.
In the high season, Chiang Mai also tends to attract a huge influx of acro yoga practitioners who practice at Nong Buak Haud Public Park and can put on quite the show.  Definitely worth a visit.
FOOD
If you know Thailand then you know Thai food, soooooo delicous. So what better way to truly sample the delights of Thai cuisine than to spend the afternoon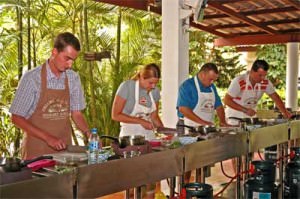 learning the finer sides of your favourite dish. There are plenty of cooking schools that charge 500-1000 Baht a day to take you to the local market, help you choose the ingredients, walk you through up to 10 dishes, assist you in cooking the dishes and then let you indulge in eating every last thing you made! Not recommended for those of you watching your waist-line 😛
I just want to give a special message to 2 particular places where, if you end up in Chiang Mai, you MUST MUST MUST go to to eat – these are at the opposite end of the backpacker scales!
1) Riverside bar: up-market (certainly by backpacker standards) but not extorionate, main course around 200 baht and it's delicious, authentic food, live music, good booze and always packed. Got quite a few foreigners mixed with upmarket Thais. Situated on the ping river with beautiful views you can't help but be wrapped up in the atmosphere and fall in love with the place, or maybe it's just all the awesome thai whiskey making me feel like that 😛
2) I almost didn't put the next place here because I didn't want to give the game away but, in the name of my blog, I thought i better: THANIN MARKET. It's in the north of the city, just off Changpuek Road and this place is as Thai as it gets. Youll see no white faces here!! Dishes are around 25 baht and it's some of the best food you may ever eat, I recommend the Moo Glob Pad Prik Pao – crispy pork with fried chillies, I think about this dish everyday I'm not in Thailand, but anything you order will blow your mind. P.S Don't tell anyone else and ruin it for us all 😛
Also, anywhere around Nimanheiman Road (sort of studenty area) the restaurants are delicous and there are literally dozens of them around, just pop in, order anything, even if the menu is in thai script and you won't be dissapointed.
NIGHTLIFE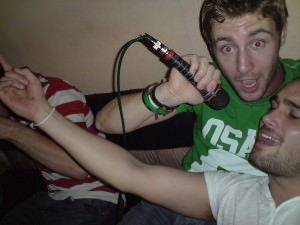 OK, anyone who has spent any considerable time in Asia will relate with me here but you gotta spend an evening, or at least a portion of your evening, in a karaoke bar – sooo much fun, even though Thailand's english songs revolve around UK boybands (secretly that a plus). There is one opposite Kad Suan Kaew Mall (just ask a tuk-tuk) that's open 24 hours and serves plenty of dutch courage in whiskey bottles, to get those vocal cords tuned.
Bars: there are endless bars in Chiang Mai. I think I should tell you where not to go first, unless you fall into the sex-tourist category, which i dont think is quite the demographic im striving for in my readership base! So, stay away from Loi Kroh unless you wanted to be hassled by the ladies of the night, pay over the odds for drinks, and brush shoulders with the older, fatter dregs of European and Northern American men!
With that said it now depends on what you're after – off the beaten track, you should head to Nimmanhaemin road where most of Chiang Mai's students hang out. Not so many foreigners, bring your own whisky to the bars and pay for mixers, cool peeps, cool music and cool vibe – special shout out to Warmup cafe (again, ask your tuk-tuk driver, you will love it!)
If it's more backpackers you're after then stick to Thapae Gate which is the backpacker hub of life, complete with starbucks, STA travel and Macdonalds. There are loads of bars around here which will be full of backpackers living the dream on Sangsom and Chang! Special shout out to Rooftop bar (located, miraculously, on the roof top opposite the gate) which never fails to be busy.
When it comes to clubs I'm going to name a few and the general vibe, just spk to the cab driver to get you there, they are all very central:
Backpackers generally head to Spicy, because it's so central, which is full to the brim of very drunk Europeans and Chiang Mai's working girls ready to pounce on unsuspecting drunks! Still fun to get loose all the same but don't expect nice decor, nice locals or nice drink prices
Bubbles – more of a western type club with banging music and dance floor
Monkey Club – Thai place, awesome live music, heaving on weekends, guaranteed fun
Discovery – under Kad Suan Kaew mall – thai place again, so so so busy, live and loud music
Mandalay – tourist/thai mix, 300 baht cover charge and your ears will hurt the next day from the music!
There loads of places to party hard in Chiang Mai but if you go by these you'll certainly have a few good memories to take home with you 🙂
You can probably guess how much I love this place and I urge everyone to get there as soon as possible for as long as possible and I promise you, it won't be long until you share the love with me 🙂 happy travelling!
Remember, never travel without travel insurance! And never overpay for travel insurance!
I use SafetyWing at $9 a week, and it's amazing. Also, it has great digital nomad insurance for people who are constantly travelling too! You can read my review here, and you can sign-up here
Also, if you want to start a blog...I CAN HELP YOU!
Also, if you want to start a blog, and start to change your life, I'd love to help you! Email me on johnny@onestep4ward.com. In the meantime, check out my super easy blog post on how to start a travel blog in under 30 minutes, here! And if you just want to get cracking, use BlueHost at a discount, through me.
Also, (if you're like me, and awful with tech-stuff) email me and my team can get a blog up and running for you, designed and everything, for $300 - email johnny@onestep4ward.com to get started.
How about $55 free AirBnB credit?
Oh, one last thing! If you've never used AirBnB before, here's a $50 voucher for you! Enjoy!