The 16 Best Clubs in Bangkok In 2023 (for a wild night out!)
I've lived in Bangkok since 2010, I've done the standard 3 day Bangkok itinerary, I've done luxury Bangkok staycations, and I've done every tourist thing from day-trips to Ayutthaya, Bangkok's floating market, and that railway market place where the train comes through the market! And I've been on both sides of Bangkok's price point. From a broke backpacker trying to find the cheapest drinks on Khao San Road (I still do that sometimes, to be honest!) to a successful blogger where I just want a night spent in the best clubs in Bangkok. So after 10 years of 'research', finally I feel qualified to give you guys a list of Bangkok's best clubs, depending what you're after.
One thing to remember though folks, especially for travelers to Bangkok. Bangkok is a booming international city, and although there is a 'travel' vibe to Bangkok, the clubs are awesome here. And that means similar prices to what you know at home and similar dress codes. No flip-flops, vests or shorts! There are places for that too, I've added that in the cheaper section at the bottom.
Wild Guided Bangkok pub crawl?
TOP-TIP: For $20 or so, you can join the EPIC BANGKOK PUB CRAWL. 6 hours, free shots, VIP entrance, tour guide etc. It's wild. You've been warned.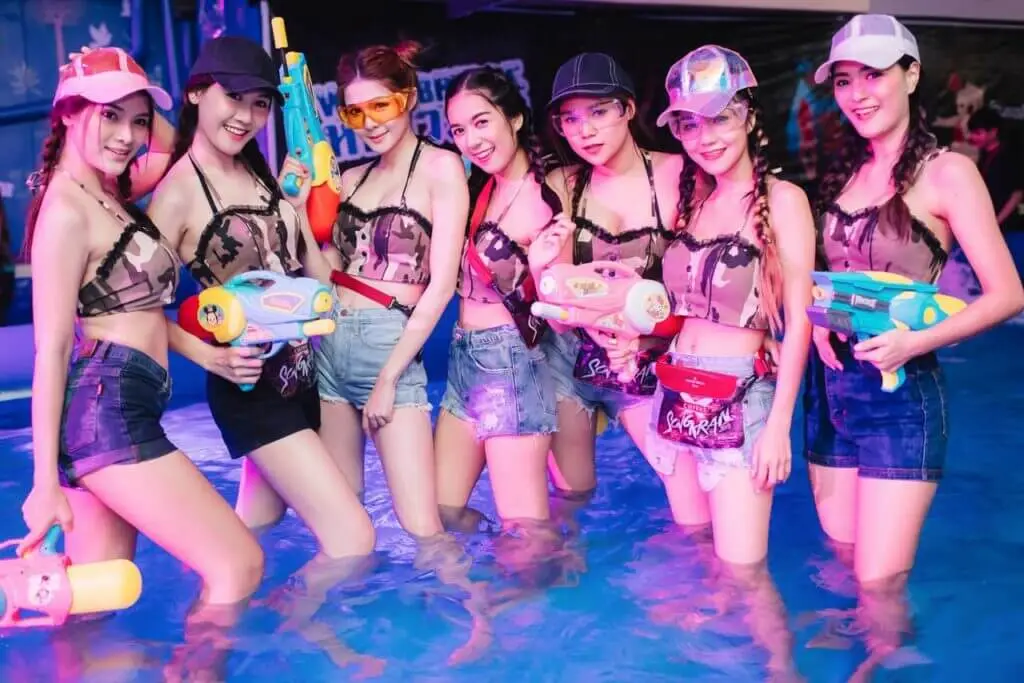 Anyway, I've listed what I believe are the 20 best clubs in Bangkok below, followed by a section for people wanting a night out in Bangkok on a budget too. And finally, a section about gogo bars in Bangkok, if that's your thing.
Sing Sing Theatre
Sing Sing Theatre is THE best club in Bangkok in my opinion. It's in the city centre, it has awesome decor, a fun vibe, great drinks and lots of beautiful people! It's also free entry. If you're from Bangkok, or live in Bangkok, you'll know about the designer, Ashley Sutton (the dude who made Iron Fairies, Maggie Choos etc). So expect the same vibe. It's dressed up a like an old-school Chinese opium den, with nooks and crannies everywhere. And it's busy, almost always! Drinks can easily run at $400+ (up to $15 for a cocktail), so this is what Thais refer to as a hi-so venue (meaning high society). 
Sing Sing Theatre opening hours:
Tuesday to Sunday, 9pm until 2am
Sing Sing Theatre Ticket
No ticket, it's free to enter
Sing Sing Location
At the start of Sukhumvit Soi 45, 5 minute or so walk from BTS Phrom Phong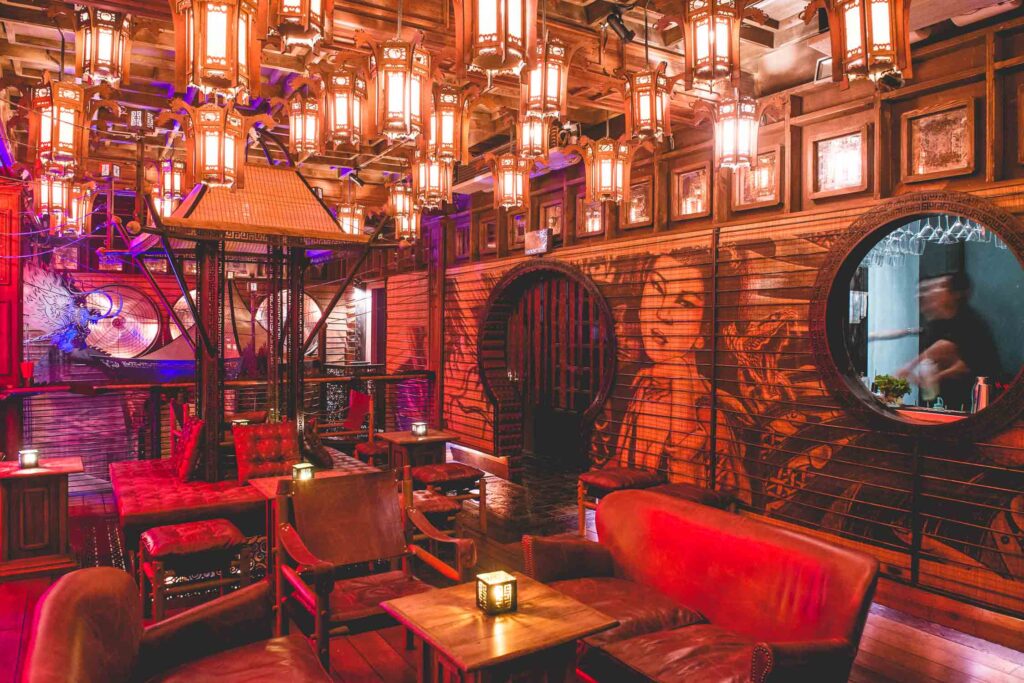 Maggie Choos
Found in the basement of the Novotel, if you like Sing Sing Theatre, you'll like Maggie Choos. Same designer, same vibe. Just on the other side of town. So if you're in Silom or Sathorn area of Bangkok and you don't want to trek all the way to Phrom Phong, Sukhumvit area, then Maggie Choos is right on your doorstep already. It's less open-plan than Sing Sings, and has more a 'show' vibe. Often with acrobats in cages, on swings and other crazy stuff like that. Think of it as a hipster Chinese speak-easy/club. 
Maggie Choos Theatre opening hours:
Every day, 8pm until 2.30am. 
Maggie Choos Ticket
Normally free, special occasions require a cover charge
Maggie Choos Location
On Silom road, under the 'Novotel Silom'.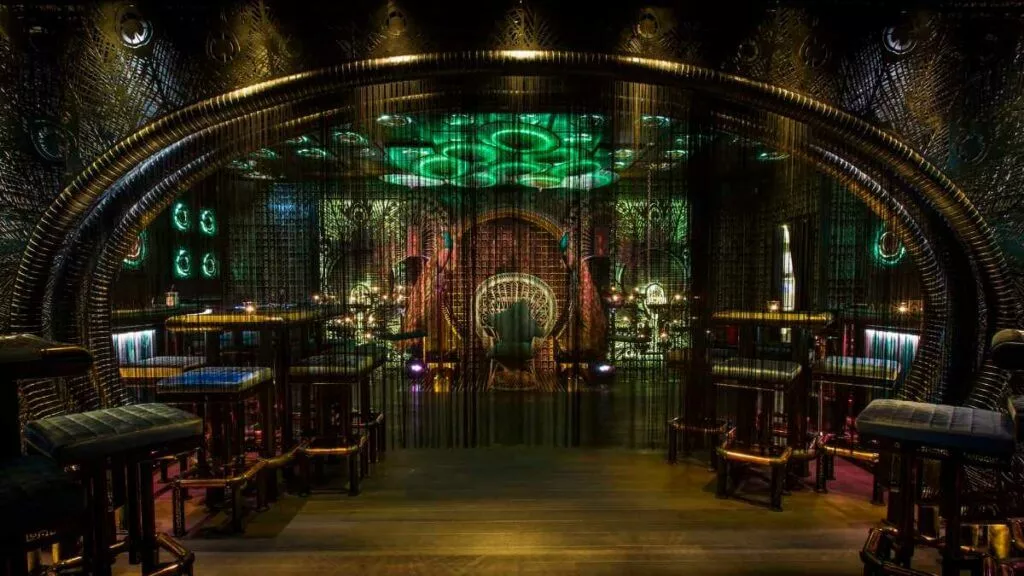 Mustache
A true party place. Small, so not like Sing Sing or Levels etc. Much more intimate, with a banging sound system. It stays open until late, so if you're bar hopping it's a great last stop. One of my personal favourites to be honest. 
Mustache opening hours:
Only Friday and Saturday, 7pm until 1am 'officially'.
Mustache Cover Charge
No ticket, it's free to enter
Mustache Location
Actually, it's in a weird place in the north of the city. Near the Ratchada train market. On Ratchadahisek Soi 7. It's normally your last stop, so although it's a weird location, no need to hop anywhere else once you're here.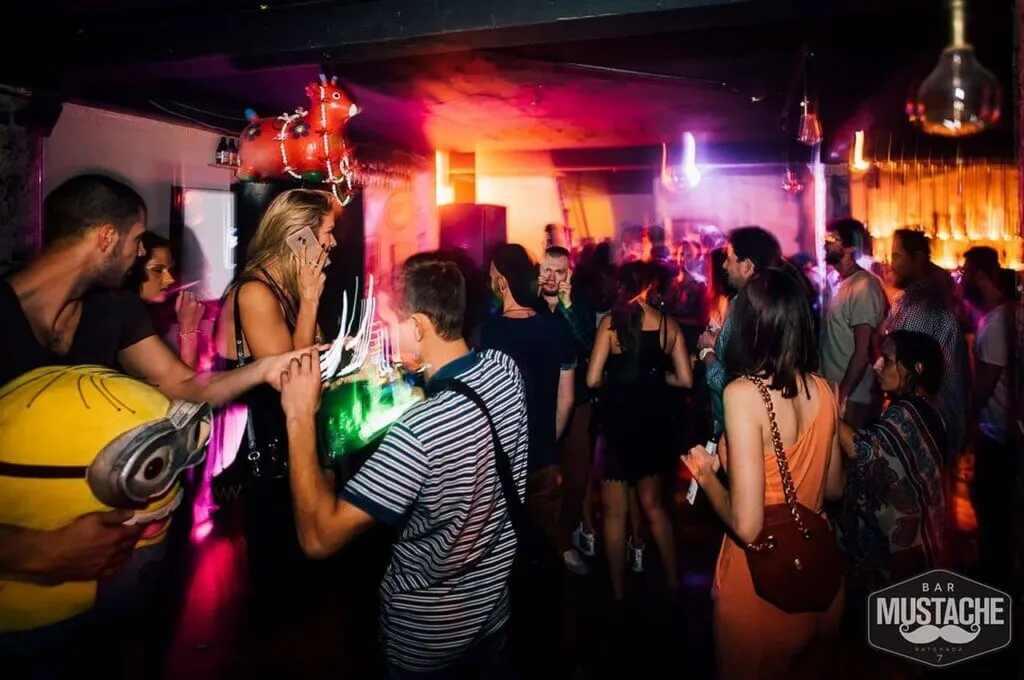 Levels
Probably the most mainstream of all the clubs in Bangkok. If you want a guaranteed party, with lots of people, loud music and a guaranteed party vibe, then Levels is the place. A very westernised vibe, but a mix of people. It's on the 6th floor, a couple of different rooms, and a terrace outside. Not cheap, but always busy.
Levels opening hours:
Friday and Saturday guaranteed (often other nights too). 10pm to 1am 'officialy'. 
Levels Ticket
300THB ($10), but includes a drink.
Levels Location
Halfway down Soi 11 (10 minute walk from BTS Nana)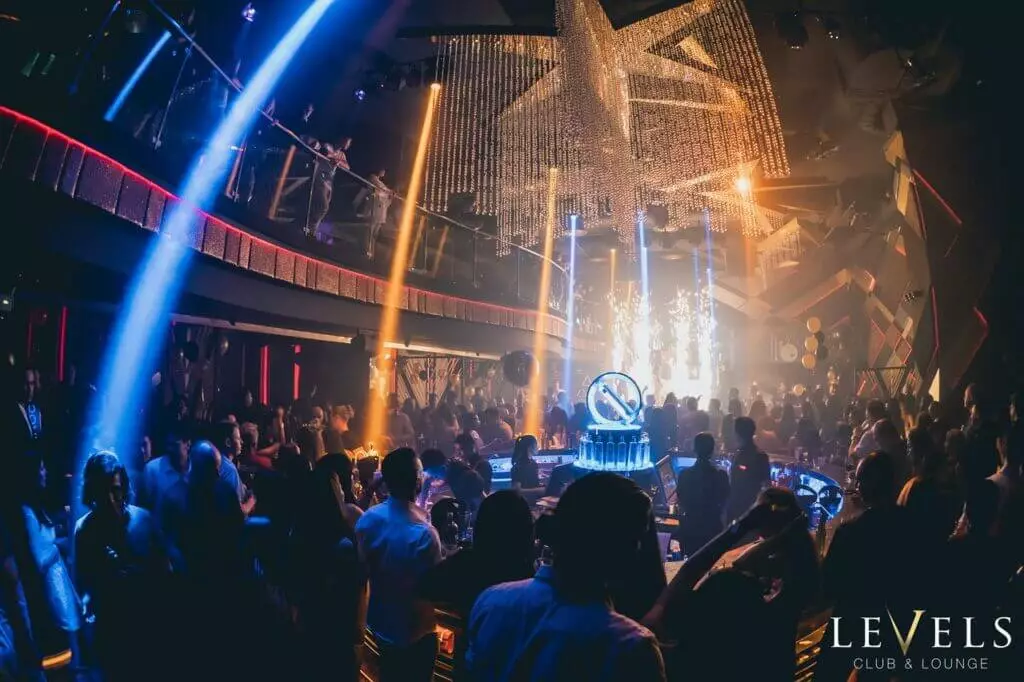 Insanity
One of the few open-late spots (along with Mixx). I'm close friends with the former owner of this place. It has now changed hands, and locations, but Insanity has been around for over a decade! It used to be an after-club spot where a fair few working girls would end up after their shifts in the gogo bars. And that still is the case, but it's also upgraded to a 'normal' club too, so it serves both purposes. It's also upgraded the venue, the sound system, the drinks and menus too. It's a good choice if you're on for a wild night. Not as classy as Sing Sing, so if you wanna go crazy, Levels can be a better choice. 
Insanity opening hours:
Wednesday to Saturday; 10 pm until 4am.
Insanity Ticket
300THB to enter.
Insanity Location
At the end of Soi 11, 10 minutes walk from Nana BTS. And 2 minutes walk from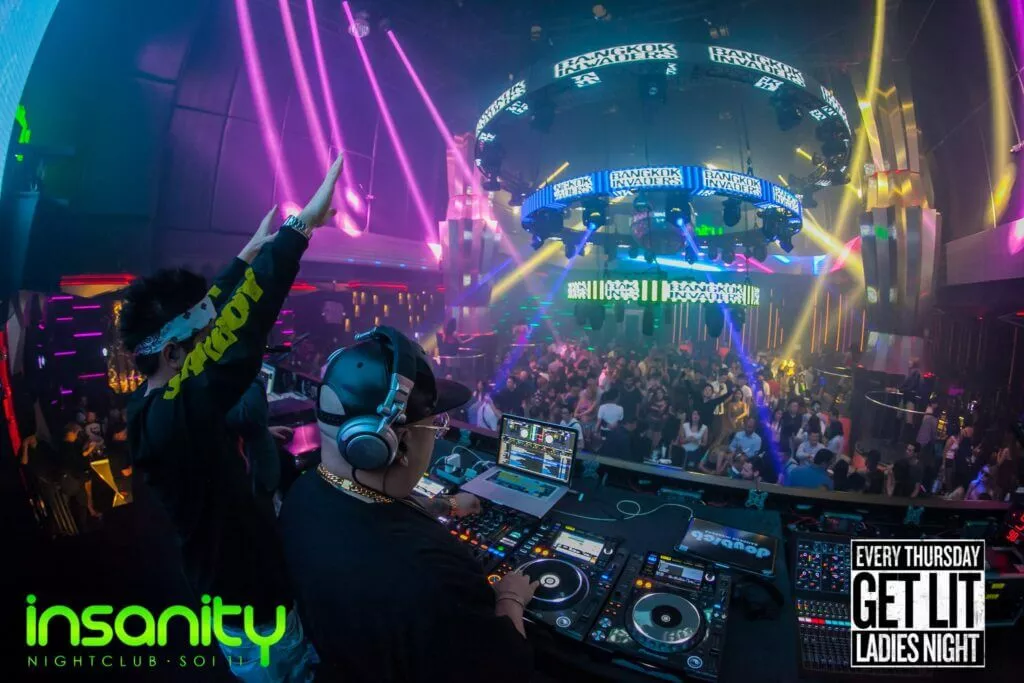 Demo
A Thai hang-out in Thong Lor for the rich kids. EDM and hip-hop. No ID? No entrance, even if you're 30+. Be warned! If you want to sample Thai nightlife, with less tourists and expats, Demo is a good choice. The music is LOUD. And the way it normally works in Thai places like this is you buy a bottle ($3,000THB), ice and mixers, and you hover around your standing table. Chatting and dancing. Fun place, and almost always packed! Not my scene though to be honest. A little too young, and crazy loud!
Demo opening hours:
Every day; 9pm to 2am
Demo Ticket
Free
Demo Location
Ekkamai Soi 7 (15 minute walk from Ekkamai BTS, better to take a taxi)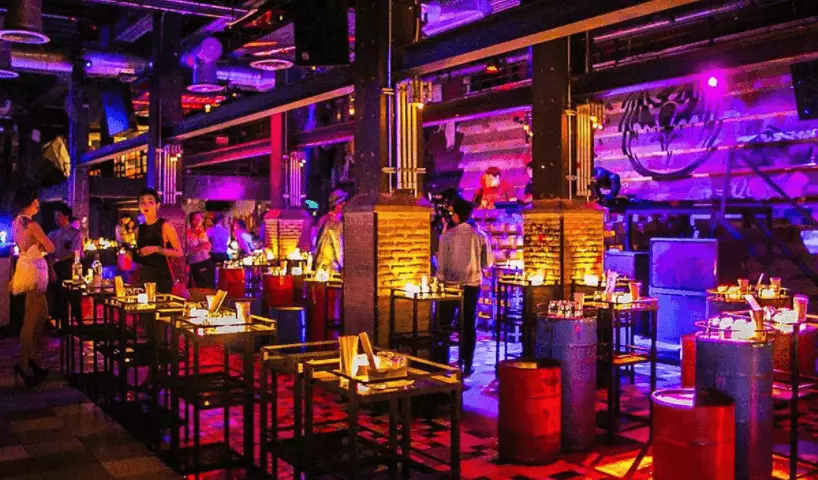 Sugar
Bangkok's favourite hip-hop club. Normally opened later than advertised, and with a strict dress code. This place is almost always packed, and gets big-name performers from around the world (Akon, Lil Yachty etc). It's full of expats, tourists and Thais. It's a fun spot, no doubt about it. If a little touristic. Like Insanity, and Mixx, many a night end up at Sugar!
Sugar opening hours:
Every day; 10pm to 2am
Sugar Ticket
300THB ($10), includes a drink
Sugar Location
Soi 11. Along with Levels and Insanity!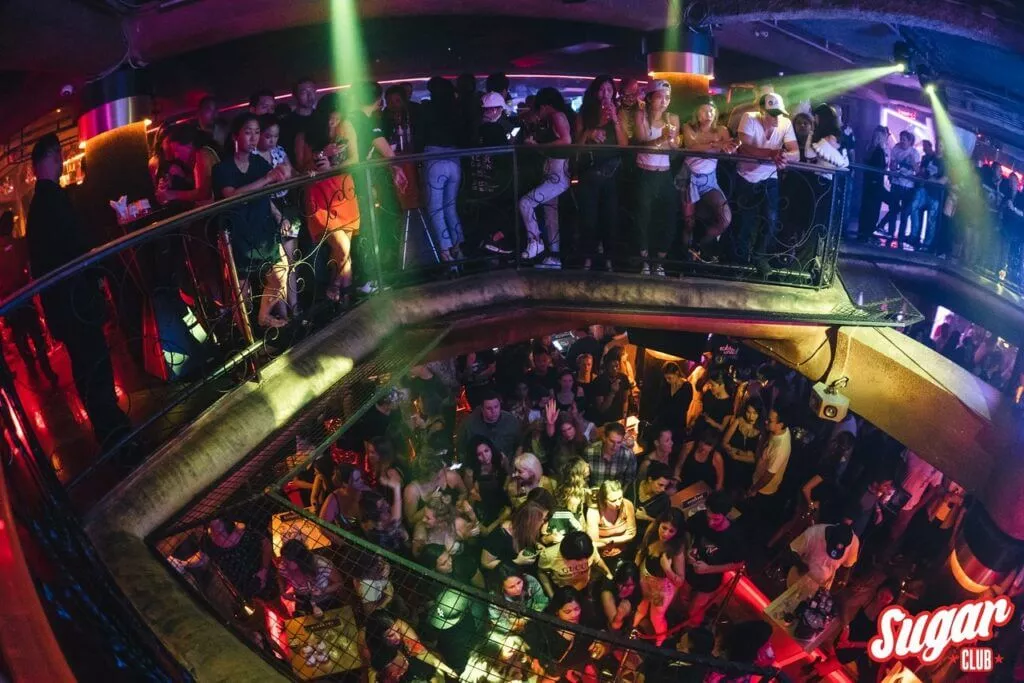 Route 66
My former favourite spot, and a place I've spent a lot of time and money! Route 66 is great. Especially if you're in your 20s (as I was when I first moved to Bangkok in 2010!). The place is busy most nights and absolute rammed on the weekends. It plays mainstream pop and hip-hop and is full of university students going crazy. And a few expats too. There is an outdoor and indoor area, so if you want to chill outside (still super loud of course, it's Thailand!) then you can. I always got a bottle and table outside, and then went for a walk around when I wanted to mix. Cool spot.
Route 66 opening hours:
Every day; 8.30pm to 2am
Route 66 Ticket
Free
Route 66 Location
In an area known as RCA (Royal City Avenue), about 15 minutes to the North East of the city centre, so you have to take a taxi. Just tell them RCA or Route 66, everyone knows it.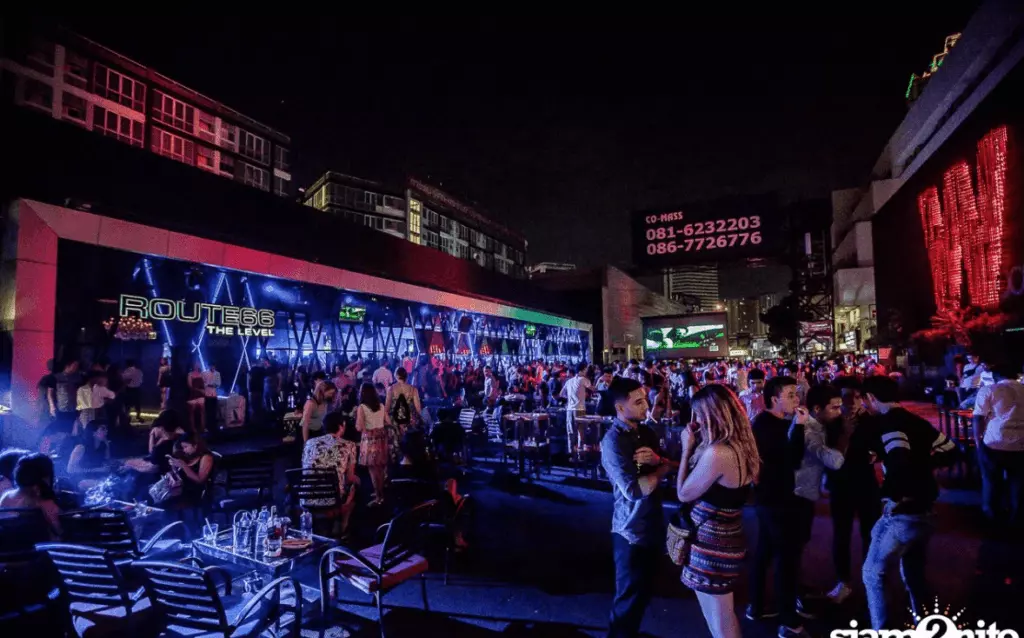 Onyx
Super nice design! See Route 66 above? Same venue, same vibe, next door but slightly more 'hi-so'. So a better design, slightly better drinks and everything is more expensive. Still great, and if you live in Bangkok, people often switch between both Route 66 and Onyx to mix it up. Because of the pricier energy, lots of beautiful people in this place.
Onyx opening hours:
Every day; 9pm to 2am
Onyx Ticket
300THB for foreigners ($10)
Onyx  Location
In an area known as RCA (Royal City Avenue), about 15 minutes to the North East of the city centre, so you have to take a taxi. Just tell them RCA or Onyx, everyone knows it. 
Glow Club
Over 10 years old, a proper hard-core music vibe. Just a few steps from Soi Cowboy, the infamous go-go bar street, so it gets some spillover from that, but not too much. Pretty small place, house music and attracts lots of international DJs. Best techno club in Bangkok. 
Glow Club opening hours:
Wednesday to Sunday; 9pm to 3am
Glow Club Ticket
300THB ($10) includes a drink
Glow Club Location
Sukhumvit Soi 23, halfway between Asoke BTS and Phrom Pong BTS. Best to take a taxi.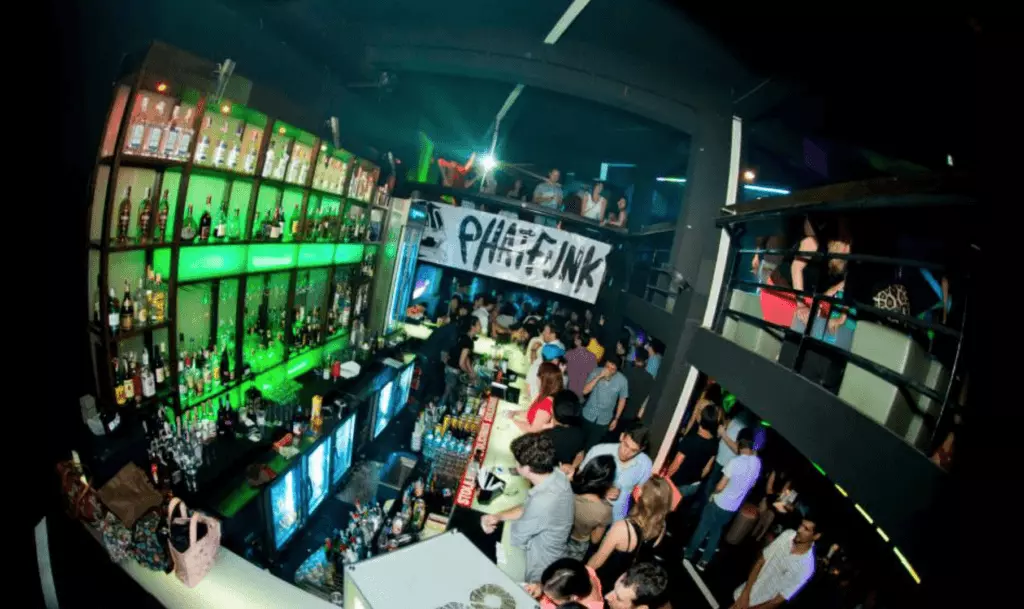 Beam
Right in the pricey area of Thong Lor, Beam is a predominantly Thai club that finds itself somewhere between house and commercial. Industrial style decor, cocktails, DJs and a dancefloor. Packed on weekends with the young professional scene.
Beam opening hours:
Thursday, Friday and Saturday; 9pm to 2am
Beam Ticket
Normally Free (special occasions can have a cover charge up to 500THB)
Beam Location
Thong Lor Soi 18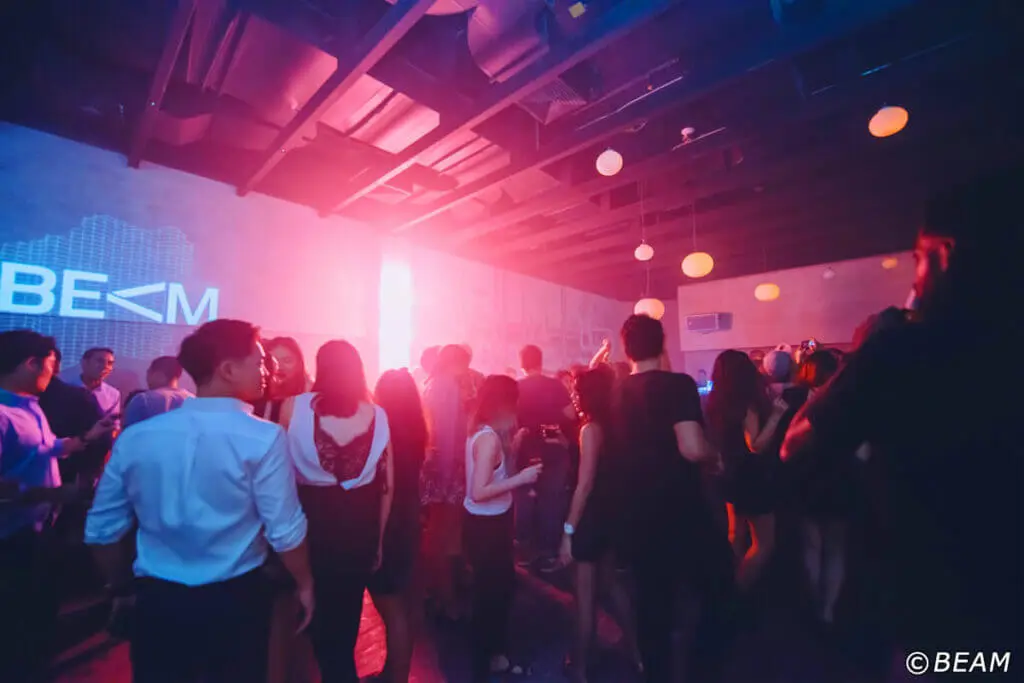 Mixx
An last-spot kind of place. Many of my nights out in Bangkok, if they went wild, ended up in Mixx until sunrise! It's not the sort of place you want to start your night, but if you're not ready to go home by 2am or so, Mixx is often where you end up. 2 big rooms, lots of drunk people, quite a wild time. 
Mixx opening hours:
Thursday, Friday and Saturday; 9pm to LATE
Mixx Ticket
Free before midnight, 300THB after. (Don't come before midnight1)
Mixx Location
In the basement of the Intercontinental Hotel at Chitlom BTS. Tell your taxi driver you want to go there and the taxi is free (Mixx will pay him)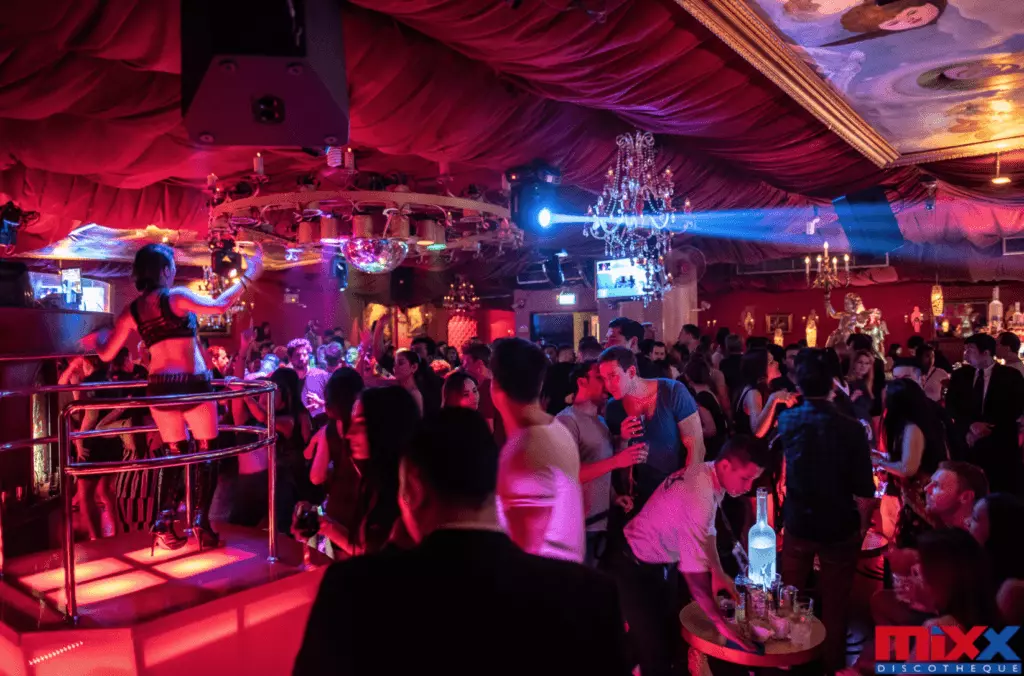 Barbarbar
A relatively new kid on the block. Similar vibe, and location to Demo. EDM/Electro, but with a mainstream approach. It's more a Thai place again, so standing tables and bottle service is the normal way to go. Super loud, and super busy. 
Barbarbar opening hours:
Every day; 9pm to 2am
Barbarbar Cover Charge
Free
Barbarbar Location
Ekkamai Soi 5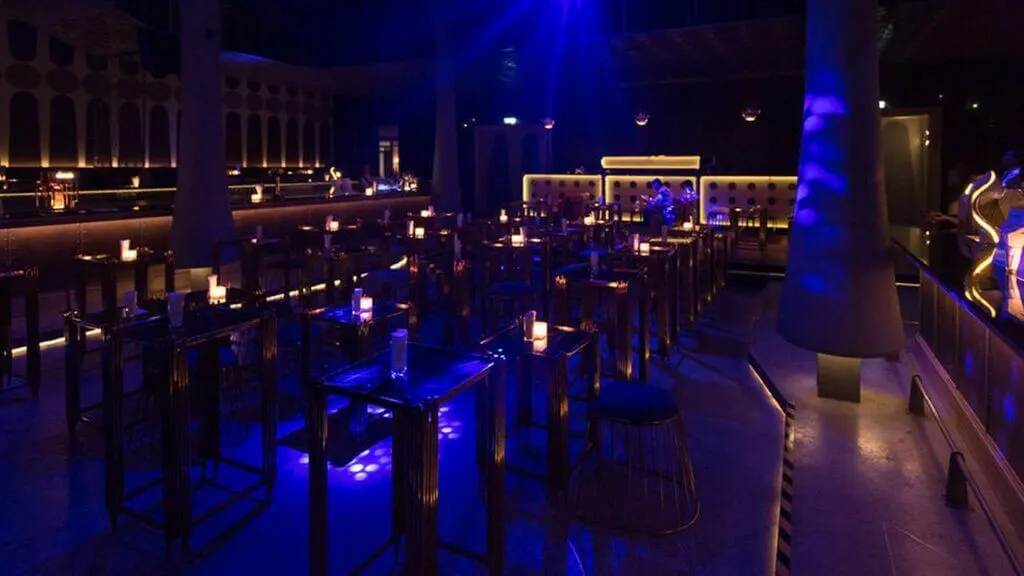 Penta
Brand new on the scene, and backed by 'Bangkok Invaders' so guaranteed to be a success. Mainstream hip-hop place with a classy vibe and great decor. Closes a little early, but once they make contact with the right people, that'll change. 2 floors, 2 DJs, good vibes.
Penta opening hours:
Thursday to Sunday; 8pm to 2am
Penta Ticket
Normally Free (special occasions can have a cover charge up to 500THB)
Penta Location
Opposite the start of Ekkamai Soi 63 (at the end of Ekkamai Road)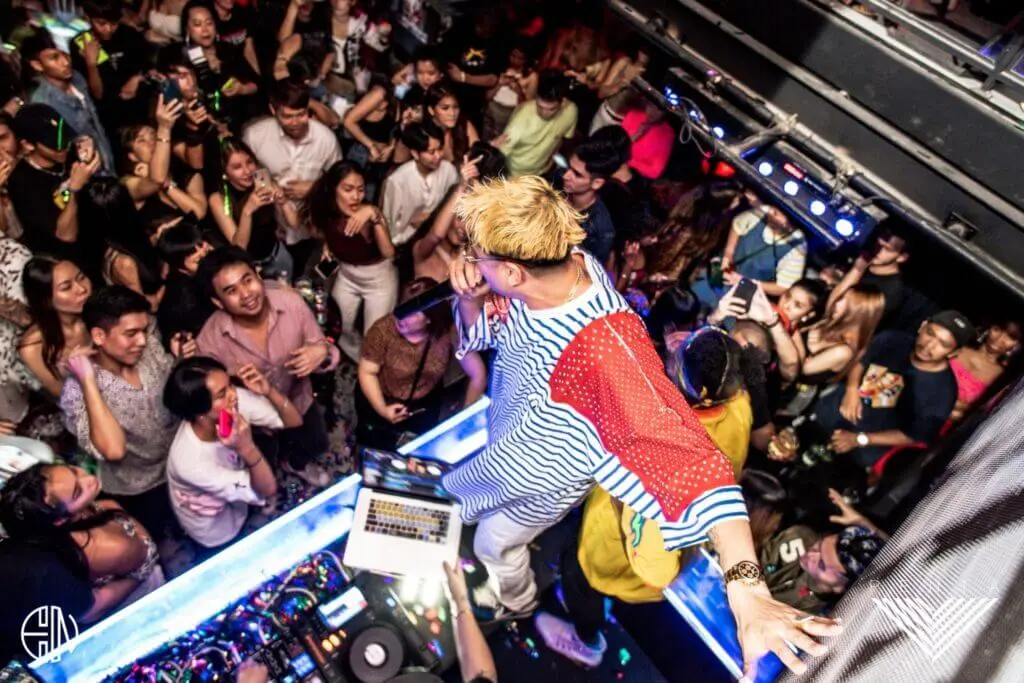 The Club at Koi
SUPER high-end club/bar in Bangkok. Formally Kud De Ta. Amazing cocktails, views of the city from the terrace outside on the 39th floor, beautiful people, expensive clothes, quality drinks. You get the vibe. If you want to be fancy, the Club at Koi is where you need to start your party.
Club at Koi opening hours:
Thursday to Sunday; 8pm to 1am
Club at Koi Ticket
Normally Free 
Club at Koi Location
39th floor of Sathorn Square Tower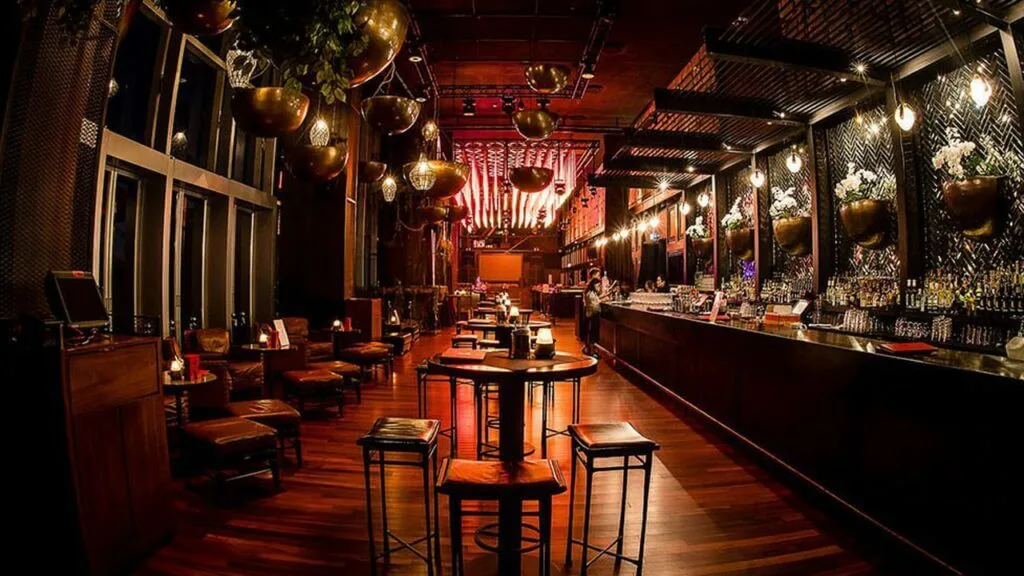 Havana Social
Not strictly a 'club. But I wasn't sure to include Havana as one of the best clubs in Bangkok or one of the best bars in Bangkok, but I was worried you guys might only read one of the blog posts so thought I better include it in both! A Cuban-themed speak-easy that functions as a club as the night goes on. You enter through the secret entrance/phone booth. Grab a Cuban straw hat on the way in, and go wild. Super fun place, guaranteed a good time. I love it. Great drinks too.
Havana Social opening hours:
Every day; 6pm to midnight
Havana Social Ticket
Normally Free (special occasions can have a cover charge up to 500THB)
Havana Social Location
Sukhumvit Soi 11, near Insanity. 15 minute walk from BTS Nana.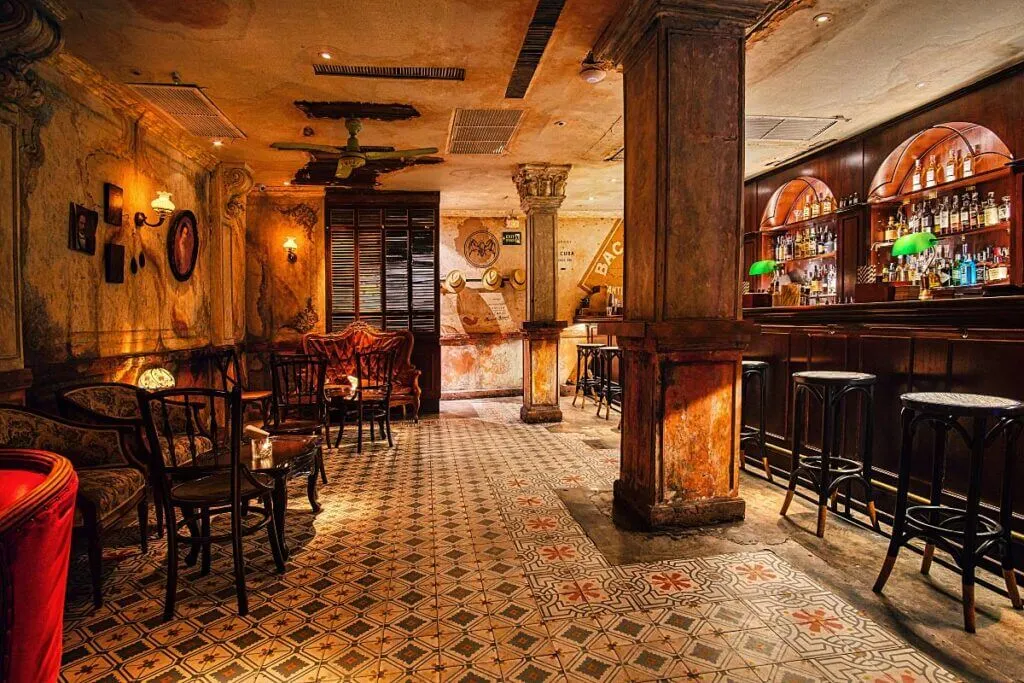 Dress Code for the Best Clubs in Bangkok
These are all 'proper' clubs, just like you'd find in New York, Tokyo or London. So as I mentioned above, that means no shorts, flip-flops, tanktops etc guys. Expect to see people dressed up in their weekend-best. Sneakers are fine though, shoes aren't necessary. Same for t-shirts, they're fine. Collared shirts aren't necessary. For women, it's more relaxed. 
Bangkok Club Pricepoints
The pricing for all the Bangkok clubs I've listed above is pretty similar. In addition to that, some of the clubs have entry prices ranging from 0 to 300THB ($10USD). Once you're in, the general price range is normally about $150THB ($5) for a small beer, and 200-300THB ($7-$10) for a drink + mixer or cocktails.
Cheap Nights in Bangkok? Khao San Road!
Khao San Road is a rite of passage for anyone who visits Bangkok. It's the backpacker centre of the world. It used to just be one street, but it's grown and grow to absorb nearby streets too. It's full of bars, and people drinking from early afternoon, then literally all night long until the morning. 
Khao San Road itself, after sunset, becomes one BIG party. You walk the length of Khao San Road, approximately 800m, and you'll see perhaps 20 bars. But the real party is on the street where stalls are set-up to sell the famous 'buckets'. Cheap booze mixed with cheap energy drinks. Normally priced around 250THB ($8). 2 of those are you'll by flying. You can spend your entire night on Khao San without coming into the city centre to sample any of the best clubs in Bangkok. And that's cool too. I've done it many a night. No dress-code, anything goes, and everyone chats to everyone.
There is also a club on Khao San road, generously named 'The Club'. Open 9pm to 3am. Again no dress code, expect drunk people from Khao San to spill in there as the night goes on. 200THB ($6.50) to enter.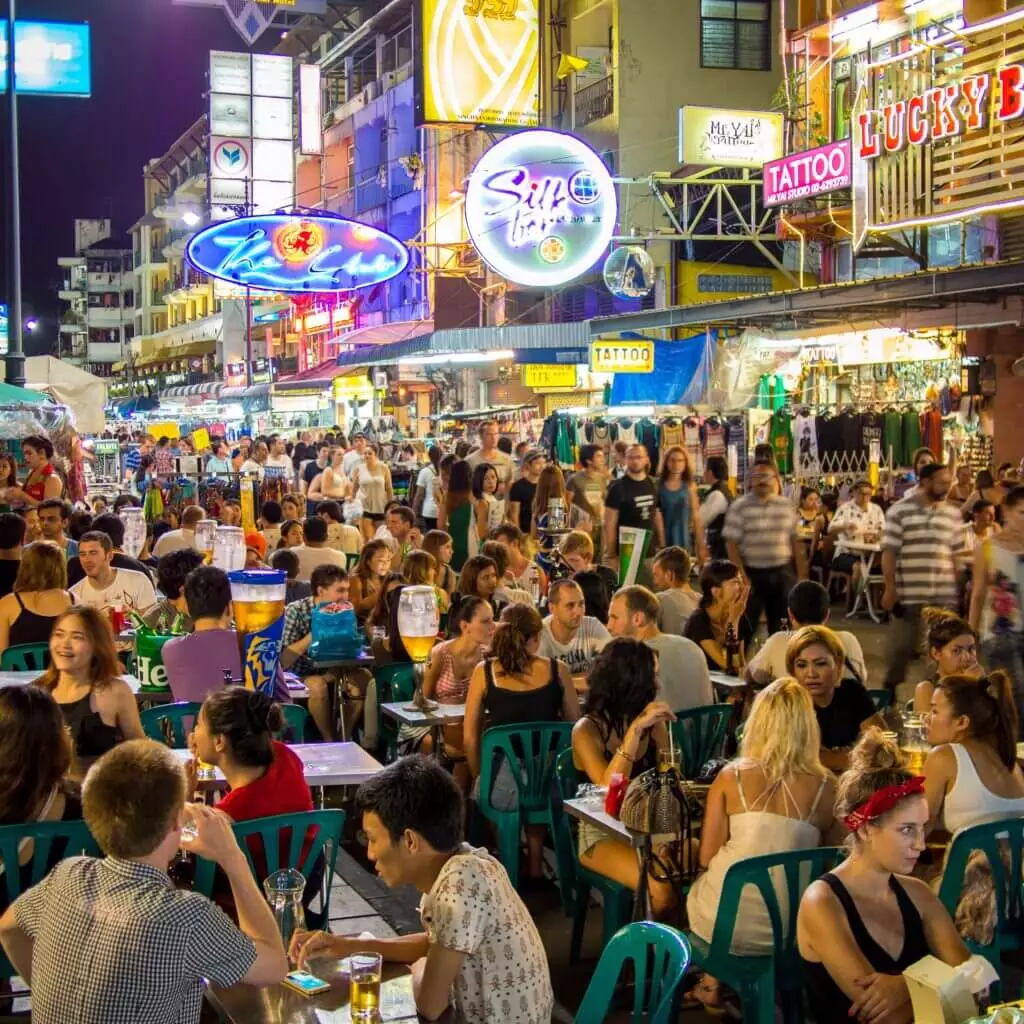 Gogo Bars in Bangkok
I guess i have to add this too. Bangkok is a fun city, but it has garnered a certain reputation. And while I think that reputation is blown a little out of proportion, there is still certainly a gogo bar scene in Bangkok. So let me help you out if that's what you're looking for. There are 3 main gogo bars in Bangkok 'areas':
Gogo bars in Bangkok work something like this. All are free entry, none have dress codes. Each of them is normally designed with a 'U' shape of stools around a stage. And then seats around the outskirts of the room. The girls/ladyboys/guys dance in the middle (depending on the venue you've chosen) in various stages of undress. Ranging from bikinis to fully naked.
Also, there are girls wandering around the room chatting to customers. Beers are normally priced around 200THB for a small one ($6 or so). And the done thing is to buy a girl a 'lady drink' for a similar price. That will be a coke (retail value about 10THB ($0.30), and the girl will get a commission for that. In exchange for talking to her.
If you'd like to take your chat further, you can negotiate with the girl. You pay the bar a fee to take her out, and then you do whatever it is you've discussed for as much money as you've discussed. This isn't my scene, but I've been to these places on boys nights out, bachelor parties etc. It's a wild experience, believe me! You're under no pressure to talk to anyone, and certainly under no pressure to take anyone home. But if you're in there, you should buy a girl a drink or two. They're working afterall.
Nana Plaza:
Sukhumvit Soi 4. A 3 story complex full of about 30 gogo bars. 
Soi Cowboy:
A street near Asoke BTS and Terminal 21 mall. FULL of gogo bars on both sides. It's wild.
Patpong:
Home of the 'ping pong show'. Please don't support that industry though. It's not cool to encourage.
Boytown:
The gay version of Soi Cowboy. Same vibes, but with guys.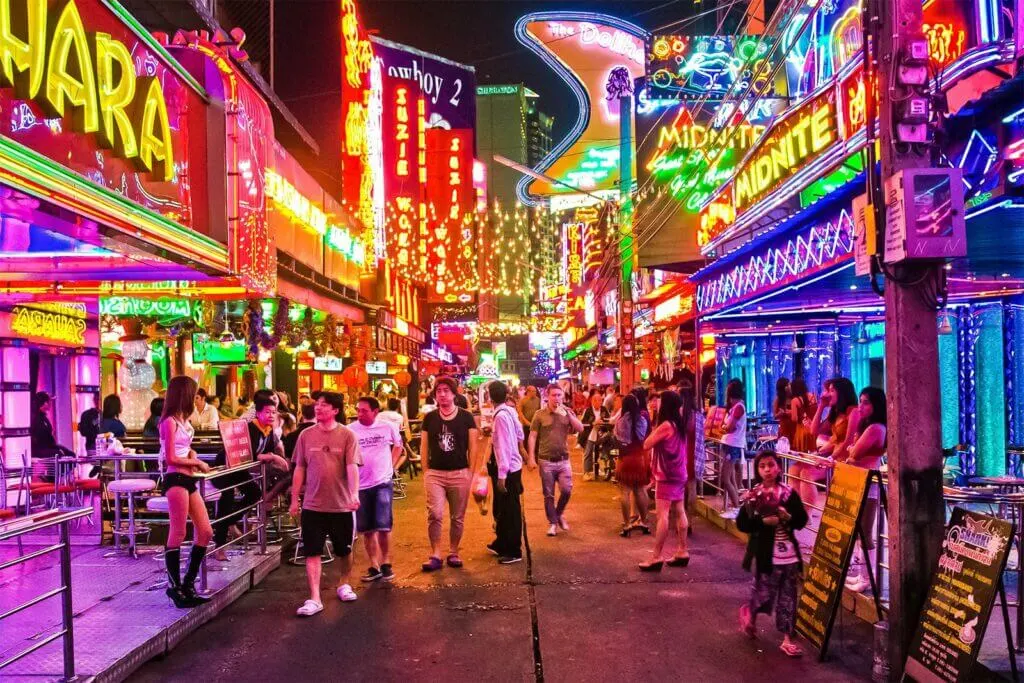 Final thoughts on the best clubs in Bangkok?
If you love to party then Bangkok is the place for you, getting crazy with your mates here promises a great time But remember, if you're on a backpacker budget, or in backpacker clothing, your backpacker gear, stick to Khao San Road. The other venues are indeed the best clubs in Bangkok, and there are like clubbing in any other international city, albeit with nicer surroundings. Best party city in the world? Very possible. Enjoy!
REMEMBER, Don't travel without travel insurance – mine is just $9 a week, and can be switched off and on with 1 click. No contract and you don't pay it all upfront! You can read my review of my digital nomad travel insurance here too. 
Remember, never travel without travel insurance! And never overpay for travel insurance!
I use HeyMondo. You get INSTANT quotes. Super cheap, they actually pay out, AND they cover almost everywhere, where most insurance companies don't (even places like Central African Republic etc!). You can sign-up here. PS You even get 5% off if you use MY LINK! You can even sign up if you're already overseas and traveling, pretty cool.
Also, if you want to start a blog...I CAN HELP YOU!
Also, if you want to start a blog, and start to change your life, I'd love to help you! Email me on johnny@onestep4ward.com. In the meantime, check out my super easy blog post on how to start a travel blog in under 30 minutes, here! And if you just want to get cracking, use BlueHost at a discount, through me.
Also, (if you're like me, and awful with tech-stuff) email me and my team can get a blog up and running for you, designed and everything, for $699 - email johnny@onestep4ward.com to get started.
Do you work remotely? Are you a digital nomad/blogger etc? You need to be insured too.
I use SafetyWing for my digital nomad insurance. It covers me while I live overseas. It's just $10 a week, and it's amazing! No upfront fees, you just pay week by week, and you can sign up just for a week if you want, then switch it off and on whenever. You can read my review here, and you can sign-up here!