With my Tibet to Ireland by land trip just around the corner, I had to apply for my Chinese visa while I was in Bangkok, and to be honest it was surprisingly easy! Read up on how to do it, where the Chinese embassy in Bangkok is and how much a Chinese visa costs: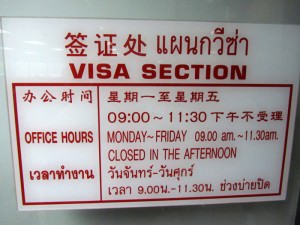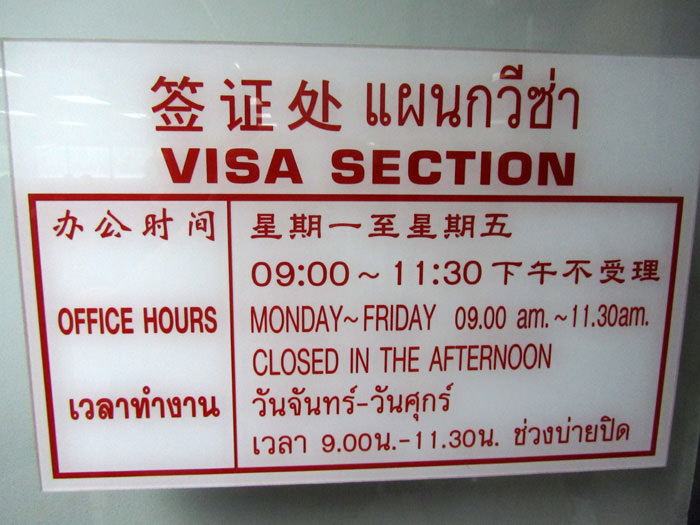 What you need for your Chinese visa:
1) Passport (with 6 months minimum before it expires)
2) Passport application form (you get this when you walk in)
3) Supplementary application form because you're not from Thailand (you get this when you walk in)
4) 1 or 2 Passport photos depending on nationality (you can get them done on the same street as the embassy, $4 for 6)
5) The money for your visa, payable only in Thai baht
;
Where is the Chinese embassy in Bangkok:
Step 1) It is 5 minutes walk from the Phra Ram 9 MRT stop (the subway in Bangkok).
Step 2) From the station, take Exit 1
Step 3) Up the escalator and when you leave the station outside, take a u-turn
Step 4) Walk for 400m or so, past Tesco Lotus
Step 5) At Soi 3 (there's a sign), you're there! It's on your left
*If you're staying on Khao San Road, get a taxi/tuk-tuk/motorbike (about $3) to Siam BTS station, from there you can connect to Phra Ram BTS easily.
Check out the google map to help you out…

View The Embassy Of The People's Republic Of China in a larger map
How do I apply for my Chinese Visa in Bangkok?
Get to the embassy between 9 – 11.30am, any later and you'll be refused.
Go to the second floor, as you walk in, tell the guy behind the desk you want to apply for a tourist visa, he gives you two forms, fill them in and press the button on the machine for a number.
Wait for your number, hand over your forms, passport and passport photo – tell them do you want to wait 3 days, 2 days or next day for your visa. The faster it is the more expensive it will be (see below)
*This should only take 10 minutes or so total.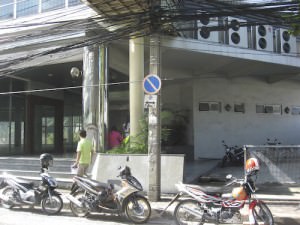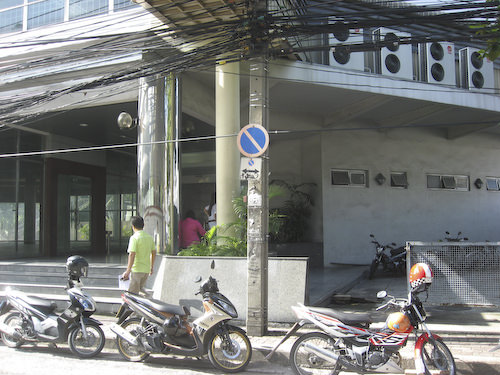 Collecting your Chinese Visa in Bangkok
Again arrive between 9 -11.30am on the correct day on your receipt.
Queue up on the far side, pay your bill.
Requeue again and collect your visa.
Check out your brand new shiny Chinese visa.
*This takes less than 10 minutes total
;
How much does a Chinese Visa in Bangkok cost?
It ranges between $40 to $140 depending on how fast you want it, how many entries you want and what nationality you are – check out the pic taken in the embassy to find out how much you'll have to shell out: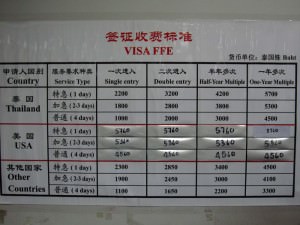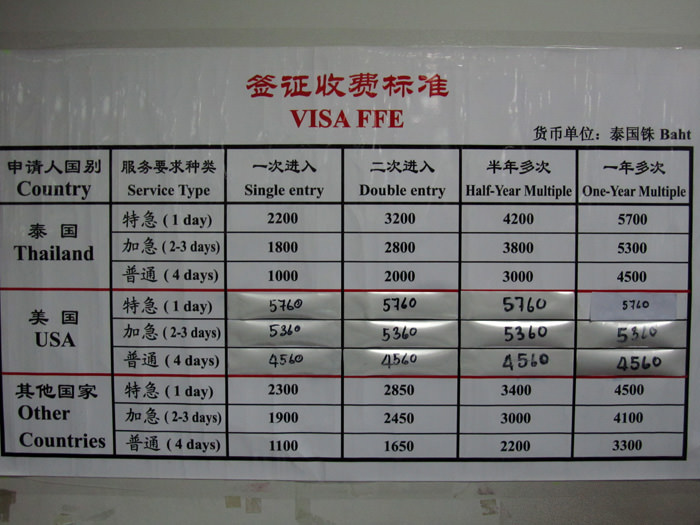 NOTE: If you want a multi-entry 6 month or one year visa (like I wanted) you can only get it if you have a previous Chinese tourist visa of any kind in your passport OR you have a work permit to live in Thailand. If you don't have that, the maximum you can get is the double entry.
Enjoy China, I certainly will! Happy travels!
NOTE: update feb 2012* you now need flight into China AND an onward flight, and hotel bookings to get your visa!!