Coast to Coast England: Walking & Cycling Holiday In Touch with Nature    
Do you love getting in touch with Nature? Then I've got one answer for you: Coast to Coast England.
If you're planning on a holiday very soon in the lands of England, then you're reading the right article. England has some very beautiful scenery that any nature lover would beg to visit. And one of the greatest ways to enjoy a nature trip and to engulf every beautiful view is through walking and cycling.
This is why Coast to Coast England is a must for every nature amateur, this classic route will leave you in awe as you're cycling and make you breathless.
If you love nature, then this would also pick your interest.
What is the Coast to Coast walk?
This Coast to Coast walk is a 293 km long-distance footpath in the Northern England that's been   recommended for the first time by Wainwright as a two-week holiday, it's an adventurous walk and journey that will let you pass by three national parks which are:
Lake District National Park

The Yorkshire Dales National Park

The North York Moors National Park
They're considered as contrasting national parks and if you follow the trail and route defined by Alfred Wainwright, then you'll definitely pass by them.
This classic walking route became a popular to-go-to journey by adventurous people since it was first described by A.Wainwright who's an author of a famous series of mountain-walking guide books about Lake District, because of this, his book "A Coast to Coast Walk" that's been published in 1973 has been revised a number of times to update all new-comers of any changes in the route pattern.
The stages of the Coast to Coast route
This route starts by the Irish Sea passing by the national parks and ends in the North Sea in the village of Robin Hood's Bay. Wainwright pieces of advice walkers that will get to dip their feet in the Irish Sea near St. Bees to take a pebble to the Irish Sea at the end of your journey to confuse geologists thousands of years from now.
If you follow this author directions then your route will be accomplished in 12 stages where each one needing a one day period or more, if you take the trip slowly and comfortably your journey will probably end in a three-week period rather than two.
If you're not that good with directions then why don't you let Mickledore plan this coast to coast  walk for you? You'll be able to choose the average length you'll be walking by day and for how long without getting nor lost nor frustrated.
On the starter of your journey, you'll get to pass by the most beautiful green footpath heading northward, by the idyllic Lakeland valleys of Borrowdale, Patterdale, and Grasmere which will give you the full view of the Lake District's beautiful scenery and the sturdy ground of the terrain. Lake District is known to be a rainy area so a coat packed will do great and will come in handy if it rains.
Lake District is a National park which landscapes are always preserved since it is a protected area since it became a very popular spot for tourist you'll see bus getting in and out of town to drive tourists back from where they came from since there are no cars in sight.
A little walk will help you cross some grassy tracks and pass by some valleys and lakes that'll help you get a true sense of adventure.
Keep your eyes open and your camera ready because you'll be soon passing High Street which is one of England's most popular mountains. This entire route isn't heavily signposted so you'll need a map with you at all time and the direction of Wainwright in mind to be able to reach the mountain.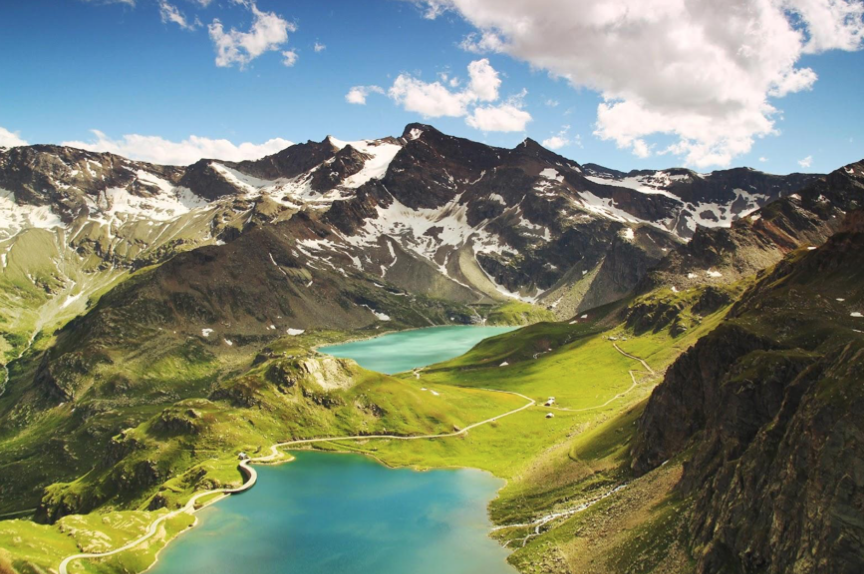 Url: https://www.pexels.com/photo/aerial-alpine-ceresole-reale-desktop-backgrounds-1562/
Now that you've got to be in awe of this beautiful scenery, you'll be leaving the Lake District by crossing a landscape around Shap and Orton, soon enough you'll be visiting the Yorkshire Dales National Park after crossing the town of Kirkby Stephen, this park is 2,178 km2 long and it covers almost all the land of Yorkshire Dales, this park has so many top sights including Skipton Castle, forbidden corner, Hardraw force and so much more.
According to BBC, north Yorkshire is amongst the most visited places besides London by British people, if you're curious about getting around England, then I suggest you check this to get familiar with it.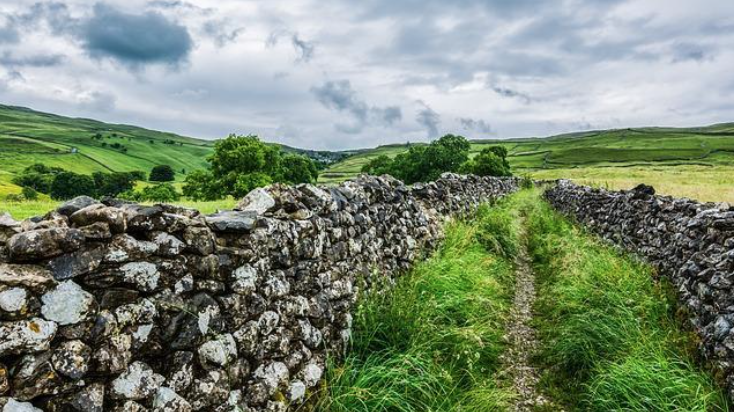 Url: https://pixabay.com/photos/malham-cove-stone-wall-3196076/
Just so you know, because of the landscape in front of you, you won't get enough of taking pictures because the entire park is a true piece of art, now after walking again and continuing your route, you'll be passing through the long valley of Swaledale and visit its preserved village to take some pictures as a souvenir.
Now you're reaching the Richmond which a historic town that has cobbled streets, and the River Swale which is known to be the fastest flowing in England, it can rise up even to 3m in 20 minutes, this river has a Richmond castle perched over it.
A few miles more and you'll be reaching the heather moorlands of the North York Moors which is a very easy route and terrain to walk, make sure to prepare for a long walk because once you do, you'll be walking a few miles until reaching the cliffs of the North Sea Coast, which you'll have achieved by crossing the valley of Eskdale.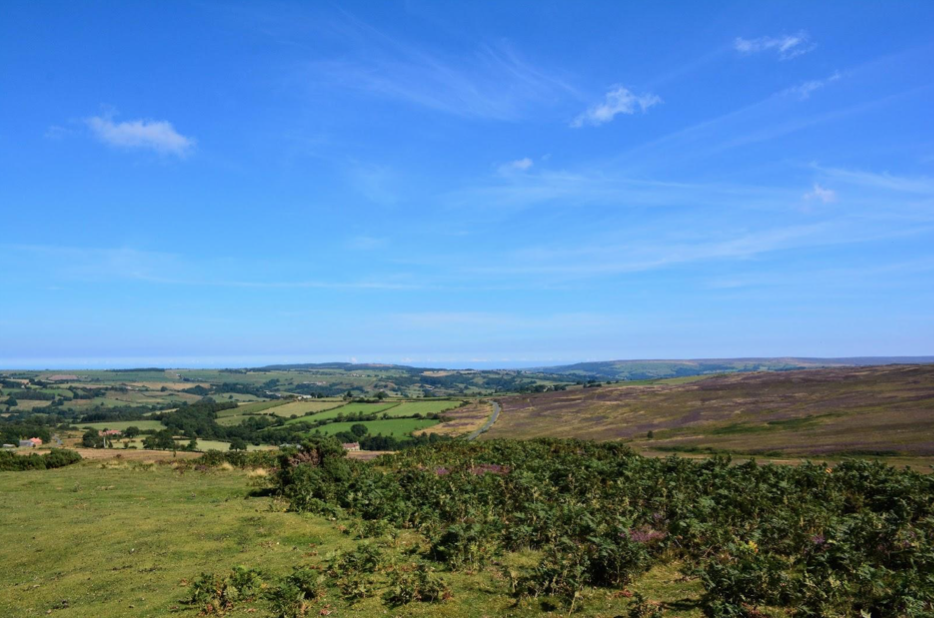 Url: https://www.pexels.com/photo/moorland-moorland-blue-sky-north-york-moors-363141/
Now your journey is almost over, you've crossed almost all the coast-to-coast route and the final destination left on your plate is the red-roofed village of Robin Hood's Bay.
Now you can finally relax and consider your mission over and spend your day at the beach or visit the ruined abbey and take some cool pictures of the Dracula legend associated monastery.
Coast to coast cycling
Walking coast to coast is a classic way to travel the scenery and explore the route, but you've got another option which is cycling, cyclists found their way to this road and at the end of the day made it a journey for them as well.
The cycling route was developed Sustrans which is a charitable organization whose main goal is to develop a sustainable transport network in the U.K.
The route is called "C2C" or "Sea to Sea" as a way to make it different from "coast to coast", it also gives cyclists a way to cover almost all of the route but with different scenery sometimes.
Why you should take this challenge?
A lot of people are thinking that this journey seems way too complicated and isn't even worth it, well I'm glad you read this article so far, now you'll find out why this journey should be taken.
If you take part of this challenge you'll enjoy the most beautiful villages and landscapes of England and will be able to watch the changes and variations of the landscape as you go across Lake District to your final destination and you might even get some gear that will help you on your daily life and not only on your C2C trip.
You will get to meet different friendly and warm people with whom you'll be able to share a laugh, a tale, a story, and a great souvenir to last a lifetime, and who knows; maybe you'll even make last-longing friends.
And that's why you should definitely add this to your to-do list.