How to extend your Thai visa in Bangkok
Updated April 2020. I'm flying to Korea on Christmas day for 3 weeks in South Korea, one week in North Korea and then a trip to North Eastern China for the ice festival in Haerbin. I'm currently in Bangkok and my visa expired yesterday, but I don't fly from Bangkok until next week so I needed to extend my visa. For anyone else who needs to extend their Thai visa in Bangkok, or needs to check into immigration every 90 days – this is where you need to do it:

Thai Immigration Phone: (+66) 0-2141-9889
Google map HERE
NOTE: The old immigration office is Soi Suan Phlu, Sathorn Tai Road, Bangrak, Bangkok. DO NOT GO HERE!! This is now effectively closed.
NOTE: Rumours that you may have to go to 'Muang Thong Thani' for visa extensions are rife. Please double check before you extend .
How to get to Thai immigration:
The easiest way is to take the Bangkok Sky Train to Mo Chit station ($1-$2), and from there use the address above to give to a taxi driver to take you to immigration (about 100 baht taxi fare, $3-$4).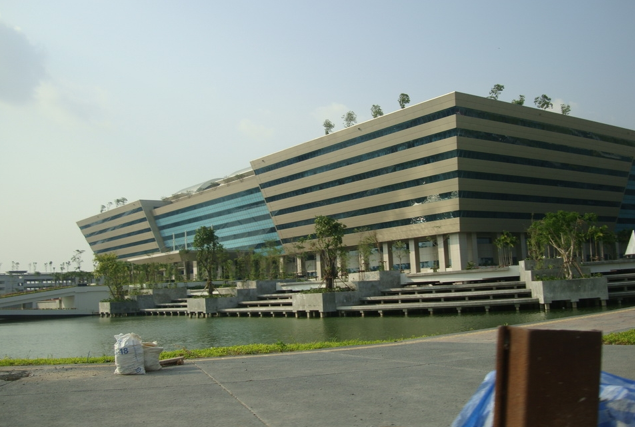 Can I extend my Thai visa?
Probably, yes. If you have a standard 14 day, 30 day, or 60-day tourist visa or visa-waiver (one you got on arrival by land or air into Thailand), then yes you can extend by 30 day for 1900 baht ($60)
If you have already extended once, you can get a 7 day emergency extension for another 1900 baht ($60). After that, you HAVE to leave the country and come back. If you need a longer extension, you're gonna need to do a visa-run to a nearby country. More info here
What do you need to extend your visa?
1900 baht (there are ATMs at immigration)
Passport
Copy of Passport, Departure Card, and Entry Stamp (can get this in the huge building at immigration for 3 cents per page)
2 Passport-sized photo (can get this at immigration too)
Application Form (provided at immigration)
Your address and phone number
How long does it take to extend your visa?
It takes around 60 minutes to get there, 60 minutes form-filling, queuing, waiting and another 60 minutes to get back to your hotel/hostel etc, so give yourself the morning to sort it out.
The procedure for extending your visa:
Queue outside the immigration office within the huge building (pic above)
When you get in, go to the counter and tell them why you're there – they'll give you the appropriate form
Fill in the form (both sides), attach your passport photo to the form and hand it back to the ladies who gave it to you
Go through to the next room, queue up for a ticket number
The ticket number will tell you which counter to sit beside, go there and wait for your number to be called
Go to the counter, have a quick chat, go back and sit down outside the counter again and wait to be recalled
Collect your passport, with the overpriced extension and be on your merry way
Immigration opens at 8.30am, so try to be there around 8.15am. It also closes between 12.00-1.00 so bear that in mind too. Good luck!!