Going abroad as a Coeliac can be a little bit daunting. We all know eating unfamiliar foods can play havoc with us at the best of times but when you have an intolerance to gluten or wheat you have to be particularly careful whilst snacking on your holiday.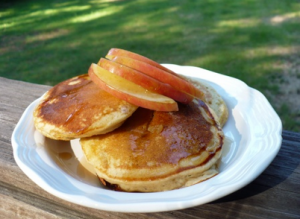 France in particular is famous for its beautifully buttery croissants, floury French bread and an abundance of pastries, so what is the alternative? If you don't want to sacrifice the flavour of soft pastry or a crunchy baguette and cheese to accompany your coffee or red wine, then you are best off learning some simple phrases to help you get by.
We found this gluten free language translator guide as a downloadable PDF on www.glutenfreeroads.com.en and practised our very best French accent to say "Je souffre de la maladie coeliaque et doit suivre un plan de nutrition strict sans gluten", which means "I have celiac disease and must maintain a strict gluten-free diet". If we use any phrase whilst in France it will be this.
You must however be aware, that Paris in particular has been slightly slower on the uptake of gluten free food alternatives, with row upon row of creperie, patisserie and boulangerie, offering fine dining for everyone is purely part of the culture and a dedicated Gluten free restaurant is more than likely to be very rare. You can get lots more information on www.afdiag.org, which is the French Gluten Free Association, however you might need Google Translate to read the information on the website!
If you are self-catering in France, or on a camping holiday in the South, it is extremely easy to make your own gluten free French cuisine by following a simple gluten free recipe. Croissants are particularly labour intensive, so we would recommend flipping pancakes on your gas stove on a campsite like Camp Laurent in Charente or baking some bread in your Provencal Villa. In Aussone, there are particularly good options for coeliacs at Au Salon de Thes and 4km away, you will find Bioasis, stocking a range of Dr Schar products, perfect for self catering. If you are heading to Toulouse, Restaurant la Pycantine is open from September the 4th and offers some good dining options.
With a rumbly stomach, bloating and sickness at the forefront of your mind before your holiday, you can be at ease now you have read this guide! You have several options when going to France with a gluten free diet request, just ensure you practise your phrases and look out for common 'gluten free' signs on food packets.