I've sung the praises of attractions nearby Pattaya before, with an awesome Bangkok day trip to Lan Island, but I've never spoken about Pattaya directly before, and there's a distinct reason.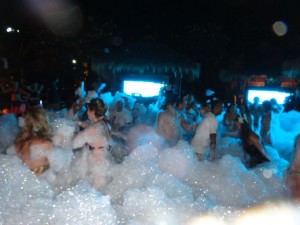 A lot of Pattaya revolves around sex tourism and gogo bars, which is not my scene at all, however there is a lot more to it than it's seedy reputation. I went there this weekend, stayed at an awesome hotel and partied hard – all without a prostitute or sex tourist in sight!
If you do make it to Pattaya and want to have some serious fun, down a few cocktails and dance like a maniac I've got one venue that won't fail to let you down – Hard Rock Café, every Saturday, runs a foam party and it is banging!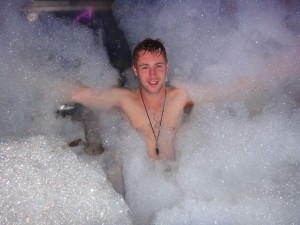 What time does the foam party open and close?
It opens at 9pm and runs until around 1am.
How much does the foam party in Pattaya cost?
Not cheap folks, but it's worth it! 480 baht (about $15), that gets you on free drink of anything.
Where is the foam party?
In the area directly in front of the Hard Rock café, on the main strip in front of Pattaya beach
How Do I get from Bangkok to Pattaya?
Easily! Take a bus from Ekamai bus station (go to Ekamai BTS stop and walk to the bus station, 2 mins).
Buses run every 30 minutes, they cost $4 and take exactly 2 hours. No need to book in advance.
Pattaya is a great place to go to escape Bangkok for your holidays as long as you're clever and selective about how to spend your time. If you party on walking street, the seediness is overbearing but chill in your hotel, party at the foam party and you'll be all good.