Bangkok is the biggest city in South East Asia and it has a lot to offer any backpacker, but sometimes you just need to escape the madness of the 'Kok! Not so many travelers know this but you can be on an awesome Thai island within a couple of hours of Bangkok, spend the day soaking up the rays and be home in time to club it up or sink some buckets on Khao San road.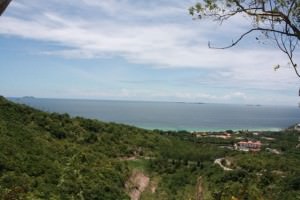 I headed over to Koh Lan last week (just for research purposes of course) so let me give you the low down:
How Do I Get to Koh Lan from Bangkok: By bus is the easiest way. You can take a bus from Ekkamai bus station (there's a stop on the Bangkok BTS subway system so it couldn't be easier).
Buses run every 30 minutes or so. You need to get a bus to Pattaya and from there you take a ferry to the island.
The bus from BKK to Pattaya costs about $4 and takes less than 2 hours.
The boat costs around $3 and takes around 20-40 mins depending on the waves.
What is there to do on Koh Lan: Koh Lan is not the place for full moon parties and all night raves, save that for Koh Phang an. But if you want to chill, drive a scooter through the mountains, visit beaches that aren't packed with traveler then this place could rock your world. It's much more popular with Thais than foreigners but if you go midweek it promises to be pretty empty.
In terms of stuff to do, there's always jet skis, parasailing and other ubiquitous beach stuff to do but the order of the day is certainly to kick back on a sun lounger and drink cocktails.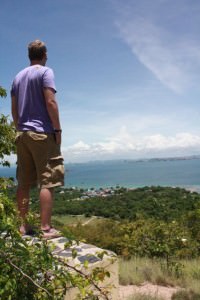 Where to sleep in Koh Lan: To be quite honest, Koh Lan is used more as a day trip destination from Pattaya or Bangkok. There are a couple of resorts but rooms start at $35+ so they're out of reach for a backpacker I assure you! Best advice? Day trip it and head back to BKK, last but from Pattaya is 11pm.
Whats the best beach on Koh Lan? There are 3 main beaches, here they are…
Tawaen beach: The main beach, the busiest and the biggest. Loads of restaurants, activities and therefore loads of people.
Samae beach: My favourite, quieter but still everything you'd want. The beach is probably more beautiful and has a nicer vibe.
Nual beach: Never been but rumours are you'll spot the odd nudist here (bonus).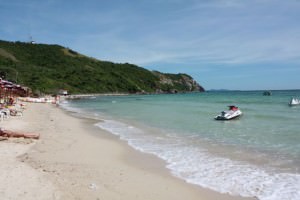 Ok guys, that's the low down. An awesome island that you can day trip to from Bangkok, pretty cool. Beautiful, convenient and cheap – if this isn't enough to make you want to find cheap holidays abroad, I don't know what is :S Happy travels!
This post is brought to you in collaboration with  Holiday Hypermarket