The famous Inca Trail awaits us all (me included!) high its altitude hikes, and unrivaled history. This is South America's most famous trekking route, and that's the reason that we're running out of time to experience it. It's popularity has drawn literally millions tourists and hikers from around the world to visit and hike this one trail. Located in the Andean Mountain Range, hiking the Inca Trail has become a Peruvian (South American/Backpacking?) rite of passage.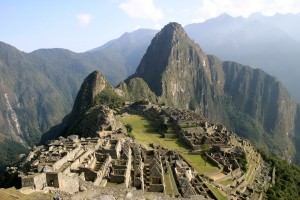 Hiking the Inca Trail to Machu Picchu:
You follow a 43 kilometers stone-paved road built by the Incas and visited by 2, 500 hikers from around the world each day (around 1 million per day!), it leads you to Machu Picchu, thick in the jungles of Peru. The trail passes through many Andean ecosystems, which although beautiful, is part of the problem. Depending on your pace, the hike takes approximately 4 days so make sure you bring some quality footwear.
The Government of Peru limits hikers each year because of the overusing of the trail that has been leading to erosion. If you are traveling and thinking of hiking the Inca trail, its mandatory to book in advance as they only accept maximum of 500 hikers each day (this is very much just an official figure however, as many NGOs will tell you!).
The best season to hike is the dry season from May until the end of October. The trail is closed during the rainy season from November until April because the trail can be wet and slippery with cold weather conditions that can make the hike very difficult. Booking through tour companies can make your hike easier as they provide you with proper hiking equipments. There are only a handful of (overpriceD) places to stay at Machu Picchu. Hostels can also be found in the nearby town Aguas Calientes though.
Health Tips for Hikers
Remember, it's much higher here than home! It takes 3 days to get accustomed to high altitude hikes. To prevent altitude sickness, its best to take your time hiking the trail and take rests as often as possible to let your body adapt to the altitude. You are not advised to drink water from the spring as it can be contaminated, so make sure you drink only bottled or boiled water. The Inca Trail is a safe route, but rerouting yourself or leaving the group can easily disorient you so don't be that guy! Cattle in the area are common to carry diseases too, so its best not to touch them but just look and admire them from a far, you'd be surprised what stupid tourists can get up to with the wildlife! Being safe and aware of your surroundings can make your hike enjoyable and stress-free. Little precautions like this can be a trip-saver for people who are health conscious.
Protecting the New Wonder
Protecting this natural habitat can help preserve the Inca Trail. Be careful of making fires as forest fires are a definite liability in the area. Camping near the ruins are not allowed as it is protected. Your trash is your responsibility so avoid littering or throwing your garbage around, as this it can help save and preserve the Inca Trail for the next generation of hikers (hopefully us!).
Rumours are flying around that the authorities are planning to close the trail guys so we're all in a race against time! Whether you're a fan of
group holidays
, independent travel or hardcore backpacking, the Inca Trail as we know it might not be around for too much longer, so let's get moving!