How to Climb Puncak Jaya; My Experience
Puncak Jaya (or Carstensz Pyramid as it used to be known) is the highest mountain in Indonesia. I have wanted to climb Puncak Jaya since committing to climbing all seven summits, the highest mountain on each continent (if you're wondering what are the seven summits, you can check those out here). Puncak Jaya is also the highest mountain in Continental Australia, it's located on Papua island, Indonesia.
In May 2019, I finally managed to climb Puncak Jaya and for a fraction of the cost of the normal prices, which are often quoted at $13k to $20k USD. Ouch. I did it for well under $10k. Read on and see how I did it (and how you too can do it!).
How Much Does it  Cost to Climb Puncak Jaya?
I had been researching all the big mountain operators, and everyone was quoting super expensive prices so I delved a little deeper, and spent weeks trying to find what local operator the big guys were using until finally, I found Reagan, the owner of Summit Carstensz, on FaceBook. After chatting for a couple of weeks, making sure he wasn't a scammer, I finally committed to climbing with him.
The price? $7500. Over $10k cheaper than the big Western operators. I had to send a $2k deposit, which I was a little wary about, but after traveling so much I've discovered it's better to trust people than not so I proceeded, and it worked out great. Eventually, I flew to Bali, met one of the Summit Carstensz staff and we were on, a week later I was perched on top of the highest point on the continent. Money well spent.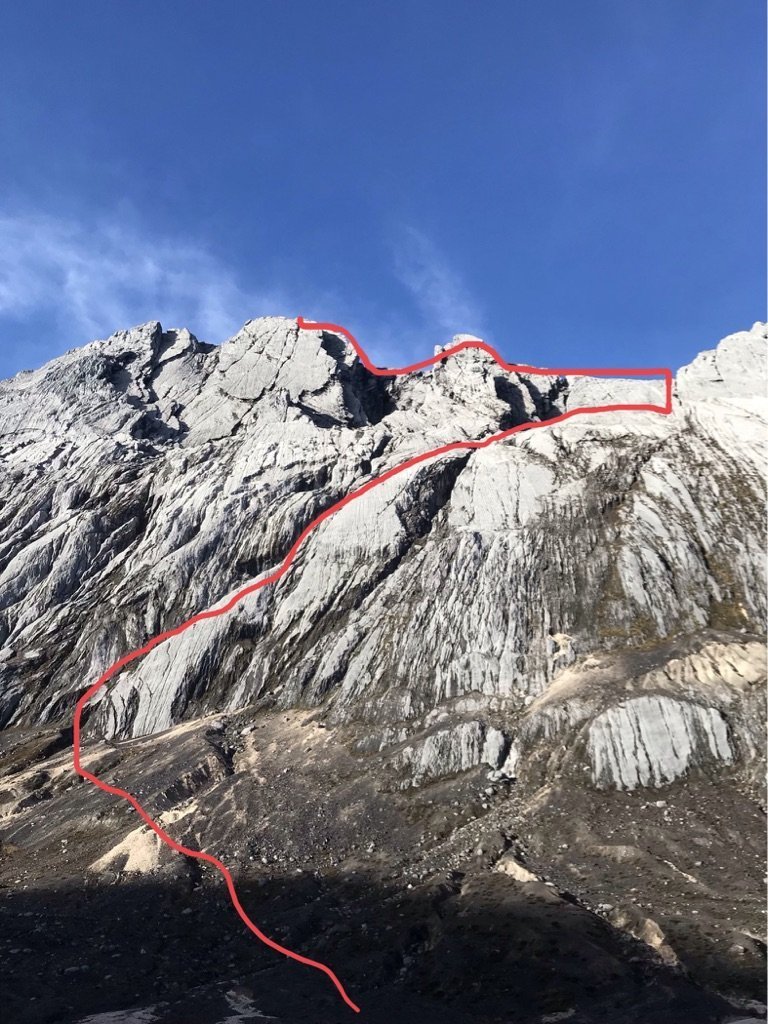 So, having now successfully climbed Puncak Jaya, let me help you guys do the same thing with recounting my experience and some FAQs too:
Is it Dangerous To Climb Puncak Jaya?
It can be. Previously, climbing Puncak Jaya was super dangerous. You'd arrived in Timika airport, in southern West Papua (as I did). After checking your gear etc, the next day you'd start a week-long hike through the jungle to get to Puncak Jaya Base Camp. This was hugely dangerous. West Papua is full of legitimate tribes, bows, arrows and spears type tribes, fascinating but terrifying. These tribes used to hold a lot of hikers hostage, demanding ransom from the guides, so the guides would have to pay thousands  (sometimes up to $30,000!!). Recently, two expeditions had people murdered for not paying ransoms. This is what has made Puncak Jaya so expensive, and so dangerous. Since that, the hike has been closed, and you take a helicopter from Timika to base camp instead, which is what I did.
Puncak Jaya Deaths
The actual climb, is it dangerous? A little. 2 people recently died due to rocks falling. And the climb itself, while only taking 2 days  (one of which is acclimatization), is short, it's hugely steep. It's quite technical, 90%+ using rappelling and jumar techniques, so either be ready with that skillset or be prepared for a sharp (and scary) learning curve! Only 500 or so people have ever summited Puncak Jaya, due to the remoteness of the mountain, and of course, the dangers associated with the tribes, but if you're careful, and you take the helicopter, then I'd say you're pretty safe.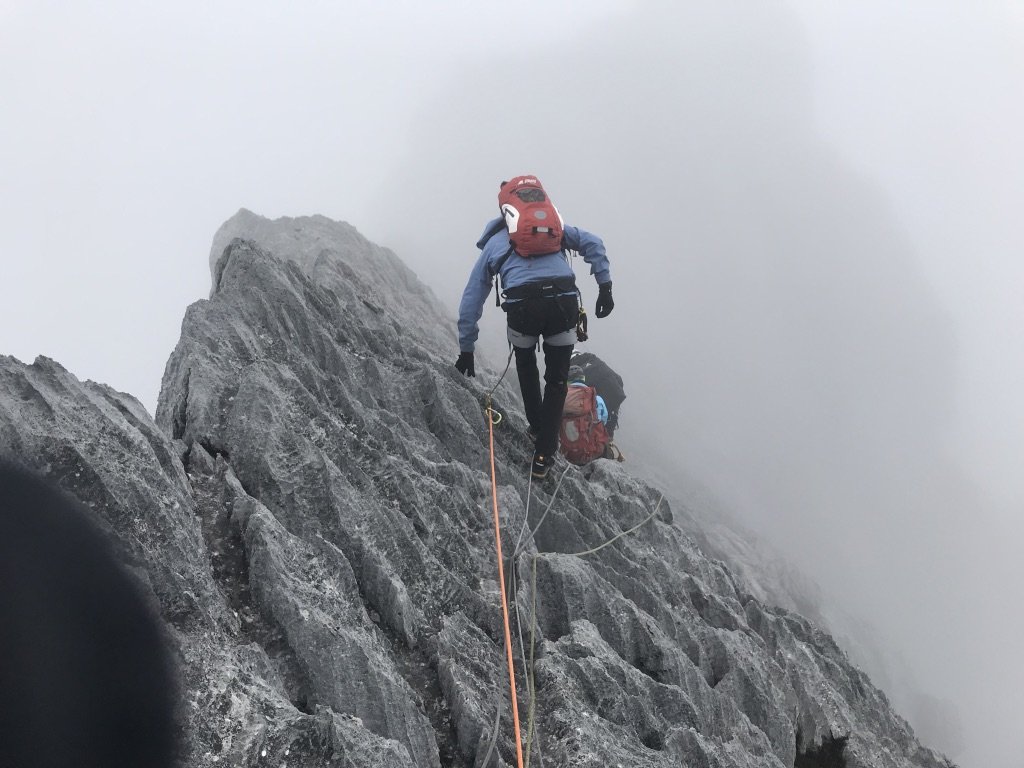 What is Puncak Jaya's Altitude?
4,884m / 16,000 feet. But the altitude is not what makes Puncak Jaya difficult in all honesty. That comes down to both how remote the location is, the cost and most importantly, how technical the climb is. Base camp is located at 4300m, so the Summit Attempt doesn't cover THAT much altitude gain, although at nearly 5000m, oxygen isn't in abundance and things are a little slower.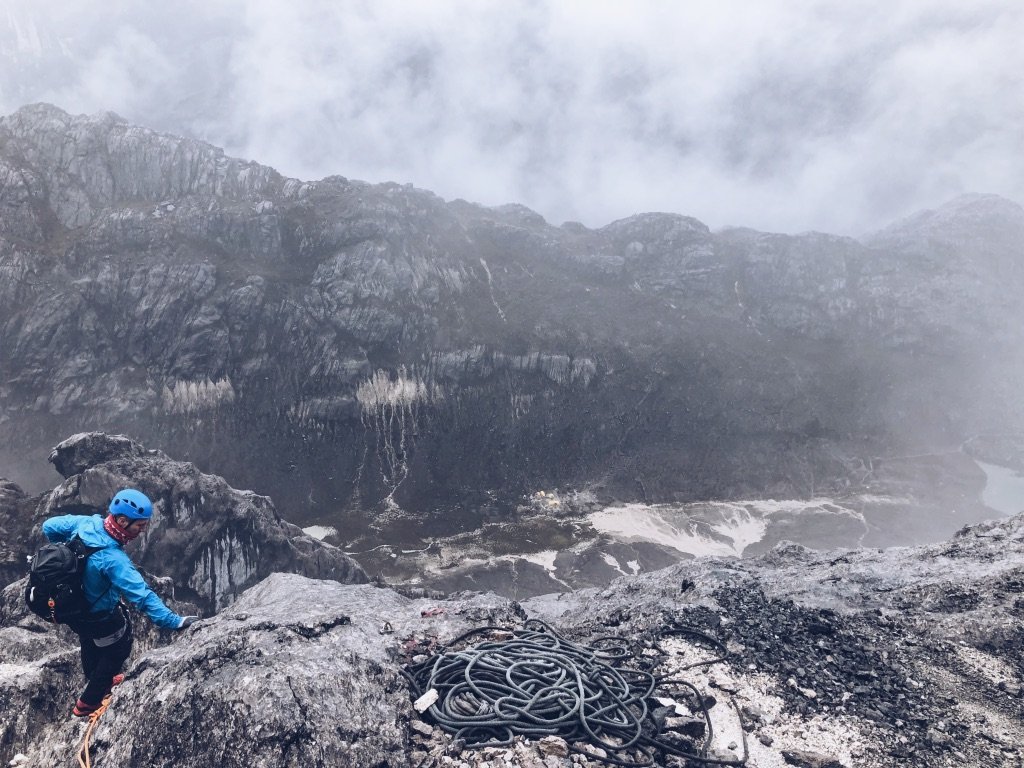 So Where Is Puncak Jaya? And How Do You Get There?
Good question. It's on an island in South East Asia called 'Papua', the same island as Papua New Guinea but this half of the island belongs to Indonesia. Although that's a political issue I don't want to get in to.
Once in Papua, you'll be in the South, in the city of Timika. To get there, you first fly to Bali, Indonesia, then take a domestic flight to Timika (this was included in my climb with Summit Carstenz). Timika is a small town, but there are actually a couple of mountaineering stores there, so if you need a headtorch or any other last-minute gear you forgot, you may be lucky! There's not much going on in the town, so you'll stay there for 2 nights, check your gear, and then hopefully on Day 3, weather depending, you'll go back tot he airport early in the morning and hop into the helicopter to base camp, about a 30-minute ride.
The weather is very unpredictable of course, so expect delays, and give yourself a 3 or 4-day window before your flight home (or better still, leave it open, you can explore Bali afterwards!).

How to Book A Cheap Puncak Jaya Climb:
If you look online, you'll find dozens of mountain operators quoting prices around $20k USD. Not cheap. However, I've done the leg work for you guys, and found the operator directly at the source – Summit Carstensz. With these guys, the price is around $7700USD, starting from Bali, still not cheap but a considerable saving from the big operators and this is the cheapest I've ever heard of. Not only that, they were really easy to deal with.
The expedition allocates 10 days, so give yourself a buffer for your return flights. The helicopter is often delayed due to clouds and wind, although my expedition went quite well and total time was about 7 days all-in from Bali until I was back in Bali.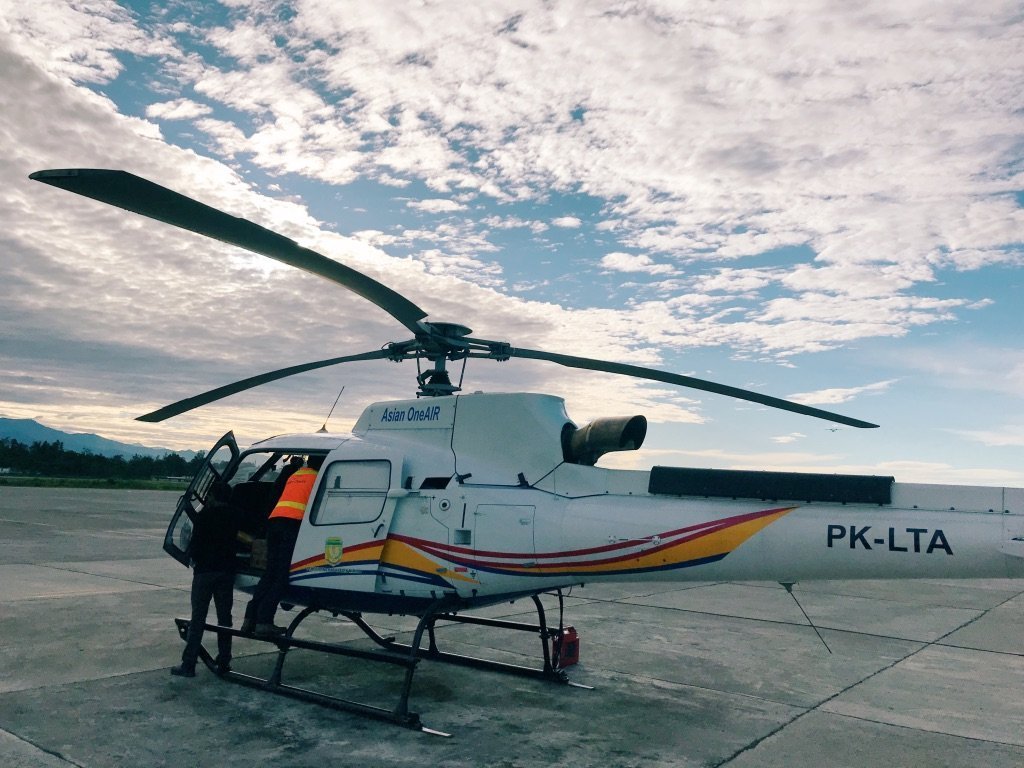 Climbing Puncak Jaya; My Personal Experience
I wouldn't call myself a mountaineer by any stretch, but I've been gaining a little bit of experience over the last 18 months or so with climbing Mount Fuji for charity with my mum, summiting Europe's highest mountain, Elbrus, trying (and failing) to climb South America's highest mountain in Argentina, (EDIT 2020 – I WENT BACK TREKKING ACONCAGUA AND REACHED THE SUMMIT!) and climbing Kilimanjaro (more of a hike in all honesty!). I'm signed up for Aconcagua again in January 2020, and Denali – North America's highest mountain in May 2020 but all those days added up together barely reach 2 months on mountains. So I don't really know what I'm doing!
That doesn't normally stop me signing up for things though, like running the North Pole marathon having never run a marathon before, or the Marathon Des Sables Ultra Marathon – 6 marathons in 6 days in the Sahara, having never run an ultramarathon before, and I managed to squeeze through those. Just. So with a view to climbing all Seven Summits, I had to climb Puncak Jaya one day, so why not sooner rather than later? After finding Reagan, owner of Summit Carstenz, online, I had signed up, paid my deposit, dragged my fearless (read: stupid) my buddy Anthony into the fray, and we had about 100 days to get our gear and our minds ready for it.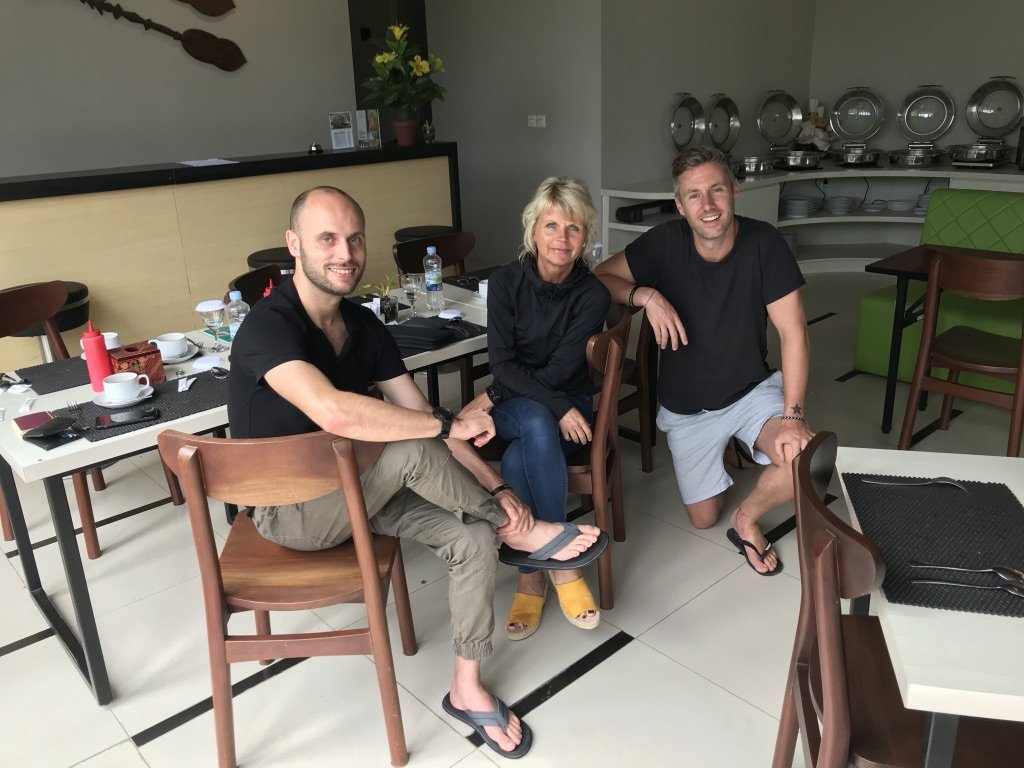 Training
The climb was scheduled just a month after the Marathon Des Sables,  so I knew I'd be quite good fitness-wise, but I'd be weak. So I hit the gym for that month, and that was it – ready to go. I had all my mountain gear from the climbs I'd been doing over the last 18 months, so aside from actual rock-climbing stuff, I was pretty set. I flew to Indonesia about a month early, as I was building a library with my Mudita Adventures non-profit, so once our volunteers flew home from that trip, I was already in Bali and ready to climb Puncak Jaya.
DAY 1 
From Bali, I flew directly to Timika, a 4.5-hour flight, where I spent 2 nights in a hotel there. The hotel was decent, wifi, air-con, hot water. Here we met the 3rd member of our group, an amazing woman called Merethe, and a grandmother no less! She was more experienced in mountains than both Anthony and I and had actually almost summited Everest a couple of years previously but her Sherpa got hill and they had to turn back.
DAY 2
Anyway, after the first night, we wandered around Timika that day, checked out gear. It was also the last chance we had to pick up any snacks or rent any other things that we need. I rented all my rock climbing gear from Reagan, the harness, ropes, helmet, figure 8, jumar (total price was $180USD to rent all that). Back to bed for another night, and you just hope that the weather will allow the helicopter to fly the following morning.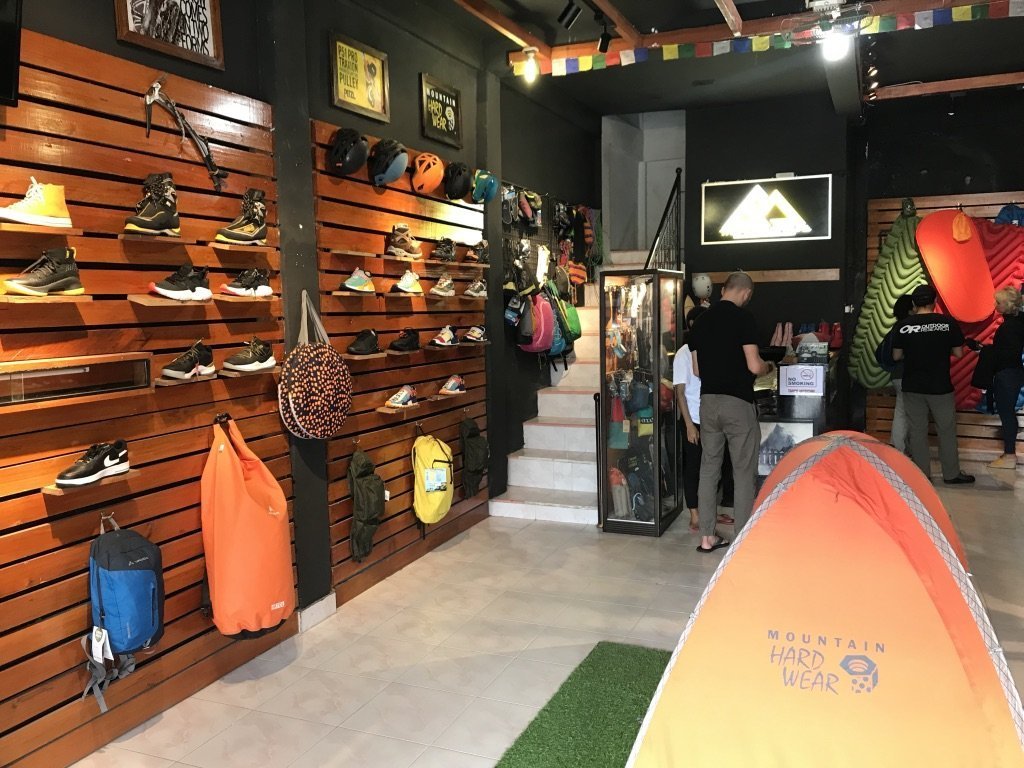 DAY 3
We were onto Day 3 of the expedition;  We woke up at 4.30 am for a 5.30 am departure to the airport. The weather wasn't great and so the helicopter pilot had asked us to get to the airport early, perhaps they'd be a break in the weather. There wasn't. We hung around the airport for 3 hours or so, and it looked like we'd have another day to kill in Timika, but out of nowhere the clouds cleared.
The team at Base Camp had given the all-clear, so we rushed to the helicopter and off we went. The helicopter ride is awesome, you fly over the biggest gold mine in the world, and the views are spectacular. Also, knowing about the tribes beneath you and how dangerous it is to hike through the jungle left me feeling blessed to be able to live a life like this, one where you can hop in a helicopter and skip the danger. Before long, we touched down at base camp, and it was spectacular.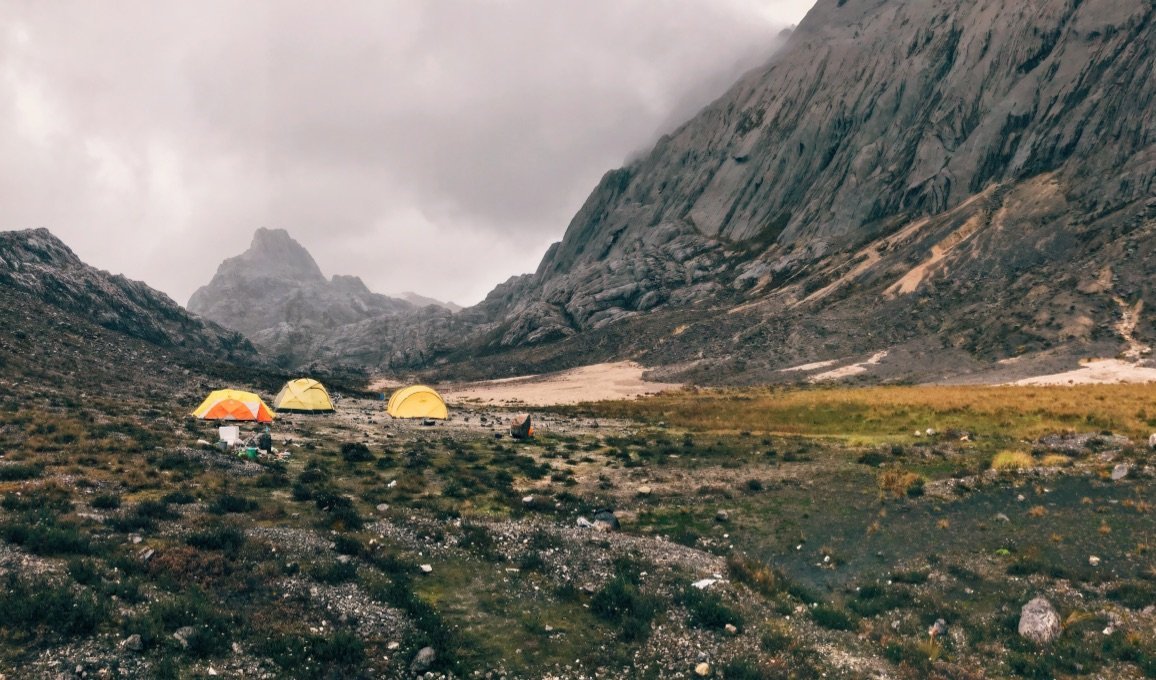 Summit Carstensz, our operator, had already sent the 2 guides to Base Camp the day before. So the dining tent was already set up, as soon as we landed and the helicopter left us, the 2 guys quickly set up our tents too. It was about Midday now, and the plan was to spend the day doing rope/jumar training, sleep in our tents, then the following day would be spent acclimatizing, before going to sleep in the tents again but waking up at 2 am for the climb attempt. All good with us.
Jumar Training
Training began, and neither Anthony nor I had ever used a 'jumar' before. It's kind of like a handle, that's attached to the harness around your waist. You clip it onto the fixed ropes that lead the way up the mountain, and as you move it forward, it traps the rope so you can apply all your weight to it and it won't fall. Really effective, but quite tricky to get the hang of. That being said, the training went well and we were feeling vaguely confident.
The weather wasn't great, and the guides were worried that moving forward it could take a turn for the worse. If bad weather came in, we'd be stuck at Base Camp, on rations, until the weather clears. Not ideal for anyone (not to mention my Indonesia visa would expire in 5 days time). So they proposed something a little crazy. They knew we had some mountain experiencer, they could see we were quite fit, and after testing our oxygen levels on the Oximeter, we decided that we'd skip the next day and go straight for the summit tonight, at 2 am. Let's do it!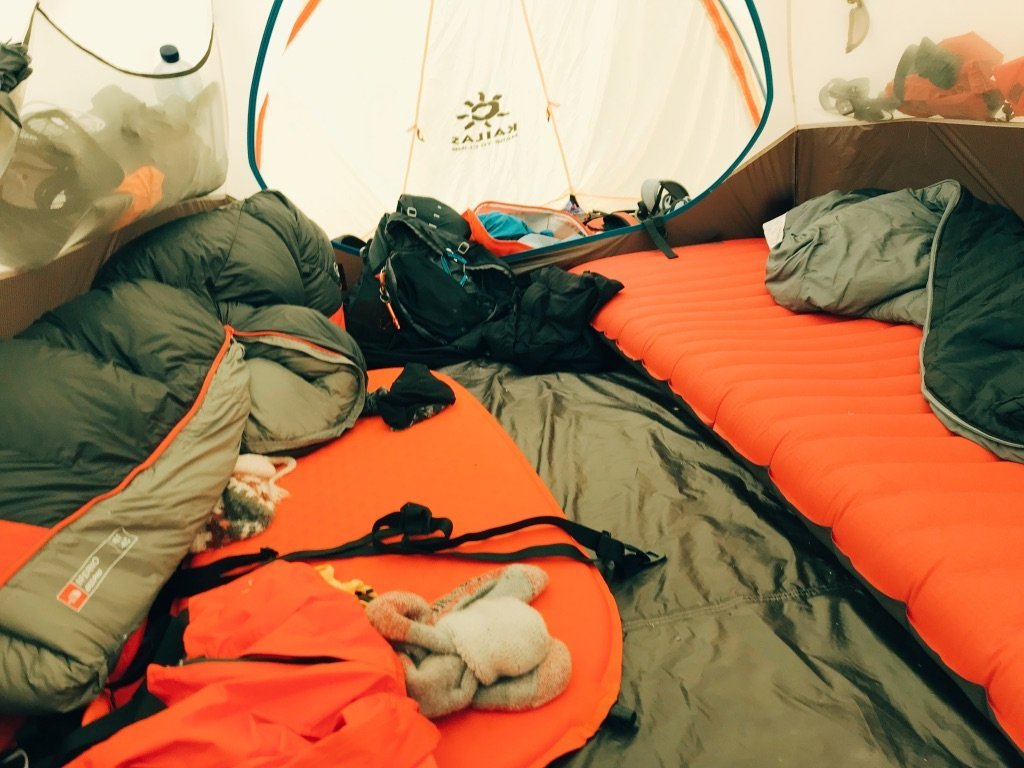 So we milled around Base Camp for the evening and tried to go to bed early, knowing our alarms were set for 1 am. But as anyone who has been at altitude can testify, when you gain a lot of height in a day, it's so hard to sleep. So a restless evening in the tent ensued before the alarm was buzzing and we were ready to go. Pitch black, about 5 degrees in temperature, harnesses on and summit bag packed, we were off.
DAY 4
The entire Base Camp to Summit is an almost sheer cliff. It's fixed ropes the whole way, hence the rappelling and jumar skills required. Lot's of the climbing requires full trust in your upper body strength and the integrity of the equipment. At times you're required to balance on razor-thin sections of cliff, with all your weight on one hand on the fixed rope, with sheer drops beneath you. In a way, it's almost good to start at 2 am because you can see very little and the fear doesn't get a chance to accumulate.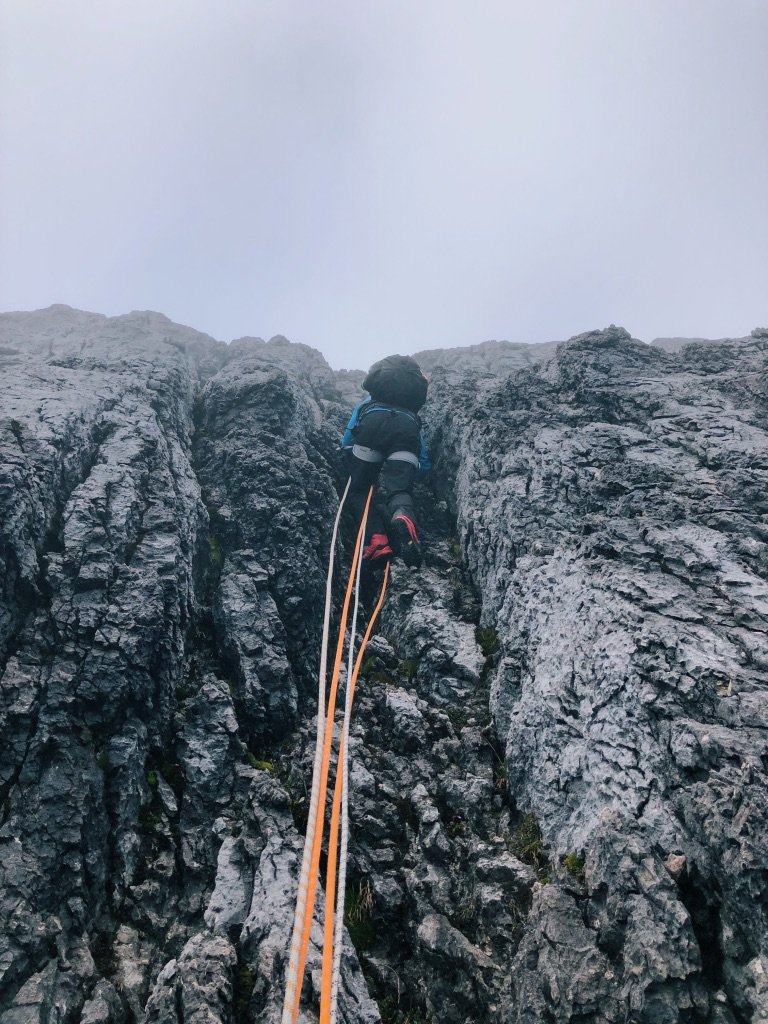 Everyone 20 minutes or so, we take a quick breather. Around 5000m in elevation, you always get tired alarmingly quickly. 100ms feels like 500m. But I like it in a weird way, and we were making progress. 2 am became 3, which became 4 and 5 and 6 until finally, the sun started to rise. Now the task at hand suddenly dawned on us. Sheer drops were now visible, and wow what a view.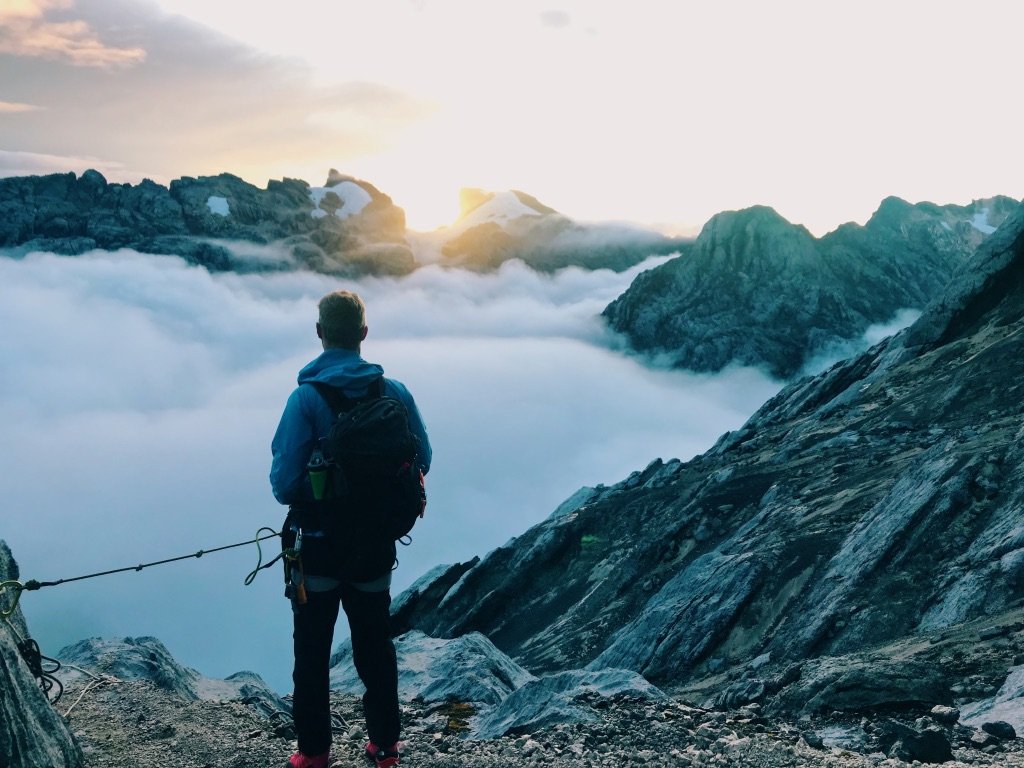 We were the only people on the mountain, privileged to see how beautiful this part of this isolated island was. You're forced to take a moment and appreciate where life has brought you, but I snapped out of quickly and pressed on. One miss-clip of a fixed rope, forget to attach the safety, and you're dead. Black and white. This is why Puncak Jaya is the most technical of the Seven Summits.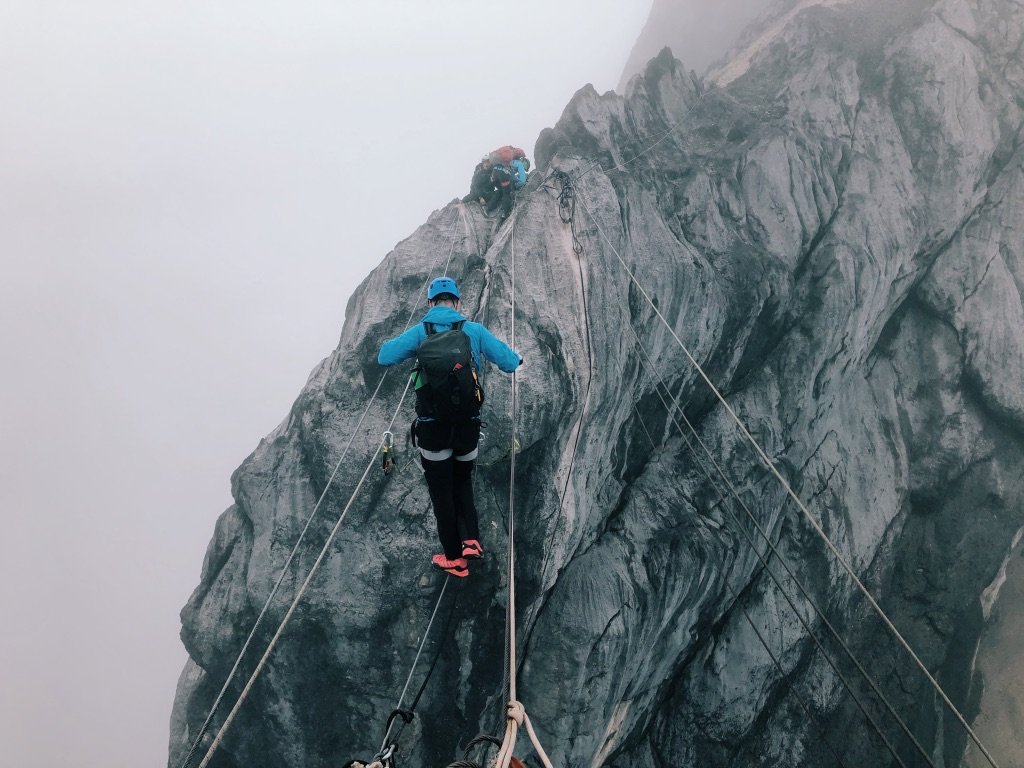 Summit Attempt
We were hoping to be at the Summit by 8 am but we missed that deadline by quite a stretch. After crossing the infamous wire bridge on Puncak Jaya, we finally made it to the Summit around 10.30 am. On that last stretch, it's always a weird feeling. Having set a physical goal, committed to it, paid for it, trained for it, to suddenly know that you're actually going to reach it. It's such a buzz. Pride, relief. Happiness. I guess that's what we do it for, that and the glory. And then we were there. A top the highest point of Continental Australia. Boom.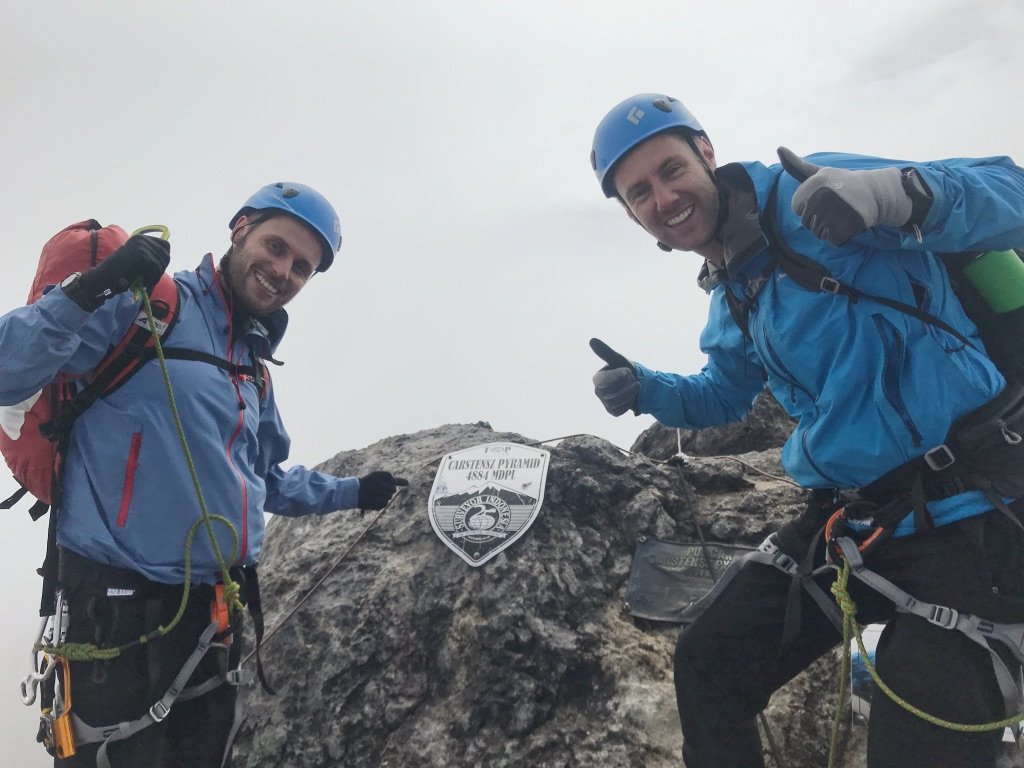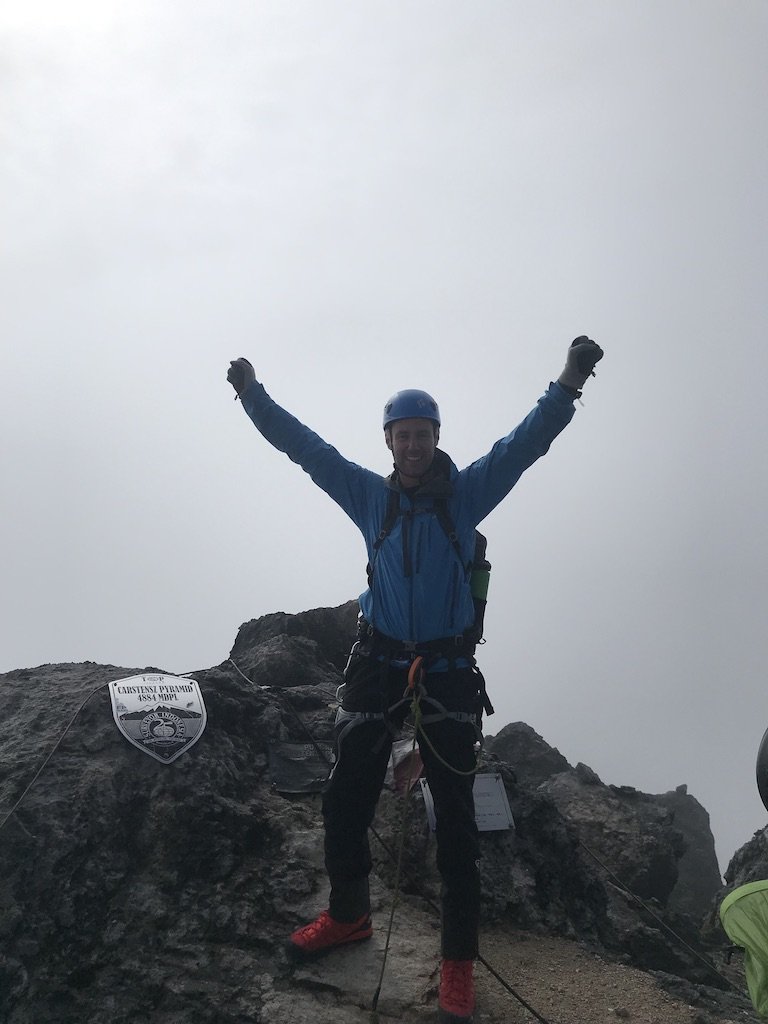 Selfies, pics, high fives. But of course, at that point, you're only ever half-way there when it comes to mountains. Now you have to get down the bloody thing. On normal mountains, that's strenuous, on this sheer cliff face, it was a stressful prospect indeed! It took us about 5 hours to descend the mountain. The weather turned and we were soaked. But after summiting, nothing can affect your mood. So we carefully made our way down. Arriving back to base camp is a treat indeed. Hot coffee, change out of your soaking summit-gear, chat about all the stuff you kept to yourself on the climb. The fear, the fatigue. None of it matters know, we did it!
DAY 5 (& an unplanned DAY 6 & 7!)
From there, we spent one more night at basecamp. When we woke up the next morning you hope that the weather is clear once again, so the helicopter can collect you. Luckily for us, that was the case. We were whizzed back to Timika before lunchtime, a day ahead of schedule! We were thinking maybe we could even connect straight to Bali the same day, cutting our 10-day expedition down to 6, but reality bites.
A volcano had erupted in Indonesia and our flight to Bali was cancelled, and no replacement was available for a week. We ended up taking 5 separate flights over 48 hours. Dotting around islands across Indonesia before finally getting back to Bali spot on time, a week after leaving Bali. But as I said, we summited, so I couldn't care less about that!
What's Next?
So what's next? I had planned to fly back to Bangkok. But after discussing the Seven Summits with Anthony, we knew that there was a school of thought that Continental Australia's highest peak was actually Mount Kosciuszko, near Canberra, in Australia. Not Puncak Jaya/Carstensz Pyramid. So rather than sleep in Bali, we hopped to a burger joint, jumped on the Wifi, and flew that Night to Sydney.
The following morning we connected to another flight to Canberra. We rented a car and drove 3 hours to Mount Kosciuszko and had a crack at that instead, but that's another blog post here. In the meantime though, here's the pic fro the top of Kosciuszko. 7 flights in 48 hours, followed by a hike. Never again, still though, what an adventure. Life's for living, right?
Is it called Puncak Jaya or Carstensz Pyramid?!
I know, it's confusing. But Puncak Jaya and Carstensz Pyramid are, in fact, the same mountain. In 1623, Dutch explorer Jan Carstenszoon was the first foreigner to see the mountain. The first expedition to climb it in the early 19th century used 'Carstensz Pyramid' as the name. So the mountaineering community adopted that name. But in 1963 Indonesia took control of Papua, and since then it's been Puncak Jaya. In some mountaineering circles, however, it's still referred to as Carstensz Pyramid.
Final thoughts on climbing Carstensz Pyramid (Puncak Jaya)
Climbing Puncak Jaya, another Seven Summit, was an amazing experience. Climbing Puncak Jaya though, it doesn't come cheap, and it's not easy. But it's certainly doable for people with a decent level of fitness and even a little mountain experience. The area that the mountain is located in is unreal too, so beautiful and completely untouched by tourism. I'd recommend West Papua to any intrepid travellers too. But Puncak Jaya? Do it. Ignore the costs you read online, they're crazy, go through the guys I used – Summit Carstensz, save yourself a fortune and send me a pic from the top. Good luck!
Remember, never travel without travel insurance! And never overpay for travel insurance!
I use HeyMondo. You get INSTANT quotes. Super cheap, they actually pay out, AND they cover almost everywhere, where most insurance companies don't (even places like Central African Republic etc!). You can sign-up here. PS You even get 5% off if you use MY LINK! You can even sign up if you're already overseas and traveling, pretty cool.
Also, if you want to start a blog...I CAN HELP YOU!
Also, if you want to start a blog, and start to change your life, I'd love to help you! Email me on johnny@onestep4ward.com. In the meantime, check out my super easy blog post on how to start a travel blog in under 30 minutes, here! And if you just want to get cracking, use BlueHost at a discount, through me.
Also, (if you're like me, and awful with tech-stuff) email me and my team can get a blog up and running for you, designed and everything, for $699 - email johnny@onestep4ward.com to get started.
Do you work remotely? Are you a digital nomad/blogger etc? You need to be insured too.
I use SafetyWing for my digital nomad insurance. It covers me while I live overseas. It's just $10 a week, and it's amazing! No upfront fees, you just pay week by week, and you can sign up just for a week if you want, then switch it off and on whenever. You can read my review here, and you can sign-up here!