Bangkok is kinda like your best friend that your other friends don't like, but once they get to know him, they love him every bit as much as you do. You just have to delve that little bit deeper. Once you start discovering places like Ayutthaya, you'll never look at Bangkok in the same way again!
PIN ME!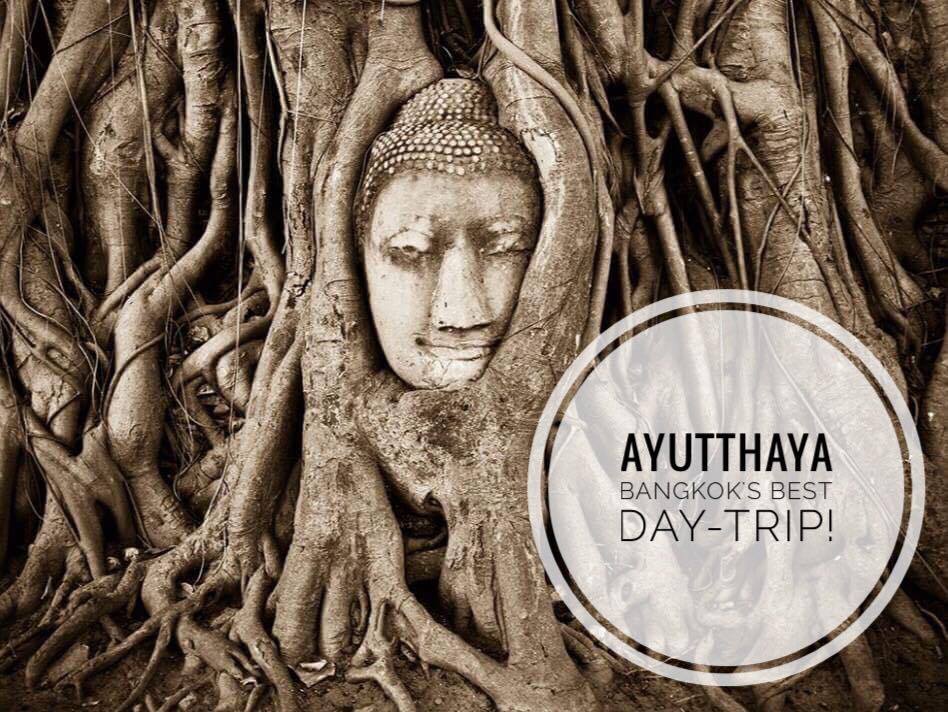 While most tourists, backpackers and holidaymakers swing through Bangkok for 1 night or 2, then tell the world that it wasn't for them, the people who do a tiny bit of research and venture out from the tourist hotspots will find Bangkok to be somewhere very special. Since I based myself here, bought my place here, and began to explore the surrounding regions of Bangkok, places like Kanchanaburi, Khao Yai, Koh Samet, Hua Hin, Amphawa, I realised that in no uncertain terms that Bangkok is my favourite city in the world. And actually you could spend your entire 2 week Thai holiday in Bangkok and it's surroundings and have the holiday of a lifetime, honestly.
So my mum was over visiting me, and I wanted to show her Thailand's former capital, Ayutthaya. It's a brilliant day trip from Bangkok, so off we went. I've blogged all the info so if you're wondering how to get from Bangkok to Ayutthaya, or how to get around Ayutthaya, then read on, problems solved!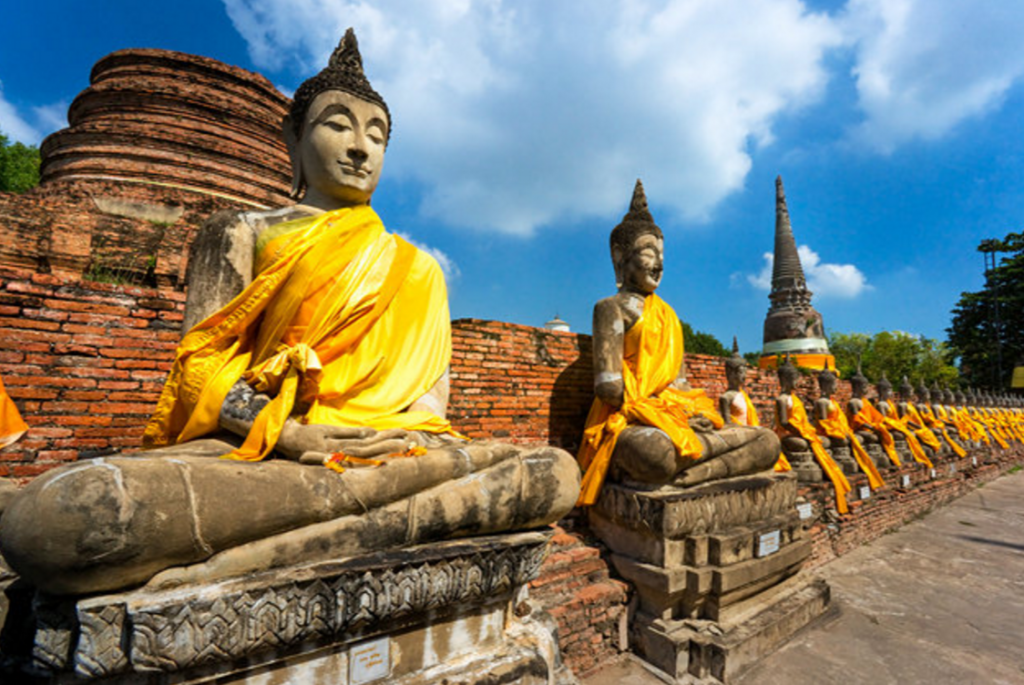 WHAT IS AYUTTHAYA ?
It's arguably Thailand's most impressive set of temples, and their answer to Cambodia's famous Angkor Wat, and it's home to the famous 'Buddha head in the tree'! Ayutthaya was actually formerly Thailand's Capital, and in 1700 was the largest city in the world! It's now a UNESCO world heritage site and the fact so many people go through Bangkok without spending a day here is almost criminal, it's an absolute must see.
WHERE IS AYUTTHAYA?!
The beautiful thing about Ayutthaya, Thailand's former capital, is that it's less than 100km from Bangkok so getting there as a day trip from Bangkok is no problem at all. Depending on your budget, taxis, trains, buses and tour groups are all possible options. For me though, independent travel is always the most fun, so I prefer the train, more info on that below.

HOW TO GET FROM BANGKOK TO AYUTTHAYA
TRAIN: The most authentic way, and probably more comfortable than the bus. The trains leave from Hualamphong Station in Bangkok's city centre (it's a subway stop, on the MRT line, so it's easy to access) and they leave every hour or so. The train takes around 2 hours and costs about 330 baht ($10) for first class, which is pretty expensive for less than 100km, especially in Thailand! If you're feeling like a real traveler, jump on the 3rd class seats if they aren't sold out, they go 20baht (around $0.50!) but you can't reserve, so show up and give it a shot.
The train takes around 2 hours and when you get to Ayutthaya there will be tuk-tuks waiting to take you to the old city with the temples (60 baht) or you can negotiate a tour of Ayutthaya with them, which I think is the best plan.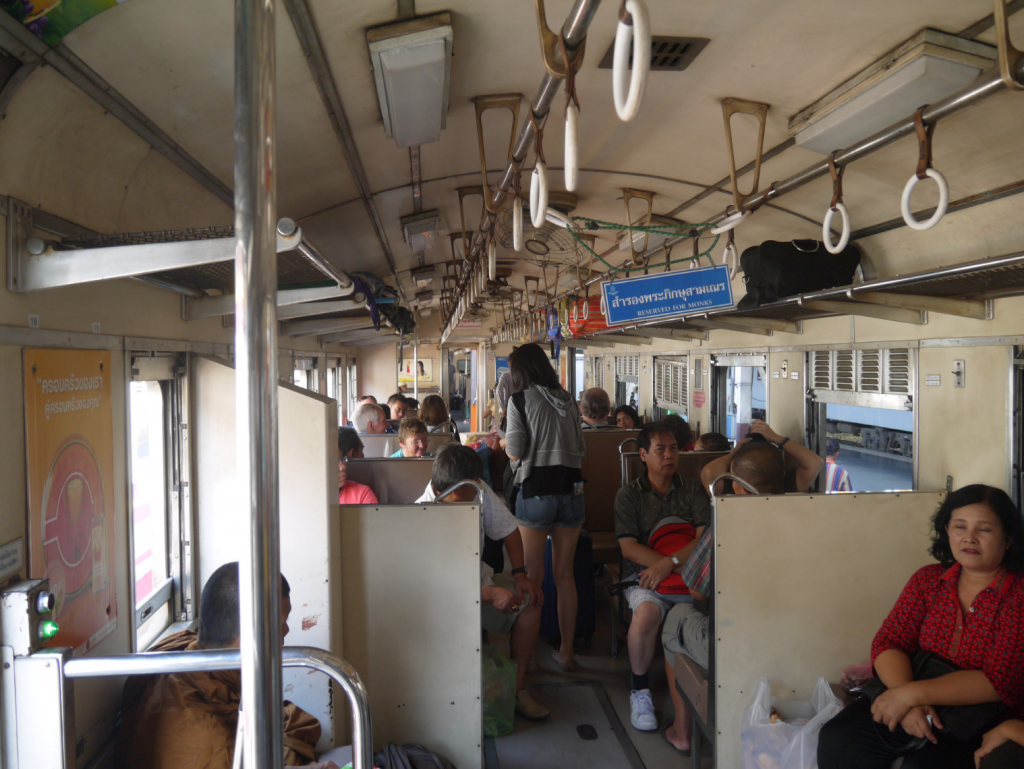 BUS: The bus takes around 90 minutes, buses leave from Mo Chit station twice hourly. You get to Mo Chit on the BTS sky train, then jump on a motorbike taxi for 5-10 mins to get to the right bus section for Ayutthaya, the driver will understand. The bus then will  cost around 50THB  (less than $2). Personally I reckon Mo Chit is a little out of the way, so it can waste time getting there.
MINI-VAN: Hang around Victory Monument (on the BTS line) and jump in a van going directly to Ayutthaya. The minivans, all with air-con, take around an hour and cost about 100 baht The buses leave when full, but you shouldn't be waiting more than 20 minutes or so.
TAXI: If you've partied a little too hard and wake up late, or you want absolute convenience, a taxi from Bangkok to Ayutthaya is roughly 1000 baht, but if you negotiate for him to drive you there, drive you around and drive you back you can get it for around 2500THB.
Personally the trains wins for me – you have all the romance of traveling like the locals, it's cheap, cheerful and pretty fast.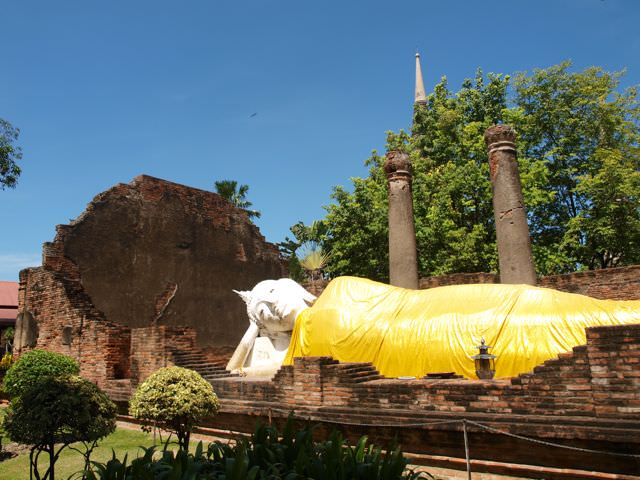 HOW TO GET AROUND AYUTTHAYA
Once you finally arrive in Ayutthaya you need to work out how best to see all the temples. The main section you want to visit is actually an island within the city, so to get there you either take a 4 baht  ($0.10) ferry (2 mins)  or more likely you take a tuk-tuk to take you around for the day.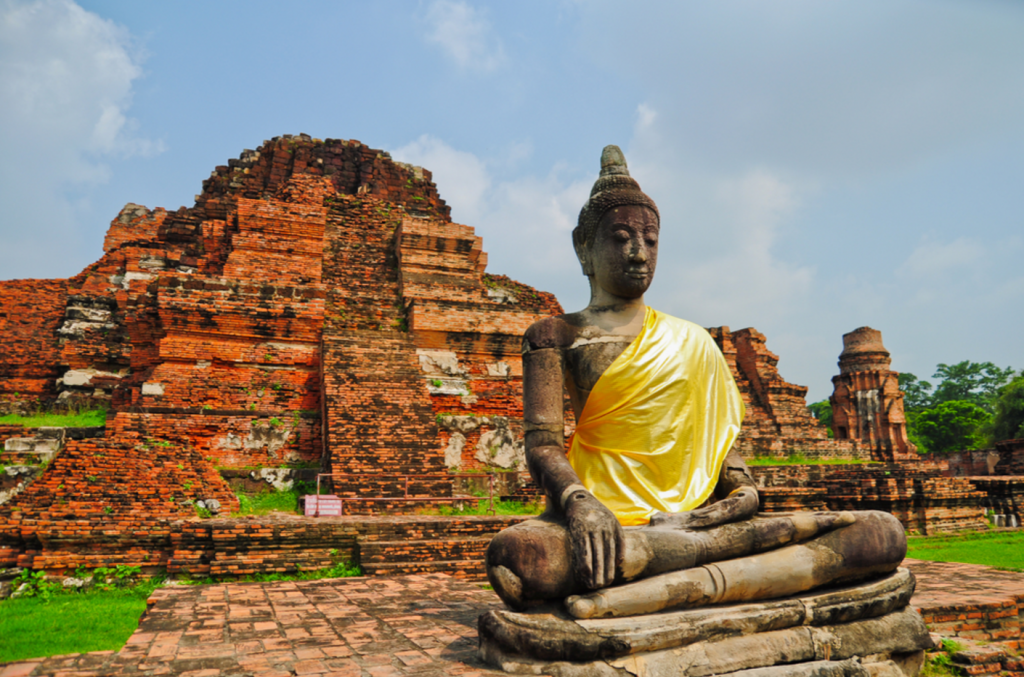 TUKTUKS: The tuk-tuks will charge, after some easy bartering, 200 baht an hour – you won't get it much cheaper than that. 3 or 4 hours is enough to visit the main sites within the temple complex so around your bill will run round 600 baht  ($17) but you can fit up to 6 people in these specialized tuk-tuks so it can work out quite cheap. For the flashpackers among us, air-con taxis are available for around 1000 baht ($28) for a few hours of temple jumping.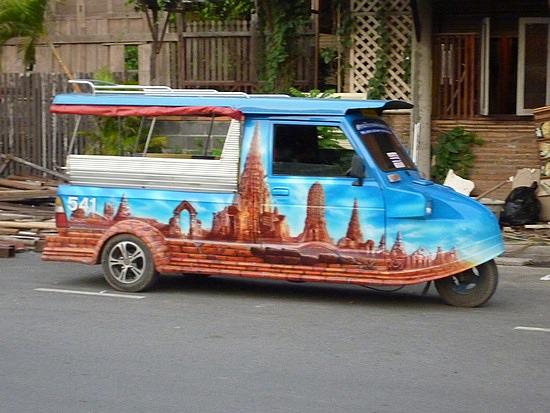 TAXIS: For the flashpackers among us, air-con taxis are available for around 1000 baht ($28) for a few hours of temple jumping.
BIKE RENTALS: You can also rent bikes or even walk if you're feeling energetic. The 40 degree heat wouldn't allow that when I was there (unless you're a lunatic) but feel free to get healthy, it's a long walk though. Bikes are available from literally nearly ever hotel for around $1-$2 per day,  if you take a walk down any street you'll be able to pick one up. If you're here in winter, this is an awesome option.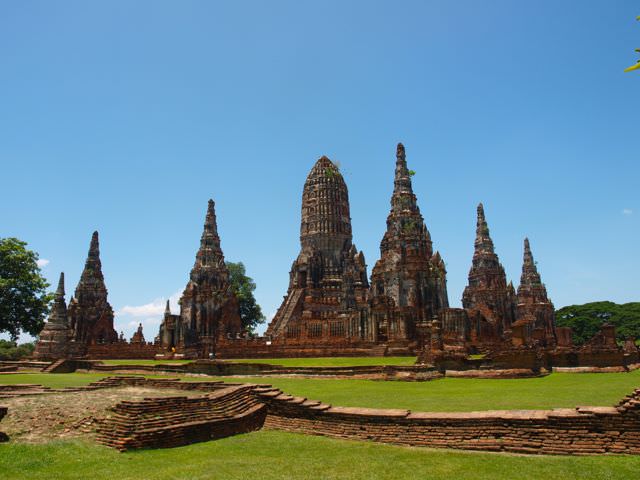 THE TEMPLES and AYUTTHAYA TICKET PRICES:
What can I say other than 'WOW'.  While Angkor Wat in Cambodia and the Bagan Temples in Myanmar get all the Instagram love and column inches, Ayutthaya's understated beauty is a perfect alternative. Get yourself in a tuk-tuk or explore for yourself. Once you're on the mini-island with Ayutthaya where all the temples are dotted around, you come in and out of each individual temple complex, at some of the larger temples, you 'donate' 20-50 THB (roughly $1) for each one, so factor in another $5-$10 for temple entries as a maximum, well worth it when you see how impressive they are.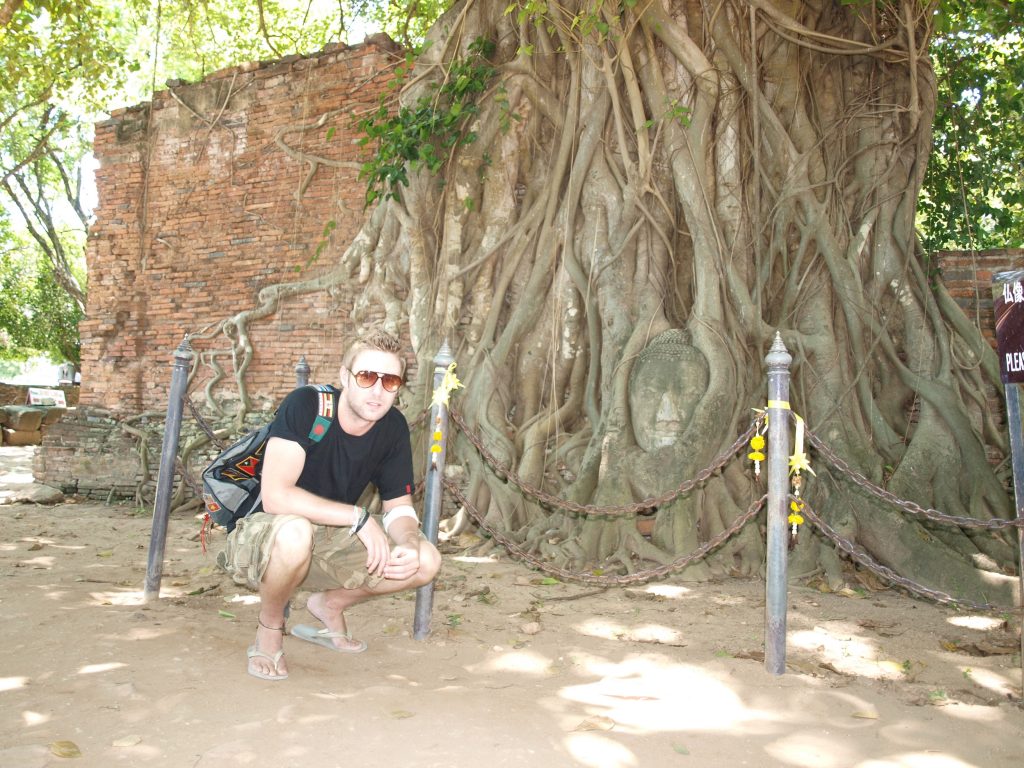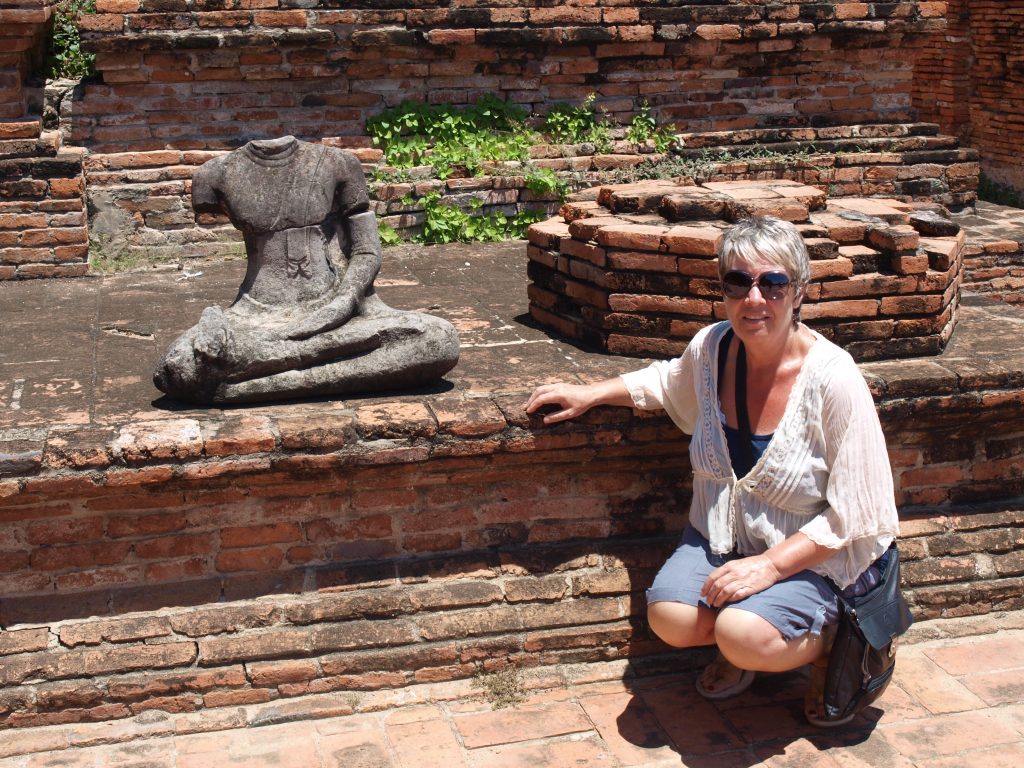 Far less tourist, a fun day trip with the local train, and you can be back in Bangkok ready to party or move on to the islands, or Chiang Mai the same evening.
Get yourself in a tuk-tuk or explore for yourself, either way, you'll love it I promise. Ayutthaya should be on the list of everyone who travels through Bangkok.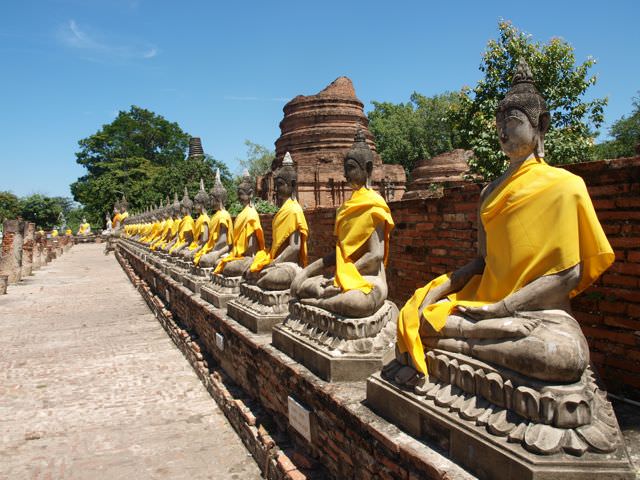 OK guys – this is an easy day trip from Bangkok so don't waste your whole time on Khao San Road or drinking buckets in Bangkok nightclubs, head over to Ayutthaya and get cultured! Happy travels!
P.S Remember to dress quite smart, ideally in long pants for guys and for girls, cover the knees and shoulders, please! This is a sacred Buddhist site, so we need to respect that Thais in that regard.