How to Edit, Process 4K Travel Video from GoPro, DJI and iPhone for Sharing
Why are you travelling? Surely, to see exotic locations, experience incredible, diverse people and folkways, or blah blah blah. Yet, none of that matters to your family and friends back home, because they weren't there, and they cannot feel your journey through your words. So how do you share your latest exploits or fun on the road? Don't talk about your travel. Show people how awesome it is by making a great travel video.
Everyone loves to watch videos and everyone can shoot a video. But it doesn't mean you can make your travel footage easily for sharing with family and friends. On the one hand, there are various cameras available to shoot a video on a trip, from mobiles, DSLR, GoPro, to DJI drones etc., causing a variety of video format like HEVC, H.264, MOV, AVI and more. And nowadays, travellers prefer to capture high quality videos in 1080p/4K UHD, high speed videos at 120fps/240fps or other settings with higher bit rate, which means larger file size of your travel footage. So, it comes crucial to post-process your 4K travel footage before sharing. Yet how could you do that?
The answer is a 4K video processing tool that converts, compresses and edits videos, making your footage into smaller size, re-encoding files from a format that isn't social media friendly to the one that is, and custom editing videos for a masterpiece. The problem is that, while there are many GoPro video editors, most tends to be slow, over-complicated, unreliable and even function-limited. What's worse, very few go compatible with 4K HEVC footage.
Luckily, VideoProc accepts every footage in any resolution, codec and format, no matter where it came from. It enables you to achieve almost all kinds of video processing, namely editing GoPro videos, resizing 4K videos, converting video formats, adjusting audio video parameters etc. The details go as follow.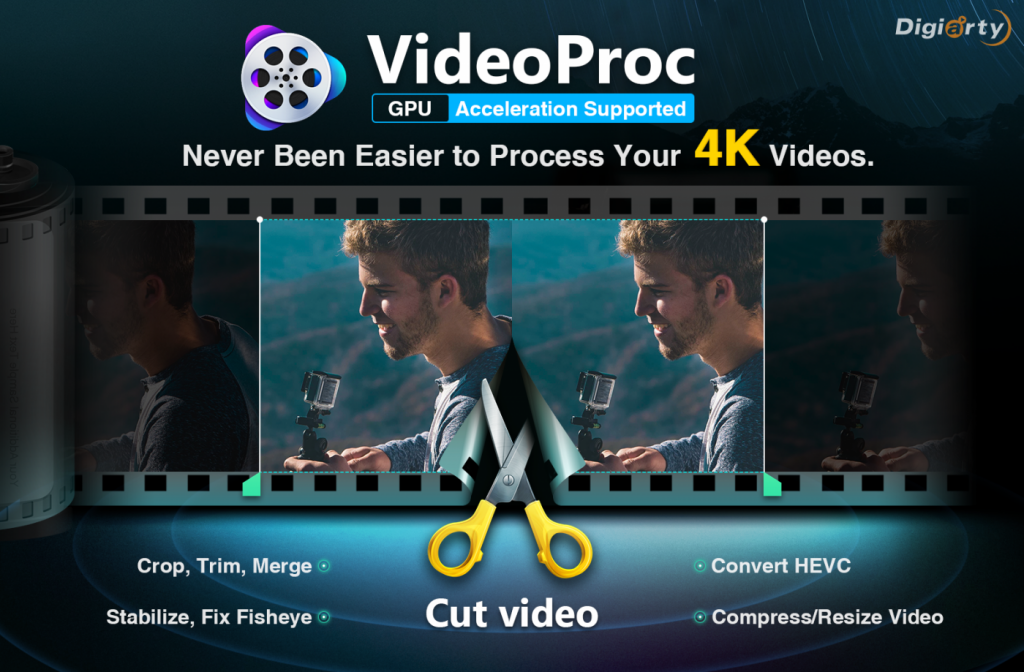 Edit GoPro 4K Footage to Make It Unique & Superior in Quality
For a start, you can make any basic editing on your GoPro footage with VideoProc, such as trimming any parts of a video, splitting a long footage by drones or GoPro into several segments, cropping the frame size to zoom in/out your footage, merging separate clips together, adjusting brightness, rotating video horizontally or vertically, adding subtitles or effects and so on. Beyond that, it's a specially designed GoPro Studio alternative that copes with GoPro 4K camera footage for stabilizing the inevitable shakiness, removing the background noise for x-sports shots, correcting the wider-angle fisheye distortion and more. Thus after you've shot the rough footages in your trip with GoPro, drones or mobiles, you absolutely can take advantage of VideoProc's rich editing features to make them polished and superior in quality for sharing.
Compress GoPro 4K Video by 90% without Losing A Single Frame
The large file size of 4K UHD videos also comes a headache no matter for sharing to social media, transferring to portable devices or storing on hard drives. A minute of 4K video at 60fps could eat up 495MB storage space on GoPro HERO6. If you shoot a 4K video in 10 minutes or an hour, the file size will be horribly too huge to share on YouTube, Facebook or the like. Whereas VideoProc allows you to make a reduction of 4K video by up to 90% without visually quality loss. With it, you can convert GoPro 4K H.264 to HEVC to resize the file by half, downscale 4K UHD to 1080p or 720p HD, lower the bit rate, frame rate, and even trim the length of video or crop the video dimension for further compression.
Adjust Video Parameters to Reduce File Size and Enhance Quality
Yes, you can adjust video parameters to make a reduction of file size. For a large 4K video clip, you're able to re-encode your GoPro 4K video codec like H.264 to HEVC, lower its bit rate, reduce frame rate from 60FPS to 30FPS/24FPS, downscale 4K UHD to 1080p/720p, change aspect ratio from 4:3 to 16:9 to make it smaller. But you know what, video parameters also matters for video quality. If you're not confined to tweak resolution, frame rate, bit rate etc., you can also adjust options like GOP, 2-pass encoding, B-frames to enhance your GoPro video quality.
Convert 4K Videos to Any Codecs and Formats for Sharing or Whatever
4K HEVC compatibility comes the most common issue when sharing GoPro 4K footage. Even though HEVC codec goes available on YouTube, it's still unacceptable for many web sites. For that, VideoProc allows you to convert 4K HEVC to more compatible H.264, or any codecs and formats, such as MKV to MP4, AVI to MOV etc. Thus you're able to share your favorite 4K video clips to your family and friends, play on portable devices or whatever future use.
No.1 Fast Speed to Process 4K Video with Full GPU Accelerated
Besides the salient features, the fast speed is also one of the reasons that VideoProc goes superior to other similar softwares. Thanks to the unique level-3 hardware acceleration powered by Intel®, AMD® and NVIDIA® GPUs, you are able to process 4K UHD, HD videos at 47x real-time faster with an unburdened CPU as low as 40% usage. Meanwhile, if you'd like to reformat your 4K video without changing the underlying codec, the auto copy feature will work together with hardware acceleration, boosting an even faster speed without sacrificing quality. Still, VideoProc works on all recent computers without any bothering about computer lags, overheats or freezes.
You see, VideoProc could almost meet all your needs on your travel videos processing for sharing. No matter you're willing to share whatever footage to social media, be it a relatively incompatible 4K HEVC clip, larger file size 4K H.264 footage, or video with shakiness, noise, or fisheye look in SuperView FOV, you can always use it to convert 4K HEVC to H.264 for better compatibility or vice versa for smaller size, remove background noise, correct fisheye distortion, stabilize shaky footage, and do some basic editing. So just free download VideoProc to get your travel videos polished and awesome for sharing with your family and friends.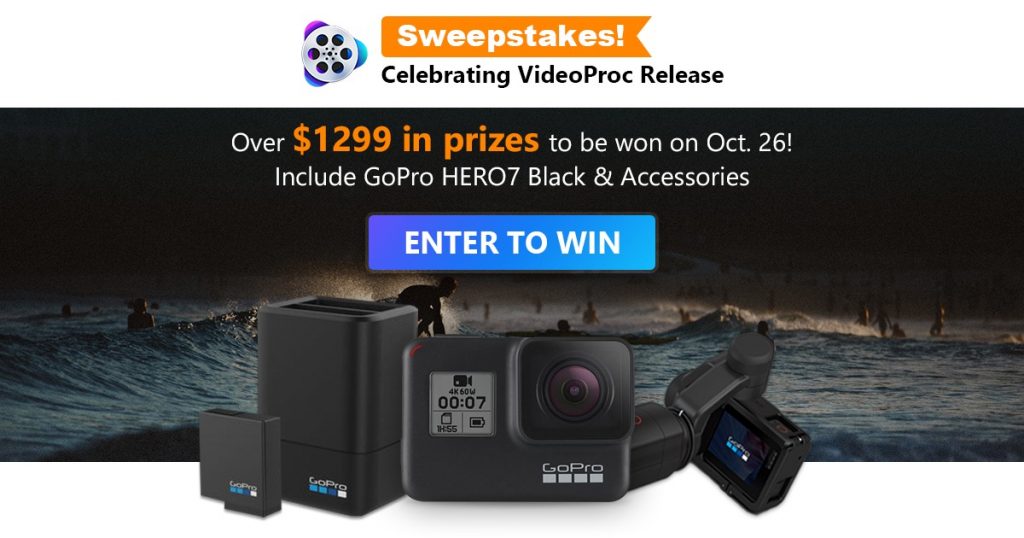 Better yet, you're fortunate enough to have a chance to get a free 15-day trial license key of VideoProc and win GoPro HERO7 and accessories at VideoProc New Release Celebration before Oct 26, 2018. Simply submit your name and a valid email address to get one entry. Absolutely, you can boost your chances by earning additional entries, namely share the event on Facebook and Twitter for 3 more entries, like VideoProc page on Facebook or follow @ProcVideo on Twitter to get one more entry apiece. Each participant can get up to 6 entries. And finally a random draw will be conducted with a winner for GoPro HERO7, 2 winners for GoPro Karma Grip and 6 winners for GoPro Dual Battery Charger with Battery. Hurry up! Grab your chance and participate in the campaign right now!