How to travel to Chechnya and Dagestan
Visiting every country in the world allowed me to learn so much. Part of that learning curve was just how many places aren't officially countries! Places like the Faroe Islands, Svalbard, Socotra, Greenland. Even Somaliland, South Ossetia and Abkhazia. These are places that are 'almost' countries. And we can add both Chechnya and Dagestan to those places too. But how to travel to Chechnya and Dagestan? And where are they?
It's never been tougher, especially considering the awful situation in Ukraine that Russia has caused. But alas, it's not the general population of Russia who is at fault. Merely their Government, and their despotic leader. So let's not judge the people by their leaders.
And with that in mind, I still dream of visiting Chechnya and Dagestan, even if I have to put those plans on hold for a while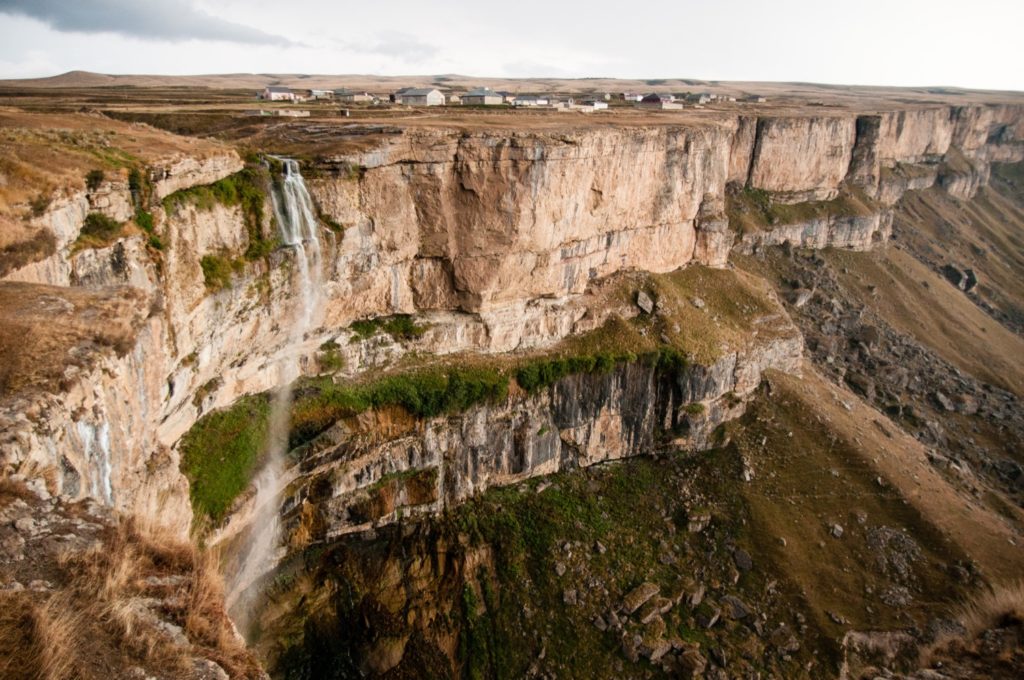 What are Chechnya and Dagestan?
You have surely heard about Chechnya. Probably everything you know about this place is that some years ago there was a brutal war. And if you're interested in martial arts, you definitely know the name of the unbeaten UFC champion, Khabib Nurmagomedov, from Dagestan. If you want to know more about what Chechnya and Dagestan really are, how to travel there, and what is worth seeing – keep reading. 
Chechnya and Dagestan are two autonomous republics of Russia. Both have caused Moscow a lot of trouble in the past. 
Chechnya
How to travel to Chechnya? Well, Chechnya is three times smaller than Dagestan and more than twice less inhabited. It's superconservative land which – however under the Russian government and legal system – is organized around Islamic sharia law and tribal rules called adat. Chechens together with Ingush (people inhabiting the neighboring Ingushetia) identify themselves as Vainakhs. The reasons behind that are ethnic, language, and cultural similarities.
The society in Chechnya is hierarchically divided into 9 tribes (tukhum). Each tukhum consists of clans (teyp).
To say that the history of Chechnya is tragic is an understatement. This small, brave nation stood on the brink of extinction several times. Their main enemy for almost 250 years is… Russia. Yeah. History and politics have a weird sense of humor.
In the time of the Russian Empire, the Tsar's army conquered the whole Northern Caucasus and most of Southern (contemporary Georgia, Armenia, and Azerbaijan). For the next dozens of years, Chechens struggled to re-gain independence. 
The most tragic part of Chechnya's history was World War II. Joseph Stalin accused Chechens of collaborating with Nazi Germany and sending his troops to solve this problem. The NKVD soldiers, known for their cruelty and fanatical devotion to the Soviet Union, carried out the action of resettlement of Chechens to Siberia. Units were sent to the most inaccessible areas and almost completely murdered all the inhabitants.
After 20 years, Chechens who survived mass murders and imprisonment in Siberia got a permit to return home. They accepted it but hated the Soviet Union for what it did.
After the fall of the USSR, the whole region started to collapse. Georgia, Armenia, and Azerbaijan gained independence. The new Russian Federation didn't want to let other Caucasian nations have their own countries. 
Chechens decided to fight for that. Many of them were experienced soldiers fighting in the war in Afghanistan (1979 – 1989). Surprisingly, the first Chechen war (which was in fact the civil war inside Russia) ended with the victory of this small nation. They became an independent country but were divided and ruled by criminals and warlords. It was a matter of time Russia came to finish what it started.
By the end of 1999, the Second Chechen War started. And it was way crueler than the first one. Reportedly 80,000 Chechens died, most of them were civilians. Grozny, the capital city of Chechnya, was totally destroyed. For many years Chechen fanatic Islamists organized disastrous terrorist attacks, e.g., the famous Moscow theatre hostage crisis (170 casualties), and shocking assault on the primary school in Beslan (333 dead, including 186 children).
This difficult time more or less ended in 2009, when the president of Russia, Vladimir Putin, made a deal with Ramzan Kadyrov – the son of Akhmad Kadyrov, who was accused of treason by Chechens and murdered in a bombing attack in 2004.
Since then, Chechnya has been relatively peaceful as the clan of Kadyrov introduced mass repressions to stifle the revolutionary spirit and radicalism. In the exchange, Moscow provides the de facto warlord of Chechnya with money and arms.
Is Chechnya a country?
No, Chechnya is not a country. It's an autonomous region of Russia
Dagestan
How to travel to Dagestan? About 3 million people live in Dagestan, but the whole society is divided as any other place in the world. The territory the size of Slovakia is inhabited by about 40 different nations and there are 14 official languages! It's quite shocking, even considering the amazing diversity of the people of the Caucasus.
What's interesting, those people always know who is who. Every Avar, Dargin, Kumyk, Lak, or Lezgin will recognize his compatriot. I have no idea how. Probably it's related to strong family and clan ties, typical for all inhabitants of the Caucasus.
Such a melting pot is very likely to be unstable. But surprisingly, although many antagonisms between local nations, Dagestan was much less troublesome than Chechnya. At least for the last 100 years.
Probably the most significant part of the Dagestan independence movement took place in the nineteenth century. Dagestan and Chechnya become unified by a very charismatic Islamic leader, Imam Shamil. This ascetic and rigorous Avar from Dagestan organized religious guerillas fighting the Russian Empire for 25 years! Ultimately he lost his battle and died in exile, but his fame lasts until today.
Is Dagestan a country?
No, Dagestan is not a country. It's an autonomous region of Russia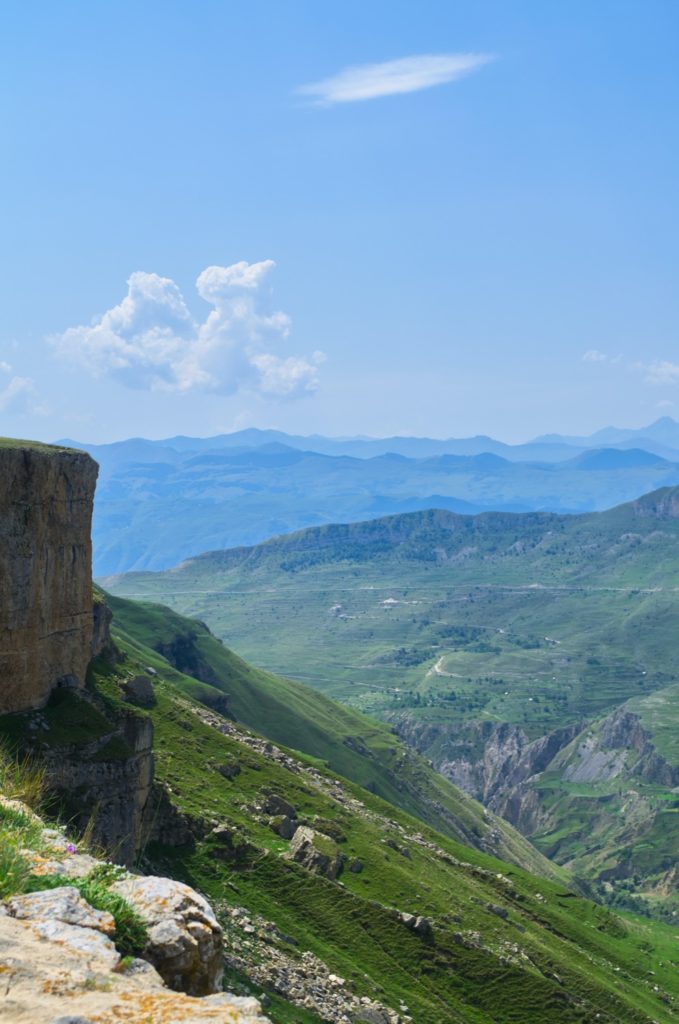 Where is Chechnya? And where is Dagestan?
Both republics are situated in the northern part of the Great Caucasus mountain range. Dagestan has access to the Caspian Sea, which in fact is a lake. The largest lake in the world. Chechnya borders Dagestan to the west and neighbors Ingushetia, North Ossetia, and Georgia.
Chechnya:
Dagestan:
How to get to Chechnya and Dagestan?
You can get to Chechnya and Dagestan both domestically, from other parts of Russia, and internationally by land or by plane. Basically, you only need a Russian visa. But in some cases, i.e., the so-called border zones, you need to get special permits – separately for each republic. Let's go deeper into bureaucracy – a boring but immanent part of a traveler's life.
Getting a Russian visa and special permits
As Chechnya and Dagestan are parts of the Russian Federation, you need to get a Russian visa first. Only a few countries are falling under the Russia visa-free regime. There are different regulations for various countries, so you have to check your own on the appropriate embassy's website.
If you're going to visit Chechnya and Dagestan, you have to plan carefully. The Russian Federation has special rules regarding the so-called border zones. Basically, suppose you're going to travel as close as 5 to 25 kilometers to Russian external borders with Georgia or Azerbaijan. In that case, you need to get a special permit (unless you're not going to stop and cross the border, that is the exception). The problem is that you have to get a separate permit for each autonomous republic. The deadline for issuing the permit is a month! So, if you're planning to get deep inside Northern Caucasus, you have to contact the local agencies specialized in organizing such permits. Believe me, doing it by yourself is difficult and stressful.
By plane
Against its name, there are very few direct international connections to Grozny International Airport. Three of them are from Turkey (two airports in Istanbul and one in Antalya), one from the United Arab Emirates (Dubai), and one from Saudi Arabia (Jeddah). 
There are also several domestic flights from Russian airports – Moscow, Sankt Petersburg, Sochi, Cherepovets, Surgut, and Novosibirsk.
If you want to get to Dagestan by plane, there are exactly the same international connections as in the case of Grozny, with some extra links – Uzbekistan (Bukhara and Fergana), and Azerbaijan (Baku). You can also find much more domestic flights, mainly from the Russian interior (i.e., Kazan or Yekaterinburg).
By land from Russia
Going to Grozny from Moscow by land is pretty challenging. Remember, we are talking about the largest country in the world. So, there are some direct trains. They cover the 2,000-kilometer route in just under 40 hours. As I said, it's challenging but also very adventurous.
Much more train connections exist between the capital of the Russian Federation and Makhachkala. However, this does not translate into speed, as the distance is similar and covering it by train will take you the same time, i.e., about 40 hours.
By land from Azerbaijan
Crossing the border between Azerbaijan and Russia is quite simple. There is only one place you can do it – the village of Samur. If you have a Russian visa yet, the procedure is quick. You shouldn't expect any traffic on the pass. Of course, when going from Azerbaijan, you'll get to Dagestan as there is no direct border between Azerbaijan and Chechnya.
By land from Georgia
If you'd like to get to Chechnya from Georgia, the easiest way is to go from Kazbegi to Vladikavkaz in North Ossetia. You can do it one of two ways – by taxi, or by hitchhiking. If you choose a taxi, be sure that your driver is Russian or Armenian. Georgian taxis are not allowed to cross the border.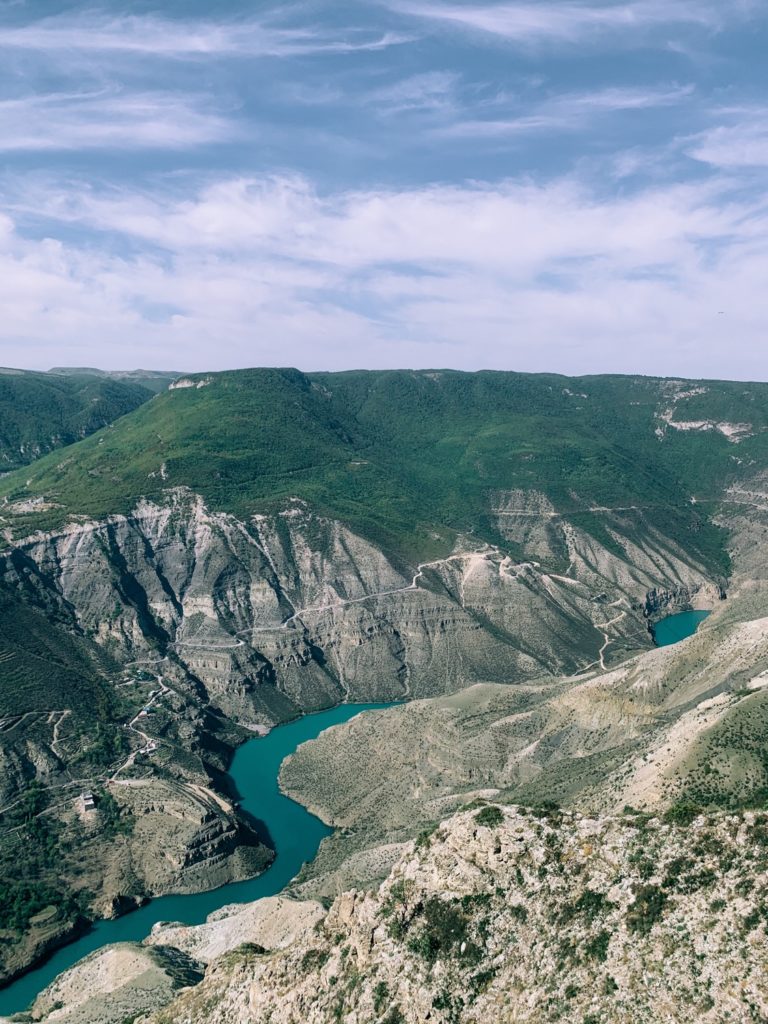 Is Chechenya dangerous? And what about safety in Dagestan?
Let's be honest. Neither Chechnya nor Dagestan are destinations for travel newbies. There are a lot of risks and dangers in those republics you should be aware of.
The popular (I won't say touristic) places are safe. Police and special forces heavily patrol cities like Makhachkala and Grozny. Believe me, guns they carry are not toys and those guys really know how to use them. Nevertheless, they won't bother you at all. Quite the opposite, people from services are very helpful. If you need to ask for something you shouldn't be afraid. But don't try to photograph them. The same rule refers to public buildings like airports or police departments.
I strongly advise you against walking by night in suspicious neighborhoods. Human trafficking in Chechnya and Dagestan is higher than usual.
Outside the city, you should keep on traveled roads. Although the war in Chechnya ended more than ten years ago, Chechen fighters are still hiding in the inaccessible mountains. This applies to both Chechnya, Dagestan, and Ingushetia.
Remember that Chechnya and Dagestan are conservative and authoritarian republics. You shouldn't get into political discussions because you never know who your interlocutor is. Most of Dagestan and Chechnya inhabitants are Muslims, so you must follow the appropriate moral, behavioral, and clothing standards.
What to see in Chechnya and Dagestan?
Chechnya
Grozny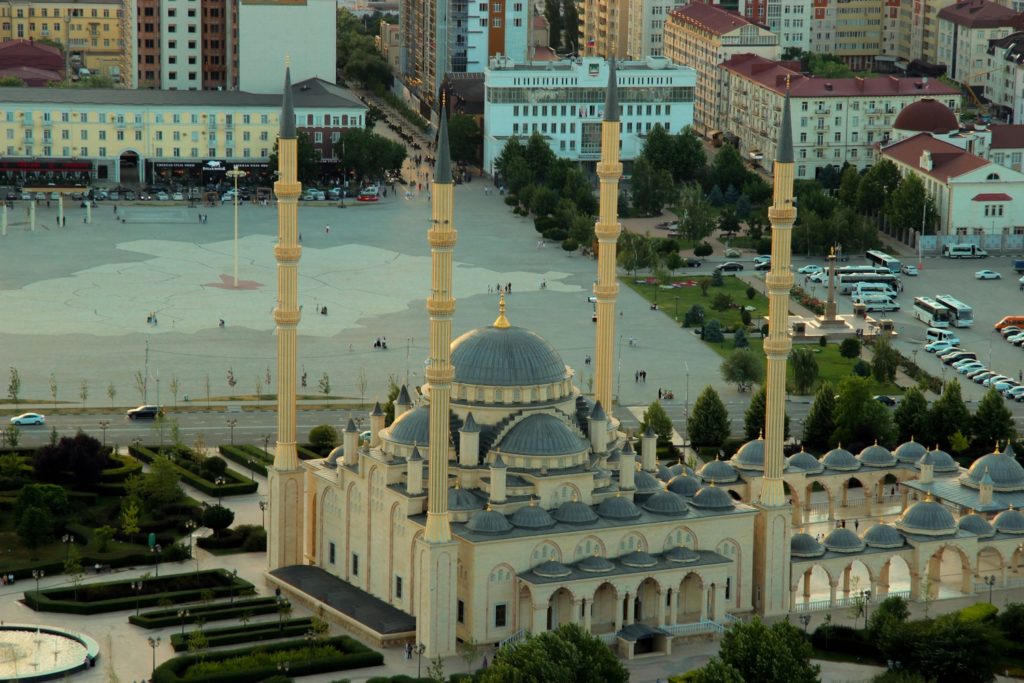 In 2004 Grozny was the most devastated city in the world. For more than two decades, starting from the First Chechen War against Russian Federation (1994), the name Grozny was the synonym of the completely destroyed city. It was a demonic depiction of the Russian translation of the city's name. Because in Russian, Grozny means "The Fearsome".
Now, more than ten years after the end of the Second Chechen War (1999 – 2009), the city changed. Mostly because of the funds from Moscow, which invest in Chechnya to prevent its warlike, hungry for independence people from another insurrection. And to cover its own war crimes.
The renovated city center is impressive, especially if you compare them with photos from 10 years ago. Take a walk along Kadyrov's and Putin's street (yes, you see right), enter the Flower Park, and see some brand new skyscrapers. Then, head towards the "Heart of Chechnya", often called the Akhmat Kadyrov's mosque. Take a sit in a cafe, watch the people walking around and try to imagine how small we are in the face of the great wave of geopolitics.
Kezenoyam lake and Khoy village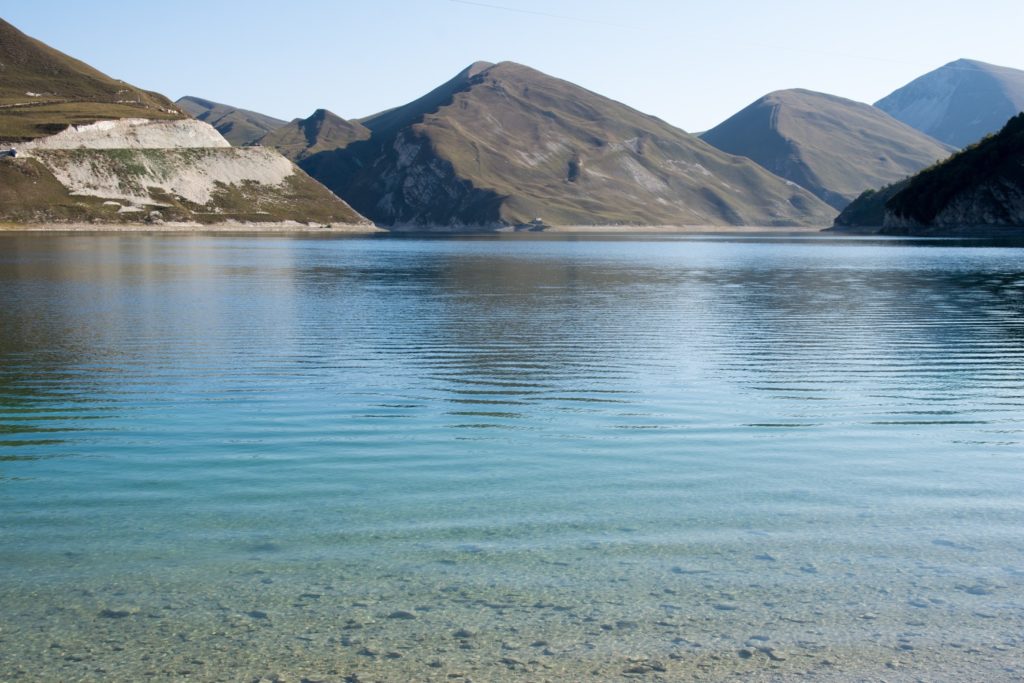 You find that Kezenoyam is the largest and deepest lake in the North Caucasus. And definitely the most picturesque one. It's situated 1 870 meters above sea level and surrounded by mountains. It's about 2 hours drive from Grozny. The last 30 kilometers of the road are exciting serpentines.
By the lake, you can find renovated Khoy village. It's probably the oldest aul (defensive mountain village) in Chechnya. The archeologists found traces of primitive settlements older than 2,500 years. There are a lot of Vainakh symbols in Khoy, as well as Nakh tower, which is a typical building you can find in the whole Northern Caucasus. 
Nakh towers served as stables, houses, and one-house-fortresses. Each village had at least one Nakh, and they were used as a system for transmitting warning signals when the enemy was approaching. At night, a fire was lit at the top of the tower, and smoke signals were given during the day. Unfortunately, this solution was often used because the Khoy valley was the place of the march of many cruel troops – Mongols, Nogais, Russians, and Persians.
During the communist era and the two Chechen wars, all signs of Chechen identity were destroyed. Fortunately, in recent years things have started to turn and places like Khoy are being rebuilt.
The easiest (and safest) way to get there is to book a 1-day tour organized by a local company Chechen Tour. My guide Turpal was an outstanding and knowledgeable guide speaking perfect English. He was very keen on explaining the local rules, tribal customs and differences, top food, and difficult history. I earned his trust, so he was quite open in his political views.
Mosques in Shali and Argun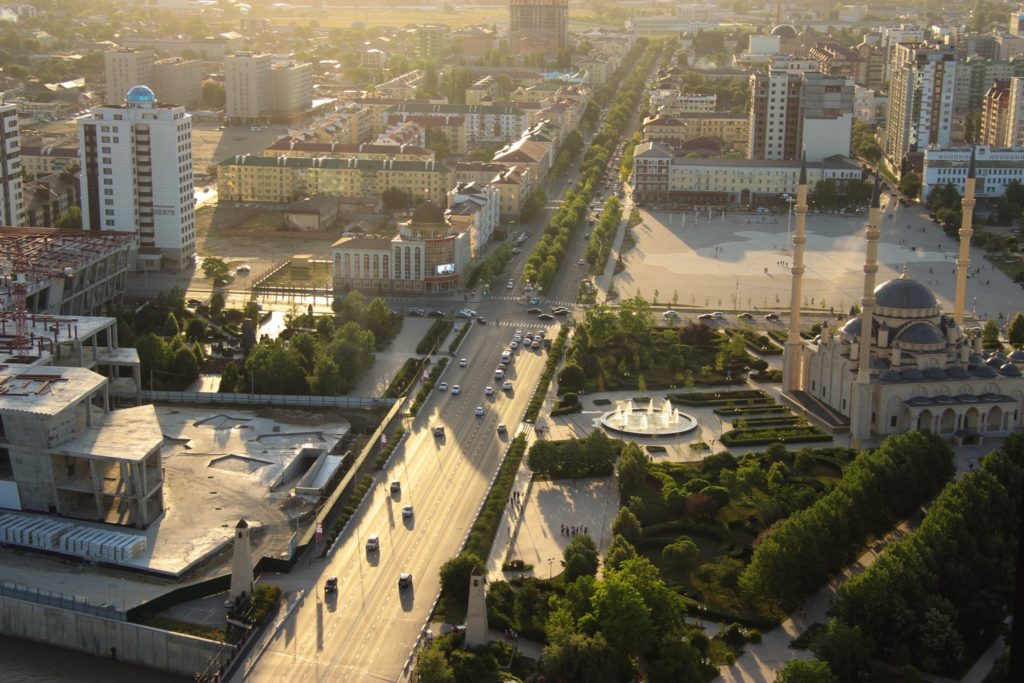 Chechnya is a republic in which the vast majority are Muslims. In addition to the Kadyrov mosque in Grozny, you should see two more Islamic temples – in Shali and in Argun.
Opened in 2019, the mosque in Shali is the largest of its kind in Europe. The impressive, ornately decorated white marble building has 9,700 square meters and a capacity of 30,000 worshipers. And if the courtyard is included, as many as 70,000 people can participate in the prayers.
Even if you're not a fan of sacral architecture, you will be impressed by the Argun mosque. During the day, depending on the weather, the arches of the mosque change shades of colors — from light gray to turquoise-blue. At night, the mosque and the surrounding areas are illuminated with multi-colored LED lamps and spotlights. It's not as big as the one in Shali, but definitely worth viewing, especially by night.
Dagestan
Makhachkala
The Caucasus is a melting pot of almost a hundred different nations. If I had to choose the center of it, the ultimate melting pot of the whole Caucasian population, it would definitely be Makhachkala.
It is the capital of the Dagestan republic and the largest city in the Northern Caucasus. Honestly, it's an ugly, chaotic, crowded post-soviet place that, however, has its own, surrealistic charm. I mean, being there you can feel this city lives and has a soul.
To spot it, you have to watch carefully and at least partially understand the diversity of this part of the world. I have a little game for you. Go to the Makhachkala's bazaar and watch the people. Try to recognize the dresses of Avar women and shawls of Dargin ladies, Nogay's oriental faces, and black-hatted Laks. Because it's people, not buildings, make the Makhachkala's charm and uniqueness.
Derbent – the oldest city in Russia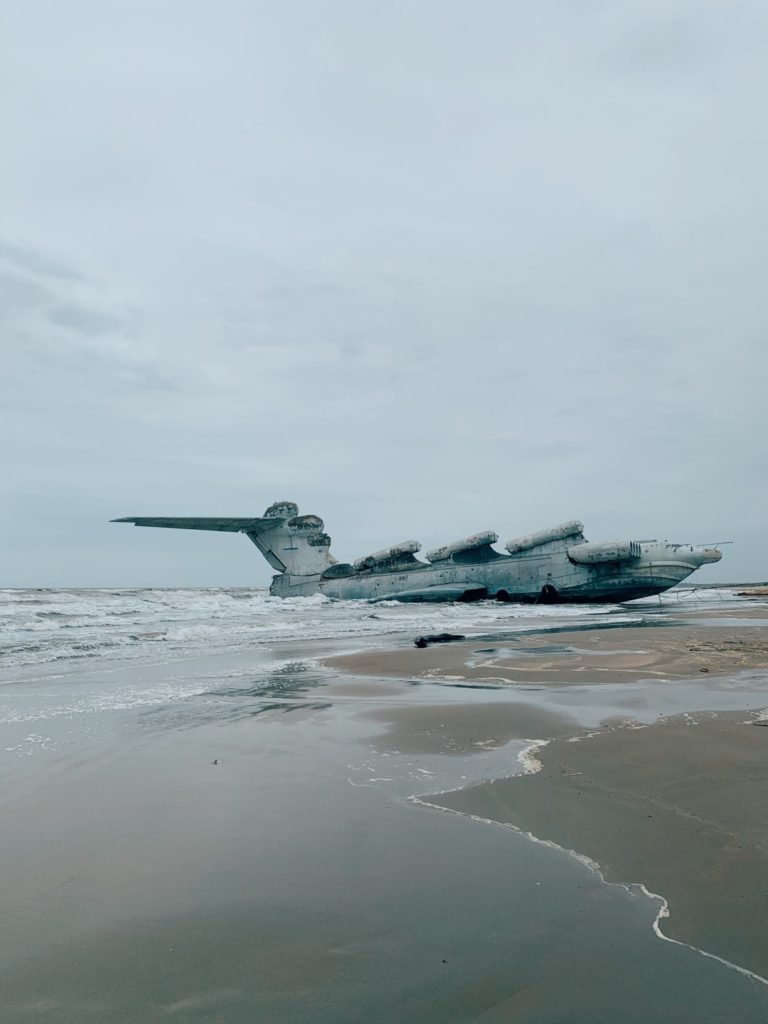 Derbent is the oldest and the most southern-located city in the territory of the Russian Federation. Dating to the 8th century BC Derbent is also probably one of the oldest constantly inhabited cities in the world. But you should know one important thing. In fact, it's not a Russian city at all. For most of its history, Derbent was a Persian city defending its northern rims. It passed into Russian hands in 1813.
The main building and a symbol of Derbent is an ancient Sassanid Fortress. The fortress protected the northern border of the Persian state of the Sassanid dynasty, which stretched both east and west of the Caspian Sea. It was under Persian rule from the 6th century BC. Until the 4th century AC, it was part of Caucasian Albania, the satrapy of the Persian Achaemenid Empire.
The fortifications, built of stone blocks, consist of two rings of walls parallel to each other. In this way, they create an impassable barrier that stretches from the coast of the Caspian Sea to the mountains. Within the walls in the Middle Ages, the town buildings of Derbent were built. The original urban infrastructure has survived in large part to this day.
The city's name comes from the Persian word "Darband" which means "Closed Gates". It is used from the turn of the 5th and 6th centuries CE, after the city's relocation by the Sassanid Shah, Kavada I. It is believed that the thirty defensive towers facing north were built during the reign of Khosrov I Anoshirvana, son of Kawada I.
Due to its excellent strategic location, the city has changed hands throughout history, mainly between the Persian, Arab, Mongolian, Timuridian, and Iranian kingdoms. In 654, the Arabs conquered the citadel, continuing their invasion deep into Persia. At that time, they transformed the fortress into an important administrative center of their country and spread Islam in its territory.
Fortress in Gunib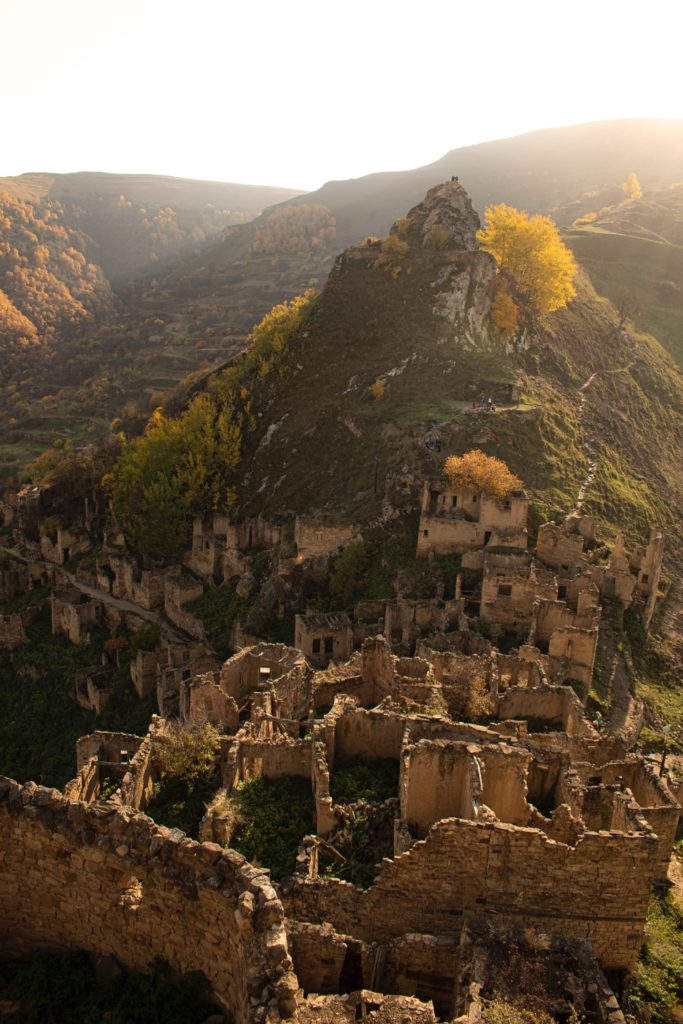 The Avar fortress of Gunib is known as one of the most important places of the Caucasian war from the nineteenth century. It was the last bastion of the legendary Imam Shamil, the leader of the Chechen-Dagestan religious country, who opposed the Tsar's power for more than 20 years. 
Imam Shamil was captured in August 1859. This was the final stage of the war in the Eastern Caucasus and brought the Russian Empire closer to victory in this hard and long struggle. The Gunib Fortress was erected by the soldiers of the Russian garrison shortly after the captivity of the leader of the Caucasian highlanders. The fortress did not take part in the fight and was mainly a fortified point for barracks, residential houses, and service facilities. The ancient castle walls, stretching along the mountain ridge over steep cliffs for almost 3 km, have survived to this day.
Getting to Gunib is quite challenging. You can find the village situated 2,000 above sea level in the middle of the mountain range. There is only one daily bus to and from Makhachkala. Hardly anyone speaks English there, so be sure you can speak at least slightly Russian.
Gunib is unknown and absolutely not touristic. You won't meet any foreigners there. Thus, you'll be an attraction for the locals. If you dare, you can go trekking in the wild mountains of Dagestan. However, you have to keep in mind that it can be hazardous. There are no paths, the weather is unpredictable, and you can meet wild animals, like bears or wolves. Recommended only for very experienced and well-prepared mountaineers.
Final thoughts on tourism in Chechnya and travel to Dagestan
These places aren't easy to visit. Nor will you meet many fellow tourists. But that's what makes destinations like these so alluring. We want to see other cultures, eat other food. And while sometimes the staunch religious beliefs can make travel a little different, especially for women, you can expect to met with open arms and warmth. Dispel the myths you've heard over the decades from Western Media, and come visit. I personally can't wait!
About the author:
Michal Jonca is passionate about travel and food experiences who visited 40+ countries on four continents. He is a Travel Leader at the largest Polish travelers club Soliści organizing adventurous trips worldwide and the Community Manager at Passport Photo Online. Currently, he enjoys workation in Thailand and writes his travel blog Opowieści Podróżne.
Remember, never travel without travel insurance! And never overpay for travel insurance!
I use HeyMondo. You get INSTANT quotes. Super cheap, they actually pay out, AND they cover almost everywhere, where most insurance companies don't (even places like Central African Republic etc!). You can sign-up here. PS You even get 5% off if you use MY LINK! You can even sign up if you're already overseas and traveling, pretty cool.
Also, if you want to start a blog...I CAN HELP YOU!
Also, if you want to start a blog, and start to change your life, I'd love to help you! Email me on johnny@onestep4ward.com. In the meantime, check out my super easy blog post on how to start a travel blog in under 30 minutes, here! And if you just want to get cracking, use BlueHost at a discount, through me.
Also, (if you're like me, and awful with tech-stuff) email me and my team can get a blog up and running for you, designed and everything, for $699 - email johnny@onestep4ward.com to get started.
Do you work remotely? Are you a digital nomad/blogger etc? You need to be insured too.
I use SafetyWing for my digital nomad insurance. It covers me while I live overseas. It's just $10 a week, and it's amazing! No upfront fees, you just pay week by week, and you can sign up just for a week if you want, then switch it off and on whenever. You can read my review here, and you can sign-up here!