Oh the joys of backpacking are all coming rushing back to me now. So I left Chengdu to head to Juizhaigou to check out its UNESCO national park. A simple 8 hour bus journey they said, no worries. Hmmm….
I went to the bus station at 7.30am and got my ticket, no probs, it left at 8.15 which in China means it was very, very punctual. Nothing out of the ordinary just yet.
Suddenly the bus worker started placing small buckets in the aisle in between every other seat, wow that's very conscientious, maybe China are getting their act together with all their rubbish. Or.. maybe not. Withing 5 minutes of these strategically placed buckets, old woman, old men, teenagers and kids were hacking up the darkets, deepest saliva imaginable and spitting every 30 seconds into these bloody buckets, right at my feet. Lovely. This went on for the entire duration of the (supposedly) 8 hour journey.
After about 4 hours, we got out for lunch, nature called so off I went in search of a toilet. An old guy who looked like a sort of cross between Gandalph and Smegle demanded some money for the toilet, I was happy to pay assuming that the toilet must be pretty decent if I'm having to pay for it. How wrong can I be. I 'll let the picture do the talking for this one: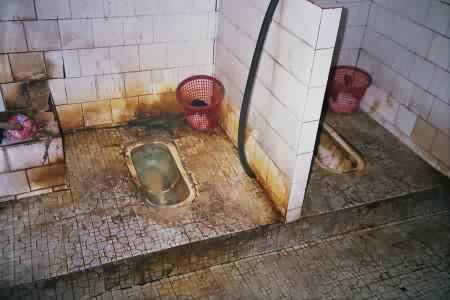 Back on the bus, only 4 hours to go, we should be there by 4pm. After about an hour we were climbing a steep mountain and the traffic stopped to a complete standstill. I waited for around 20 minutes before getting curious, trucks were backed up as far as the eye could see. I had to check it out. A crazy Chinese truck driver didn't want to let the other guy coming the other direction to go first apparently, so he carried on, had to sway out of the way and toppled his entire articulated lorry, spilling his cargo and his truck across the narrow mountain track. Wonderful. Cue some ridiculous Chinese logic, 90 minutes of manic 'organisation' and finally we're off again.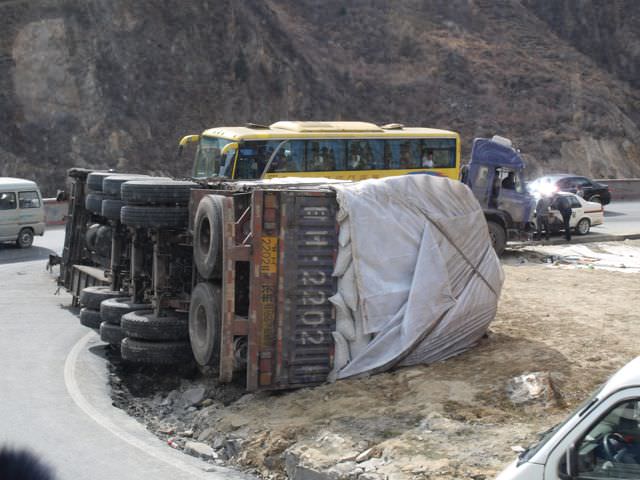 We stopped another 30 minutes down the road to the some of the most beautiful scenery I've ever seen in China and while the bus driver was going mental at me for holding up the bus, I managed to hop on a farmers yak for a quick snap. The only saving grace from my journey! Check out this pic!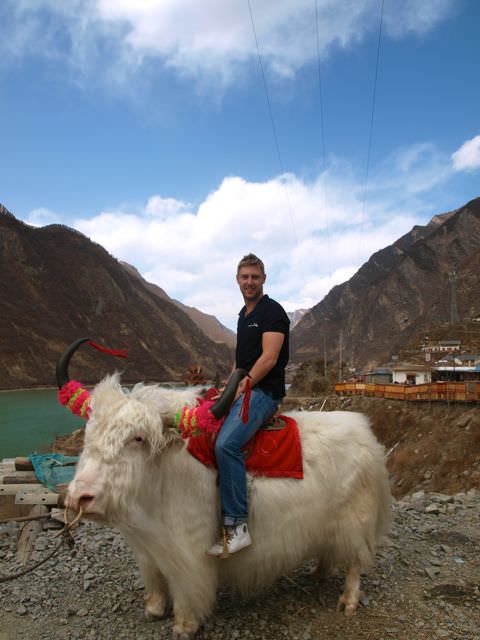 The spit buckets were filling up which was far from ideal, but the old Tibetan lady sitting beside me decided to take things a little further and started throwing up violently into (and very much around) the bucket at my feet. This carried on until the end of the journey… which should have ended at 4pm. We finally rolled in around 7.45pm. The joys of travel! 😛