Pretty much everyone knows about London´s most famous attractions… the classics… the must-sees; Buckingham palace, St Paul´s Cathedral, Madame Tussauds, to name few. And, whilst many of them deserve to feature on your travel itinerary, there is much more that can be incorporated into a trip to England´s capital. London is full of intriguing throw backs to the past as well as many nods to the future, through its architecture, sights and boroughs. This is the insider´s city guide: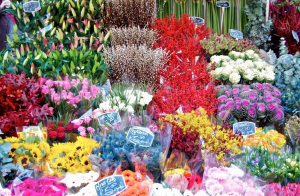 Columbia Road Flower Market
Every Sunday from around 8am to 3pm, whatever the weather, Columbia Road in London´s East End comes alive. On Sundays the street is transformed by the arrival of flower merchant stalls selling locally grown plants, as well as internationally sourced flowers. Columbia Road is a great place to spend a whole afternoon as it is one of the few streets in the country which is made up solely of independent shops, 60 of them to be precise. Small art galleries, vintage clothing stores, delis, cafés and antiques shops line the street. The road is traditional, small-town and atmospheric and, of course, is home to some great typically British pubs.
Primrose Hill, Regent´s Park  
London has an incredible skyline made up of some of the world's most iconic buildings, including the Shard, London´s most recent addition and now the tallest building in Europe. A trip to London would not be complete without viewing the sights from above. There are many viewing points in London, such St Paul´s Cathedral and the London Eye, but, in order to skip the crowds and the entry fees, Primrose Hill in Regent´s Park provides one of the best views found anywhere in London. There are panoramic views and it is completely free of charge and rarely crowded, set in one of London´s many beautiful open green areas.
Brick Lane
Many youngsters come to London to study for a semester at one of London´s reputable universities or to take an English language programme such as an IELTS preparation course, a business English class or go to an English language summer school. Those students are, therefore, sure to want to go where the young Londoners go and that place is Brick Lane in Spitalfields. This is East London at its most vibrant. It is the home of London´s Bangladeshi community and is famous for its high quality curry houses. It is also home to the Brick Lane Market, which specializes in second-hand furniture and unusual, vintage clothing. It also attracts street artists and is known for its impressive wall graffiti.
Richmond
Richmond upon Thames is one of London´s outer boroughs, lying 15 miles (24Km) southwest of central London. Hop on a train at Waterloo and within 15 minutes you will come out in what will seem like a different world. Richmond is very picturesque and been a popular retreat for the rich and famous for hundreds of years. The River Thames runs through the middle linking Richmond town centre to central London. The borough is home to independent theatres, Richmond Park, which is the largest of London's eight royal parks, Kew Botanic Gardens, galleries and museums and a bustling centre full of shops and restaurants. Richmond offers another side of London, away from the hustle and bustle.