One of the many images that come to mind when most people think of the USA is miles and miles of blacktop highway running across the country.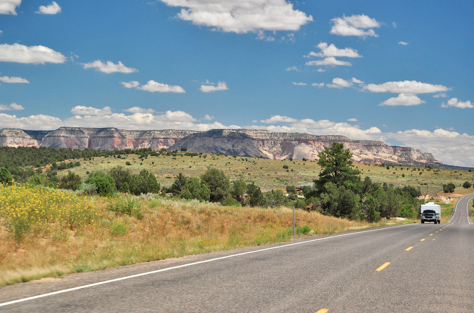 The road trip is part of the American dream. Getting in a vehicle and being able to drive from the Atlantic to the Pacific coasts or explore the vast expanses of the country from deep forests, mountain ranges and arid deserts alike is an undeniable attraction and anyone who visits America on holiday and takes some time out from the usual tourist trail is likely to come across caravan travellers making the most of the freedom of the road.
That's exactly what happened to me. I met some caravan travellers when holidaying in the States and couldn't believe how happy they were. Not only were they getting a unique travel experience from the comfort of their own vehicle, but they were living the high-life and making the most of every opportunity.
In short, they had it good – and I wanted it that good too! Many static caravans are also the main domestic living places for a large number of Americans who live in trailer parks, where such homes are permanently located but for those seeking the caravanning holiday experience, here's what I've learned.
RVs
As well as many people living in what we might call caravans which are set in one place all the time, another confusing aspect is that the term 'RV' is used to cover any moveable vehicle which also offers accommodation.
So anything from an old Beetle camper van through to the most contemporary mobile home right up to luxury caravans towed by another vehicle are all referred to as an RV. If anything, this only goes to show how popular this way of life is in the USA.
Tips
The land mass that is made up by the United States is very big indeed. This means that there is always somewhere else to visit and this can make it difficult to decide how long to stay in one location.
Having a good itinerary is key to making the most of a caravan holiday in America, but of course most people will want to make it flexible enough to fully enjoy the places they come across on their journey.
The weather varies a great deal across the nation and for a European visitor it is best to think of how different the conditions might be in Barcelona and Moscow on any given day of the year. Likewise, travelling across the USA will mean you encounter a great difference in temperatures depending on where you are and what time of year you are travelling at – so always pack appropriately.
Laws
Driving in the USA has legal requirements which might differ from your home country so check these before departing. For those from the UK, the first thing to note is that you need to drive on the other side of the road. You won't need to an International Driving Permit (IDP) if travelling for a period of up to one year either as a full UK driving licence is officially accepted.
In most states the use of seat belts is compulsory, highway speed limits are typically 55-75mph and the rules on alcohol and mobile phone use are broadly similar to those in the UK, although you should always be aware of differences from state to state.
Best of times
When you meet caravan travellers on holiday in America, you get the sense of adventure and excitement that they are experiencing. The constant flow of new destinations, each with its own history and character, means that there is no end to the possibilities once you are on the road – so what are you waiting for? Caravans can be snapped up at an absolute bargain, especially second hand ones!