*Today one of my readers sent me an article he wrote too, showing people that we can all find our own way in life, there's no need to conform. Read away folks 🙂 
I follow Johnny's blog regularly, and wholeheartedly agree with the 'carpe diem' mentality that he tries to impart on his readers. A few years ago I took a decision to change my life for the better and although I can't claim the travel accomplishments that Johnny has, I think I have found a 'halfway house' that gives me a good balance in my present situation. So here's how it happened for me…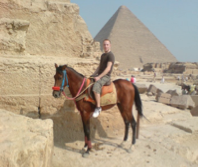 I left school at 16 with no real idea of what I wanted to do; I ended up doing an apprenticeship in engineering, operating CNC machines making parts for the automotive and aerospace industries. For 7 years I hated it! I would arrive at work every day and sit in the car dreading 'clocking in' to a job I didn't enjoy. It wasn't a terrible job, the pay was ok and the hours weren't overly long, I just hated being stuck in a factory environment with the clichéd horrible bosses and union mentalities.
At 23 I met an American girl – it was a bit of a whirlwind romance which ended (amicably) after about 12 months, but during the 12 months it gave me the opportunity to travel to America several times. This taught me that catching a plane on your own, heading to bar on your own and being in another country without a guide was actually pretty fun. Although, once it ended I was still in the UK, still working at a job I was unhappy with. I knew something had to change… as I said the money was decent, I was earning nearly 30k but this just compounded the problem, I was used to the money and scared of leaving the comfort of a decent wage (I also had zero savings, something which I am still terrible at). Lastly I also had no idea what I wanted to do!! I had even tried moving to another company doing the exact same job for more money, in the hope that would make me happier.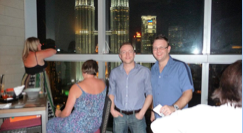 My situation was this; I knew I liked travelling (from my limited but enjoyable sojourn in the USA), I knew I was ok at technical stuff (from my job), and I knew I wasn't happy doing what I was doing. So one morning I arrived at work, felt the familiar feeling of dread at the thought of actually walking into the place, but instead of continuing on the daily grind, as I had hundreds of times before – I walked inside, picked up my note pad and wrote my scruffy, but polite, 7days notice.
"Where are you going?" "What do you plan to do?" Both valid questions, but I didn't have an answer for either.  I didn't know what I wanted to do with my life but I knew it wasn't this.
I spent 2 months actively searching for what I wanted to do. And I mean ACTIVELY! I spent hours online and looked at all sorts, from volunteering in foreign countries to working as an air traffic controller (some of my ideas were better than others J).  After 2 months I ran out of cash so I took a local job, working on a production line assembling fans for minimum wage, but I kept up with my search, sending applications, researching opportunities… I had started down the path so really there was no going back.
I had seen a job for a technology company, in the advert; under the key-requirements, it stated 'must be willing to travel internationally on a regular basis'. I knew the company, I had been using one of their products for the last 8 years and I knew they had a pretty top ethos, so this one was right at the top of my list for things that I had applied for. During my time searching for what I wanted to do, I stumbled on a video by the late Randy Pausch called 'the last lecture' (if you haven't seen it I recommend you search it on you tube, it is the work of a truly inspirational guy) in the video Randy advocates that the 'brick walls' in life are only there to stop people who don't REALLY want something!

I was applying this mentality to my search and was hounding the people (in a polite, but enthusiastic way) that I had submitted applications to. 3 months after applying to the technology company, and multiple
"Hi, I submitted an application, and was just wondering if there had been any progress with it" type phone calls. I finally got the response I was after:
"sighhhhh, well you're keen I'll give you that much… come in for a chat… but this is not an interview".
Jackpot, I had an interview (and selective hearing at the end!!) I went to the meeting (prepared as I would be for any interview) and chatted to 2 pretty cool guys for an hour or so. An hour later they called and offered me the job.
Now I'm not a full time traveller, but in the last 3 years I have: ridden a horse around the Pyramids, seen the Taj Mahal, the Petronis Towers, trudged through knee deep Swiss snow – in business attire, I have eaten locusts with 2 ladyboys on Koh San Road, climbed a waterfall in Mumbai, I have been to LA, Vegas, multiple places in East Asia, India and Europe, met about a million interesting people and seen a million interesting things. Yeah I still work full-time, but I never would have seen this job or chased it with such passion if I hadn't taken that first step to get away from my old habits.
With the job I do now I tend to travel for relatively short trips, a week here, 2 weeks there. So trying to fit in work and play can seriously wear you out, but it just means you don't allow any time for relaxing in your room or lying in bed and at the end of the trip you come home needing a good night's sleep – but hey that is a pretty minor inconvenience when you get PAID to travel the world.
I generally expect to be out of the country for anything between 3 days and 2 weeks every month. Whilst I may not quite count as a hardened traveller like Johnny and the others (because at the end of the day they are the true kindred spirits, completely free and without obligation) I find the lifestyle I lead gives me a balance that I enjoy – and most importantly I'm happy.
Is my story a one off? A fluke? Well a major inspiration for it was a close friend who quit a successful job because he wasn't happy – he now spends his days going round Europe and Asia test driving cars on race tracks each day (he insists it's harder than it sounds J). Another good friend quit a job in a UK bank and now works in Dubai (it may not be everyone's ideal place but he loves it out there! He helped Johnny out with an article a while back: https://onestep4ward.com/work-middle-east-qa/ ).
So whether you travel as a job or travel as a lifestyle; if it's something you want to do… get out there and do it!! As Johnny likes to say 'tomorrow is promised to no man' 😉
Remember, never travel without travel insurance! And never overpay for travel insurance!
I use SafetyWing at $9 a week, and it's amazing. Also, it has great digital nomad insurance for people who are constantly travelling too! You can read my review here, and you can sign-up here
Also, if you want to start a blog...I CAN HELP YOU!
Also, if you want to start a blog, and start to change your life, I'd love to help you! Email me on johnny@onestep4ward.com. In the meantime, check out my super easy blog post on how to start a travel blog in under 30 minutes, here! And if you just want to get cracking, use BlueHost at a discount, through me.
Also, (if you're like me, and awful with tech-stuff) email me and my team can get a blog up and running for you, designed and everything, for $300 - email johnny@onestep4ward.com to get started.
How about $55 free AirBnB credit?
Oh, one last thing! If you've never used AirBnB before, here's a $50 voucher for you! Enjoy!