Liverpool Football Club after 21 years in the European Cup wilderness had by hook or by crook, by accident or by design, finally reached a Champions League Final. New boss Rafael Benitez, so inconsistent in his first season navigating the English Premier League, had proved to be a mastermind on the European stage.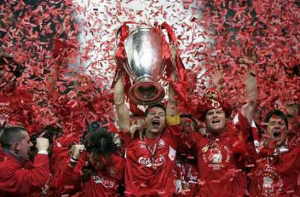 Ever since childhood it had been drummed into me that Football was a working man's game, the extortionate rise in prices over the past two decades sickened me. This principle belief that tickets should be affordable had allowed only a handful of games to be enjoyed first hand over the years but sometimes events can compromise your principles and make you out to be a hypocrite.
Liverpool F.C reaching a first European Cup Final in 21 years was one of those events.
It would have been impossible to acquire a ticket through the clubs loyalty scheme, as there'd only been one European match I'd attended all season, but UEFA run a ballot every year which allows neutrals an opportunity to see their flagship event too.
It was a slim chance but a chance nonetheless. So the application was submitted.
It was a mixture of disbelief and delight when the email finally came through confirming two tickets to see Liverpool FC versus AC Milan at the Ataturk Stadium in Istanbul.
We've heard countless stories of the match, and the pilgrimage to the stadium in the middle of nowhere but getting to Istanbul alone was proving to be a task in itself.
The cost of airfares had skyrocketed as soon as the final had been confirmed so a new route had to be found. A return flight to Istanbul would have been ideal, as it would have been quick, direct and got us home in time to watch the Cup being paraded about the city the following day.
After managing to catch a flight to Sofia (Bulgaria) and staying in a cheap, basic hostel for 2 days, we had to board a coach without any toilet facilities for a 10 hour bus ride to Istanbul. It wasn't pleasant.
Any future trips to Istanbul, and there will be some after I missed out on seeing most of the sights the city has to offer, will be organised via an airline like Pegasus flights to make the journey as pain-free and enjoyable as possible.
Thankfully the result of Liverpool F.C lifting aloft their 5th European cup dampened the disappointment of the 10 hour coach back to Bulgaria …