As a proud Irishman (Northern Irish at that) I never get fed up with bragging about the Titanic being built in Belfast, Northern Ireland. So when I had a chance to help promote an awesome new Northern Ireland initiative, I took it with open arms. With the world's largest Titanic-themed tourist attraction opened to the public in Belfast on Saturday now it's time to showcase one of Northern Ireland's greatest constructions in an amazing production.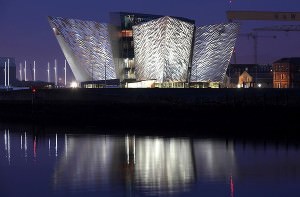 The Titanic was forged in what is now known as the Titanic Quarter in the North's capital city; the quarter, a waterfront regeneration project which includes an awesome riverside entertainment district, and a major Titanic-themed attraction has been developed on reclaimed land in Belfast harbor. It's all very impressive stuff.
Now, with the Titanic Belfast Festival 2012 and the ni2012 celebrations underway, it's time for the Northern Ireland Tourist Board (NITB) and Belfast City Council to strut their stuff. In conjunction with GeoCast TV, April 7th promises to be a new dawn for Northern Ireland tourism with a state-of-the –art digital show titled "Titanic Projection Show" going live in the Titanic quarter. The show uses 3D motion graphics, high-end pyrotechnics and attuned digital sound to create 40 minutes of unadulterated entertainment. The audiovisual performance will promote, celebrate and remind people about Belfast's rich culture, heritage and future.
Tickers at the Belfast event are at a premium, however thanks to Geocast TV we all have a chance to watch the events unfold LIVE from the comfort of our own home, just check the link at the bottom here, tune in and watch it all!
With a goal of allowing us to watch more travel videos online, Richard Day, Geocast TV, said "We're delighted to broadcast it live online to a multitude of countries.. There will also be a chance to watch the event again the next morning." So get your Leo and Kate costumes out, crack open a beer and get ready for the show…
For more information about events during ni2012 please click on http://www.ni2012.com