Sometimes you need a break from backpacking and hardcore travelling, and need a holiday where you can just take it easy for the week.
There are obviously many places round the world where you can do this, but the Mediterranean has so many places to choose from where you can get a great beach, a lively resort and a great choice of accommodation to chill out and relax in.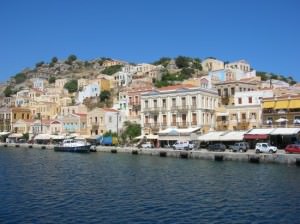 Some seasoned travellers can't face the idea of a package holiday, as they think it will feel too restrictive after more independent style travelling. However, if you're in the middle of a contracting stint and only have a week to spare, there's a lot to be said for jumping on a package deal and enjoying a week's R&R with no stress and effort involved.
Take for example, a holiday to the Holiday Village Rhodes. Here you'll find everything you need for a relaxing week in the sunshine, and with the accommodation being all-inclusive you don't even need to worry about budgeting for eating out while you're there.
There's something a little 'Disney' about staying on a holiday village, but it's all really easy and comfortable too, which can make for a great change when you've been used to the more gritty kind of travel that backpacking involves. After all, is it really so disappointing to have a choice of five different swimming pools in the place that you're staying in, as well as access to the gym and health spa?
There's no obligation to join in the entertainment programmes or go on the excursions on offer. You can set your own programme, and dip in and out of any organised activitites.
While you're there, you should try to visit Rhodes old town. It's not far away, and this is the oldest inhabited medieval town in Europe. There are plenty of historical and cultural sites to choose from including the Temple of Venus ruins which date back to the third century BC, the Municipal Art Gallery, the Museum of Decorative Arts, the Archaeological Museum, the Church of our Lady of the Castle, and the Palace of the Knights. It's an amazing city to wander around and get lost in the maze of streets for a while – you'll find your way out eventually.
Don't be a travel snob – take a package holiday every now and then to recharge your batteries and see something new!