Being semi-based in Bangkok and partying far too much has led to an absolute gem of a find in BKK. I wanna share this beautiful thing with you… I've searched long and hard, ordered too many disgusting, disappointing pizzas from every company I could and all they did was exacerbate my hangover. Finally I stumbled across literally the best pizza in Bangkok, and my Thai experience is all the better for it…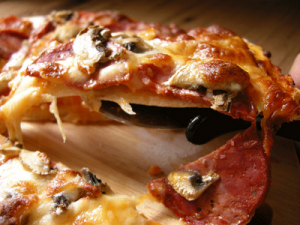 Step forward Pizza Mania, you are a God send
These guys have made my Saturdays and Sundays a much less painful experience. They import all their Italian meats and cheeses (if you've ever lived in Asia you'll understand the cravings for quality cheese!) and fresh bake every pizza for us. A quick phone call and you'll have it at your apartment in 30 mins or so.
My housemate actually introduced me to these guys, and I have literally not even bothered to order pizza from any other place in Bangkok. I think I should also add a note NOT to order from Pizza Company. These guys are the biggest operators in Thailand and they are awful. Any naysayers out there, feel free to give them a a bash but you'll be disappointed I promise! Stay cleer peeps.
Ok, this is getting me hungry, pizza time I think! My recommendations are the Salame e Salsiccia and the Salame Picante, should cost around $9, free delivery and 8 slices of Italian heaven. It's so good that I should party tonight so I can be hungover tomorrow and order it! Best pizza in Bangkok, hands down, just felt compelled to share it with you guys, Happy travels!