Venice has become famous for its intricate and captivating system of canals; however, there are several cities throughout the world that also feature similarly beautiful canals. Have you ever heard a place described as "Venice of …"? This is because there are many canalled cities that emulate the sea-faring spirit of Venice. While Venice has set the standard for other canalled cities, there are many of these unique cities throughout the world.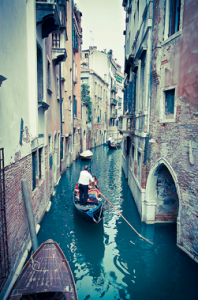 Canalled Cities to Explore
Below are five cities that are largely navigable by boat. Instead of hailing a cab or renting a car, you'll hail a gondola or climb into a rented boat.
Venice, Italy (The City of Water) Easily the most famous canalled city, no list would be complete without mentioning Venice. With plenty of affordable places to stay in Venice, a trip to this captivating city is sure to delight any visitor. While you're there, visit the major corridor known as the Grand Canal and witness hundreds of ships go by. The Bridge of Sighs and Rialto Bridge are historically significant bridges that showcase the architecture of earlier centuries. Unlike most water bridges, you can view these from below! Interestingly enough, there are still no cars in Venice — the entire city relies on bicycles and boats.
Suzhou, China (The Venice of China)The historic district of Suzhou features a comprehensive system of narrow canals that pass by ancient pagodas and pristine gardens. Suzhou was founded in the 5th century B.C., making it the world's oldest canalled city. The entire district is protected by the Chinese government, so there will never be any imposing skyscrapers here! At night, experience a romantic tour of the historic bridges and architecture on these ancient canals.
Bangkok, Thailand (The Venice of the East)Known locally as "klongs, " some canal networks still remain throughout Thailand and within Bangkok. Many of these klongs host a special type of market that allows tourists to experience what life used to be like in the cities of ancient Thailand. There are boat rides available on some of the larger canals that offer unprecedented views of temples, markets and skyscrapers.
Bruges, Belgium (The Venice of the North) Bruges is one of the most well-preserved medieval cities in all of Europe. This alone draws hundreds of thousands of tourists each year. During the Middle Ages, the Reie River was converted into a network of canals. This was done to help merchants and traders from all over the city bring their products to the Water Halls at the Old Market. Currently, the canals exist primarily to provide incredible views of the many preserved historical buildings. Tours are given every day, and some rental companies offer self-guided trips on these medieval canals.
Gold Coast, Australia (Venice Down Under) While the Gold Coast is better known for its beaches and amusement parks, it also features 400 kilometres of canals, which are lined with thousands of homes. These canals were built in the 1950s, and construction continues to this day. The majority of the canals are extensions of the Nerang River. It is one of the only canalled cities that allows you to rent a jet ski and cruise the waterways. Otherwise, you can enjoy a kayaking trip, dinner boats and guided gondola tours on the Gold Coast's canal network.
A Truly Unique Experience
Taking a boat ride through canal systems in any of the above cities will impart an unforgettable experience. Start planning a trip to one of these canalled cities now to experience this exciting alternative to conventional touring.
Image provided by Jesús Villalba López from Flickr's Creative Commons
About the Author: Gary Orem is a contributing writer and boating enthusiast from Gold Coast. While he loves taking to the open seas, Gary also conducts tours of Venice Down Under.