When I'm traveling, like many backpackers, I go with the mindset that the cheaper the accommodation the better! That's the whole philosophy behind backpackers hostels, right? Well on my last trip to Kuala Lumpur, Malaysia (amazing city!!), I definitely wanted to save some cash seeing as cities are always on the more expensive end! But I didn't want to sacrifice comfort, and I definitely wanted a place where I could meet other travelers, share stories and make new friends for exploring the area.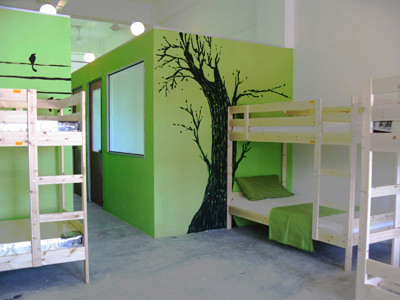 I found PODs Backpacker walking out from the Central Station in Kuala Lumpur. It's got a great location right in the hub of transportation, as it's also right near the monorail system. When I walked in, the staff were super friendly and made me feel right at home, and the price was right for a room so I decided to stay. They put me in a dorm and it was clean with cute green decor in the rooms. For such a low price, I was impressed by the cozy overall feel, definitely not like your super grungy, bottom of the barrel hostel.
I was super impressed with the friendliness and helpfulness of the staff at PODs, as I wandered out of my room the first day. They probably saw that I looked a bit confused on what to do in this massive city, so they got me out a map and circled some great places to check out. I also ran into a couple other travelers in the lobby who were heading out, so we ended up spending the day together. This is what I love about hostels and guest houses, the communal atmosphere!
Everyone I met here at PODs was from all over the world, so it was a really interesting experience. And while it was social, nighttime was quiet in the rooms and I wasn't bothered by the sound of a bar or loud music going all night long like at some other hostels. They even offer a free breakfast in the mornings and a convenience store open all night long! When I went out during the day, I was able to lock up my laptop in a safe lock box as well, which was a huge bonus.
My time in KL was incredible and I was so happy every night to come home to PODs, a clean and friendly guest house that saved me cash and made me some great friends as well!