Winter can be a magical time, with the flutter of snowflakes landing on rosy cheeks and the prospect of cuddling up with a warm cup of hot chocolate. However, if the cold weather isnít your cup of tea, winter can also be a great time to soak up the warm sun on holiday with your partner. You could even make the most of the ideal wintery conditions by enjoying sports such as skiing. Whatever you choose, there are numerous places to enjoy a romantic break with your partner.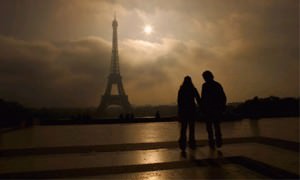 Sometimes all you want on holiday is to relax in a beautiful location; life is often so hectic and you need time to rest and recuperate. At other times you can feel so energetic that a spot of horse riding or swimming can be the ideal way to recharge your batteries. Imagine a stunning holiday in the Caribbean, the warm sand underfoot and the sea lapping at the shore as you stroll down the beach with your partner, hand in hand ñ bliss. The prospect of it certainly banishes the winter blues doesnít it?
Romance is in the air
You could take a trip to Paris for a touch of Parisian glamour and dine in famous restaurants or take walks along the Seine. A horse-drawn carriage ride through Central Park in New York could set your heart aflutter, so why not cement your relationship with a proposal and a bunch of flowers? Or maybe choose a gondola ride in Venice or the sights of Naples to add some real sparkle to your romantic holiday.
For an extra-special romantic getaway, the Caribbean boasts a series of impressive locations to relax together and enjoy the scenery. Club Med has a series of holidays at low prices all over the world and is a great place to start when looking for that perfect getaway for you and your partner.
If a winter wonderland is what you are looking for, a holiday at a ski resort could provide much needed fun and adventure. You could also get the opportunity to snuggle together in a luxurious chalet in front of a log fire aprËs ski. With fine dining also available at a number of high quality restaurants, you can make your romantic break particularly special.
A change of scenery can be refreshing and can add a little spice to your relationship, and there are plenty of romantic breaks to be had in exquisite hotels, you just need to know exactly where to look.