Remaining at the top of the list through the years, Benidorm is a popular summer destination. With many making several trips through the year too, it is little surprise there is such a rich vein of entertainment in this sunny part of the world.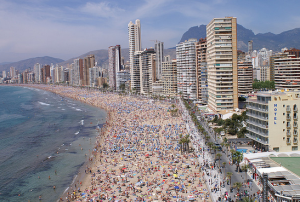 For a number of years the entertainment scene has been led, by quite some way, by The Benidorm Palace. Offering a whole smorgasbord of entertainment every night of the year, it took the title of the best cabaret theatre and nightclub in Europe for 2012.
Something new
Part of the success of this place is that the main shows are updated on a regular basis. This is excellent, as it means that travellers returning time and again will go back, will tell their friends, and will always find something new.
Through the years, there have also been a number of events hosted at the Palace. These have included such leading lights as Rudolf Nereyev, the globally famous Russian ballet star. Julio Inglesias and most known names in the world of British comedy have turned out also.
As is probably to be expected, it has been used as the setting for scenes shot for the 'Benidorm' TV series too. Fans of the show may remember the episode where Madge learned that Mel, her husband, had passed away and that cabaret singer Asa Elliot first appeared on the show.
A typical night
Essentially, there is no typical night. As with any live entertainment, performances change day to day; largely down to the crowd in attendance, it has to be said. However, unforgettable experiences are certainly typical.
Each night can also be a little different in so much that you can attend a pre-show meal. Served in luxuriously decadent surroundings, many guests take the opportunity to dress up. Some don't, but it is all about what they feel comfortable in.
The main show itself starts around 10:00 pm, with various acts and comperes doing what it is they do. A half hour interval is provided by The Benidorm Palace resident band and that night's singer, whilst some guests take the opportunity to take to the dance floor. The show then continues, with traditional Spanish offerings often thrown in. It is certainly a nice touch.
A lot of guests will learn of the venue from Co-op Travel, which seems to have a real handle on how to treat its guests, much like the British owners of the Palace. Finishing at around midnight, there is also time to go on elsewhere if desired.