Sitting in the heart of the Caribbean is the reggae island of Jamaica. Linked by regular flights from the UK, Jamaica has become a popular choice for weddings, honeymoons and paradise breaks. At around a 9 hour flight from the UK, long haul flying can be stressful, so make life a little easier with added extras, check out airport parking Gatwick for great rates.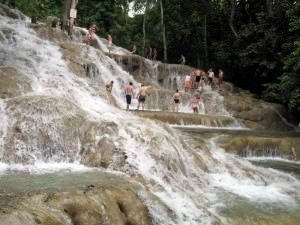 Laid-back is the name of the game, with friendly locals happy to chat away the hours. Buses are rarely on time, thanks to the chilled out island vibe, yet this won't bother you; the slow pace of life is infectious!
Of course, the beaches are stunning. Pure white stand like talcum powder, leading to glittering azure blue sea. Palm trees offer shade from the intense sun. Don't forget your sun cream! I know someone who was badly sunburnt at 7am, because they thought they wouldn't need it so early! Let this be a lesson!
However, Jamaica isn't all about sun worshipping. Montego Bay is a beautiful place to visit, set amongst imposing mountains. Rose Hall Great House is certainly worth a visit and was the home of Jamaica's famous white witch, Annie Palmer. Ghostly sightings have been reported, see what you can find! For history buffs, Greenwood Great House is home to a glittering array of paintings and antiques from the 1800s.
The island's capital, Kingston, has a reputation for crime, so keep your wits about you, but this house is a must for music fans – the Bob Marley Museum. Here you can visit Marley's birthplace, the mausoleum built in his honour, with stories documenting his life and music.
Ocho Rios is the place for nightlife and a cosmopolitan resort. A huge range of entertainment is on offer, with stunning beaches and markets to pick up interesting souvenirs. A beautiful site to visit is the nearby Dunns River Falls, plunging 600ft to the beach, glittering like diamonds in the sunlight.
Many all inclusive hotels line the beachfronts, and are a great way to save money. With the intense heat, you need to keep your fluids up, and all-you-can-drink at these hotels, there's a fortune to be saved.
Jamaican food is delicious and fresh, with seafood caught locally. Fresh fruit is plentiful and the famous rice and peas dish is something you must try, along with a hefty serving of rum, to be sociable!
For the energetic, golf, fishing, diving and rafting, along with many water sports are offered on the larger beaches. Head to pretty Treasure Beach on the south coast for tragic history. Legend has it that two young slaves were denied permission to marry. So in love, the pair couldn't bear to be apart, so jumped off the 1000ft cliff together, bound forever. It's for this reason the spot is named Lover's Leap.
The best time to visit? How hot do you like? Bear in mind the Atlantic hurricane season runs 1 June to 30 November; however the majority of storms affecting Jamaica tend to arrive in August and September, yet temperatures are high all year.
Despite having its own currency, many islanders prefer the valuable US dollar, so it may be prudent to take a mixture. Check with your travel agent prior to visiting for up to date visa regulations.
Head to Airparks for fantastic rates on Airport Parking and other extras, such as VIP lounges and airport hotels, making your holiday luxurious from the word go.
So, with the sound of steel drums echoing, the blue ocean, a happy, carefree attitude to life and glorious weather' any reason not to visit?